Planning a trip to the beautiful Gold Coast Queensland, in Australia but not sure when is best to visit? We recently had the opportunity to spend a couple of days exploring some of the great things on offer at the end of winter. Unless you travel inland where it can be a bit colder, winter in most of Queensland gives you beautiful weather which makes the Gold Coast a perfect destination, whether you're coming from the tropics or somewhere cold.
So much to enjoy in Gold Coast Queensland
The Gold Coast is a 57km long strip along the coast of South East Queensland between Beenleigh in the north and Coolangatta in the south, on the border with New South Wales. The Gold Coast International Airport (OOL) also known as Coolangatta Airport straddles the state border. So the region south of the border, the Tweed Valley, also has some great places to visit. As we didn't have our own transport, we made use of public transport the first day to reach Surfers Paradise and on the second our more distant adventures we were ferried around very comfortably by Pineapple Tours. You can find out about the various transport options in our story about where we stayed and how we got around.
Activities
Jetboat Extreme
30-34 Ferny Ave, Surfers Paradise
Phone: +61 7 5538 8890
Website
Facebook
Instagram
YouTube
Twitter
A number of water sport options are available, from various operators. We had considered trying out surfing or paddleboarding but reading the 'rules' made us quickly realise that this should have a re-think as neither of us is used to swimming in the sea. This is important as tourists have died as a result of being a non-swimmer or they are unfamiliar with open water swimming. Try something new, but be aware of your abilities and ask questions if you are unsure.
A Jetboat Extreme experience was not normally something we'd have chosen, but we really enjoyed the adventure and laughed so much. At the end of the ride we purchased a video, though it didn't really show how much we were enjoying ourselves as we were so busy hanging on. They also edited out all the splashes as we did our 360s, probably because the camera also got splashed! Our captain, Hayden, did his very best to spin us so we got as wet as possible, so we look much  more like drowned rats anyway, rather than Instagram stars. Which was fun. An awesome experience, something you can tick off a bucket list! Hayden made sure we stayed safe while giving us the thrill of a lifetime.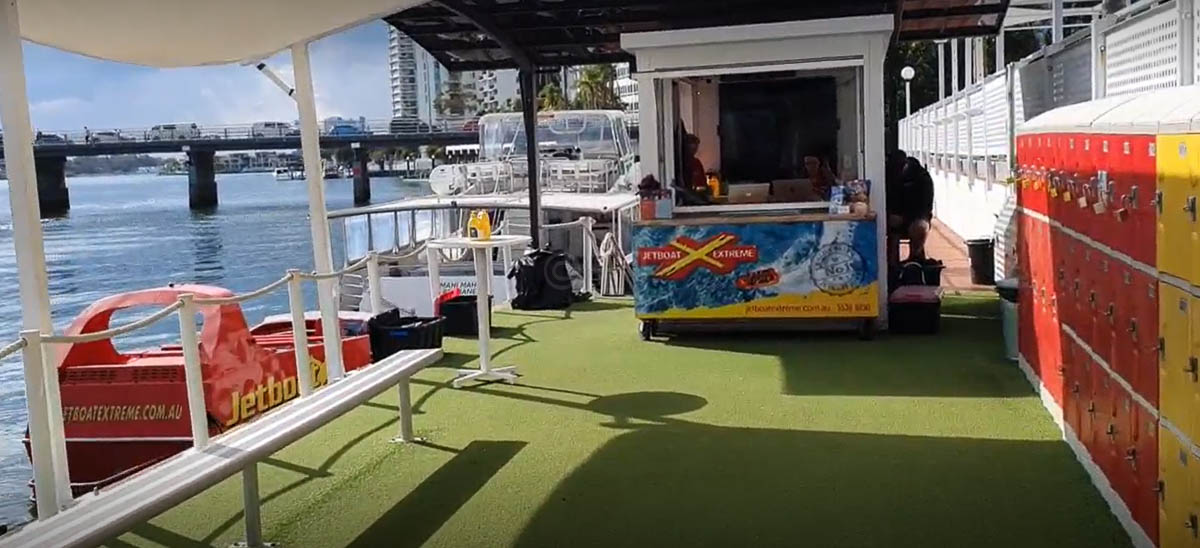 You need to arrive a minimum of 15 minutes before your departure time to sign all the required documents (Do this electronically, by scanning the QR code) and get kitted out, unless you want to be completely soaked. Jetboat Extreme provide a life jacket and a spray jacket with a hood.  Be warned that you'll have to choose between taking your hands off the bar or hold the hood over your hair, or just get wet. They also have lockers to secure any personal belongings while you're having fun. Bring sunglasses to keep wind and spray out of your eyes and a towel, if you want to dry off after the ride. Oh yes, and bring or wear slippers, if you don't want your good shoes possibly getting wet.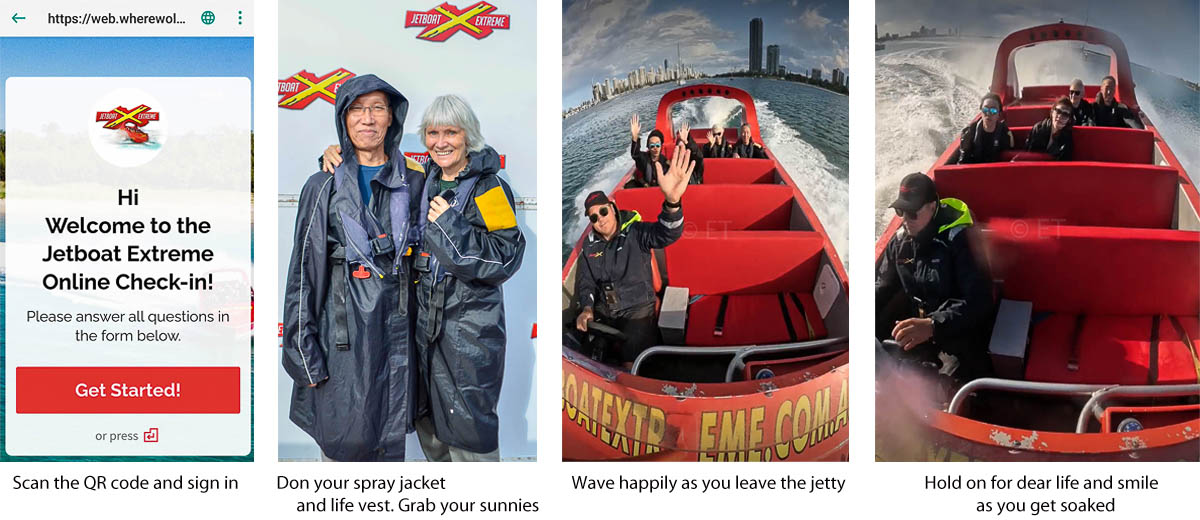 Jetboat Extreme HQ is on the water, directly behind Vibe Hotel, Driftwood Social and Surfers Pavilion, Riverside. The easiest way to get there though, is walk towards these buildings along the footpath from the HOPA Ferry. It's a 'tick' for an all year round attraction.
Currumbin Wildlife Sanctuary
Currumbin Wildlife Sanctuary,
28 Tomewin Street, Currumbin
Phone: +61 7 5534 1266
Website
Facebook
Instagram
TikTok
YouTube
Twitter (X)
We were up bright and early for our trip to this wonderful wildlife park which has been developed over the past 75 years. That's because our visit began at 8am with breakfast, which we enjoyed with the koalas in a special area near the entrance of the Sanctuary, as described below. We also learnt how to cuddle a koala and where they like to be tickled (or not).  We had this opportunity before the park actually opened at 9am, when a queue started to form quite quickly for this unique experience.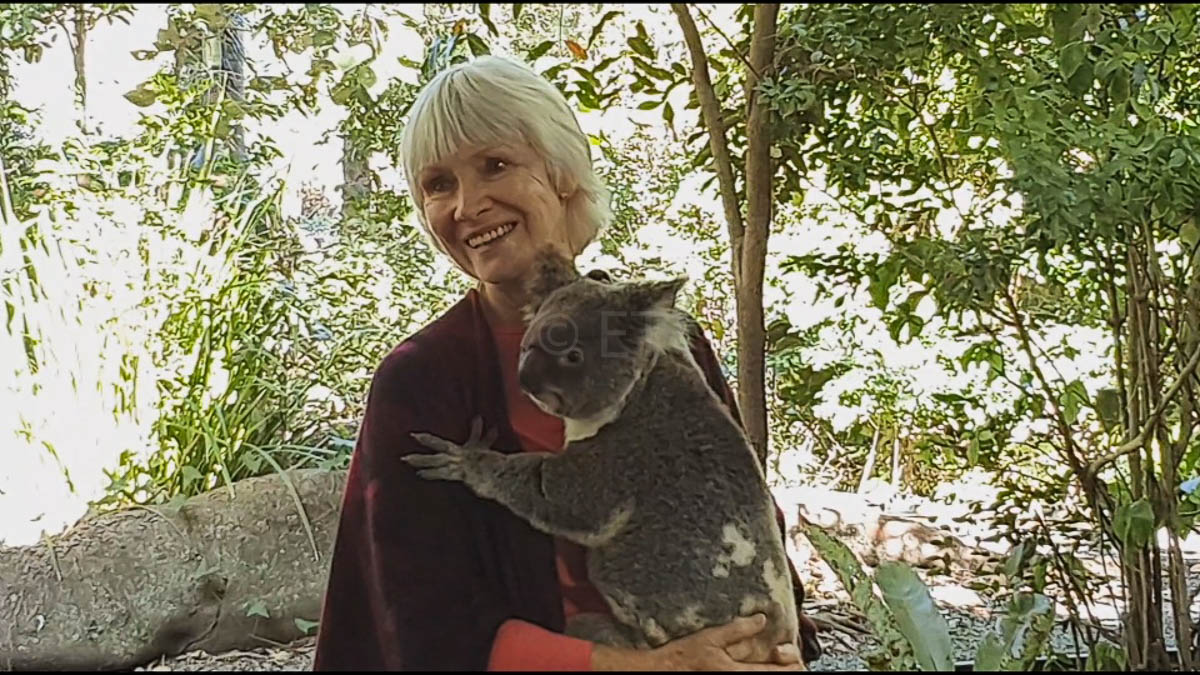 This writer first visited when it was called Currumbin Bird Sanctuary, many years ago. OK, it was 1973, when they were already a place to visit on the beautiful Gold Coast. It's changed a LOT since it was set up by beekeeper and floriculturist Alex Griffiths in 1947 to stop the local lorikeets damaging his flowers, but visitors can still feed these wild lorikeets, which turn up twice daily at 8am and 4pm. Collect a map when you arrive, or download an interactive app from their website, to find your way around and check timings for the various activities.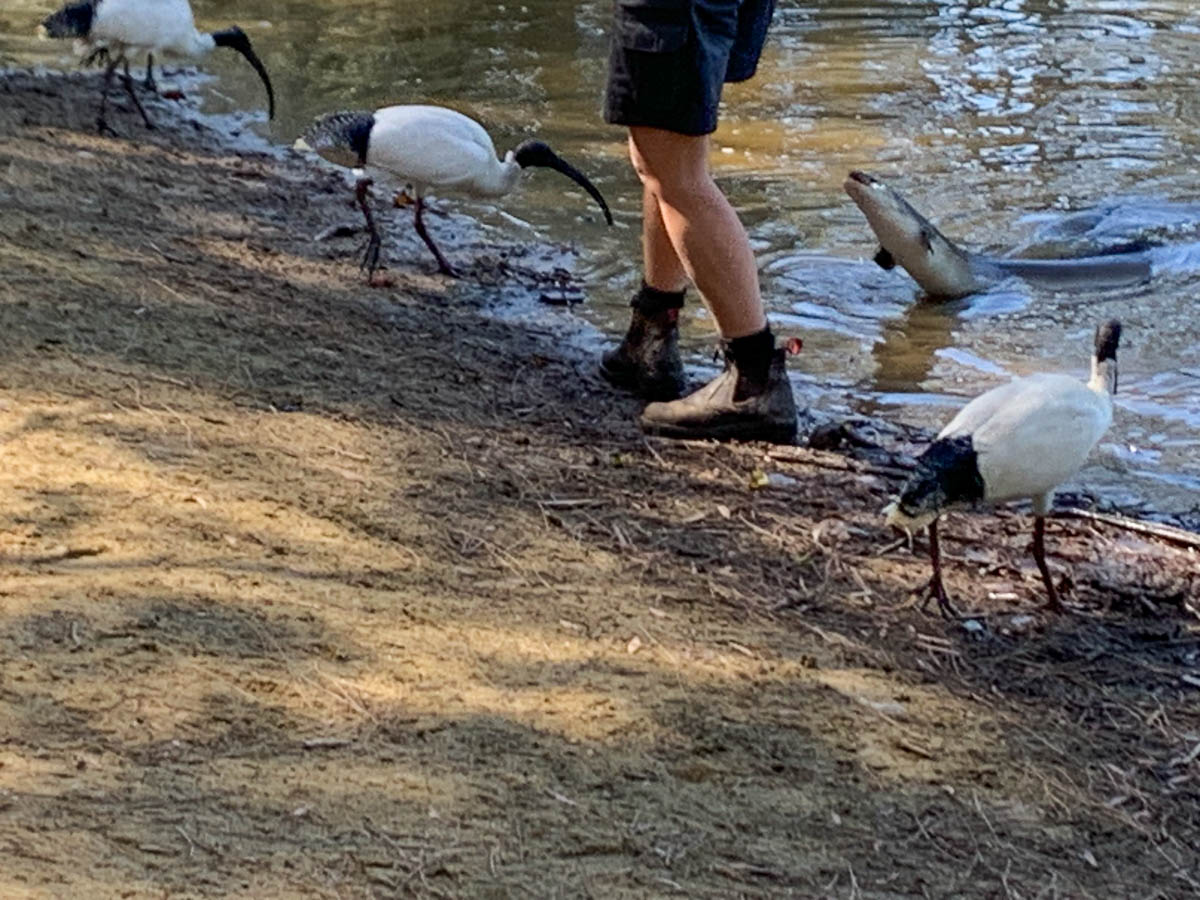 The Sanctuary has expanded greatly over the years, extending through a tunnel to the other side of the Gold Coast Highway. The miniature train (officially the Currumbin Express Miniature Train) was big in my memory. Unfortunately, time constraint means another trip will be necessary to have my ride, but there's so much to do, we'd happily have spent a whole day there. Some activities may not be available when you visit as there are on-going upgrades and maintenance that may affect them. Check the website home page for details. We did manage to catch the wild bird and eel feeding session though, where the cheeky birds tried to steal from the eels. Did you know that eels come for food in response to foot stamping! There you go, a fun fact for today.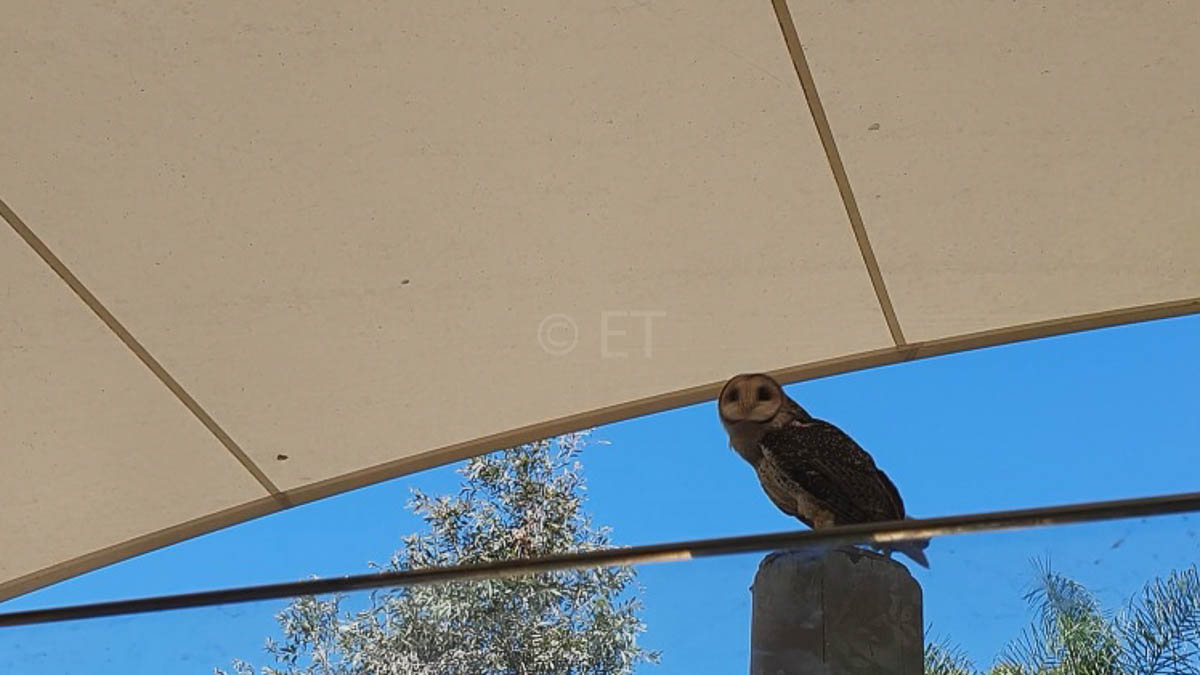 The live wild bird show is really impressive and we wished we could stay longer. Being swooped by the big ones is especially cool. There was a large group of schoolchildren in attendance and they were similarly 'oohing' and 'ahhing' as they ducked each time. As you can see from the beautiful blue sky, winter weather in the beautiful Gold Coast is definitely a good match for all that's on at the Currumbin Wildlife Sanctuary. So a second tick on the board for this activity.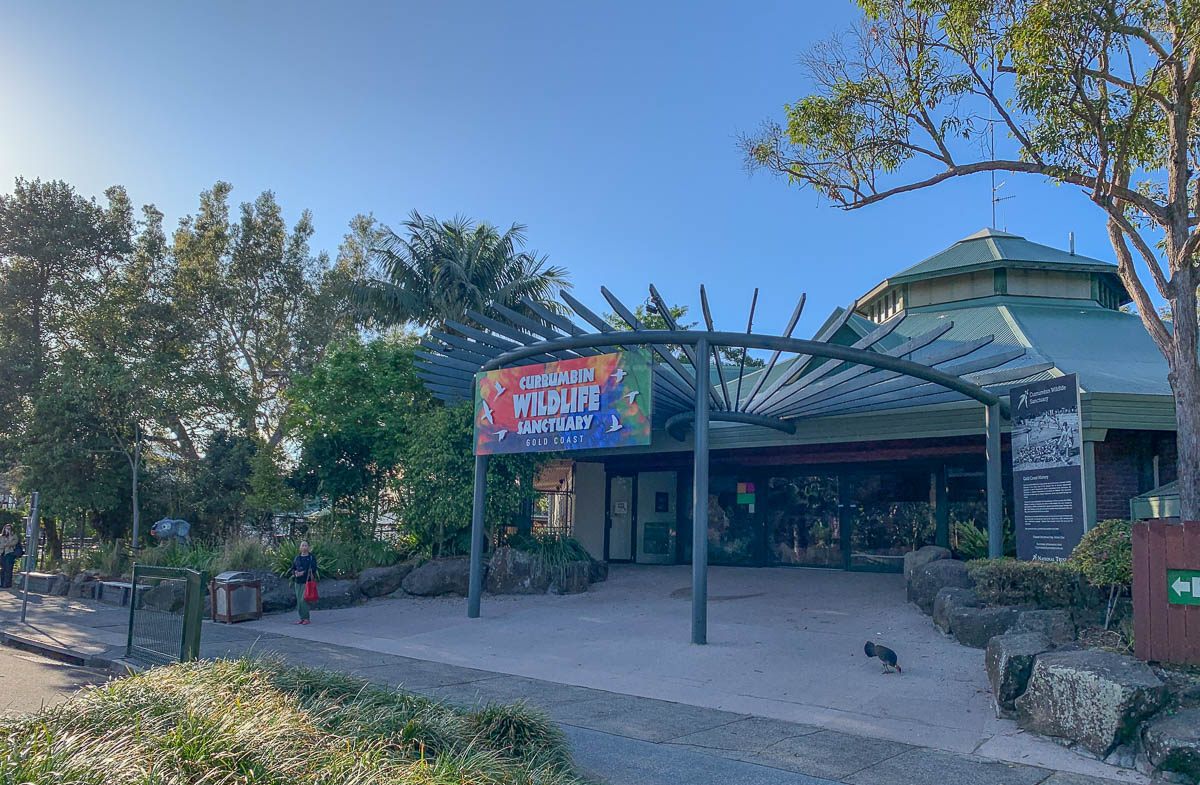 Tropical Fruit World
Tropical Fruit World,
29 Duranbah Road,
DURANBAH
Phone: +61 2 6677 7222
Website
Facebook
Instagram
We arrived at Tropical Fruit World just in time for an early lunch at the Plantation Café. The plantation is extensive, starting out in 1972 with a dream to plant fruit trees, initially avocados. The dream has been turned into reality, initially called "Avocadoland", the farm opened as a tourist attraction in 1983.  They now grow over 500 fruit varieties on their 200 acre farm, with fruits from around the world to tempt and educate the visitor. Many are used in their ice creams which you can mix and match as well.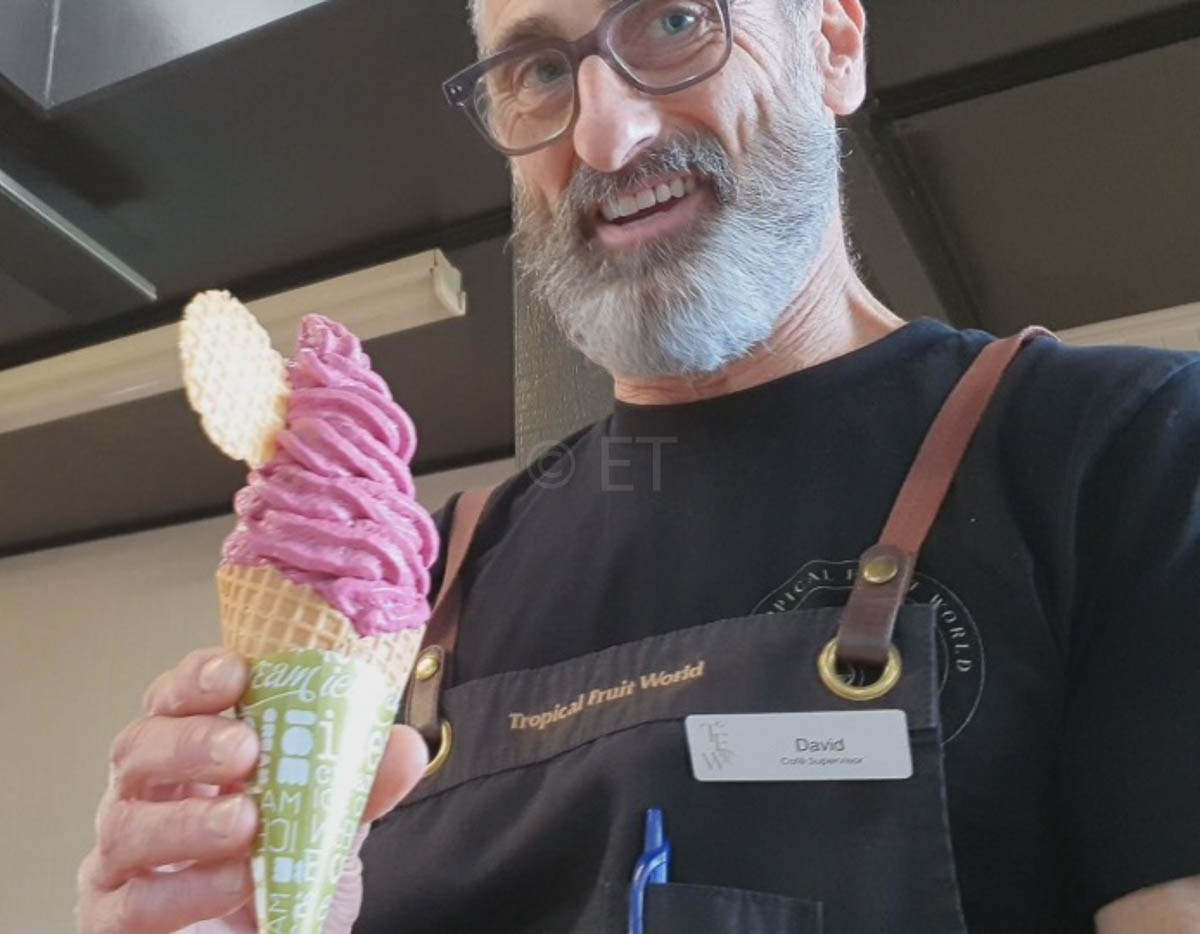 We saw a selection of the 500 varieties when we joined exotic fruit tasting session after lunch. The talk surprised us with so many fruits we didn't know even existed. Some are familiar to those from the tropics but others were completely new, like the black sapote. The only possible 'disappointment' would have to be the pumelo/pomelo as we've tasted many sweeter ones, but a good introduction to the biggest citrus for many who haven't seen one before.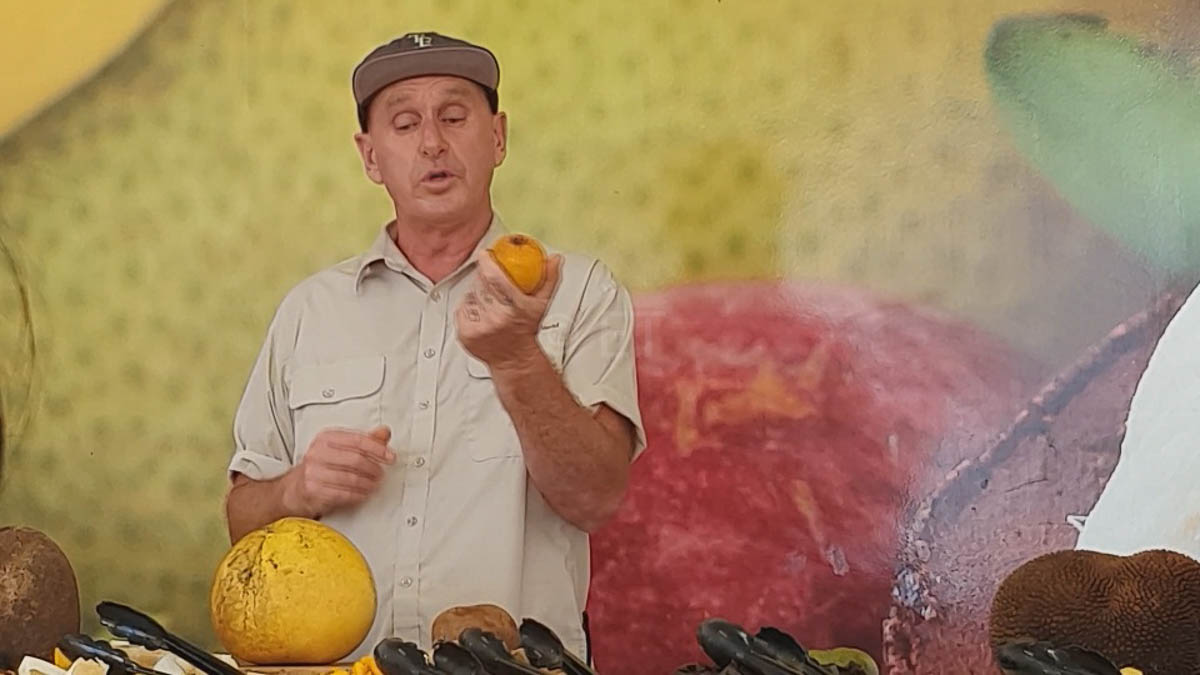 If you want to take some fruit home with you, the fruit market at the entrance is open every day except Christmas Day, and you can click on a link on the link in the page to download a Seasonal Fruit Calendar. Winter is actually a good time to visit as many of the fruits are ripening through autumn and winter. They also have a great shop inside with many products made from the 'fruits of the farm'.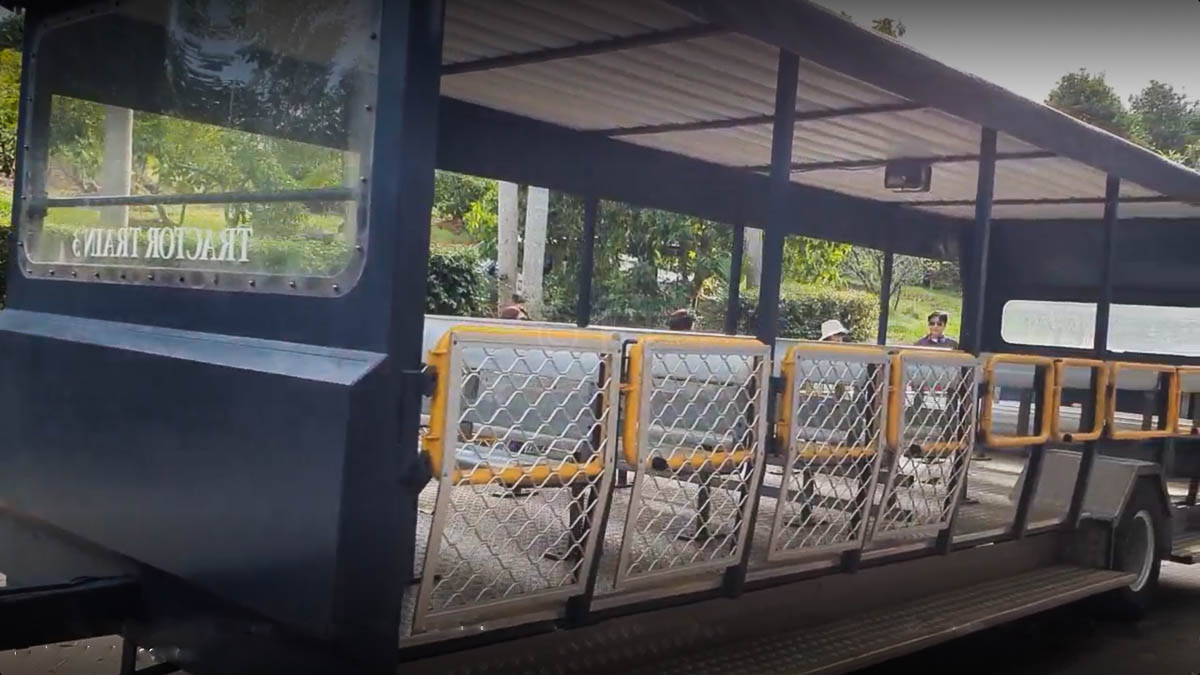 Then it was off on a Farm Tour in our tractor drawn carriage. The running commentary by our driver alerting us to the different varieties was very good, even the wait while a tiny brown snake crossed the track in front of us provided a bit of extra entertainment.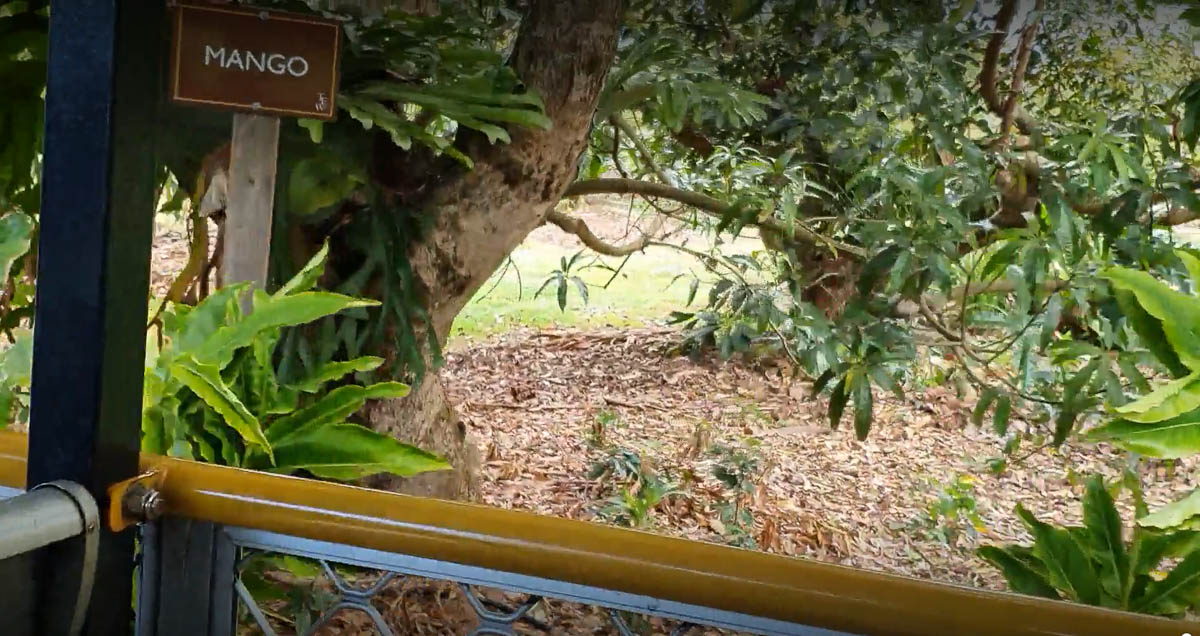 The booking page offers a few choices of tours, which should be pre-booked as numbers are limited by the seating in the train. You can see how many places are available before you make your selection. The full tour which includes the tasting and train ride takes 120 minutes (2 hours) as it also includes a visit to the animal farm and a boat ride. There is also a stop along the way to enjoy a sample of produce, we enjoyed the 'ripened on the bunch' bananas and enjoyed cracking our own macadamias. There are also stingless bee hives closer to the trees.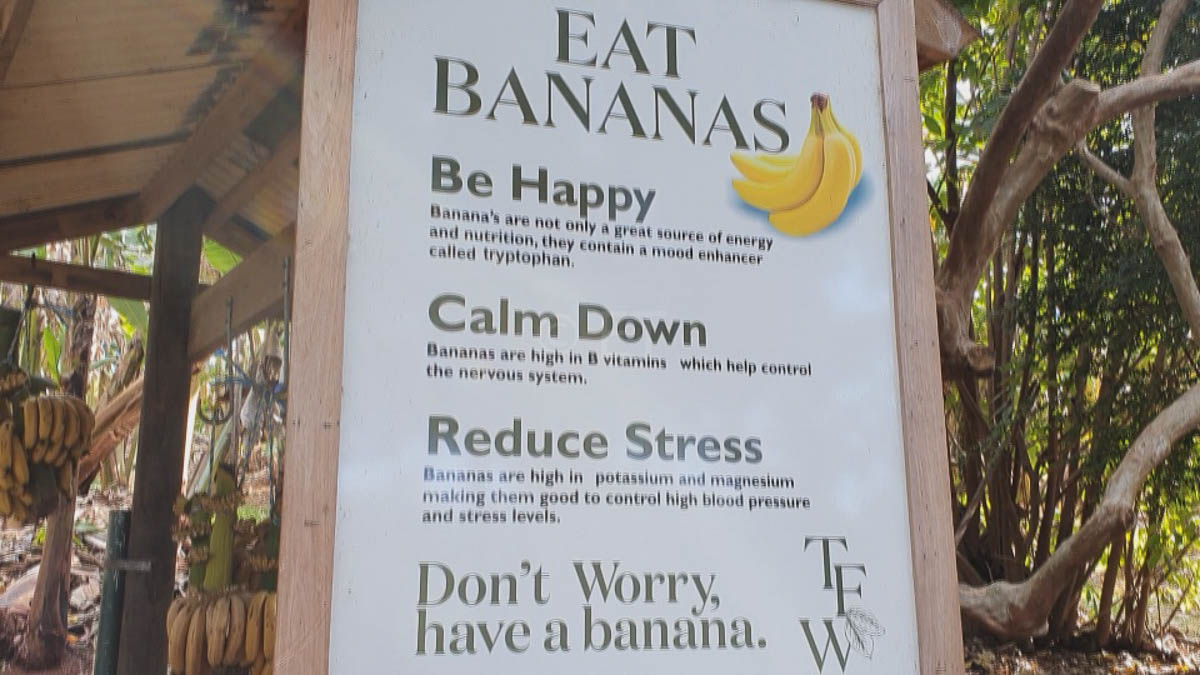 If you have limited time, the shorter tour of 95 minutes, will include only the tasting and farm tour experiences.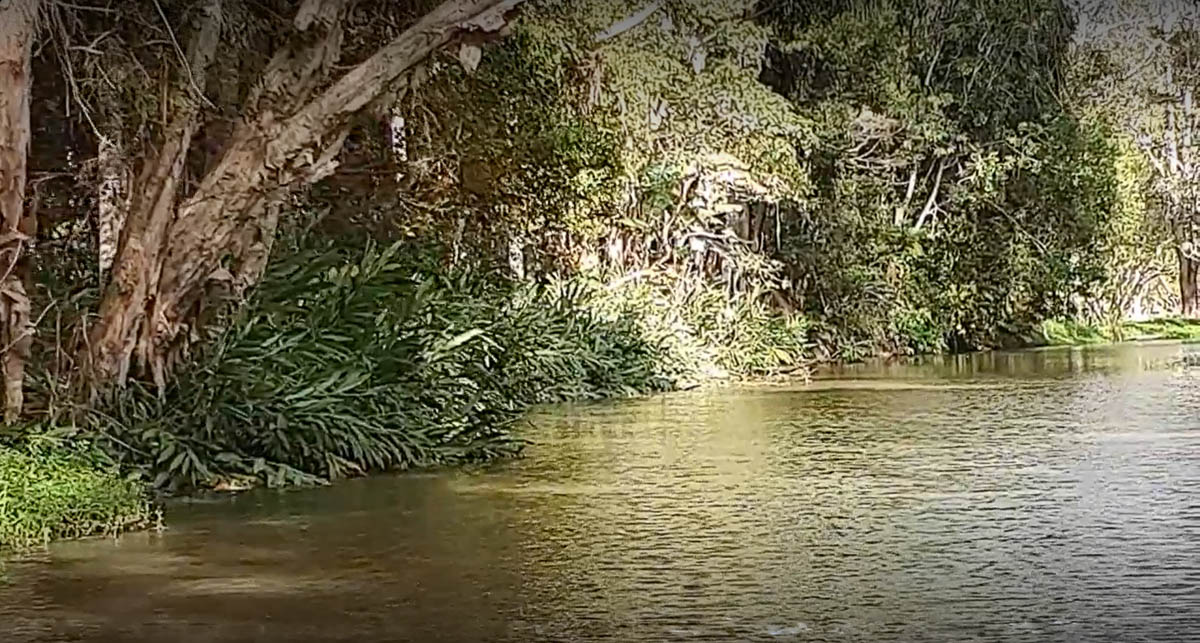 You'll visit the animal park on the full tour to engage with kangaroos, emu and farm animal friends before you enjoy a boat cruise on a flat bottomed boat through the bushland valley in the heart of the farm. Landing at an island in the bend of the river, the kids can enjoy a small playground while you learn about bush foods and try some samples on offer. An impending downpour meant we had to cut this part of the visit short, but there was plenty to learn.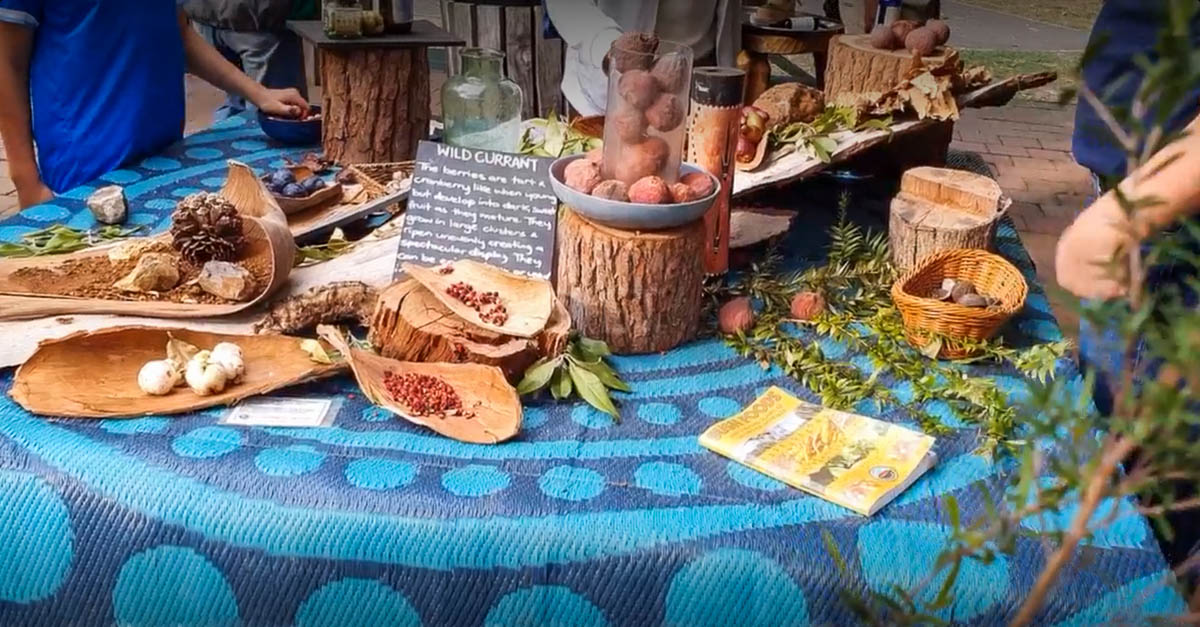 There's so much to do and see at the Tropical Fruit World, we wished we had more time to explore them all a bit better, so that gives a definite third tick to a great experience for the whole family. Here's a tip! There are so many varieties of avocado and I brought a couple of different types home from the shop. Two of them were large and round, with a hard skin. We didn't actually get around to eating them for a couple of weeks, but they were honestly, close to the best avos we've ever eaten. Rich and creamy, with no browning, even the next day. I contacted the people at TFW to check the variety at and got a quick reply. They're called 'Linda' so look out for them, I wish I'd bought more!

Food
With a climate that ranges from sub tropical, Queensland has a wide range of beautiful fresh food easily available, year round. As a result, eating out is a joy, because of the wide variety of tastes on offer. We enjoyed breakfast, lunch and dinner at three very different locations and it's a pleasure to share the results of our taste tests. Bad stuff first though – the portions are often 'generous', especially for a relatively small eater, so you might find yourself asking to box the balance.
Breakfast with the koalas
Currumbin Wildlife Sanctuary,
28 Tomewin Street,
Currumbin
We didn't have to eat gum leaves like the koalas when we joined them for breakfast at Currumbin Wildlife Sanctuary. We thoroughly enjoyed our pre-ordered fruit and yoghurt Wellness breakfast and the hearty bacon and egg on a bun instead. Our favourite choices any time, beautifully presented and exactly as we like them. As we enjoyed our meal, we had the opportunity to tickle a koala as it was brought round to the tables.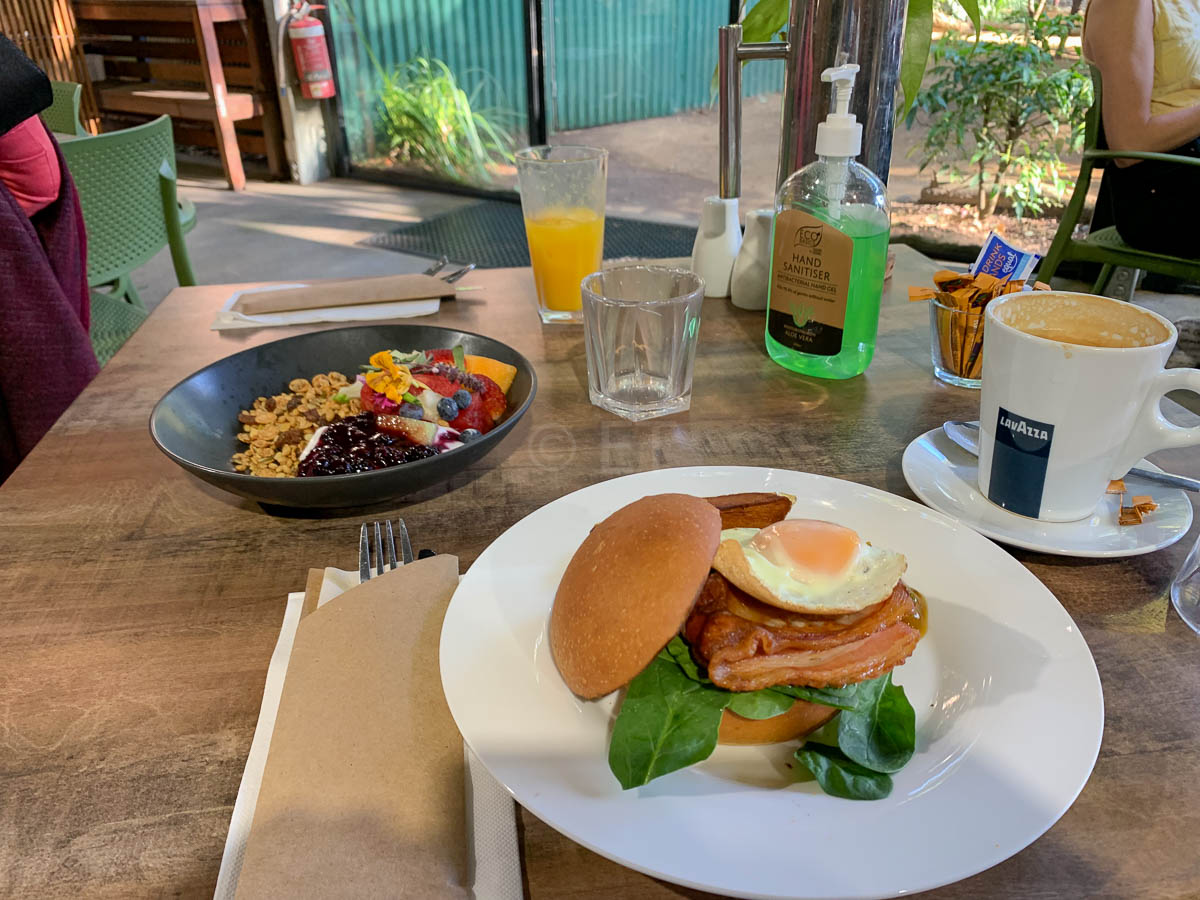 Lunch at Plantation Café
Tropical Fruit World,
29 Duranbah Road,
DURANBAH
Lunch at Plantation Cafe at Tropical Fruit World was a culinary treat as well as offering healthy choices. Chef Heidi is brilliant, and came to say hello and make some recommendations. She whipped up a wonderful salad based on green papaya, with half a large avocado on top, along with a smoked salmon terrine which was effectively paired with crackers, bread and salad. My salad was huge and I ended up taking half home for dinner. Green papaya makes a delicious salad base, especially paired with a slightly vinegary sauce.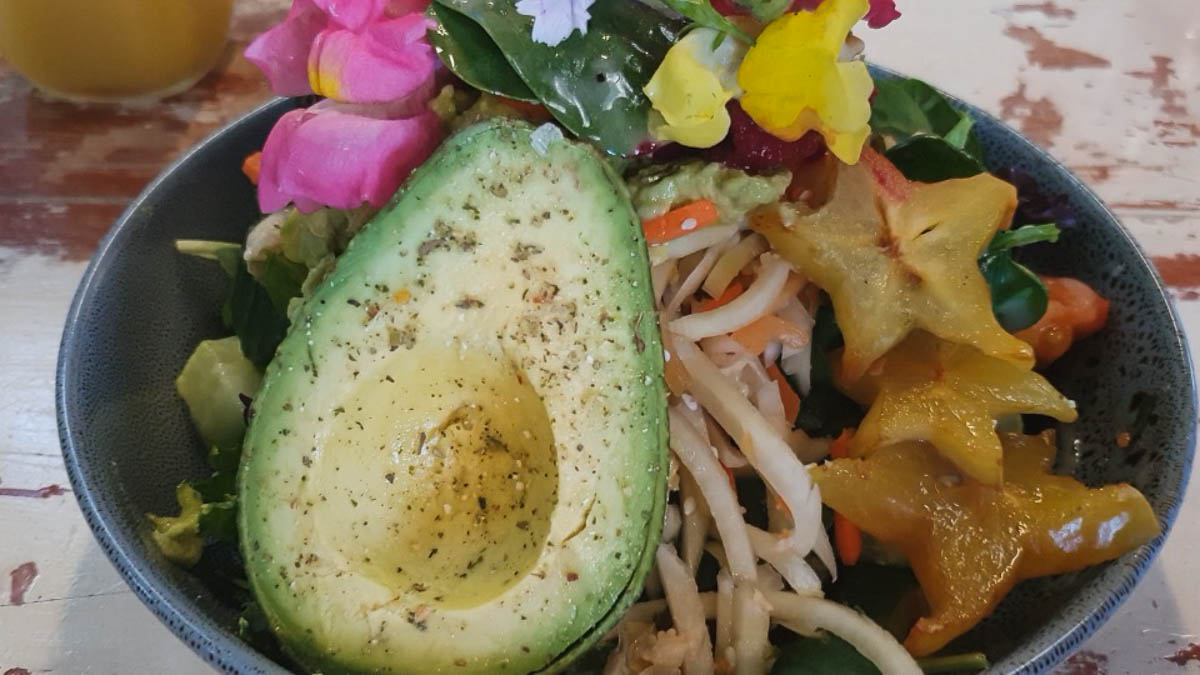 Both were delicious and we hardly had space for our delicious mixed flavours ice creams produced by David. Their ice creams are beyond delicious and we left it to him to choose the combinations of flavours. YUM. However, they went down with no trouble at all, despite not being as 'small' as he promised! If we'd had more time, or were just dropping in for a look round the shop and fruit market, w'd definitely have tried some of the tasty treats in the cafe display, with a cup of coffee.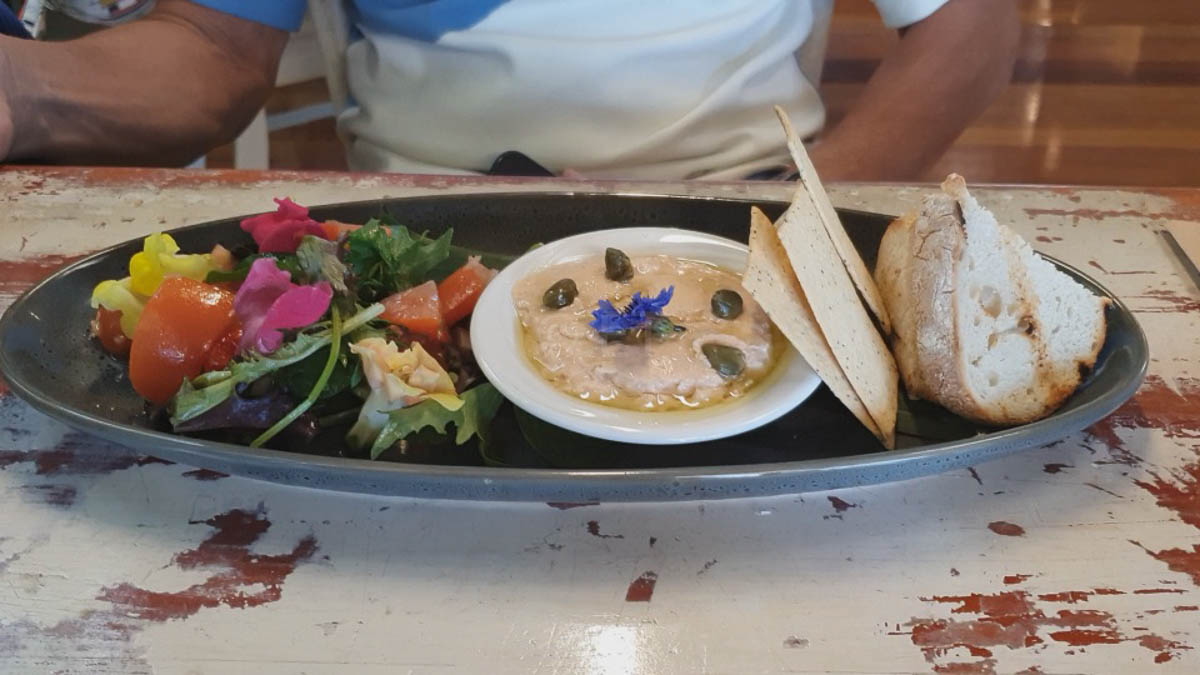 Dinner at Mamasan Broadbeach
Mamasan Kitchen + Bar,
3 Oracle Blvd,
Broadbeach
Phone: +61 07 5527 5700
Website
Facebook
Instagram
Mamasan was perfect re location, not just because we were staying only a few steps away. It's well placed just back from the beach in the heart of Broadbeach. Easy to walk if you're staying locally, or by tram or bus if you prefer. There did not seem to be much in the way of street parking. However, Broadbeach offers free parking, except for around 160 paid on-street spaces in the main CBD.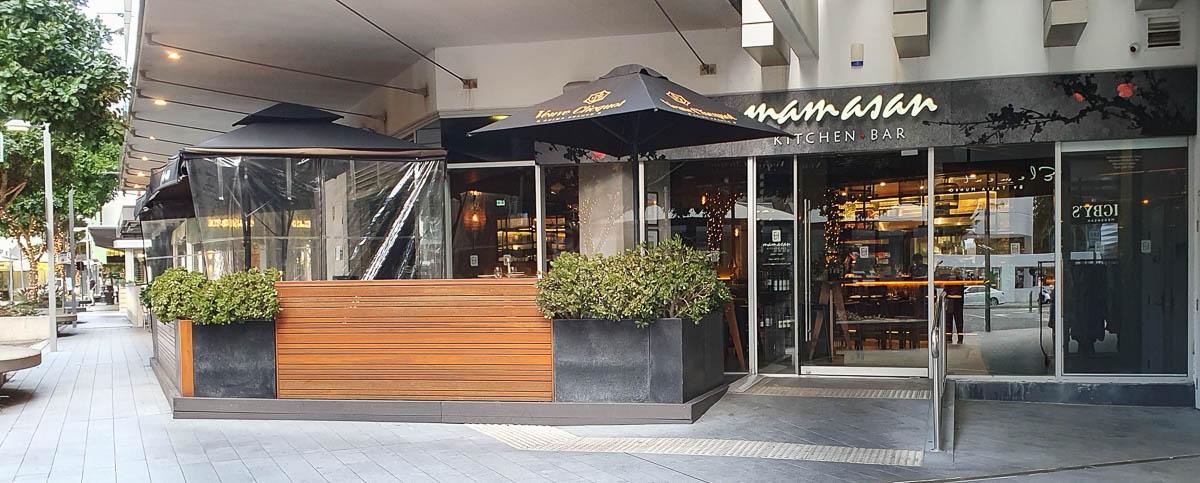 We had a booking for dinner and received an email the evening before with a copy of the menu, so when we arrived, we'd already decided what we were going to order. This is thoughtful, both to diners as well as sensible for the restaurant. The food is a good mix of various Asian cuisines, very suitable for sharing with friends over a glass or two of wine. We also liked that the menu also indicated whether each dish was Gluten Free (GF),  Vegetarian (V),  Gluten Free option (GFO) available upon request or Vegan option (VO), also  available upon request. They also ask diners to advise their waiter of any food allergies.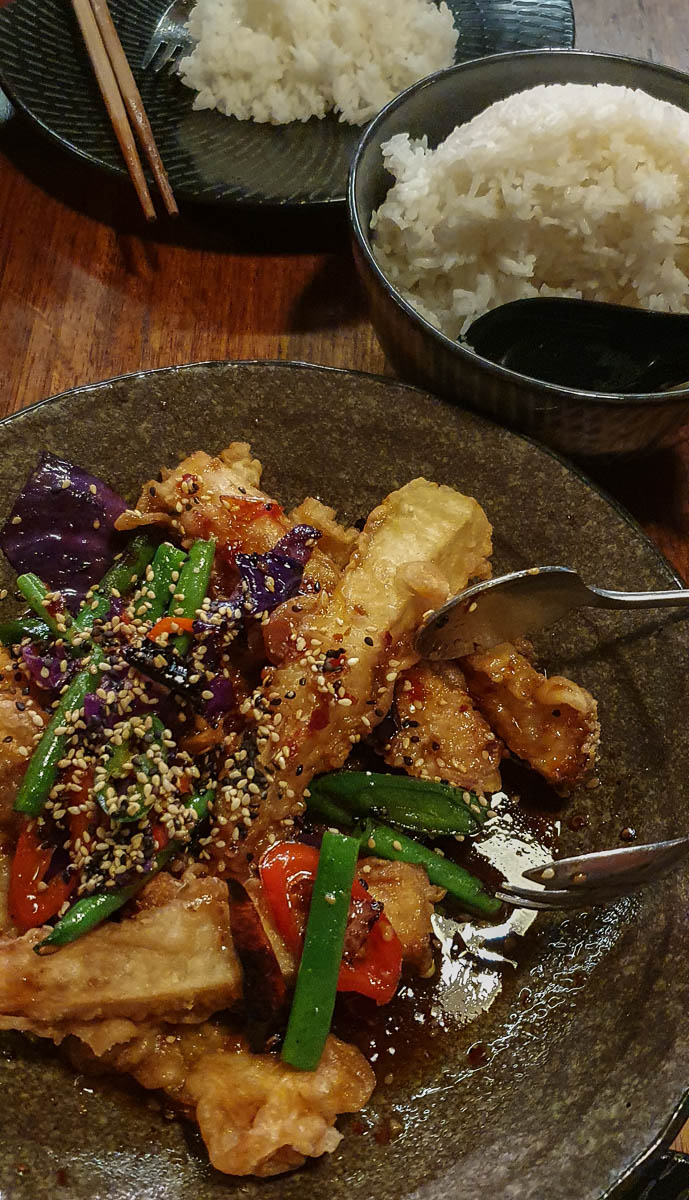 Our server Stephanie was attentive but not "in our faces" and the timing of dishes was well spaced. We enjoyed a glass of wine with our meal, a tasty ocean trout sashimi from their small bites selection followed by Moreton bay bug which sadly was a little dry, despite being tasty. They are not big, so be warned if you're not familiar with this seafood. Our favourite was undoubtedly the Hot and Sweet eggplant, fried with green beans, cabbage and sticky chilli bean sauce which paired perfectly with rice and was good enough to want to lick the dish!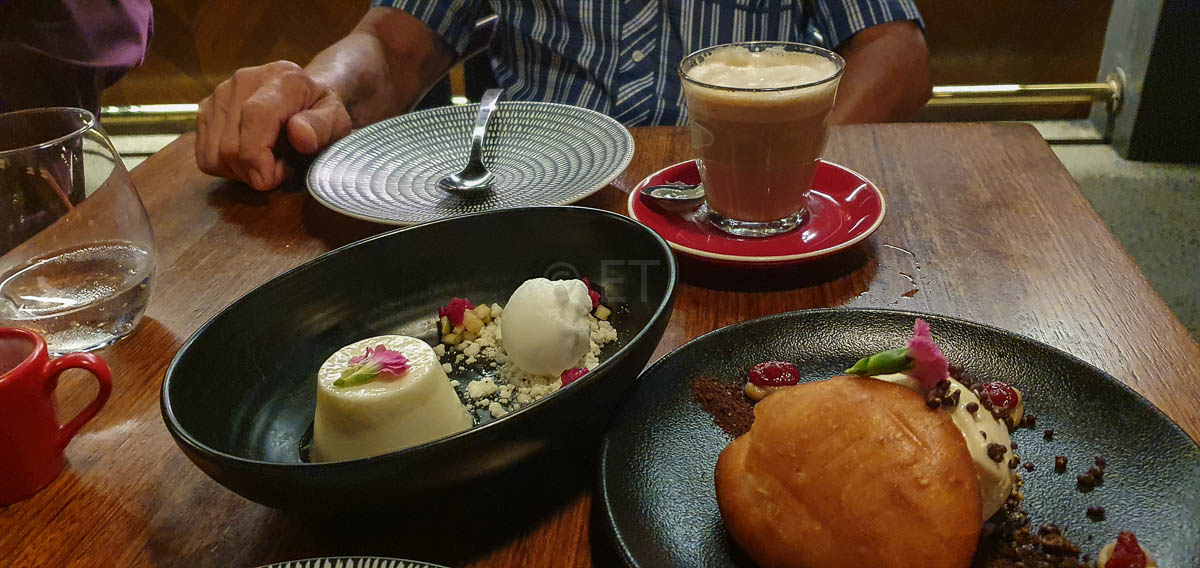 Our dessert of Jasmine Rice Panna Cotta and Ice Cream Bao sandwich rounded out a delicious meal. Although we're more accustomed to eating our crispy bao paired with a spicy crab sauce, it went very well with the ice cream. The panna cotta was quite an unusual flavour. Not unpleasant, but a little unexpected in the combination of flavours. It benefited from the accompanying ice cream. On the whole, we very much enjoyed the meal, great location, attentive staff and good food, nicely paced. 
Other things to do around the Gold Coast Queensland
If you have a little more time, there are many other great things to do in and around the Gold Coast. Try to spend some time on the beach, even if it's just for an early morning, or evening walk. If you like theme parks, there are at least four in the northern part of the Gold Coast. If you have access to a car, or want to check out what Pineapple Tours can offer, why not consider a drive inland to the Scenic Rim. With over 30,000 hectares of parkland, including three lakes, national parks and council controlled parks, there's plenty to see and do. We share three day trips to check out , it's an easy drive in from Oxenford or Nerang on the M1 highway. Since we were last thereWatch for our reviews of our flight, the beautiful Tamborine Rainforest walk featuring a treetops walk has been opened and the Tamborine Coffee plantation is becoming one of the must see destinations, as are the multitude of wineries in the area.
EconomyTraveller visited the Gold Coast courtesy of Destination Gold Coast (Check them out for more things to do and places to stay and eat). Some of the cool things they can help you out with are surfing or paddleboarding where you can enjoy a lesson or just enjoy the experience.
We flew in via the Gold Coast airport at Coolangatta with AirAsia X from Kuala Lumpur, currently the only direct flight into South East Queensland from Kuala Lumpur. Watch out for our reviews of our flight and also for Coolangatta Airport. We are also finishing up videos for getting to Gold Coast and things to do and they'll be posted soon. Stay tuned!