I have always enjoyed the experience of driving. But I dislike traffic jams and the fact that, as a driver, I'm not free to enjoy the journey, or take photographs. So it was an easy decision to make when I went to an event at Kuala Lumpur International Airport (KLIA), to get there using public transport. I wanted to see how the Covid pandemic had affected the trip to and from KLIA/klia2 by public transport.
KLIA/klia2 by public transport
First, I did my research. I wanted to use the great service which was set up in 2019, which offered a trip to the airport for RM10, from anywhere along the Rapid KL rail network, connecting to a Rapid KL bus at Putra Heights Hub and on to KLIA/klia2. I have tried this service and was impressed, using it a number of times before the Covid-19 travel curbs clipped my travelling wings.
Alas. It is no more, cancelled in December 2020. Apparently, there was a lack of demand. There is a private bus, Jetbus operating the Putra Heights/KLIA route, but this is a 'stand-alone' service.
The journey
The journey began in Klang at 8.30am. Buses are not an option as the bus stops are not identified and there are no services in the area. So the only alternative was the train which left Bukit Badak at 8.48 a.m. I love the train, I can read or look out the window.
It's necessary to check the train timetable because there are frequent changes due to on-going track work. You can also check the LRT timetable using their Journey Planner. The decision was made to use the KTM to KL Sentral, (The Adult fare for this sector is RM4.90) then KLIA Ekspres to KLIA (RM55, 49.50 online). For the return journey, I decided on Jetbus, LRT and KTM.
My research told me that leaving the train at Subang Jaya (9.19am) was not an option because:
The Jetbus service at Putra Heights would only leave for KLIA at 12.15pm.

This service has been reduced to 3 services per day.

Subang Jaya to Kuala Lumpur on the train would arrive in KL Sentral at 9.50am. (21 mins)
Subang Jaya to Kuala Lumpur on the LRT would arrive in KL Sentral at 10.07

 

(39 mins, change of train).

As the KLIA Ekspres leaves KL Sentral at 10am,

stay on the train!
KL Sentral – KLIA KLIA Ekspres 10.00am

half hourly, takes 37mins, costs RM55,
buy online or on the app and get 10% off
Return trip via Putra Heights and Subang
There are currently only three services offered by Jetbus between KLIA and Putra Heights, down from eleven pre-Covid. I purchased my ticket (RM6) at the ticket counter, although I could also have booked it online.
I was fortunate to find a seat to wait, these are quite limited. The waiting area at klia2 bus hub, which is a pick-up point on the way to Putra Heights is larger, with more seats available.
The bus departed promptly at 2.30pm, you should be at the platform at least 10 minutes early, so any luggage can be loaded into the compartments. 

After a brief stop at klia2 we made good time, arriving at Putra Heights about 3.20pm. If you are joining the bus at klia2, you should wait outside on the platform and watch for it's arrival. There don't seem to be any designated bays.
Upon arrival at Putra Heights, I discovered from another passenger, that this bus also services Shah Alam, via the Bus Terminal in Sek 17. There is a small notice just inside the bus. The fare KLIA – Shah Alam is RM9. For more information, you can check them out here and here.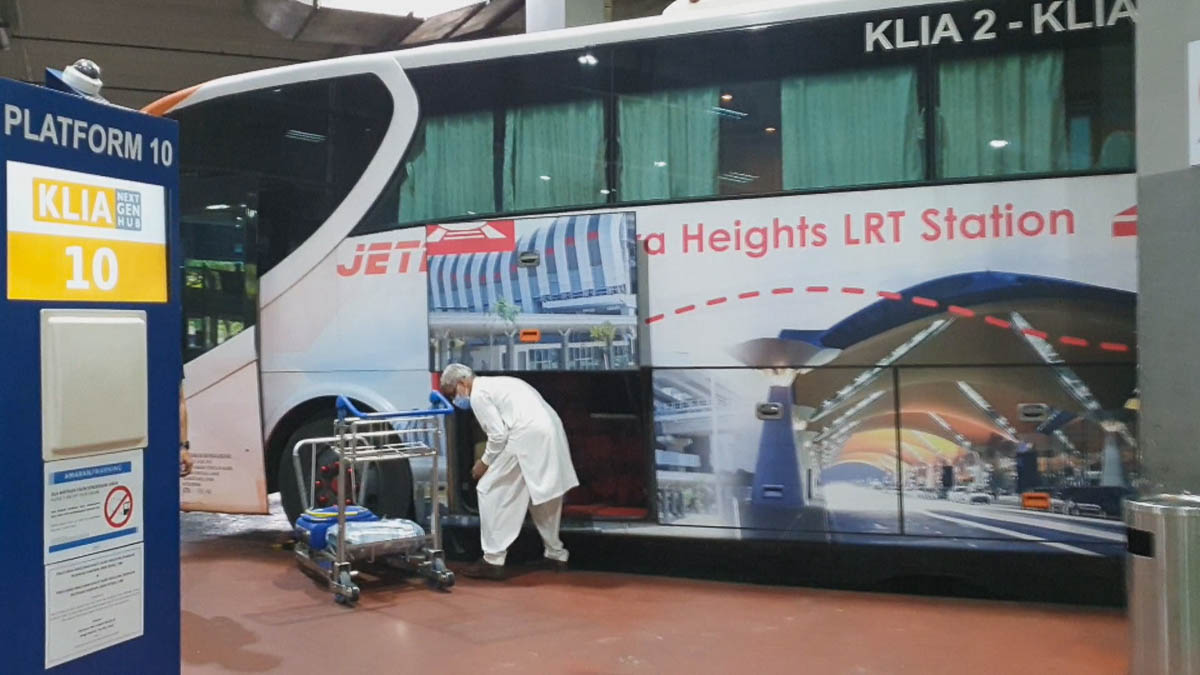 Aerobus also runs a two-hourly, daily service between Klang and KLIA/klia2, from AEON, Bukit Tinggi. The fare is RM15 one-way and the trip takes approximately 1hour 15 mins.
Rapid KL light rail (LRT) to Subang Jaya
Putra Heights is the terminus for two separate light rail services. The 'red' train will take you to the eastern side of Kuala Lumpur, terminating at Gombak, with a branch line to Ampang.
The 'blue' train tracks to the west of the city, terminating in Gombak. These lines do cross/connect at Masjid Jamek Station in Kuala Lumpur. Services are frequent and the trains share a common platform, so transferring between lines is easy.
I was able to step onto my Gombak train after a short wait, arriving at the Subang Jaya station 27 mins later, just before 4pm. The Adult fare for this sector is RM3.30.
KTM Subang Jaya to Klang
I had to wait until 4.40pm for the next service towards Port Klang. Because of on-going track work, the number of daily services on all Klang Valley lines has been significantly reduced. It has been reported that, as a consequence, KTM passenger ridership has declined from 134,000 daily in 2015 to less than 20,000 a day in 2022.
I arrived at my station at 5.08 pm, for a total time from leaving at the opposite platform in the morning, of 8 hours 20 minutes. The Adult fare for this sector Subang Jaya – Bukit Badak) is RM2.90.
The total cost of this journey was RM66.60. This would be less than half the the taxi service or ride share, even with the more expensive ERL component. But time-wise, considerably longer and convenience-wise, it required endurance.
You can watch our video of our walk-through of the Jetbus/LRT/KTM stations at the bottom of the page.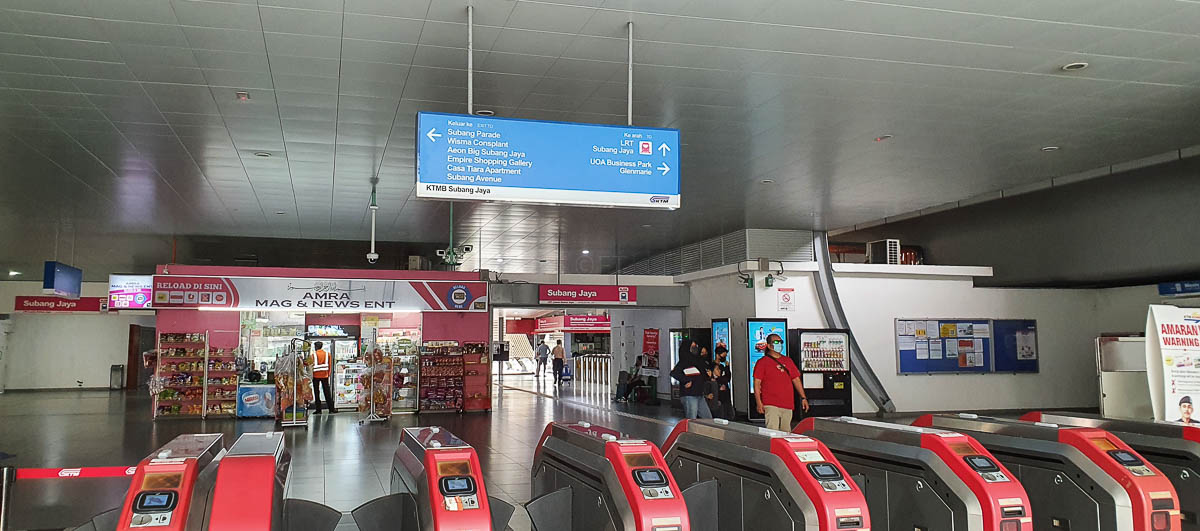 KLIA/klia2 by public transport
Questions for the Transport Ministry
I had the opportunity to ask Malaysia's Transport Minister about connectivity to and from the airport as this is an important consideration for many people, both passengers and airport/airline staff. I asked specifically about the cancelled RapidKL LRT/bus connection through Putrajaya and was disappointed to hear that it was cancelled because of 'Supply and Demand'. Not surprising, given that less than a year after it began, the country was effectively shut down and air travel was severely curtailed.
Getting to KLIA/klia2 by public transport can be a challenge, but it's more cost effective if you are alone or with one other traveller.  But it's certainly not always convenient or easier than using a car.
Rapid KL LRT/bus service via Putra Heights
This service made it convenient for people across the Klang Valley to reach KLIA/klia2
It was frequent (half-hourly, daily)
The service was cancelled because of lack of demand.

(there was a restriction on cross border travel, remember)

Demand can be built up if there is supply.
Please reinstate this service.
KTM service
The delay in completion of the Klang Valley Double Tracking Phase 2 (KVDT2) project is the reason for the serious degradation in service. Prior to the start of this project, the trip from Klang to KL Sentral took between 45 and 50 minutes. Now it takes at least an hour and often 1hour 10mins. From services running between 7 and 20 minutes apart, it is between one and 2 hours, except for short periods in the morning and afternoon rush hours.
When will this project be completed and proper service restored?
Express Rail Link (KLIA Transit and KLIA Ekspres)
This is a private operator and obviously profit driven. It has been, and continues to run combined services, half hourly, except during peak hours. This has resulted in a significant reduction in services and as all trains must stop at all stations, there is no Express element at all.
The fare is significantly higher, especially for travellers who could share a taxi/ride share.
What encouragement is available for the company to improve and increase services?
Private buses
From Klang, the number of services is restricted to two, Aerobus and Jetbus.
Aerobus offers services two hourly, daily, but only from Bukit Tinggi, in Southern Klang

This location is not easily accessed by public transport.
Road traffic in the area, especially from North Klang, is high.
The bus stand is in the open and not well protected if it rains.

Jetbus offers three services per day (except Sunday) from Terminal 17 in Section 17, Shah Alam.

It is probably the least expensive option.
This location has few public transport options towards Klang.
It is very far from the KTM Station in Shah Alam and nowhere near the up-coming LRT3 service.
New Roads
Currently, the toll road Elite Expressway is the only connection between the Western side of the Klang Valley and the airport. The non-tolled roads are not worth considering.
The under-construction West Coast Expressway (WCE) is nowhere near ready. Despite the connection to the Federal Highway having been completed over 3 years ago, it is not even opened for north bound traffic. The south bound connection seems to have stalled, with work proceeding slowly and not at all in some areas. This can be verified by watching the 'Work in Progress' videos regularly uploaded by the builders.
When will this road (WCE) be completed and opened all the way to the Southern end?
Wikipedia says "The expressway is expected to be fully completed by the end of 2024, except for a 10 km stretch from Section 7B which is expected to be completed by June 2026."

This makes it basically useless as a fast connection to the airport for at least 4 more years.

What is causing the holdups and how can this be rectified?
Supply and demand – which comes first?
This is not a chicken and egg situation. Demand will never match Supply, if what is demanded (needed) is not supplied. We, the users, can shout and demand all we like, but if those with authority to supply don't find it important, it won't happen.
I am appealing to the Minister of Transport to look into these points regarding moving people to and from KLIA/klia2 by public transport. Any improvement will greatly support Tourism, the Aviation Industry and general connectivity around the Klang Valley. First/Last mile connections are also very important.
Comment has been sought from the Ministry of Transport Malaysia and any responses received will be updated here.
images ©ET