One of our readers and her spouse were on the last flight out of Melbourne Tullamarine Airport before international flights stopped on 1st July due to increased Covid-19 restrictions in the city. They were unable to secure seats on any direct flights to Kuala Lumpur, their intended destination, after two of their earlier flights were cancelled. Singapore Airlines is currently the only airline group offering flights out of Australian or New Zealand cities to Singapore with transit connections, so leaving Australia via Singapore was their only option. Please note that this option is not available in the other direction, to Australia or New Zealand. Singapore is currently not allowing any other transit flights through Changi Airport. For more information on normal operations at Melbourne Tullamarine airport, check out our guide here.
Leaving Australia via Singapore
The Singapore Airlines A350 took off a little after midnight on the 1st July, bound for Singapore. For context, our reader is a Malaysian, her spouse holds foreign citizenship. They normally reside in Kuala Lumpur.
Before the flight
If you are an Australian citizen or Permanent Resident, you will need approval from the Immigration authorities to leave. You will need documents to show you normally resident in the destination country.(e.g. utility bill, drivers licence. Even if you are on the list of people exempt from approval to leave, apply anyway to the Australian Border Force for a confirmation letter. Click on Leaving Australia for more information on these procedures. If you are leaving Australia via Singapore for any other destination in the SIA network, you will need proof you will be allowed to enter that country.
For admission to Malaysia, get a COVID test before you leave Australia to speed up arrival procedures in Malaysia. This will not stop you entering, but you must wait for the results of a test at the airport, before you can leave. There are more details at the bottom of this article.
They opted not to have Covid-19 tests in the 72hrs before departure, as they had already been self-isolating.
The journey
A series of text messages kept us updated as the journey proceeded, the main details of which are reproduced here.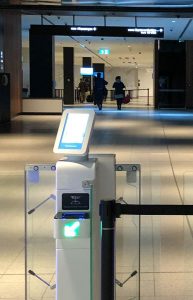 What you need to know to check-in smoothly:
Web check-in is not available
If you do not already have a seat selected, your seat will be assigned during check-in

Seats pre-selected may be changed for operational reasons

Arrive at the airport early, at least 3-4 hours ahead of scheduled departure
They were 4 hrs early for their 11.50pm departure, in case of delays.

There is a security check at the entrance to the Departure Hall.

Only ticketed passengers are allowed to approach the check-in counters.
Our reader was able to check-in quickly but her spouse required to be interviewed by Border Force officials. Although in the exempt category, he applied for a clearance letter beforehand, just in case.
TIP: Even if you are exempt, get a letter anyway

Over-planning is definitely a good idea
Note the name of the officer conducting the interview

Check-in

was

complete at 9.30pm and both had their boarding passed by 9.50pm.

The check-in staff required the name of the 

interviewing

 

officer
Immigration and Departure
Upon receiving their boarding passes, our subjects proceeded straight to Immigration.
TIP: A

s soon as you complete check-in, proceed to Security and

 Immigration.

If you are early, queues will be shorter and this step should not take more than 

15 minutes.

The Departure Gate was Gate 6

This Gate is close to the entrance

from Immigration

on your left after you pass through the GST Claim and Duty Free area.close to the entrance.

Clear directions on floor stickers in various languages will guide you.
Social Distancing measures are enforced in the Gate Lounges, with instructions pasted on the un-available seats.
Border Force Officials are present at the Departure gate to ensure that all travellers are cleared to travel to their destinations.
All Duty-Free shops, cafes and other shops are closed.
Passengers are all wearing masks.
An announcement was made at 11:34 pm reminding all passengers to wear a face mask
The crew are also all wearing personal protective equipment (PPE)

Boarding begins immediately following the announcement.
Transit passengers boarded first into the rear cabin.
Our reader is in Row 61.

Border Force officers checks on-going transit passengers for proof of entry approval into their end-destination country.
Care Packs
Bundles of 'Care Packs' have been prepared for all passengers.
Care packs

are issued to all passengers as they're checked at the boarding gate.

Contents: mask, sanitiser and a pack of wipes.

Outside the plane door, passengers can collect ear phones and bottled water.
A bottle of hand sanitiser is provided for use after collecting these items.
All passengers in the rear cabin were boarded within 20 mins

All passengers were separated, by an empty seat.

The balance of the passengers were also boarded quickly

Sequential boarding is very fast and all pre-flights were completed quickly

the A350 pulled back around 10 past midnight, taking off at 12.19am.
During the flight
If you want reading material, you must take it with you.
There is no reading material in the seat-back pockets, apart from the safety card.

Pillows and blankets were not on the seats, but stored in the overhead bins.
These are provided on request.

Transit passengers are given a coloured ribbon wristband

Our travellers were fitted with green ribbons 

You are not permitted to remove the wristband

This allows for quick differentiation in Singapore

There is no meal or other inflight service.
The toilets appeared to be fitted with UV lights.
Transit at Changi Airport, Singapore
Flight SQ218 landed in Singapore at 6.17am
All Singapore bound passengers were deplaned first, followed by transit passengers.

Transit passengers were taken straight to holding area after temperature screening.
Passengers with connections within 75 mins are taken directly to their Departure Gate.

All passengers received one 'goodie bag' from Changi airport containing toiletries and a drink.
Our travellers arrived at the holding area at

6:49 am

after temperature screening.
The airport was very empty.
All ground staff wearing face shields.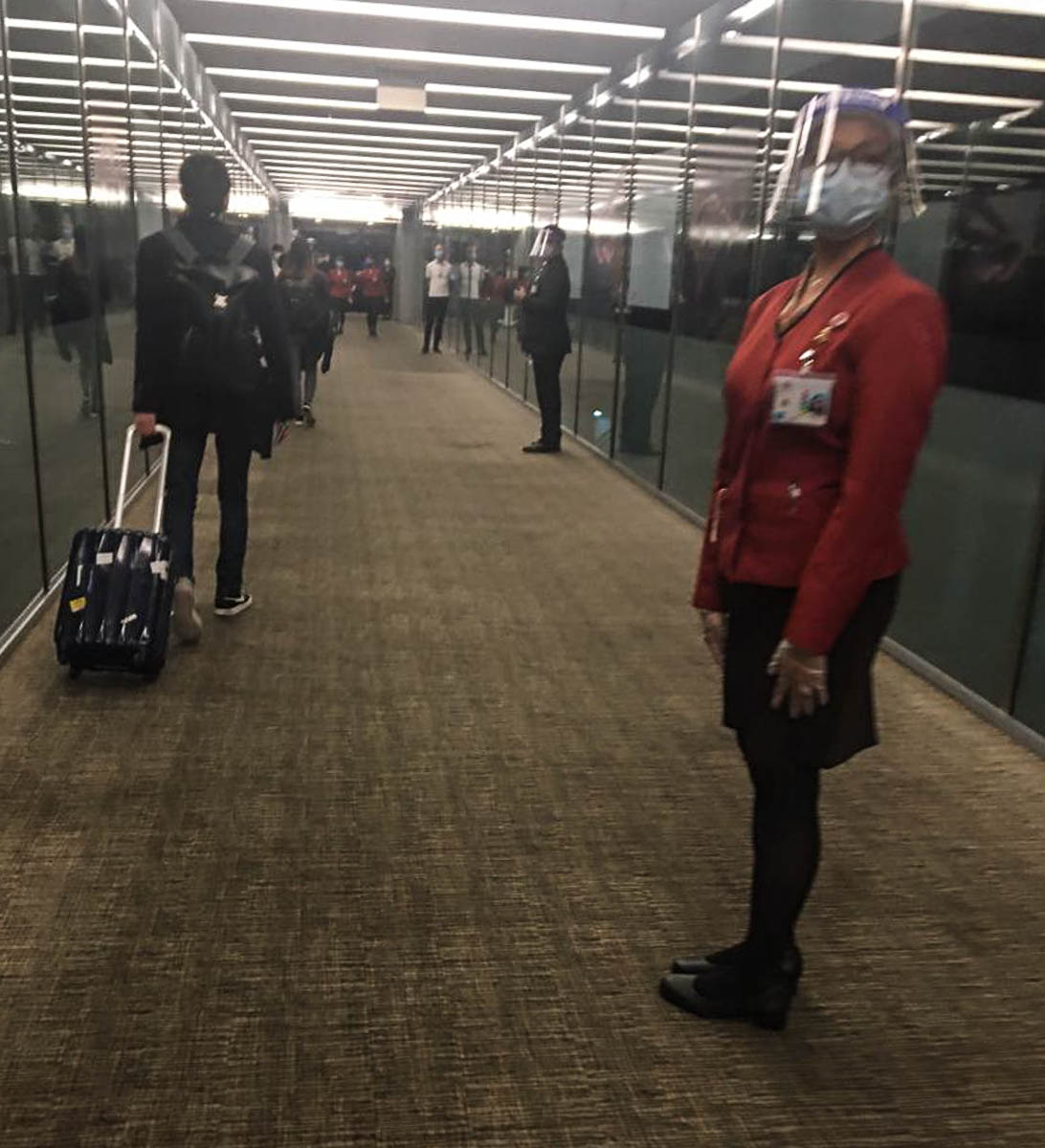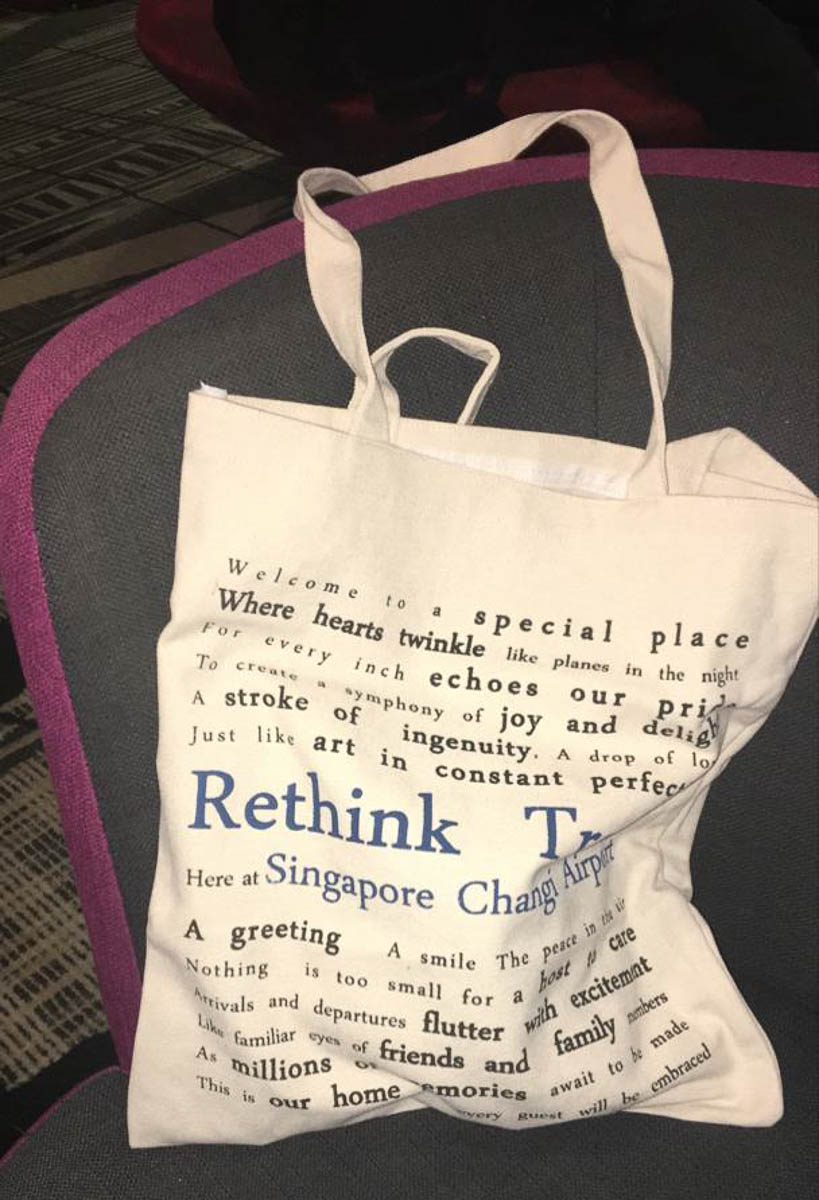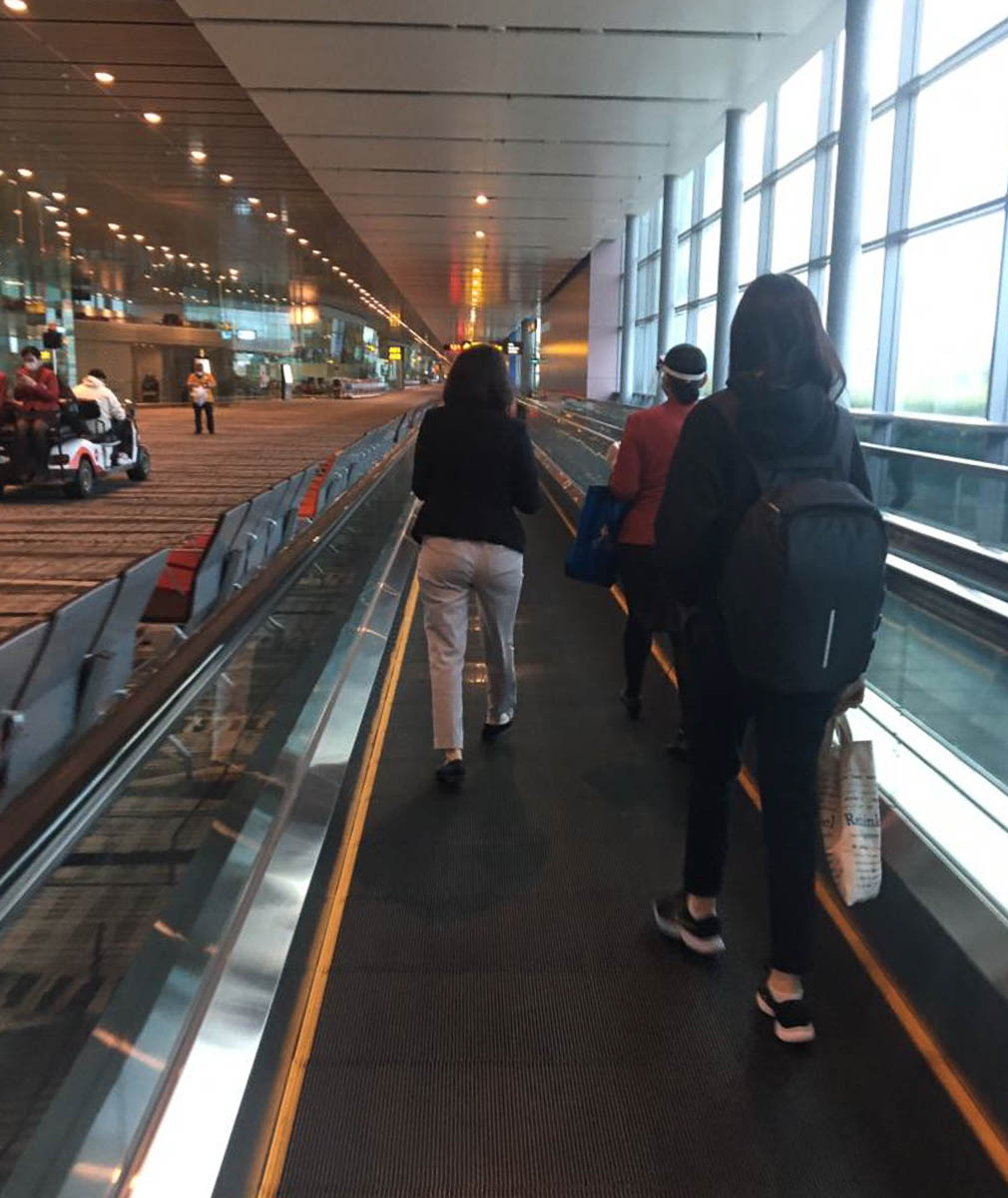 On to Kuala Lumpur
Onward passengers on SQ104 to Kuala Lumpur were ushered from the holding area to Departure gate at 7.35am.
The flight took off 8.24am, pulling in to the Gate in KLIA at 9.26am.
A limited food service was provided.
Socially distanced seating was arranged as on the earlier flight from Melbourne.
This flight also utilised a Singapore Airlines A350, to give more space for distancing.
After temperature checking, you are required to have a negative Covid-19 test result to be allowed to enter Malaysia.
Be prepared for a lengthy wait if you haven't had a negative Covid-19 test in the past 72 hours.
You will be tested and have to wait for the results, which will take 1-2 hours depending on the queue.
Our reader had not been tested earlier, so paid MYR60 for the antigen rapid test (RTK).
Testing procedure:
Scan the QR Code with your phone and fill in the form on the phone with your personal details.
If you have already downloaded the mysehjatera app from the Play store/Apple store, you can use this to scan the code.
Complete the written form and pay for the test.

You will be taken to a waiting area. 

Wait for the test to be done.

They waited half an hour.

There is no special queue for Seniors.
You are tagged on your wrist at this point.

This tag must not be removed until you have completed your quarantine.

Results should be available after 1 hour.
Our travellers were finally cleared to be negative just before 1pm, to proceed to immigration and bag collection.
You are required to have a second test on Day 13, you will be given the details where to go..
**TIP As there are no shops open, save your bread roll from the plane, or pack a small supply of biscuits/nuts etc before you leave Australia.
Other useful information
Remember, if you want to speed up your entry to Malaysia, get a COVID test before you leave.
The Consulate General of Malaysia in Melbourne has up to date information regarding travel into Malaysia.
Current Updates for Arrival Process of Persons under surveillance (PUS)
EFFECTIVE 10 JUNE 2020: Arriving people as per the groups below will be allowed to complete the 14-day self-quarantine at home.
For Malaysian Citizens:
As of 15 June 2020:
Returning Malaysians abroad are encouraged to undergo PCR COVID-19 Test Swab to avoid long waits at the entry point.
The test must be done within 3 days 

prior to entering Malaysia.

Result must be medically confirmed to have tested negative for COVID-19.

The result of the test should be presented to the authority at the entry point in Malaysia.
Please refer to the latest guidelines released by NADMA.
Note: This step is not mandatory.
For Non-Citizens:
MM2H Pass Holders:
Expatriates/ Dependent Pass Holders:

Please refer to the latest guidelines released by the Malaysian Immigration Department: