Brisbane Airport is the main gateway for travellers into South East Queensland through the State Capital, Brisbane. There are separate Domestic and International Terminals, both designated BNE. Arriving and Departing passengers in the International Terminal occupy separate spaces, so this guide focuses on Brisbane International Airport Arrivals.
The Gold Coast Airport (OOL), about an hour and a half south of Brisbane, caters largely to low-cost airlines, while Brisbane Airport's traffic is mostly from full service airlines. Make sure you have the correct airport when you are arranging transport and accommodation.
If you're waiting for travellers to arrive, there is a viewing gallery on Departure Level 4. Find out where in our story on Departures HERE.
Brisbane International Airport Arrivals
The airport has recently undergone extensive refurbishment, and while the basic layout remains almost the same, the services have been upgraded and make movement through the facility much more comfortable.
The other notable improvement is in the border control procedures, now in place at all Australian International Airports.
The green Australian Departure card is no longer required, although you still have to complete the pink Arrival card which has been simplified to make more streamlined classification of goods subject to import duties/quarantine regulations.
If you have a passport which incorporates the latest machine readable technology, you'll speed through, as card reading machines are in place for you to use. There are plenty of people who can advise you if you're having difficulty, or point you in the right direction.
Airside
International Arrivals are directed to Level 2 of the airport. Signage is clear and there are plenty of people to ask if you are confused.
Arriving and Departing passengers don't mix in Brisbane (unlike Singapore Changi or Kuala Lumpur KLIA). Therefore there are separate Duty Free outlets for both arriving and departing passengers. You pass through 'Duty Free' first as you arrive, on your way to the Immigration Counters.
As you leave the Duty Free area, you'll see a large rubbish bin on your left. The sign says "Declare it' with pictures of what you must declare, and then 'or bin it'.  This is serious. If you have any of those items, including left-over food from your flight, bin them. The fines are heavy and sniffer dogs can and will find them.
Immigration Controls
If you have an ePassport from one of the countries listed on the signs, you may use those gates.
If you don't have a ePassport, or have children with you, use the gate on the left. there are staff to assist you if you are unsure.
The ePassport machines are not difficult to use, and there are staff who can help if you get it wrong.
Insert the passport as per the instructions, at the correct page.
Services and facilities
Toilets are clean and well signed. You can find toilets at a number of places on the way.
You must pass through the Duty Free shop on your way to Immigration and Customs.
The items sold are mostly liquor, cigarettes and sweets.
Baggage Collection
The baggage carousel is located as you exit the Immigration desks.
This is the time to ask any further questions you may have about specific items.
If you aren't sure whether the items you are carrying are allowed you can check this page, or ask one of the officers on duty. The Australian Border Force also update their lists regularly. Their lists are similar and can be accessed HERE. Please note that there are multiple pages.
There is also this page which details foods and other items with cultural significance.
Customs Check
You must complete the pink Arrival form given to you during your flight.
These must be answered honestly – if you are unsure about any point, ask.
There are staff standing in the area who can assist you.
Once you collect your luggage, show the card to one of the officers.
You will be directed either to the exit, or to the checking counters.
Landside
Once you walk out the Exit doors, the services you may need for transport, accommodation and communication are all in front of you.
The Information Counter is immediately in front of the Exit.
Hire Car counters and Currency Exchange are to your right as you Exit the glass doors.
Local phone cards are available at counters run by most major providers.
Have your passport ready as you need to register the SIM card in your name.
A cafe is located opposite the Currency Exchange and there is a newsagent further down.
Lifts and escalators are available on the glassed side of the Arrival Hall.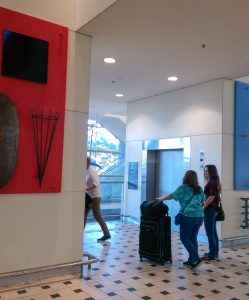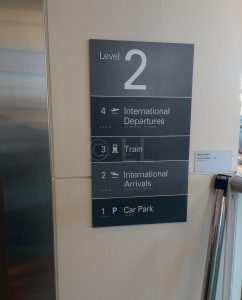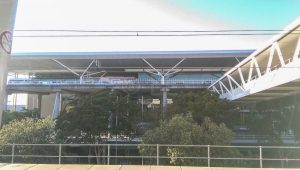 Lifts and escalators are available on the glassed side of the Arrival Hall.
Use them to reach the trains, transfer and public buses and the Departure Hall.

Get to train/parking via lift beside the Optus stand. Level 3 for 

train

.
Getting to and from Brisbane International Airport
A number of transport options are available for passengers leaving the airport. Apart from pick-up by car, the airport is well serviced by car rental companies and public transport.

Parking is on Level 1. If you have arranged for a hire car, the agents will direct you to the collection bay.

You have two main options, by car or public transport. There are also cycle paths if you need one.
The Brisbane Airport website is very comprehensive and easy to navigate. It's 

very helpful

 if you need more information about either the International Terminal or the Domestic (which is separate).
Brisbane Airport Expansion
images © LL