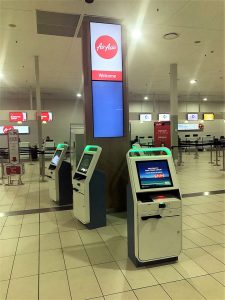 Flying AirAsia X from Gold Coast Airport? Checking in at the airport will should now be easier and quicker with the introduction of new check-in kiosks. The new kiosks must be used for check-in, printing of boarding passes and self-tagging of baggage. This must be completed before proceeding to the baggage drop counter. This applies to all passengers, including those who have completed web or mobile app check-in. Premium flatbed passengers will also need to use the kiosks to check in.
You'll find the kiosks located in the check in area. They are well-marked and hard to miss. The airline recommends arriving 3 hours before your flight if you haven't used these kiosks before. If you need any special needs, or if you're travelling on a group booking go straight to the service counter for assistance.
Flying beyond Kuala Lumpur on the same booking? Your boarding passes for subsequent legs will be issued at the same time as your first boarding pass. If you have multiple booking references, simply repeat the process.
If you're travelling HLO (with hand luggage only) and think this will be a neat way to get away with over-packing, think again. Gate agents will still be on the lookout for overweight cabin bags, so be sure to pack no more than 7 kilos in your carry on. You can check the cabin baggage rules here.
Gold Coast Airport is the first to see this initiative. Other airports in Australia will soon see these kiosks, including Sydney, Melbourne and Perth.
Check-in Guide
Here's a handy reference card that summarises the kiosk check-in process: