AirAsia X returns to the Gold Coast as the only carrier flying direct between Malaysia and Queensland after a Covid-19 hiatus of three years. Gold Coast flights resumed on 31st March with the inaugural flight departing from Kuala Lumpur International Airport (Terminal 2) at 11.25pm. The aircraft touched down at the new Gold Coast International Airport at 9.25am local time on Saturday morning. With the return service departing an hour later, travellers have convenient arrival and departure times at both ends.
All passengers on the inaugural flight enjoyed a special send off ceremony before boarding and a welcoming event on arrival.
Gold Coast flights – Promo fares
To celebrate the return to one of its most popular destinations, AAX is offering an all-in* one-way economy fare between Kuala Lumpur and the Gold Coast from RM699 or RM2,999 all-in one-way for a Premium Flatbed.
Book by 10th April 2023 for travel up to 14th December 2023. 
*All-in fares are inclusive of airport taxes, fuel surcharges and any other applicable charges. Terms and conditions apply. 
Flight schedule Kuala Lumpur (KUL) – Gold Coast (OOL):
| | | | | |
| --- | --- | --- | --- | --- |
| Route | Flight No | Departure | Arrival | Days of Service |
| Kuala Lumpur – Gold Coast | D7200 | 23:25 (11.25pm) | 9:35 (9.35am) next day | Wednesday, Friday, Sunday |
| Gold Coast – Kuala Lumpur | D7201 | 10:40 (10.40am) | 17:40 (5.40pm) | Monday, Thursday, Saturday |
A press conference held at Gold Coast Airport was attended by Stirling Hinchliffe, Queensland Minister for Tourism, Innovation and Sport; Amelia Evans, Queensland Airports Limited CEO; Karen Bolinger, Destination Gold Coast Interim CEO; Dato' Fam Lee Ee, AirAsia X Board of Director; and Benyamin Ismail, AirAsia X CEO and other key airport and tourism stakeholders.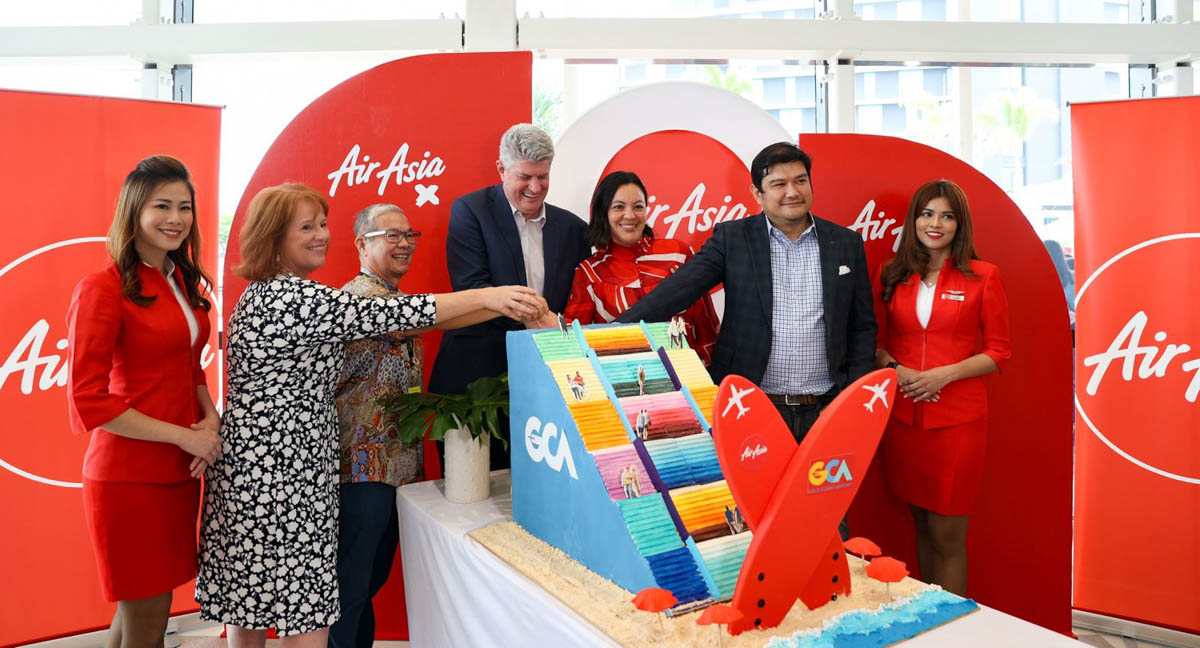 Tourism Minister Stirling Hinchliffe said AirAsia X was predicted to generate AUD45.6 million for the Gold Coast's visitor economy. Speaking to assembled guests, he commented that:
……. We're backing AirAsia X because of the airline's commitment to increasing its Gold Coast flight schedule to five days a week by the end of the year. AirAsia X is a terrific investment in the Gold Coast's visitor economy and the 450 good Queensland jobs these services will support.
He was also pleased to welcome Malaysian visitors back to Queensland to share their great lifestyle and enjoy the Gold Coast's world-class holiday experiences. If you're wondering what there is to do once you arrive in the Gold Coast, please don't worry! You're spoilt for choice whether you're looking for theme parks, beautiful beaches, nightlife, shopping, or a day in the country.
AirAsia X CEO Benyamin Ismail said this was an incredibly important day for AAX as it returns to the Gold Coast – its first ever route which was launched in November 2007. He added that as such, the Gold Coast will always hold a special place in their hearts.
He added that this route
…. provides the most affordable and convenient air travel option for guests who want to explore one of Australia's most popular tourist destinations and for Australians seeking to visit Malaysia or continue on throughout Asia with our vast global network including to leisure favourites like Singapore, Thailand, Vietnam, India and more.
Since the first AirAsia X flight took off from Kuala Lumpur to the Gold Coast in 2007 more than two million travellers have flown between the two cities. This time however, they're flying in to a brand new International Terminal, which we're looking forward to checking out soon.
In the meantime, you can book your Gold Coast flights on the AirAsia website, or the airasia Super App and follow @flyairasia on Instagram/Facebook or @airasia on WeChat/Weibo for the latest updates.  Download your airasia Super App from the Apple App Store, Google Play Store, or Huawei AppGallery.