When life hands you lemons, make lemonade! Covid-19 is currently that lemon and airlines are heavily impacted by travel restrictions and border closures. AirAsia Shop is their latest offering in their 'lemonade stand'. AirAsia has long had a strong cargo division and have their food operations well sorted. Their duty-free was one of the earliest to offer pre-booking with delivery to your seat. The AirAsia Shop is a logical development.
AirAsia Shop duty-free shop Revolution
AirAsia has always been a 'book online' airline since its take-over in 2001, so it has strong digital DNA.
What has emerged is a travel retail platform with home delivery service. While some products aren't available for home delivery, or aren't eligible for duty free pricing, you can choose from a wide range of authentic duty-free products. Even better, they're delivered to your doorstep within the next working day with the support of AirAsia's logistics arm, Teleport.
Choose from a range of top brands from around the world including
beauty products
fragrance
liquor
gadgets
health and wellness
travel accessories
AirAsia merchandise
Launch promotions
To celebrate the launch, AirAsia Shop is offering a 40% discount and gift-with-purchase promotion for selected Korean skincare products until 6th September. Popular brands including Innisfree, Sulwhasoo, Laneige are available and include free home delivery for purchases above RM100 within the Klang Valley .
In addition, selected AHC and Elizabeth Arden skincare products offer 'a buy-one-get-one-free' promotion for until 6th September. Look out for monthly promotions such as Deals of the Month with discounts up to 72% on selected products. Visit them here for all the introductory promotions.
Expansion plans
Prior to the pandemic, the airline had already set up their own e-commerce platform, OURSHOP, offering a secure and convenient shopping experience. At the height of MCO in April, they launched the Save Our Shops (S.O.S) campaign, to help struggling local SMEs gain access to the e-commerce world.
AirAsia Group CEO Tony Fernandes explained the chronology leading up to the birth of AirAsia Shop, at a media 'round table' on 27th August to launch AirAsia Shop.
….. Today, we are proud to transform this business unit to AirAsia Shop, which is an innovative business division within the AirAsia Group, offering convenient and value-for-money duty free shopping. We offer a wide range of genuine quality brands at great value prices.
In addition to inflight pre-book or airport pick up, you can also choose their home delivery service. He also unveiled future expansion plans cross-border in ASEAN. Following the Malaysian launch on 27th August, Thailand will follow in September 2020. Openings in Indonesia and Philippines are flagged for early 2021.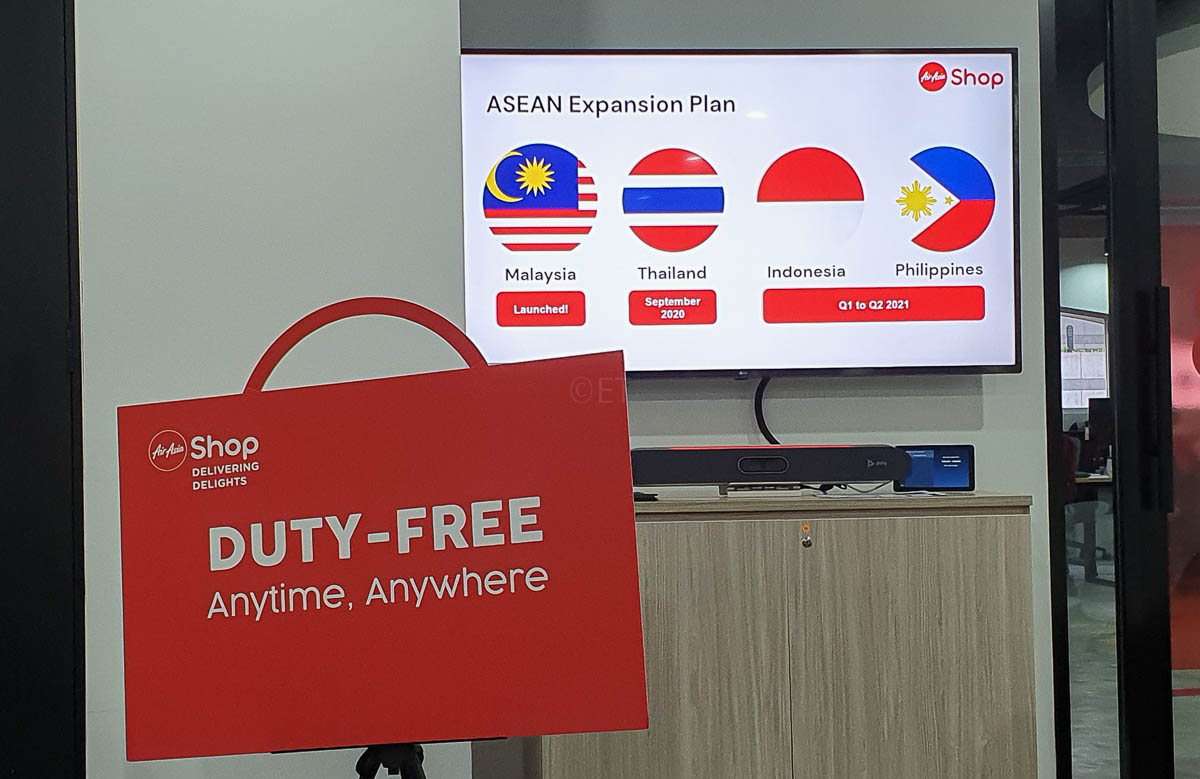 ….This duty free e-tail platform is set to be one of the key revenue contributors to the AirAsia Group, as we continue our efforts to become ASEAN's leading digital lifestyle brand.
There's More!
BIG Members alert! –
Shoppers can earn 1 BIG Point for every RM2 spent on AirAsia Shop
or
redeem any products on AirAsia Shop using your existing BIG points.
If you're travelling, you can also
have your purchases delivered onboard your AirAsia flight or at the boarding gate
or
choose self-pickup at the airport.
Visit the AirAsia Shop website to view its full range of products.