AirAsia has announced more flights to key India destinations Bengaluru, Chennai, Hyderabad, Kochi, Kolkata, Tiruchirappalli, starting with 12 weekly fights during April 2022. This will rise to 30 in May, after Hyderabad services commence on 1st May and is expected to grow to 71 a week by December. All these services are operated by AirAsia Malaysia, using the AK flight code. They will also be supplemented by AirAsia X flights to New Delhi, expected to resume on 20th April.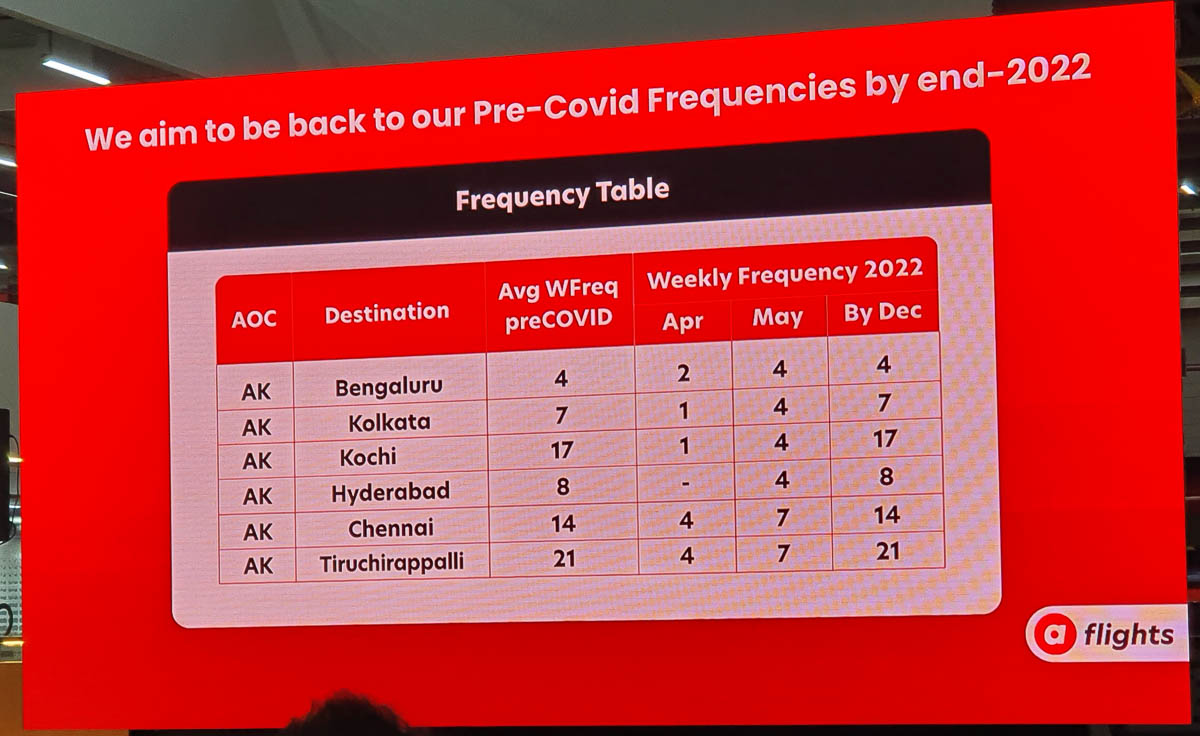 Return to India destinations promo fares
To kick-start travel resumption to India, AirAsia is offering over 10,000 additional seats weekly, at a 20% discount to all Indian destinations from Malaysia through the airasia Super App until 1st May 2022.
The promo fares include complimentary 20kg check-in baggage allowance for each booking.
Book on the AirAsia website, or by clicking on the 'Flights' icon on the super app, for travel between 1st May 2022 and 25th March 2023.
*Promotion is only applicable to AirAsia Malaysia (flight code AK) flights. Terms and conditions apply.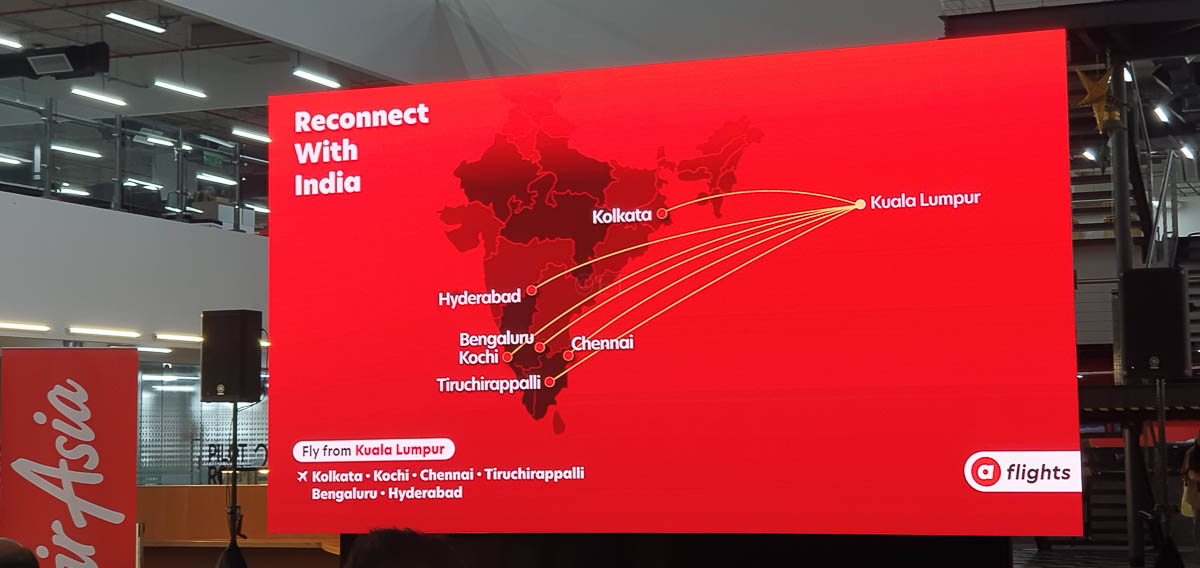 AirAsia (flight code AK) flight schedule from Kuala Lumpur to India
[table style="table-striped"]
Route
Frequency
Inaugural flight
Kuala Lumpur – Bengaluru – Kuala Lumpur
2 x weekly
Wednesday, Sunday
1st April 2022
Kuala Lumpur – Kolkata – Kuala Lumpur
1 x weekly
Friday
22nd April 2022
Kuala Lumpur – Kochi – Kuala Lumpur
1 x weekly
Monday
18th April 2022
Kuala Lumpur – Hyderabad – Kuala Lumpur
4 x weekly
Tuesday, Thursday, Saturday, Sunday
1st May 2022
Kuala Lumpur – Chennai – Kuala Lumpur
4 x weekly
Monday, Wednesday, Friday, Sunday
1st April 2022
Kuala Lumpur – Tiruchirappalli – Kuala Lumpur
4 x weekly
Tuesday, Thursday, Saturday, Sunday
5th April 2022
[/table]
The announcement was made during a press conference where guest of honour, Chargé d'Affaires of the High Commission of India in Kuala Lumpur, Ms. C. Sushma, welcomed the recent re-opening of Malaysia's international borders on 1st April and the full reopening of India's borders from 27th March.
She commented that there is confidence that two-way traffic will resume smoothly and grow progressively, adding:
…. AirAsia has been offering low-cost flights to India since 2008, connecting travellers from Kuala Lumpur to multiple destinations in India. We warmly welcome the resumption of direct commercial flights between India and Malaysia after two long years. C. Sushma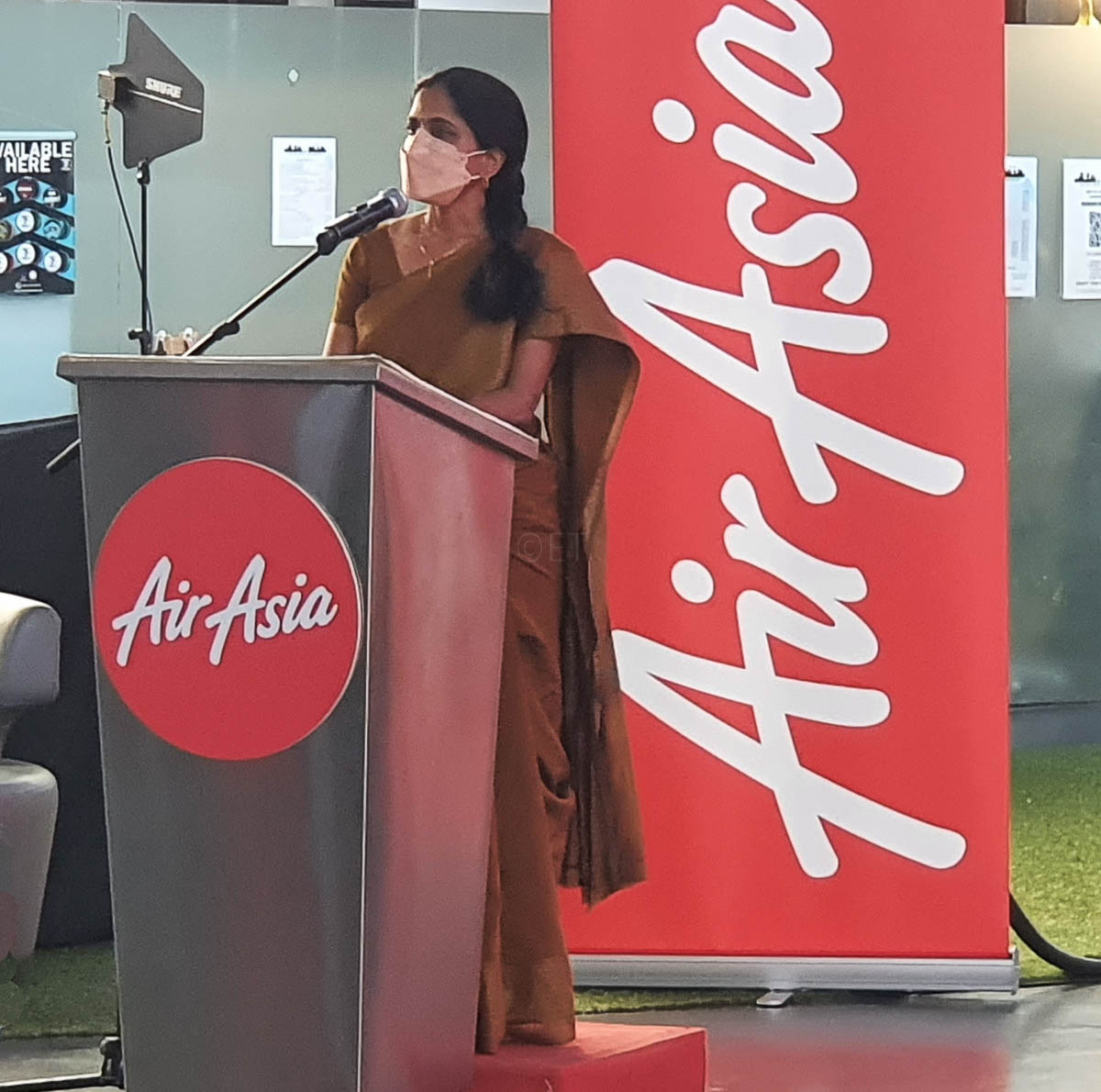 Entry into India
For full entry requirements into India, this link provides links to the health and visa requirements to visit India. Important points to note:
You don't need a pre-arrival PCR test, but a small number of passengers form each flight will be randomly selected for testing.
You must be fully vaccinated to enter and travellers from 102 countries are able to upload their vaccination certificate in the pre-arrival procedures.
An eVisa is available for travellers from most countries. The list is in the top tab of the page in the opened link. A sample application form is included to help you prepare documents. You must apply at least 4 days before departure.
Malaysia is not included and visitors holding a Malaysian passport should apply for their visa at the Indian High Commission in Kuala Lumpur (or their country of residence)
There is currently only one type of visa available, a 12 month visa for multiple entry. The cost is between RM4-500.
A photograph is required for both eVisa an paper application. The specifications are available (both hard/soft copies) on page 5 of the Sample form. Page 6 has the specs for documents required.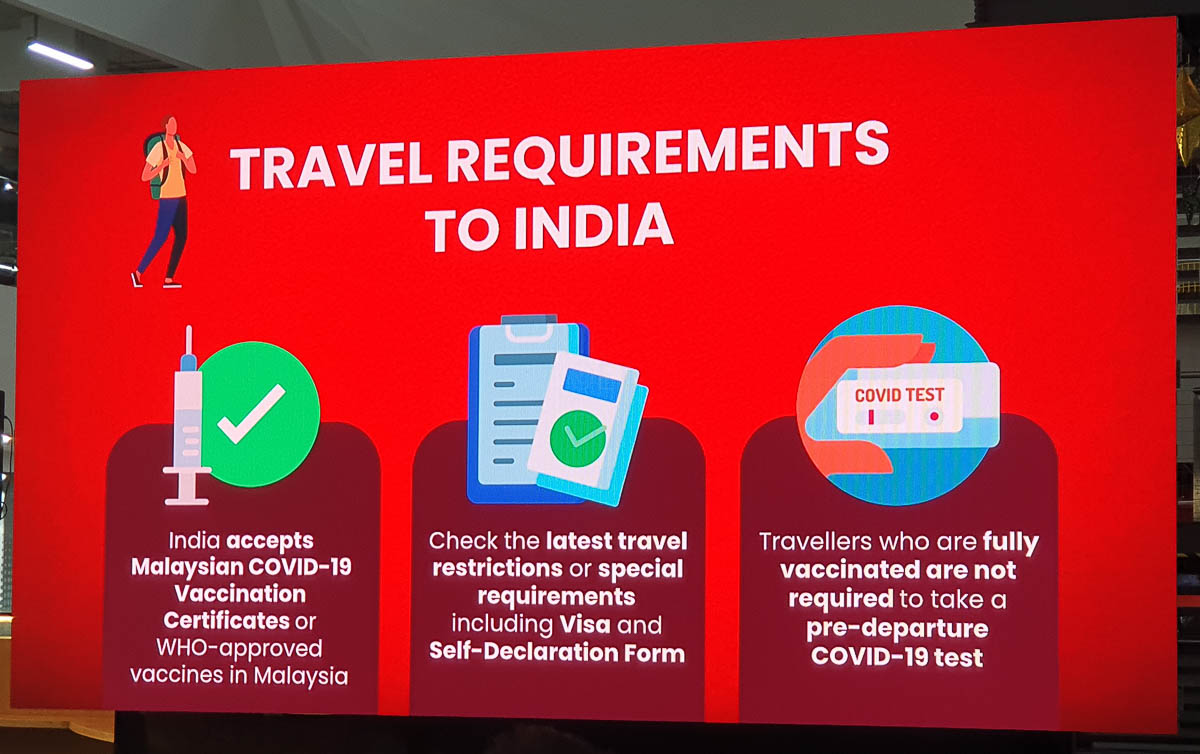 Entry into Malaysia
For full entry requirements into Malaysia, check our story or this information from AirAsia Support. Entry to Malaysia, at the time of writing, still requires travellers to produce a negative PCR test result taken within 2 days of departure. The cost of the PCR test in India is currently listed as 800 Rupees, approximately RM45.
Flying with confidence
AirAsia Malaysia has successfully migrated over 95% of its guests to use contactless self-check-in service via the airasia Super App and its website, an initiative that was encouraged at the height of the Covid-19 pandemic last year. The airline continues to promote its contactless procedures as an integral part of its efforts to further strengthen its Covid-19 mitigation plan. From 1st April 2022, AirAsia's counter check-in service is strictly reserved for exempt categories of travellers at all airports in Malaysia.
Among the exempt groups are
senior citizens aged 70 and above,
people with disabilities registered with the Welfare Department,
young passengers travelling alone,
group bookings of 10 guests and more
charter flight passengers.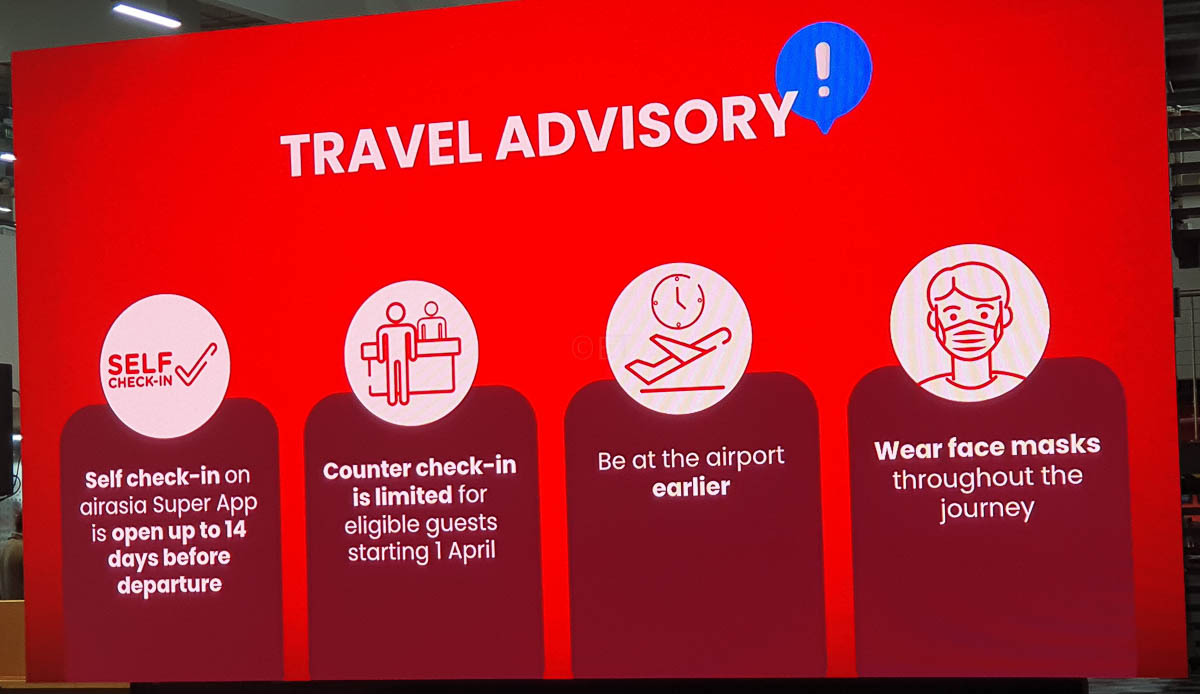 AirAsia has twice been recognised for its high levels of safety and operational integrity with a 7/7 rating from airlineratings.com in 2021 and 2022. Stay up to date with everything e-commerce from the airasia Super App by following @airasiasuperapp on Instagram and Facebook for their latest updates.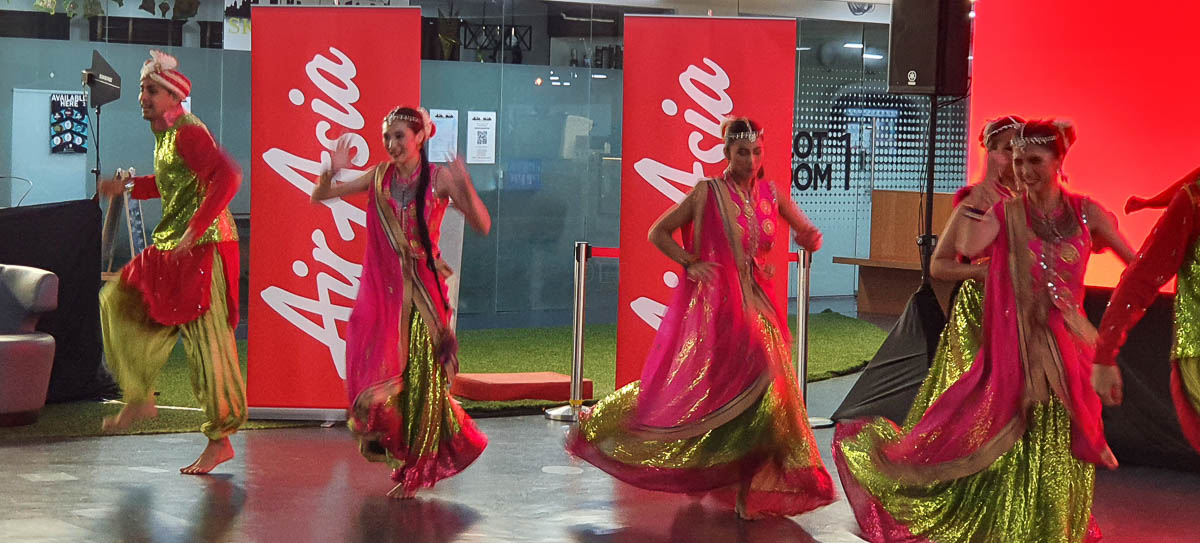 images©ET