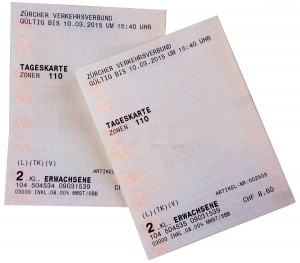 Whether you fly in to Zürich or arrive by train, you can hop on a tram at the doorstep. The No10 tram will take you right into the city main railway station (Zürich HB) from the airport. Download the route maps as a .pdf or collect one at the station.
Get a Day Pass at the station – we chose the 2nd class pass for 1-2 zones which gave us access to everywhere we wanted to go for a 24 hour period.
You can also purchase a Multiple day pass or Multiple journey Tickets, and if you have the time, either a 24 or 72 hour ZürichCARD will cover you for transport and free or reduced admission to the majority of Zürich's museums plus other discounts and benefits.
If you're thinking perhaps a day trip out of town might be good, try the Albis day pass which lets you spread your wings a little further if you have the time to spare.
Public Transport
We found the trams the easiest way to get around, especially as our accommodation was just over the road from a tram stop! We were able to hop on at Zürich HB and after depositing our things at our AirBnB apartment, we were straight out the door again to explore. There are tram lines covering most of the city area and the rest seems to be well covered by buses, which are also covered in your pass. We found the stops easy to find and the trams frequent enough that we didn't have to wait very long for another one to come along.
Walk
Unless it's really cold, Zürich we found to be a very walkable city. The public areas – railway stations and streets seem to be suitable for people with mobility problems, we noticed ramps and lifts to help. There are lots of places to sit and watch the world go by or stop for a cup of coffee or hot chocolate. Most Public toilets seem to require a payment of 1 Swiss Franc, but the one we stopped by at the Main station was 2 Swiss Francs. However they are very clean.
The nicest thing about walking is that it lets you discover the little parks or places you could eat an ice-cream, have a coffee or just relax on a bench for a while. We were happy to stop and chat with one of the archaeologists working on the uncovering of old tram track foundations near the Fraumünster Church, we admired all the smart cars along Fraumünsterstrasse (and chatted to the lady giving a couple of them parking tickets) and when we were tired half way along Bahnhofstrasse, we jumped back on a tram to the end of the road.
Although the city is fairly hilly, it's not that bad and we found that a combination of walking and riding gave us the opportunity to wander along quiet residential streets, buy some fruit and admire the interesting building designs and hop on the tram when we were tired. Around the city area itself, close to the river and a little further back, there are little squares where they have some small hole in the wall shops, including those selling chocolates, of course, and if you look closely and you will easily find shoe scrapers outside many of the front doors.