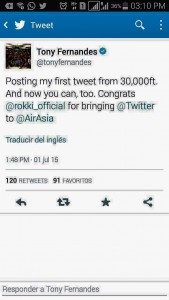 With the rapid expansion of inflight wi-fi provision it seems like a natural progression to add Twitter. AirAsia has teamed up with inflight entertainment and connectivity (IFEC) solutions provider roKKi to launch inflight access to Twitter on board selected AirAsia flights.
The launch took place recently at 30,000ft on board AirAsia flight AK5208, when the avid user of Twitter, AirAsia Group CEO Tony Fernandes tweeted the message shown left.
To make use of this new service when you fly, passengers can purchase a roKKi Chats Instant Messaging (IM) package, which also includes access to apps such as WeChat, WhatsApp, LINE, and KakaoTalk. The IM package is priced at RM9 for a total of 3MB data usage on these apps. The on-board Wi-Fi service is available on almost 4,000 flights each month and will continue to increase in number as more aircraft are equipped with the service.

roKKi Chats is currently available on selected AirAsia aircraft with more aircraft set to be equipped with the roKKi Wi-Fi system in coming months. For more information about Twitter access on board and other services check out roKKi online. Or watch for updates and a review on our site!