Tigerair Australia launches 2017 Winter Menu
by

Brian
on June 19, 2017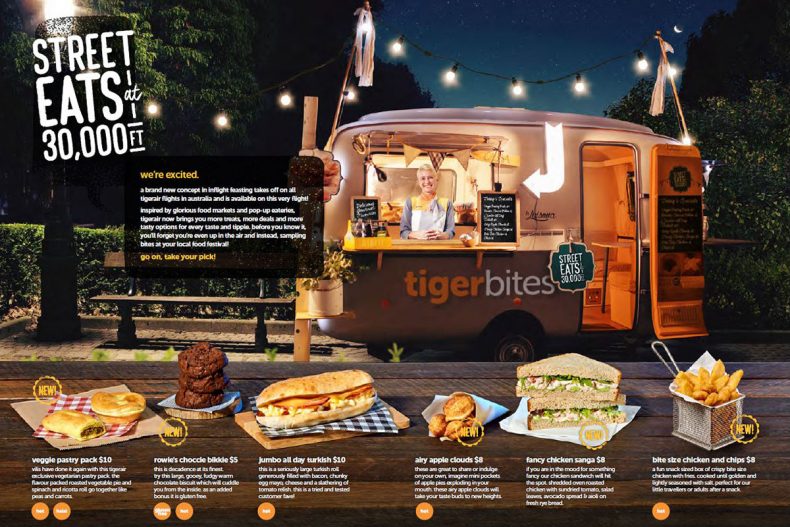 On your next Tigerair Australia flight, look out for some changes in your Tiger Bites seasonal inflight menu. Offering "street eats at 30,000 feet", the new winter menu promises more hot and cold items than ever before. Some new hot meals include:
Thai-grr green curry
Butter chicken
Pete's penne and meatballs
Roasted vegetable pie with spinach and ricotta roll
Marg-high-rita pizza
Rise and shine hot breakfast (homemade beans, hash brown, scrambled eggs and bacon)
Pre-order meals range from $11 to $15 and include a non-alcoholic drink. We always encourage pre-ordering as menu options are much broader than in the air. Additionally, you'll be the first to be served, and it's always nice to be envied!
Old favourites alongside new additions
Some perpetual favourites are remaining too, including the jumbo all day turkish and the savoury pastry pack. However, they're supplemented by new additions like:
Toasted meatball sub
Veggie pastry pack
Airy apple clouds mini apple pies
Bite size chicken and chips
Fancy chicken sanga
Items from Australia's queen of gluten-free – Rowie's – are also available, along with hot and cold beverages, including soft drinks and a range of wine, beer, cider and mixers. Finally, if you spend $15 in-flight you can save $5 on selected Tiger Shop merchandise offerings, which are listed in the Tiger Bites menu.
"Street eats at 30,000 feet" are available on all Tigerair Australia flights now.
0 likes
Brian
Brian travels often, but to the same locations for work and to see family. Like many self-employed (and self-funded) business travellers, he travels economy but has picked up a few tricks to make the experience nearly as enjoyable as flying at the pointy end.