Ipoh is the capital of Perak, the 'Silver State' about midway between Kuala Lumpur and Penang in Peninsula Malaysia. In the 'old days' it was a centre of tin mining and home to many 'tin millionaires' and an important administrative centre in Colonial days.
The legacy of those days remains in the interesting mix of architecture and culture centred around the Ipoh Old Town and conveniently close to the Ipoh Railway Station, itself a worthy Colonial building.
As a celebration of the Arts, History and Food of Ipoh and its surroundings, Kakiseni, a Malaysian group helping to 'build a sustainable local arts scene' are at the forefront of 'The Other Festival'. The Festival will run until 8th November, with a variety of events running each Thursday to Sunday. This weekend, why not join Patrick Teoh, Benjamin Yeoh or Niccolas as they share their Ipoh with you.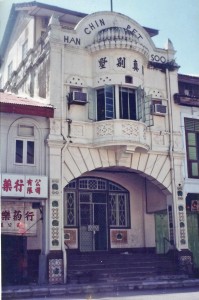 If you go on one of the other days you could visit the Han Chin Pet Soo History Museum, open 9am to 5pm every day except Monday. Admission is free, but you are free to leave a donation as you leave. This is the old Hakka Miners Club building, recently restored and opened to the public. This photo was taken about 20 years ago.
This intrepid writer is planning a day trip up on the 4th or 5th November and will report on what she finds. Unfortunately, that means missing out on most of the great weekend events, but we will still check out the food, architecture and art work.
We're planning to catch the train – the new Electric Train Service will get you there from Kuala Lumpur in just over 2 hours. If you decide to do the same, KTM is one of the Festival sponsors and the first 1000 who use the Promo Code OTHERFEST when purchasing tickets at the counter or on the phone will get a discount on their tickets. You'll also get a discount if you are 60 or over or have a disability card.
Watch this space for updates!