Brisbane has finally joined the AirAsia group network with the launch of Bangkok-Brisbane flights on June 25, 2019. Thai AirAsia X flight XJ310 touched down just before midday on June 26 to a water salute, aided slightly by wet weather. We have previously speculated about the Queensland capital joining the AirAsia network, and finally received confirmation of the new destination in February of this year. While Thai Airways also flies between Brisbane and Bangkok (Suvarnabhumi Airport), this is the first time a low-cost airline has flown this route.
Being a sponsor or the Brisbane Broncos, perhaps it was no surprise that AirAsia was able to have members of the team welcome their new visitors. Team members were on hand at Brisbane Airport to help passengers check in, sign autographs and take selfies.
Brisbane joins the Gold Coast, Sydney, Melbourne, Perth, Adelaide and Darwin as the 7th pin in AirAsia's Australian map. From its base in Bangkok Don Mueang Airport, Thai AirAsia X serves Seoul, Tokyo, Sapporo, Osaka, Nagoya and Fukuoka, Shanghai, Shenyang and Tianjin. Other AirAsia affiliates provide even more flights, with over 130 destinations around the region. With all these cities now in the AirAsia network, there are more ways than ever to get a cheap fare to Asia and beyond.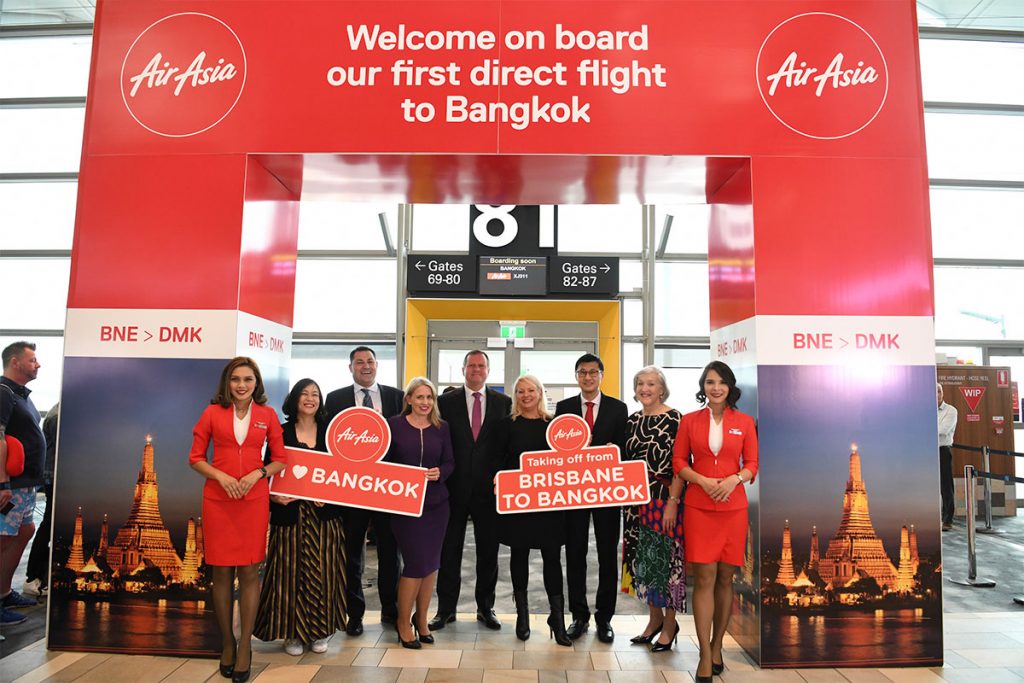 Bangkok-Brisbane flight schedule
Flights depart four days a week with daytime flights to Bangkok and overnight return flights to Brisbane.
[table style="table-condensed"]
| Route | Flight number | Departs | Arrives | Frequency |
| --- | --- | --- | --- | --- |
| Bangkok Don Mueang – Brisbane | XJ 310 | 23:40 | 11:35+1 | Mon, Tue, Fri, Sat |
| Brisbane – Bangkok Don Mueang | XJ 311 | 12:50 | 19:10 | Tue, Wed, Sat, Sun |
[/table]
Thai AirAsia X will fly this route with its Airbus A330-300 aircraft, of which it has 10. Additionally, we can expect to see brand new Airbus A330neo aircraft on this route too, as more of these are delivered.
For current deals, visit airasia.com. Conveniently, a 20% off all seats sale is running as we go to print, so now's the time to snag a deal!