A quick check of timetables released on the Brisbane Airport website suggests a new AirAsia X Brisbane flight could commence in early June 2017. Brisbane Airport maintains publicly accessible timetables that are available for download on its website. Whilst this is by no means confirmation of the service, it is an interesting development that airline watchers have been anticipating.
Economy Traveller has sought comment from airline representatives about this possible development.  If this changes, we'll be very quick to update our readers.
UPDATE:
AirAsia X isn't currently planning to launch the Brisbane/KL route. However, they will start Brisbane / Bangkok services at the end of June 2019. If you want to travel on from Bangkok, this is one of the airline's 'Fly-thru' airports.
Please note that Malaysia Airlines has resumed service on the Kuala Lumpur – Brisbane route since June 2018.
Scheduling
According to the timetable, D7 272 is scheduled to arrive in Brisbane from Kuala Lumpur at 4:45 AM. The return flight D7 273 departs for Kuala Lumpur after a short 75 minute turnround at 6:00 AM. These flights are scheduled 4 days a week on Mondays, Tuesdays, Thursdays and Saturdays. If true, it'd be the first time a scheduled AirAsia X flight has connected Brisbane to Kuala Lumpur. It will also be the only direct flight connecting the two cities since Malaysia Airlines withdrew in August 2015.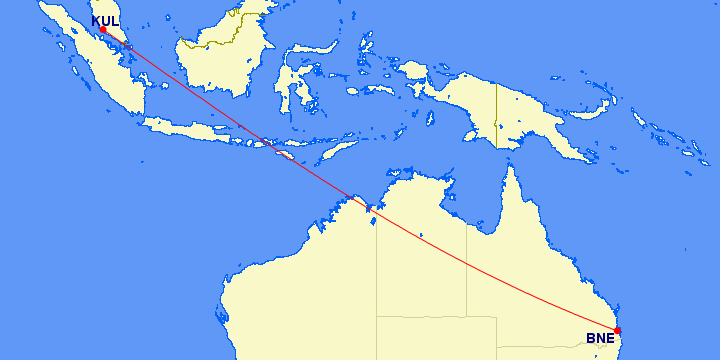 Should this schedule be confirmed, it suggests a midday arrival in Kuala Lumpur, which is great for onward connections and checking to local hotels. Likewise, the return evening departure from Kuala Lumpur allows for inbound connections or more time to spend in the city.
About AirAsia X
AirAsia X is the long-haul arm of Malaysian LCC AirAsia. Its first flight in 2007 was from Kuala Lumpur to Gold Coast Airport, beginning an enduring relationship with South East Queenslanders. The airline currently has a fleet of 22 Airbus A330-300s, which also fly to Sydney, Melbourne and Perth. Direct flights to Kuala Lumpur provide access to AirAsia Groups's wide network serving Asia, the Middle East and India. Fights to Honolulu via Osaka commenced in June 2017.