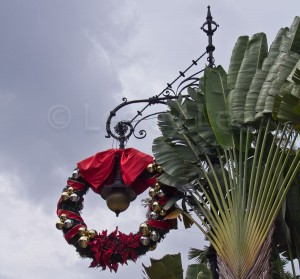 If you're even just thinking of being in Singapore between the 14th November 2015 and 3rd January 2016, decide 'yes' because this is Christmas shopping central and the Orchard Road Business Association (ORBA) lights up the whole of this main shopping and food street in the city. The lights will be turned on on Saturday evening 14th November by His Excellency, the President of Singapore, Tony Tan Keng Yam.
As part of their continuing annual tradition, ORBA is partnering the National Council of Social Service to organise this year's Christmas Light-Up Ceremony, which will also mark the start of Community Chest's year-end charity drive. 130 student volunteers from Republic Polytechnic will distribute multi-coloured light sticks to members of the public on the night of the light-up. ORBA will pledge $1 to Community Chest for every light stick given out.
The light-up is part of 'Christmas on A Great Street', supported by Main Sponsor Hitachi Asia Ltd., who have been doing the lighting now for 25 years, in conjunction with the Official Card, MasterCard(R) and the Singapore Tourism Board.
ORBA launches new mobile app – OneOrchard
ORBA will also launch Orchard Road's new mobile application, OneOrchard, available on both iTunes and Google Play, to further enhance visitors' experiences. The app features an e-store which allows shoppers to download shopping vouchers and make purchases from Orchard Road's biggest brands. Shoppers can subsequently collect their purchases at featured shops at their convenience. OneOrchard will let users shop from anywhere and enjoy hassle-free shopping at their fingertips.
OneOrchard will also integrate the ORBA Privilege Card, another initiative of the Association and its participating merchants for use by ORBA member organisations' employees. Cardholders no longer need their physical cards as identification because all their details will be housed on the app itself.
Christmas-themed activities for the launch and for the duration
Apart from the special performances on the 14th November, visitors to Orchard Road can also enjoy performances by Celebrate Christmas in Singapore (CCIS) nightly from 7pm – 10pm on 18th – 23rd December 2015 in front of ION Orchard and Wisma Atria.
On the Launch evening, Carollers and musicians from various schools and institutions will also showcase their talents at Paragon and orchardgateway.
Time: 6.30pm – 7pm
Performing Group: Mee Toh School Choir
Venue: Paragon
Time: 7pm – 8pm
Performing Group: Hark Music School of Pop
Venue: orchardgateway
Time: 7pm – 7.30pm
Performing Group: CHIJ St Nicholas' Girls School
Venue: Paragon
Time: 8.15pm – 8.45pm
Performing Group: Townsville Primary School
Venue: orchardgateway
Time: 7.45pm – 8.30pm
Performing Group: Lounge Lizards
Venue: Paragon
Time: 8.45pm – 9.15pm
Performing Group: Zhonghua Primary School
Venue: orchardgateway
Best Dressed Building Contest 2015
The public can vote for their favourite building on the OneOrchard mobile app. Voters for the winner of the Voters' Choice Award stand a chance at being one of 15 lucky voters to win up to S$200 worth of shopping vouchers each in a lucky draw!
The participating buildings are:
1. Forum The Shopping Mall
2. ION Orchard
3. Mandarin Gallery
4. orchardgateway
5. Paragon
6. Tanglin Mall
7. TANGS at Tang Plaza
8. Wheelock Place
Christmas Rewards with MasterCard(R)
Starting from 14 November 2015, those who charge a minimum of $300 to a MasterCard card at participating Orchard Road shopping malls can receive a $30 shopping voucher. Vouchers can be redeemed with a maximum of five same-day receipts at the same mall. The promotion is valid while stocks last.
The participating shopping malls are:
1. 313@somerset
2. Forum The Shopping Mall
3. Mandarin Gallery
4. Ngee Ann City / Takashimaya Shopping Centre
5. Orchard Central
6. orchardgateway
7. Palais Renaissance
8. Paragon
9. Plaza Singapura
10. Scotts Square
11. TANGS at Tang Plaza
12. The Centrepoint
Pedestrian Night on Orchard Road – First Saturday of December
There will also be special performances for December's edition of Pedestrian Night on Orchard Road. The street will be filled with Christmas performances and carolling by various interest groups, and activities for kids including balloon sculpting and face-painting. Orchard Road will also welcome its very own Santa Claus to usher in the festivities.
The 1872 Clipper Tea Co. Christmas Experience
This Christmas, shoppers can look forward to The 1872 Clipper Tea Co. Christmas Experience at a special pop-up store located on Urban Green Room 7 from 4 – 20 December 2015. Savour tea-infused mocktails brewed exclusively for Christmas on A Great Street, inspired by the unique features of Orchard Road, amid an outdoor modern setting. For those wanting more, The 1872 Clipper Tea Co. has launched their new retail concept at TANGS at Tang Plaza Basement 1, with their full range of products made available.
#OrchardRdXmas
Visitors to Orchard Road are also encouraged to use the hashtag, #OrchardRdXmas, as they share their special moments amidst the colourful displays specially created for this year's celebrations.
Orchard Road Business Association (ORBA) was set up in 1988 as Place Manager of Orchard Road to represent the interests and welfare of businesses operating along Orchard Road. ORBA's mission is to preserve, promote, improve, and facilitate business through events, business development, marketing and promotion.