Economy Traveller was recently invited to join a food focused expedition around Selangor which included a few opportunities to work off the extra baggage from all the lovely food. The Selangor Culinary Adventure 2019 brought together members of the media, writers, bloggers and social media influencers from Japan, Indonesia, Australia and Malaysia.
Apart from one stop on Day 2, almost all our stops had something to do with food. If that whets your appetite, read on!
Selangor Culinary Adventure 2019
Eat! 11 places to try
Chong Kok Kopitiam, Jln Stesen, Klang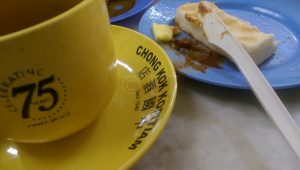 5, Jln Stesen
41000 Klang, Selangor
Phone: +603 33710996
Open:  6.30am – 6pm
except Sunday & public holidays (7am-2pm)
Website: www.chongkok.blogspot.com 
---
Chong Kok is a bit of an institution in Klang. It's a place where locals like to gather for breakfast, lunch or tea every day of the week. The food is simple and old fashioned, toasted Hainanese bread with egg or kaya, local coffee and pre-packed nasi lemak or meehoon.
There's a choice of local cakes available and you can also choose a more substantial plate of nasi lemak at the stalls just outside the door. Your 'inside' order is written on carbonised paper and you take this to the counter to pay the 'aunty' on the way out. Outside food is paid for when you order.
Nasi Kandar Tepi Sungei, Klang Riverside
---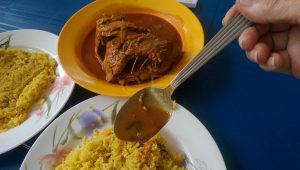 Gerai Makan Pekalan Batu,
Kawasan 1,
41100 Klang, Selangor
Open:  Daily 11:45am–4:30pm
except Friday 11:45am–1:15pm, 2:15–4:45pm
---
A curry lunch is always a good lift in the middle of the day and this one is always popular. It's not a fancy place, people go for the food and enjoy the view across the Klang River. They're famous for their fish head curry which uses tenggiri (mackerel) and senangin (indian salmon). We also enjoyed their fried chicken and fish steaks, hot and crisp outside, soft inside and very fresh.
They also do a good mutton curry and you can wash it all down with a variety of drinks, their lemon tea comes well recommended. The meal is served with white rice, but biriyani is available Wednesdays and Fridays. Finding your meal is easy if you enter the name above into Google Earth or Waze. There is parking along the access road or you can walk down from the Jambatan Kota beside the stalls.
---
Mohanas Bistro, Little India, Klang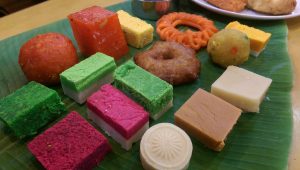 119, Jalan Tengku Kelana,
Kawasan 1,
41000 Klang, Selangor
Phone: +60 3-3372 7659
Open: early until late
---
Banana leaf restaurant with a wide variety of dishes to eat with your rice. Choose from lamb, chicken or fish, fried or in curry, and add vegetables and gravy. Fill any cracks with thairu vadai a soft gram flour 'donut', soaked in a generous serve of yogurt and coated with deep-fried curry leaves, chili flakes, or black mustard seeds.
Or perhaps the kolakatta, a steamed rice-flour dumpling filled with sweetened lentils. Check out all the Indian versions of local cakes and wash it all down with a cup of gingery masala tea. Don't forget to buy a bag or two of their very rich Indian sweets or murukku to take home.
---
Muara Ikan Bakar, Port Klang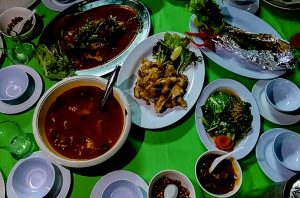 Lingkaran Sultan Hishamuddin,
Kawasan 20, Pelabuhan Klang
Phone +60 3-3176 6929
Open:
Sun 5:30pm-12am
Mon-Fri 5:30pm–1am
Sat 5:30pm-3am
Instagram: #MedanMuaraIkanBakar
Facebook: Medan Muara Ikan Bakar
---
This Malay seafood restaurant overlooks the southern end of the North Port wharves in Port Klang. Go early to enjoy the sunset as you enjoy tasty seafood.
Of course they have the familiar Ikan bakar, fish grilled on banana leaf. Our fish was fresh and the spicy sauce went well with the fish. We enjoyed our Steamed Fish With Asam Pedas – hot and sour and must be eaten with rice.
A big bowl of Thai Tom Yam with seafood disappeared very quickly and the Fried vege with kailan was a good accompaniment for the spicy fish dishes. Those among us who wanted something less spicy were more than happy with the deep fried sotong – calamari, crispy on the outside, soft on the inside.
---
Fruits Farm in the City, Damansara Utama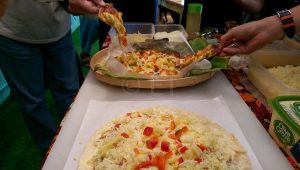 104 Jln SS 21/35, Damansara Utama,
47400 Petaling Jaya, Selangor
Phone: 03-7732 8463
WhatsApp: +6011-1195 8463
Open:
Mon-Sat 9am–11pm,
Sun 10am–11pm
Facebook: fruitsfarminthecitymalaysia
---
This two storey 'fruit farm' is really a Farmers market, Dessert shop and a Smoothie and juice bar all in one. Downstairs you can pick up fresh Malaysian fruits to take home or grab a smoothie or soft serve durian ice-cream. Upstairs they have tables for you to sit and enjoy a durian or fresh fruit pizza.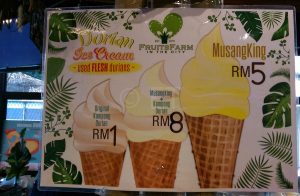 Eric, their chief pizza master, demonstrated how they make the durian pizza using one of their in house thin crust bases and a spicy paste made with durian flesh and chili. On top of the generously spread paste, he loaded cheese, slices of banana, pineapple and capsicum and popped it in the oven. It was surprisingly delicious and the taste and smell of durian is subtle rather than overpowering. A regular sized pizza is just under MYR20, but you can call them and pick up in half an hour. They'll also give you a special lunch price.
What else is yummy?
Fruits Farm also prepares their own fruit juice mixes and they love to experiment with new tastes and ingredients. We were lucky to try their latest experiment which had ylang ylang (think Chanel No 5) added to a lime juice and honey base. The flavour was delicate and refreshing.
We also learnt how to peel and eat dokong, the sweet and juicy 'grandchild' of the thick skinned fleshy duku and its sour cousin langsat. Duku-Langsat is an improvement on the parents, but the grandchild has the best characteristics from each side. And we made sure we picked up a soft serve durian ice cream before we left.
---
Bamboo Garden Restaurant, The Summit Subang USJ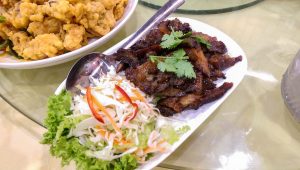 Lot 35, Lower Ground Floor,
The Summit Subang USJ,
Persiaran Kewajipan USJ 1
Phone: 03-8025 9088
Open:
Daily 11am–10pm
Facebook: SummitBambooGarden/
---
This halal Chinese & Thai Restaurant is located on the lower ground floor, opposite the escalator at the southern end of the mall. The mall is a short walk from the USJ7 Light Rail (LRT) station, which will save you the trouble of parking. Bamboo Garden's specialty is their whole fish dishes, which come in a choice of fried or steamed styles. As we had a large group, each table had a different cooking method, each dish looking more delicious than its neighbour.
The restaurant has a number of signature dishes as well. If you like barbecued beef, try their BBQ Daging Harimau Menagis which loosely translates as cow bitten by a tiger. No tiger is actually involved, but those who tried the dish pronounced it very tasty. This writer gave the biggest tick to the crisp and delicious salted egg calamari and would have eaten the whole plate if she could.
---
Tempurung Kitchen, Shah Alam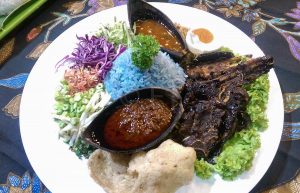 10-1 Jalan Lengkuas D16/D
Ken Rimba, Seksyen 16,
40200 Shah Alam, Selangor
Phone: 012-310 0400, 03-5524 0940
Open:
Daily except Friday,
11:30AM – 10.30pm
Instagram: #tempurung.kitchen
Facebook: Tempurung Kitchen
Order: foodpanda.my
---
This small family run restaurant is tucked into a row of shop houses in Ken Rimba, Shah Alam. It's not difficult to find, though you'll need wheels and parking is plentiful. If you're a fan of Kelantanese food, or would like to give it a try, this is a good place to start. As a long-time fan of nasi kerabu, I was very happy to see it on the menu.
The dish is constructed with blue rice and a herbal salad or 'ulam'. The colour of the rice comes from the blue butterfly pea flower and the plate is completed with an assortment of dried fish or fried chicken, crackers, pickles and other salads.The sauces, you can add separately, to taste.
Finish off your meal with a bowl of sago or glutinous rice with mango.  Bring the kids, booth style seating is available to make it nice and cosy.
A return visit
We recently dropped by for a second visit and enjoyed the food just as much. After calling ahead to make a reservation, we followed up with a WhatsApp confirmation. The menu and pricing arrived by return message, so we placed our order before we went. As such, we did not have the normal half-hour wait for our food which was ready when we arrived. We can definitely recommend this Kelantanese food for taste and reasonable pricing. We'll be back!
---
Curry Leaf Restaurant, Damansara Utama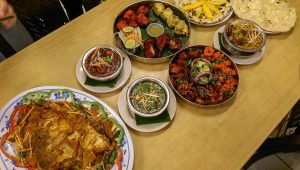 Ground Floor,
75, Jalan SS 21/37,
47400 Petaling Jaya, Selangor
Phone: 03-7726 5880
Open:
Daily 7am–10:30pm
Facebook: @restaurantcurryleaf
---
Want Indian food for breakfast, lunch or dinner but can't decide whether to go for North and South Indian choices? If you're near Damansara Utama, your problem is solved. Head over to the Curry Leaf, just over the road from Starling Mall. If it's raining and you've parked in the Mall, there is an underground walkway you can use to stay dry.
The menu has a wide range of Indian breads but their naan comes highly recommended, including a delicious 'dessert' naan. You can select your food by the plate from the pre-prepared dishes if you're looking for a quick lunch. If you have more time or a group of people, you can order from the menu for a wider choice. We loved their range of vege dishes which went well with rice of naan and some tandoori chicken.
---
Garage 51, Bandar Sunway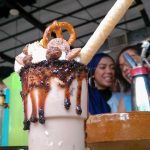 51, Jalan PJS 11/9,
Bandar Sunway,
47500 Petaling Jaya,
Selangor
Phone: 03-5612 5618
Open: Daily 11am – 11pm
Facebook: @Garage51.MY
Order: foodpanda.my
---
We stopped by Garage 51, for coffee or milkshakes and got to make our own milkshake. Seems the more you pile on, the better the result. This place is very popular with locals and the students from the university just over the road. You don't have to 'make your own', they have plenty of people to help you get just that right taste.  Sit inside, or hang out in the old cut off Beetle at the side of the building, with its own table and seats.
Parking in this area can be a bit of a nightmare because there are lots of small businesses and a busy university campus. Weekends and holiday periods might make parking easier, but if you need your coffee or milkshake fix, grab a Grab, or try the canopy walk from Sunway Pyramid.
---
BoomTown Garden Cafe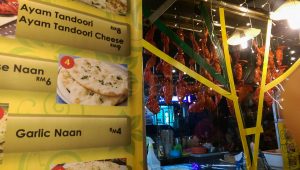 Jalan USJ 11/2J,
USJ 11,
47620 Subang Jaya
Open: Daily 4pm-1am
Instagram @boomtowncafe
---
Hawker style eating has long been popular in Malaysia and BoomTown Garden Cafe fits the bill nicely with a more organised and curated variety of hawkers on site. This is open air eating, but the rain doesn't usually hang around for long, so find a sheltered spot to wait out the sprinkles. The choices on offer range from traditional Malaysian dishes like nasi lemak, satay and various tandoor dishes, to Macaroni cheese and pancakes. We tried a range of offerings with mixed results.
So what's good?
The dry koay teow (flat rice noodles) from one stall were pronounced excellent, but the wet version was not so well received. We also tried the pancakes from Korridor Pancakes and found them light and fluffy, good value at MYR6 for two plain pancakes with syrup. Prices range up to MYR 12. Many of the stalls accept credit cards, though cash is always good for all. The evening we were there, they had a live band playing old favourites, which encouraged patrons to linger longer.
---
Saji Nusantara Restaurant, 1 Utama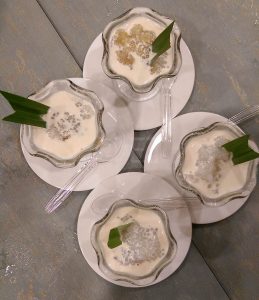 LG323-323A,
1 Utama Shopping Centre,
Bandar Utama,
47800 Petaling Jaya
Phone: 03-7611 6190
Open:
Daily, 10am- 10pm
Web: www.sajinusantara.com/
Order: foodpanda.my
---
Saji Nusantara offers a range of Malaysian dishes, just right for lunch or dinner. Mostly served with rice, they offer a range of tasty fish and chicken treats, that were speedily served with a drink and dessert as a set. Ask them for their set menu at lunchtime.
If you want a really quick lunch without even leaving home or the office, they'll deliver through Food Panda. We enjoyed our meal, even the catfish, which can sometimes be a 'bit fishy' and the chicken, crispy outside, soft inside. But the highlight, for this writer, was the gula melaka dessert that was part of our set. Soft, well cooked sago, swimming in fragrant gula melaka (palm sugar syrup) and coconut. The perfect end to lunch.
---
Discover – 6 adventures
Gallery DiRaja Sultan Abdul Aziz,  Klang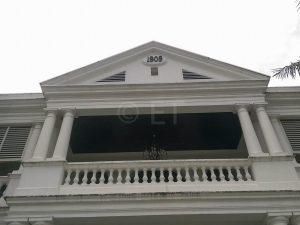 Bangunan Sultan Suleiman
3, Jalan Stesen, Kawasan 1,
41000 Klang, Selangor
Phone: +603 33736500
Open: Tuesday – Sunday, except public holidays
Web: www.galeridiraja.com
Instagram #galeridiraja
---
Sultan Abdul Aziz Royal Gallery is a example of classic colonial architecture designed by AB Hubback, who was also responsible for many of the public buildings built in Malaya in the early 1900s. This building opened in 1909 as the Klang Municipal Council building and the safe for land records was built into the walls. This safe is still there, to your right as you enter the Gallery.
This gallery or museum was opened in 2007 by HRH Sultan Sharafuddin Idris Shah, the ninth Sultan of Selangor. It's dedicated to the memory of his late father, Sultan Salahuddin Abdul Aziz Shah and is a repository of the late Sultan's personal souvenirs, his awards and even his bicycles.
The museum also traces the history and family tree of the Selangor Sultanate from its origins in Sulawesi in the 1700s. Entry to the gallery is free.
---
Little India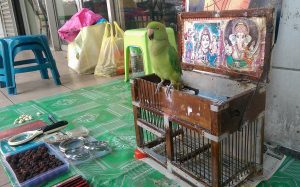 Jln Tengku Kelana and surrounding area,
Klang, Kawasan 1
Selangor
Open: early until late, every day
---
Most of the food shops open early, so drop by for breakfast. You can try a banana leaf meal, with rice and your choice of dishes. They'll come round with various sauces to go with your rice. Try eating with your hands and do ask the waiter about the protocol for folding your banana leaf when you finish. If you're hanging out for thosai, remember that it's only available in the mornings and after lunch.
The best time to visit
A good time to visit Little India is in the weeks before Deepavali in late October/early November. There are lots of colourful displays of clothes on display as well as the usual Indian foods and prayer needs. Stop by and have your fortune told by one of the little birds waiting to pluck your fortune out of a pile of cards. His handler will interpret it for you. .
For more things to discover in Klang, see our suggestions for a day trip.
---
Pantheon eSports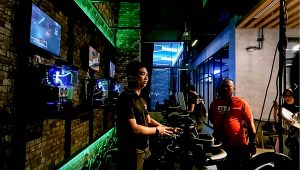 Lot 2, The Square, One Space @One City,
27, Jalan USJ 25/1C,
47100 Subang Jaya,
Selangor
Phone: 012-915 2220
Open: Daily 10am–3am
Facebook:  @ThePantheonMY
---
We headed for Pantheon Platinum iCafe for some exercise before lunch. The café is the first eSports Arena in Malaysia with Platinum NVIDIA GeForce GTX iCafe certification. They have 116 top line PC units representing all the gaming brands available in the market to keep their players happy. The facility boasts a built-in 123-seater auditorium, with six experiential zone for Alienware, Legion by Lenovo, MSI, Omen by HP, Predator, and Republic of Gamers. Each zone is fitted out with six PCs.
As we explored we lost a few of our group at each stop. A few were stuck in the Racing Simulator Zone, a few more in the PS4 Zone and we had trouble convincing those into Virtual Reality (VR) to leave. If you're not a gamer, but want to accompany someone who is, the café has a range of food and drinks and power equipped tables to charge your devices as you wait. Give them a call for their rates which are quite affordable.
---
Chocolate Museum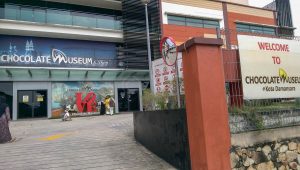 2, Jalan Teknologi 3/5,
Kota Damansara,
47810 Petaling Jaya,
Selangor
Phone: 03-7490 4260
Open: Daily 10am – 5pm
---
Opened in 2013 Chocolate Museum 1.0 has recently expanded to be the place to go for a comprehensive look at chocolate. The expansion, Chocolate Museum 2.0 has a number of original and first-of-their-kind attractions. Apart from a number of huge chocolate sculptures including the KLCC Towers made with 525 kg of chocolate they have artefacts like the Lindt conche for making chocolate smooth.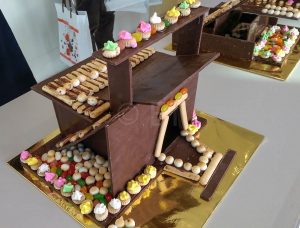 There is limited viewing available of the factory floor and a demonstration of the process of producing blocks of chocolate. We had a sneak preview of the museum's next project, Chocolate Lab. This will give visitors experience making chocolate under their in-house chocolatiers. We did have the chance to try out a team project of constructing a chocolate house. A great team building activity and lots of fun.
Tickets & Getting there
Entry to Chocolate Museum 1.0 is free, but there is a small charge for visitors aged 3 and above for Museum 2.0. The Chocolate Museum is open daily from 10 am to 5 pm. You can pick up some great local and imported chocolates on your way out at their retail Chocolate Galleria.
You will need wheels to reach the Chocolate Museum. The nearest MRT Station is Kota Damansara, but it's a hot walk and it is not expensive to call a ride share from the station.
---
Temuan Orang Asli Village visit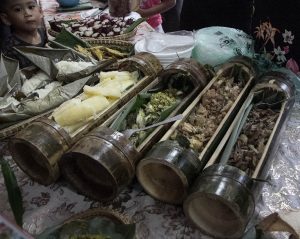 Desa Temuan Bukit Lanjan,
Jalan PJU 8/7
Damansara Perdana
47820 Petaling Jaya, Selangor
Phone: 017 292 5269 (Boboy)
012 255 8050 (Harry)
Open: By appointment, a month in advance
---
This group of Temuan orang asli were relocated from Orang Asli Reserve Land at Bukit Lanjan in 2002. They moved to Desa Temuan, not far away, with access to a jungle habitat, This means they can still practice many of their traditional ways of life, crafts, cooking and trapping small animals. This was definitely the most unusual Selangor Culinary Adventure 2019 activity.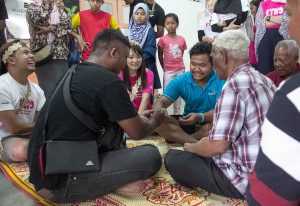 We first learnt how they make and hide traps using bamboo, leaves and vines and discovered how they cook them. Fortunately, the Temuans don't need to rely on what they catch for food as the traps are quite complex They're also time consuming to make and set.
It's a wedding!
Before we enjoyed the food, we enjoyed a re-enactment of a Temuan wedding, a simple affair presided over by the Tok Batin. The Tok Batin is the headman of the community, about half of whom remain animists, believing in the power of nature.
---
1 Utama Shopping Centre, Damansara Utama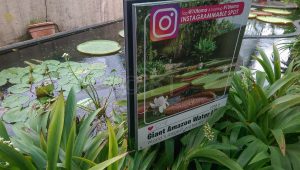 Lot S327, Bandar Utama City Centre
No1, Lebuh Bandar Utama,
Bandar Utama,
47800 Petaling Jaya, Selangor
Phone: 03-7726 4788
Open: Open Daily at 10am.
Closes 10pm, except Fri/Sat 10.30pm
Web: https://www.1utama.com.my/
Facebook.com/1Utama
Youtube.com/1UtamaHappenings
Instagram.com/1Utama
Twitter.com/1UtamaOfficial
---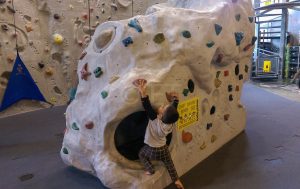 Even if you live nearby and do much of your shopping in this mall, it is so big, you probably haven't discovered all it has to offer.
With  711 shops and 14,000 parking bays across six linked buildings including a 5 Star hotel, it's easy to feel intimidated. But this events-driven lifestyle centre has something to offer just about everyone.
The shopping Centre opened with one block in 1995 and the first expansion opened in 2003. These included the Sportszone including Asia's largest indoor internationally certified rock climbing gym. You can also enjoy SE Asia's only automated baseball/softball centre, Rooftop futsal, PADI 5-star scuba diving centre and a Lifestyle gym).
New activities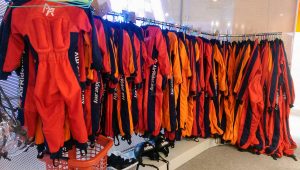 The Surf centre FlowRider and Indoor skydiving facility AirRider came on board in 2018. We had some fun in the AirRider with even the youngest joining in the fun. If they have a suit that fits you, feel the thrill!
By 2018 it already had a full range of offerings, with yet more to come. If you'd just like to relax, do check out their Rooftop Secret Garden, open during Shopping Centre hours, weekends & public holidays.
1Utama is well equipped for various transport options and offer Park & Ride service and Electric Vehicle charging stations. In their Transportation Hub, look for long distance and commuter buses Aeroline, Genting Express, Five Star, Transtar, KLIA2 Skybus, Rapid KL, and there's a dedicated  GrabZone for ride share travellers. The Bandar Utama MRT Station is directly accessed by pedestrian bridge to office towers, One World Hotel and 1 Utama.
---
Stay – 2 choices
Premiere Hotel Klang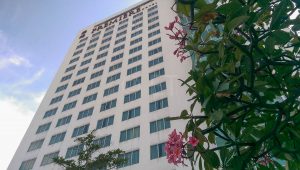 1/KS6 Jln Langat
Bandar Bukit Tinggi,
Klang, Selangor
Phone: 03-3325 6868
---
Currently the only 4-star hotel in Klang, the Premiere hotel is located in Bukit Tinggi, between Klang town and Westport has 250 rooms and suites, including three floors of Executive Club floors. It's easily accessible from the Kesas Highway and the rooms are well appointed and reasonably priced. It's clean and well maintained but we were wishing we had more time to enjoy the pool and gym.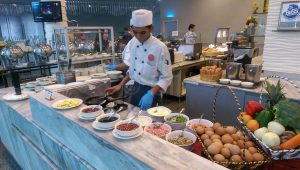 Breakfast offers a good choice of different types of food, with an egg station and a number of western favourites. We like that the calorie count for each dish is displayed on the card. Another thoughtful touch was the arrows clearly showing the way to the exit, close to the floor outside the rooms.
If you have access to the Executive Lounge, they have a great high tea spread as well as giving you a good view of the nearby town as you work or relax. Other facilities include a Chinese restaurant (open for lunch and dinner) and banquet hall.
Before we left we enjoyed a cooking demonstration where we learnt how to make two of the hotel's signature dishes, Ikan Bakar and Chicken carbonara popiah.
Check out our separate review of the Premiere Hotel, coming soon.
---
Dorsett Grand, Subang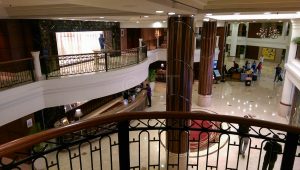 Jln SS 12/1, Ss 12,
47500 Subang Jaya,
Selangor
Phone: 03-5031 6060
---
This 4.5-star hotel is located in Subang Jaya, close to a number of big shopping centres and hospitals. There's also a beautiful park next door, with a walking track around the lake. We stayed only one night, in a deluxe room, but would happily have stayed longer. The Dorsett Grand is a popular venue for weddings as it has a large column free ballroom, which can be separated into two or three smaller venues. The rooms are comfortable and the bathroom (with a shower – the standard rooms have a long bath) was clean, spacious and well appointed.
We were shown around the hotel and would go back to stay in their competitively priced Executive suite. They have one at the end of each level in Tower 2. The arrangement offers separate sleeping and business spaces, so meetings can be held easily.
Before we left we were initiated into the skills of making mooncakes. The Chinese lantern festival is coming up and the associated mooncakes are everywhere in the shops. We learnt how to make the skin and wrap it on the filling. Check out our video to see how this writer didn't pay attention and made a fine mess of the art.
Check out our separate review of the Dorsett Grand Subang Hotel, coming soon.
---
To join us on our trip, check out our video. Open it in YouTube and use the time markers to jump you to the sections you're interested in.
Thanks to
#GayaTravel #TourismSelangor #goodfoodonly9 #EatTravelWrite #ETW9 #UPENSelangor #DiscoverSelangor #CutiCutiMalaysia #VisitMalaysia2020 #VM2020 #TakeMeAnywhere #GayaTravelxWardah #roamingmanMY #JomStarbucks
images/video©ET