Santan, AirAsia's F&B brand is, like many similar businesses, affected by the on-going Covid-19 pandemic. General Manager, Catherine Goh spoke about the Santan Restaurant Covid-19 challenges and the company's response to the situation.
Santan Restaurant Covid-19
Tough times, but tougher people
……Tough times don't last, but tough people do.
Catherine used this quote to  describe the challenges facing Santan, the 'new kid on the block' which opened its first outlet in December 2019.
The speed with which the pandemic appeared and forced the closure of F&B outlets in March 2020, was totally unexpected. The company was just at the point of starting to mobilise their menu through food delivery partners. This is now in operation, in response to the needs identified below.
As part of the larger AirAsia Group family, Santan is used to meeting challenges. After identifying that the company could continue to operate, they also saw an opportunity to give employment to those affected by the movement restrictions.
Giving back to the community
helping those in need
The planners identified four main strategies.
The first was to set up the system.
Get as many food delivery partners as possible on board to service customers in the Klang Valley
Set up a pick-up process for customers who prefer to drive by the entrance of the mall. we're in to grab their orders.

This takeaway option is not the preferred option, as

people are

encourage to #StayAtHome throughout the movement control order.
Second – help other F&B outlets
Identify and approach operators with under-utilised or non-operating facilities and kitchens
Offer an opportunity to set up satellite kitchens to prepare Santan food.

More hospitality staff and 

F&B operators

can continue to earn a living.
Third – help the needy in the community.
Charitable homes and hospitals were the first to be identified.

Medical front-liners who don't have enough time to get food,
The less fortunate with no access to reliable food.
Fourth – establish a Food Aid Foundation.
This will deliver over 8,000 meals to charitable homes, rehabilitation centres and feeding centres.
These include

Rumah Kasih Harmoni Paya Kara's,
Rumah Kita,
PJ Caring Home
Rohingya Community.

Four hospitals have initially been identified:

Kajang Hospital,
Universiti Kebangsaan Malaysia Hospital,
University Malaya Medical Centre
Kuala Lumpur Hospital.
Hospital Donation Package Campaign
The 'Santan Hospital Donation Package' was set up in response to requests from customers wishing to contribute towards supporting front-liners. #InThisTogether.
The campaign is ongoing and if you're interested please Whatsapp the organiser at +6018 378 2274.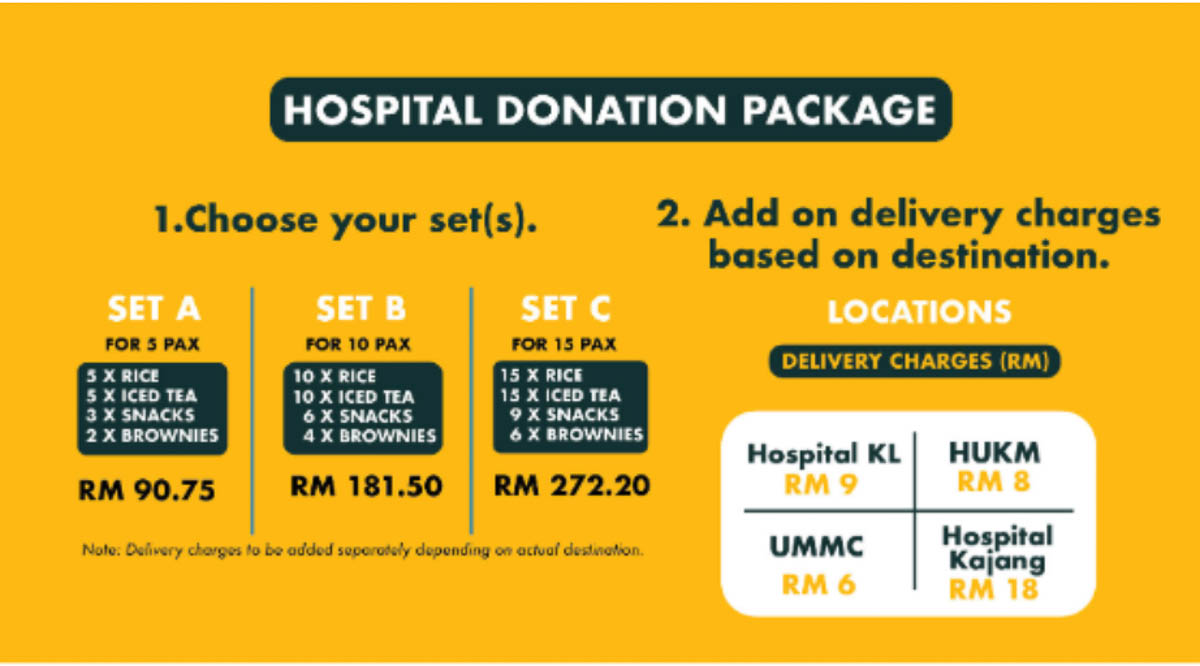 Ensuring job sustainability
taking care of our own
On top of all this, AirAsia's aircraft aren't flying at the moment. Cabin crew, pilots, ground service agents and other staff are all affected by to the pandemic outbreak.
This initiative responds by opening up opportunities for those affected to deliver Santan food all across the Klang Valley. This enables them to get supplementary income, with over 50 AirAsia Allstars from various departments signed up as delivery riders.
Future directions
At the time of writing, 70% of the business comes from deliveries, with 30% take-away. The company is also focusing on developing their menu offerings, with plans to expand to frozen meals in the near future.
Ramadan 2020 starts on 23rd April but there will be no traditional Pasar Ramadan this year. Santan is setting up a Ramadan e-bazaar. Stay tuned for more information on this special project or follow AirAsia in social media.