Sunday lunch with family. What to eat? Tired of cooking, but want to eat at home? Enter Santan Delivery. Santan is the AirAsia inflight food brand, who had already opened their first on-ground outlet in December 2019. Their new restaurant in Sunway Pyramid opens later this month to complement the existing outlet in MidValley Megamall. In addition, the provision of a distribution centre in Shah Alam, means you can order via santan.com.my, from either Mid Valley or Shah Alam. Delivery is available up to 20km from each of these two locations. So this is what we did!
Santan Delivery or eat in-store
When we fly AirAsia or AirAsia X we always include our favourites – Pak Nasser's Nasi Lemak and Uncle Chin's Chicken Rice. Both are on the menu, along with their popular Classic Burnt Cheesecake. However, the on-ground selection is only a 30% menu-mix of what they serve onboard AirAsia flights, with a larger variety of Asean-inspired menu items.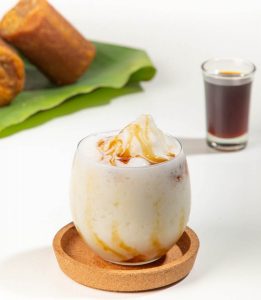 These include
Chicken Inasal with Garlic Rice from Philippines
Fried Chicken with Thai-inspired Nam Prik Mayo
dessert goodies like

Onde-Onde Cake
CocoSnow, a creamy coconut slushie with Nipah Palm sugar syrup
Check out their latest menu HERE. You can place your order directly from the menu.
The menu also includes their Value meals, for 2, 4 or 6 people. These come with main meals, dessert/snack combo with drinks. You can also order a la carte and add on drinks and other items.
What did we order?
One Value meal for 4 people
3X nasi lemak, (always a winner)
1 chicken rice, (disappeared very fast!)
2 snack boxes of nuggets (crisp with tasty sauce)
3 sugar cane juice, 1 Air Bandung (both tasted authentic)
One pack each of
Nasi Padang Beef Rendang (Combo) (very spicy!)
Thai Basil Chicken with Rice (Combo) (spicy, but not too hot)
It's fair to say we were very happy with the meal, which satisfied everyone. If you like our two favourites when you fly, you'll appreciate them more on-ground. The portions are more generous in the on-ground versions, making them good value for the slightly higher pricing. Be warned, the nasi lemak does come with peanuts. 
Placing your order
Santan uses a digitally smart menu equipped with Artificial Intelligence and Machine Learning to create an efficient, convenient and personalised experience.
Place your order at 

santan.com.my

via smartphone/laptop for

dine-in,
takeaway
home delivery

In-store digital kiosks.
GrabFood

Santan offers food delivery via GrabFood
Dine In / Takeaway
Mid Valley Megamall
Sunway Pyramid, from July 2020
Delivery
Orders placed via the website come from either Mid Valley or Shah Alam.
Delivery is available within 20km from these two locations.
Delivery rates

from RM 6 for the first 7km
RM 0.70 per km thereafter
For more information on Santan delivery, please visit santan.com.my/delivery
Promotions
7/7 Promo Sale (One Day Only)
Enjoy RM 7 off your order only on the 7th of July, 2020.

Minimum order RM 35 available daily
10am to 10pm exclusively for orders on santan.com.my.
Not valid on ready-to-eat meals and Santan Value Meals.
30% Off All Orders (Valid until 12th July, 2020)
Minimum order RM 35 valid on dine-in, Santan delivery and takeaway meals

Available daily from 10am to 10pm
exclusively for

 

online

orders
Not valid on ready-to-eat meals
Santan Value Meals (2, 4 and 6 pax)
Mix and match any

meals
beverages
CocoSnow or Sweet Potato crackers

Available for 2, 4 or 6 pax.
Exclusively on santan.com.my for dine-in, takeaway and delivery.
SANTAN10 Promo Code
Get 10% off when you order online
New Ready-to-Eat Range
Santan signature items available frozen
includes: 
Pak Nasser's Nasi Lemak
Nasi Padang with Beef Rendang

convenient and ready to eat within minutes.
heat up in the microwave.

Available exclusively on santan.com.my for delivery and in-store purchase.
For the latest menu and promotions, visit their website, Facebook or Instagram (@santan.asean)