Are you an AirAsia passenger affected by a flight cancellation between 23rd March and 31st August 2020? With travel restrictions and border closures on-going, the airline has responded by offering Same Day Credits.
Same Day Credits
Travellers can now secure their AirAsia credit easier and faster, with redemption the day the request is submitted. This move aims to reduce the current Covid-19 stress and uncertainty by providing ticket-holders with a quick, hassle-free resolution.
For flights cancelled by AirAsia:
retain the value of your bookings into Credit Accounts on your AirAsia BIG Member account

redemption on the same day of the request

Credit accounts can be used within 2 years

(730 calendar days)

 

based on ticket issuance date

Travel date of the new booking can be anytime beyond that period

as long as flights are available for booking on airasia.com or on the mobile app.
Assistance with Credit Account submission
AirAsia's Virtual Allstar, AVA is available to assist guests with their Credit Account submission.
Please provide your name, email address and their booking number.

AVA will check to ensure the BIG Member ID to confirm the BIG Member account
Credit 

account

is processed
….. We know it's been a frustrating time for our guests and our team has been working hard to add faster, simpler ways to access our recovery options.  AirAsia Chief Customer Happiness Officer Adam Geneave
Ticket-holders must have a BIG Membership Account for processing Credit Account request, which are subject to booking validation.
Upon request submission, you will receive an email from AirAsia, with instructions on the submission process for the same day credits account request.
For more information on how to make the changes, please refer to the guide here.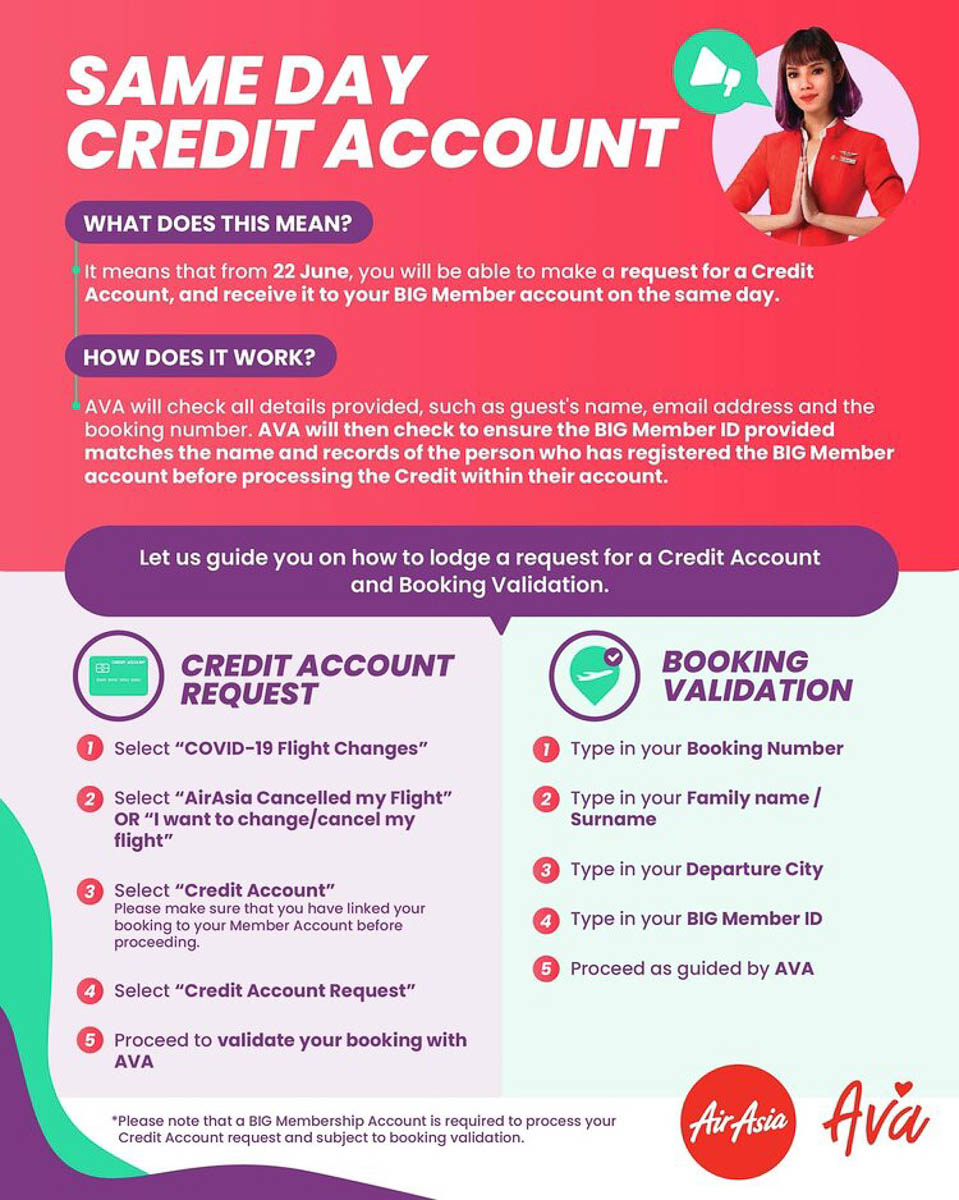 AirAsia complies with the advice and regulations from governments and global health authorities. The airline has implemented procedures to ensure the safety of all travelling guests.
These include: 
Stay safe everyone!