A few of the many things there are to discover about Prague apart from the beauty and culture in this vibrant city, many of them practical issues. This is especially important if you're an independent traveller visiting Prague on a budget.
1. Where should I Stay?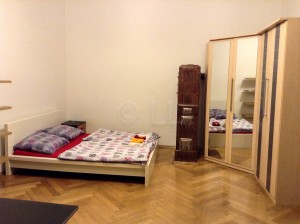 Accommodation is nowhere near as expensive as it is in some of the other popular European destinations. Our landlady suggested to us that this may also be helped by the fact that the government is encouraging the development of accommodation options where residents can rent out apartments or rooms to visitors, thus increasing the number of beds available and contributing to the city's overall affordability.
There's also a wide variety, with a room in a homestay arrangement starting from around €30. This is a good way to meet local folk. Hostels are good for the single traveller or friends who want to share tales with fellow travellers. There's a wide range available with both per person and per room rates, starting from around €10per person. While we did find a couple close to the centre of the city, most are either over the river or on the Eastern side of the railway station. The inexpensive hotels also fit into this category. You'll pay more to stay in the city area. There are quite a few 4 and 5 star hotels available in the Old Town and near Prague castle, with prices ranging upwards of €90 per night. 
We stayed in the old town close to the railway station in an apartment booked through airbnb. This was the most reasonably priced option as we booked about 6 weeks in advance. We were able to pick up a very spacious apartment with a separate living room/kitchenette and a washing machine (a great blessing) for €147 (just under €30 per night). Last minute bookings for all the options shown may cost you more, at the time of writing a similar apartment in a similar area will cost you from about €50 per night on airbnb.
2. How
sh
all
I Get about?
The main train station is very conveniently located close to the edge of the Old Town, and just nearby to Wenceslas Square. There is no direct link to a tram line, so if you come in by train, you'll need to walk some distance or get a taxi. The other good option, if your accommodation is near a Metro station, is to connect to a Metro train. From this LINK, you can find information about times and fares as well as information about the trams.
If you fly into Prague, you can use the fixed price taxis available at the airport, the Metro, or a bus. The link will also give you other information about catching a bus in Prague.
We didn't make use of the public transport, largely because Prague is such a 'walk-able' city. There's something interesting to see wherever you turn when you walk and we discovered many quaint shops,  Where else could you buy a beautiful shiny Prussian helmet, for a start? Or old and unusual musical instruments, or in another shop, cameras, telescopes and other optical delights.
3. What shall I Eat?
Supermarkets
As we were staying in an apartment, our first stop was at the supermarket. There are a few dotted around as well as small corner shops where you can get all you need. Supermarkets also sell beer, it's not expensive and you can try the original Budweiser locally brewed beer, which my companion pronounced to be excellent. Czech wines are also available and not expensive.
Czech food
Apart from the street food, local restaurants are plentiful and inexpensive. Although the main meal of the day is lunch, we enjoyed similar food at both, although apparently the prices may be a little higher at lunchtime apparently. The quantities were certainly generous, especially when we had lunch at Bredovský Dvur Restaurant.  Just like the other restaurant we tried, Ferdinanda, where we enjoyed the dark house beer and traditional Czech drink Grog, which combines Czech rum, hot water, lemon and sugar. Ferdinanda is on the corner of Jungmannovo námestí which runs parallel with Wenceslas Square. Bredovský Dvur Restaurant is along the same road about a block away.
Ice cream
Apart from chocolate (which is easy to find in Prague), there's a great little ice cream shop and cafe tucked away in a small arcade off Wenceslas Square. If you visit the Františkánská zahrada Garden, from the main gate at the Wenceslas Square side, turn right into the arcade. Ask any local for directions – they're helpful and we found they'll happily point you in the right direction. This shop is well known.  ** TIP There's a clean public toilet in the corner of the garden, opposite the main entrance.
Apparently, there's also a cafe in the same arcade, or at least nearby, where you can pretend you're back in the day when they communists were in power and life was very drab. We couldn't find it despite looking in all the little corners, although it may have been closed. We were told it only opens for lunch a few days a week. To find out about life during the communist era, you could visit the Museum of Communism just off the northern end of Wenceslas Square.
Street Food
The Czech people clearly love their Street food. There are plenty of hole-in-the-wall shops and street wagons selling everything from Trdelník, a sweet Slovak pastry traditionally roasted over hot coals and rolled in sugar to a plate of roast pork. The cooks cut from the bone as it roasts. There are many stalls around selling sausages. If you stop off in the old town square, you can eat at the stand-up tables or in the little park while enjoying a beer with your food. ** Be aware – the prices around the main tourist areas tend to be higher.
4. Changing money & other important stuff
The Czech Republic isn't a Euro Area (also called the Eurozone) country. They continue, like some other countries, to use their own currency, the Czech koruna (Czech crown CZK). Switzerland and the United Kingdom, soon to depart the EU, do the same. The exchange rate is not fixed so you need to keep an eye out for the best exchange rates. It is wise to check if there is any commission charged before you pass your money over. This is because many of the money changers offer a really great rate on the board, but add on a sizeable commission which will leave you very annoyed it you get less than you expected. As a guide, the exchange rate is around 1.00 EUR=27.0276 CZK.
Fortunately, we were lucky to have a landlady who recommended us to the chap she uses, who charges no commission but still offers competitive rates. We checked around and she was right. (Hint, it's a small place with a glass door, to the left of the front of the Palladium Shopping Centre)
5. What is there to See?
Prague is a city to return to many times and never get tired of looking about. You can get out of the city as well and see other parts of the country. A short train ride away from the city, in the small town of Kutná Hora, is the Sedlec Ossuary or 'Church of Bones', decorated with the bones of over 40,000 people.
For more about what to do in Prague, visit our 9 top things to do  and 10 must visit spots.
Image credit ©LL,RL