The return of Philippine Airlines PAL to Kuala Lumpur on 8th June 2017 after a three year absence is a positive development for both ASEAN countries. Over eight hundred thousand Overseas Filipino Workers are employed in Malaysia. This service also offers easier access for investment initiatives.
This route will utilise PAL's Airbus A321 – 200 aircraft. These aircraft, with an average age of around 2.5 years, will carry 199 passengers. Twelve seats are available in Business class, eighteen Premium Economy and a hundred and sixty-nine in Economy.
…. The resumption of PAL flights between Manila and Kuala Lumpur will help foster economic and cultural ties between the Philippines and Malaysia. Most importantly, it addresses the clamor for a direct service between the two capital cities. PAL President and COO Jaime J. Bautista
The decision to return to Kuala Lumpur follows the agreement between PAL and Malaysia Airlines to expand their code-share arrangement. This will give passengers from Manila easier access to twelve destinations in Malaysia. Fly PAL into KLIA and connect to  Alor Setar, Johor Bahru, Kota Bharu, Kuala Terengganu, Langkawi and Penang in Peninsular Malaysia. You can also connect to Kota Kinabalu and Tawau in Sabah, Kuching, Miri and Sibu in Sarawak. The Federal Territory of Labuan off the coast of Sabah is also now easily accessible.
Fly in to Manila and connect to these Philippines gems Bacolod, Cagayan de Oro, Cebu, Davao, General Santos, Iloilo, Kalibo or Puerto Princesa, Caticlan.
PAL to Kuala Lumpur and Return – the schedule
Route
Flight Number
Departure
Arrival
Days of Service
Manila – Kuala Lumpur
PR 525
7:25 am
11:00 am
Monday, Wednesday, Friday, Sunday
PR 527
11:30 am
3:00 pm
Tuesday, Thursday, Saturday
Kuala Lumpur – Manila
PR526
12:10 pm
3:50 pm
Monday, Wednesday, Friday,  Sunday
PR528
4:00 pm
7:30 pm
Tuesday, Thursday, Saturday
All times are local
Bookings may be made from Philippine Airlines for Economy or Business Class tickets to any of these destinations. Lounge access is also available to Business Class passengers. Enter your Mabuhay Miles and Enrich membership details during booking to enjoy current frequent flyer baggage benefits.
Code-share passengers traveling between terminals in Manila will enjoy the use of PAL's free transfer services. If you prefer, why not enjoy a few days in Manila before flying on to another of PAL's 28 domestic and 42 international destinations.
On board
Download the free myPAL Player app to enjoy Wireless inflight entertainment. The app allows you to stream movies, TV shows and music on your own personal electronic devices.
Passengers also have a variety of meal options – Asian, Western or Halal meals.
Your flight ticket includes free baggage allowance.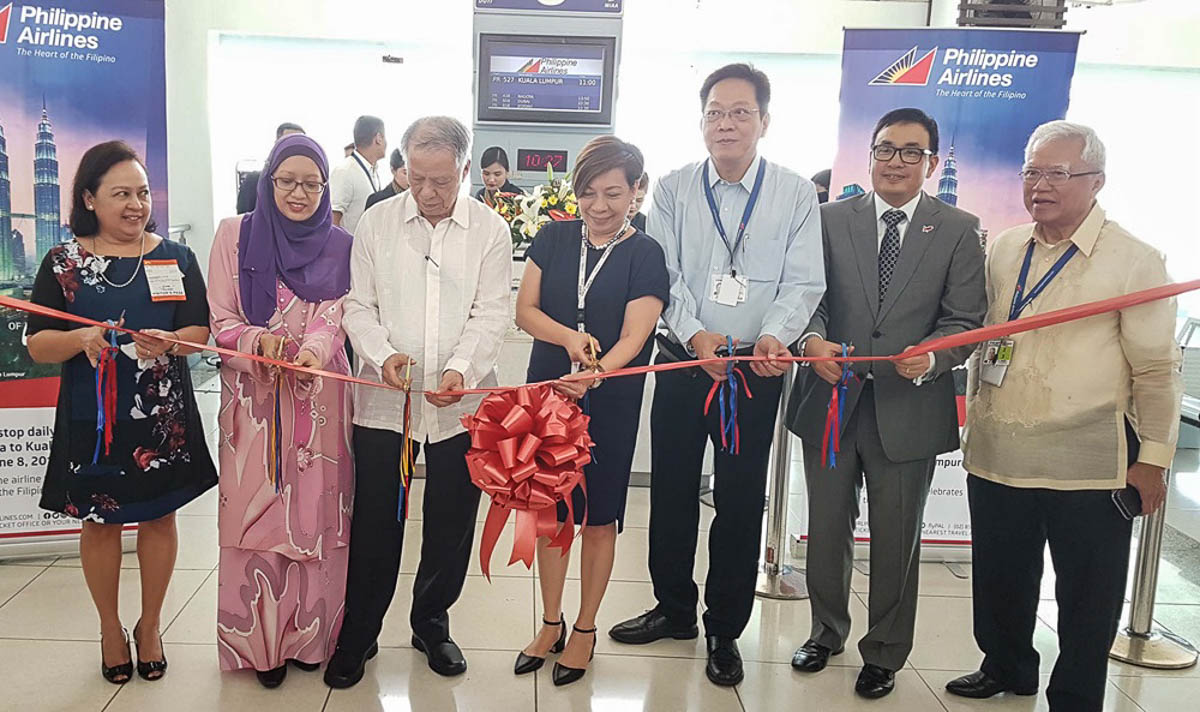 PAL to Kuala Lumpur, ribbon cutting ceremony