Malindo Air has added another new route, this time introducing Perth Bali flights, operated by sister airline Batik Air Indonesia.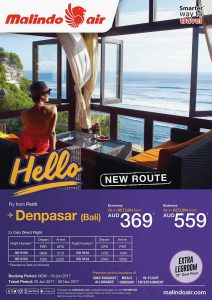 The twice daily flights will leave Perth at 8.30am and 6.20pm, arriving in Denpasar, Bali at 12.10pm and 10.40pm respectively. The return legs depart Denpasar at 12.55pm and 8.40pm, landing in Perth at 4.35pm and 20 past midnight.
There is no time difference between Perth and Bali, so you can use the schedules to maximise your holiday.
Perth Bali flights – introductory offers
In conjunction with the launch, pick up a return Economy fare from AUD 369. Business class return tickets start at AUD 559. Book these deals at malindoair.com by 18th June 2017 and fly between 22nd June and 30th November 2017.
Economy tickets come with 30kg baggage allowance, meals and entertainment and plenty of legroom.
Flight Schedule Denpasar-Perth-Denpasar
Route
Flight Number
Departure
Arrival
Denpasar – Perth
OD 9102
12:55pm
4:35pm
OD 9104
8:40pm
00:20+1
Perth – Denpasar
OD 9103
6:20pm
10:20pm
OD 9105
08:30am
12:10pm
There is no time difference between Denpasar and Perth