With the recent downturn in oil prices and currency fluctuations making it challenging for both travellers and airlines, we're receiving lots of emails lately from various airlines offering great sale fares to a wide variety of destinations.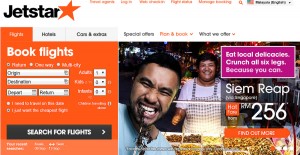 One that caught our eye was Jetstar's email encouraging us to make a quick getaway to Siem Reap to taste some of the local delicacies. One-way fares with carry-on baggage only, start at RM 256. Of course, you can use the rest of the trip checking out the famous Angkor Wat and the many other temples in the area, many of which are undergoing restoration.
**TIP To find out all the latest offers, it's not a bad idea to get yourself added to your favourite airline's mailing list, you'll often get great offers before the rest of the travelling public.
For some links (though the offer fares change) from Jetstar and other airlines, have a look at our article from June 2015 to get you started.