UPDATE 11th March, 2019: All Malindo Air's B737 MAX 8 have been transferred to parent company, Indonesia's Lion Air.
The world launch of the much awaited Boeing 737 MAX 8 aircraft was celebrated at Kuala Lumpur International Airport KLIA on 22nd May 2017. After company personnel inspected the outside of the aircraft and answered questions, the new aircraft showed it's colours on its first commercial flight to Singapore.
Boeing Commercial Airplanes's senior vice president for Asia Pacific & India Sales, Dr. Dinesh Keskar, joined in the colourful welcoming ceremony. He commented that Boeing is honoured to join Malindo Air for the very first commercial flight of the 737 MAX.
…. Starting today, the 737 MAX will provide Malindo with superior economics and performance and passengers around the world can experience all that the 737 MAX has to offer – with its beautiful features of the Boeing Sky Interior, the quieter engines for a more peaceful flight, and the industry-leading reliability of the 737 family. Dr. Dinesh Keskar
Director General of Civil Aviation in KLIA, Azharuddin Abdul Rahman, also said a few words. He commented that he had started his career in aviation as an aircraft engineer working on the early Boeing 737-200 aircraft. He said he was especially happy to welcome this latest version to KLIA at the world launch.
The much awaited Boeing 737 MAX 8, future plans
Chandran Rama Muthy, Malindo Air's CEO made reference to the new plane's livery, adding that this foreshadows the re-branding of Malindo Air later this year. The orange and purple traditional batik has been seen on some of Malindo's planes for some time now and this just confirms a 'best kept secret'.
He added:
…. We are thrilled to be the world's first airline to take delivery and operate the 737 MAX 8.  The Boeing 737NG fleet has served Malindo well in its growth and we believe that the 737 MAX aircraft will become the centre piece of our fleet.  These new aircraft will allow us to go to further destinations and will play a key role in providing lower air fares to our customers. Chandran Rama Muthy
Also present during the event was Rusdi Kirana, co-founder of the Indonesian Lion Group.
The new aircraft are configured in a single class, single aisle arrangement with a total of 180 seats. The next plane is due to arrive next week, with four due by year end. They will be used mainly for scheduled charters to China and flights to north India Pakistan, Bangladesh and Nepal. For more info: malindoair.com
EconomyTraveller joined Malindo Air on their inaugural flight – a round trip to Singapore.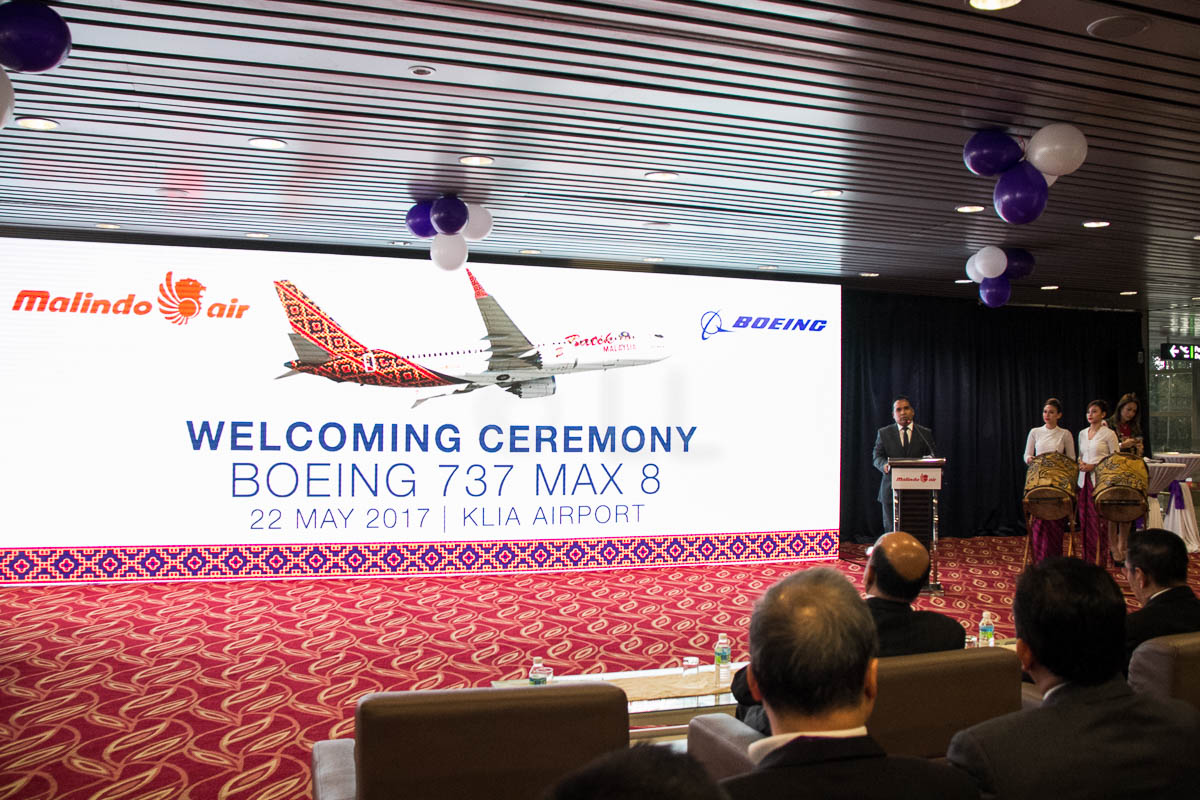 images ©LL