Malaysian airline Malindo Air is adding Brisbane to its network from March 31, launching daily tag flights from Bali to Brisbane. The trip will be on its standard kit, a Boeing 737-800/900ER featuring a generous 32″ seat pitch. Malindo fares include meals and 30kg of baggage. The airline also includes in-flight entertainment at no extra cost, as well as free in-flight Wi-Fi for the first hour.
Flight timing
OD 158 leaves Brisbane at 7:15 AM, touching down in Bali at 11:45 PM. If you are continuing onto Kuala Lumpur, the same flight departs an hour later, arriving in Kuala Lumpur at 3:45 PM. On the return journey from Bali, OD 157 departs Kuala Lumpur at 6:05 PM, landing in Bali  for a short stopover at 9:10 PM. The flight then continues to Bali at 10:00 PM for an early morning arrival into Brisbane at 5:40 AM.
Read our reviews: Brisbane – Kuala Lumpur and Kuala Lumpur – Brisbane.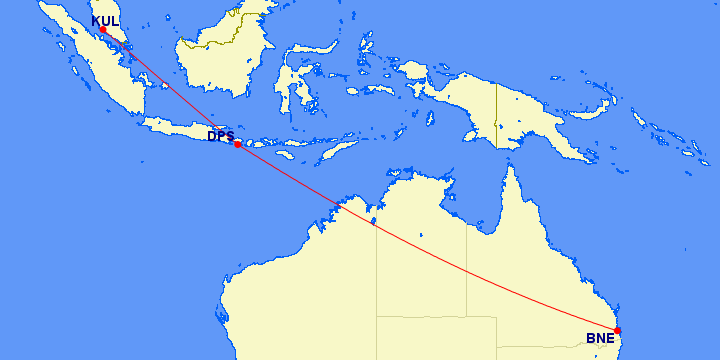 This new flight offers the best connectivity between Brisbane and Kuala Lumpur since Malaysia Airlines dropped the route in August 2015.
New price competition
Fares between Brisbane and Bali are already decent with incumbents Virgin Australia and Jetstar competing on the route. Adding Malindo to the mix will introduce some healthy new competition. Promo fairs from Brisbane to Bali are pricing up at an extremely competitive mid-AUD 360 range for Easter flights. Flights going all the way to Kuala Lumpur are around AUD 470 for the same period. So if you haven't yet made plans for Easter, act now! Flights are open for bookings at malindoair.com.
For full reviews of our past Malindo flights, see:
We flew with Malindo Air to Brisbane in August 2017. Check out our review here.