The timing of our Kuala Lumpur-Brisbane flight in mid August was chosen to check out winter in this subtropical city. Brisbane is the Capital of the Australian State of Queensland, which takes up the north east corner of the country. It's a river city, with the Brisbane River featuring in many activities and forming an important part of the public transport network.
[lists style="check" color="#1e73be"]
You may need a visa to visit Australia, which can generally be applied for online.
Everyone must complete a pink Arrival card, which will be checked and collected by the Customs Officials.
Quarantine laws in Australia are very strict, so be truthful when you tick the boxes.
The worst that may happen to your declared food items or dirty shoes is that they will be confiscated or fumigated.
If you do not declare or are carrying illegal substances or too much cash, the penalties are severe.
[/lists]
Our Malindo Air flight used one of their B737-800 aircraft, (9M-LNS) which carries  162 passengers. There are 12 Business Class seats. We were seated in Row 7, in the E & F seats. 7F is a window seat.
First Impressions
Seat selection can only be made during check-in – we did this as soon as it was available, 48 hours pre-departure. On arrival at the check-in/bag drop counters in Row E at KLIA. we just had to drop our bags.
**TIP 1: Your baggage may be re positioned in the aircraft during the Denpasar stopover. Ensure they stick the large 'TRANSIT' sticker on your bag during check-in.
This took only a few minutes and we were on our way to Immigration and Security checks. The queues at the time (mid-afternoon) were not long and we were at our Gate – G2 in the Main Terminal, in no time.
**TIP 2. There are many classifications for immigration clearance. Make sure you are in the correct queue – check the signs above the counters. If in doubt, there are people who can advise you.
**TIP 3. Make sure you have your phones/laptops and LAG bags ready for security checks. You may be asked to leave them in your bags, but be prepared to take them out and put in a tray. You may also be asked to remove belts, shoes and watches.
Gate G2 is in the main, not the satellite building, so we decided to sit and have something to eat. The two closest outlets to our Gate are Harrods and Old Town White Coffee, tucked behind Harrods. We opted for Old Town, which serves Malaysian staples and has a great view over the tarmac and one runway.
You will need to be at your Departure Gate by the time specified as there is another security check at this point. There are no toilets after you enter this Departure Lounge, so if you need to go, use the toilets opposite the Gate. There was a delay in departure due to runway work, resulting in a long queue of aircraft. We were finally in the sky just over an hour later than our expected departure of 6.05pm, a delay which translated through the journey. 
The seat
The leather seats are arranged in threes, either side of a single aisle. There is no headrest, although this did not prove to be too uncomfortable for either leg of the overnight flight. If you have a neck pillow, you'll appreciate using it.
With a seat width of slightly over 18″ (46 cm) and a pitch of 32″ (81 cm), there was no need to feel cramped. This pitch gives you a generous amount of legroom. The seats recline to a comfortable angle and the armrests can be raised to tuck into the gap between the seats.
For passengers sitting in the front row of the cabin, the tray table fits into the arm rest, so you won't be able to raise these to stretch out. Your entertainment unit is on the bulkhead wall in front of your seat. While you are  not allowed to leave anything on the floor during takeoff and landing, you do have space during the flight.
We elected to sit in the E&F seats in Row 7 for this flight. A and F are window seats. If you do a web check-in, you can make changes if you don't like your allocated seats, with no extra charge. Seat arrangement gives 7F seat two windows. Careful placement of the supplied pillow and use of an extra neck pillow made this a comfortable arrangement to achieve some shut-eye during the overnight flight. Your blanket is also provided.
Legroom
Legroom is a fairly roomy 12″ (30cm) which allows for much easier access. There is no footrest, but the space beneath the seat in front is clear, apart from the middle seat (B or E) which has a small entertainment unit (IFE) attached to one leg. However, this doesn't really impede access.
This extra space is more than enough for a small bag to be pushed completely into the space, or for longer legged passengers to stretch out more easily. The magazine space is quite tight, but enough to fit a mobile phone to charge, or a novel.
Workspace
The tray table is a non-fold table which can be pulled closer to the user during meals, or to use as a work space. There is a slight ridge at the edge, but no cup recess.
If you are seated in the front row of the economy cabin, your tray table is hidden in your armrest. You will need to connect any charging items to the USB port on the entertainment unit located on the bulkhead wall.
The USB ports for all seats are located on the lower left of the entertainment unit, to the left of the earphone jack.  While working on a laptop, the space is adequate, but there is only USB charging available, so if your device requires a power socket, rather than the available USB port, you're out of luck.
Entertainment
The entertainment available on board is included in your fare, you can choose from four available directories, or just follow the flight path by clicking on the plane icon at the top of the touch screen.
Apart from a 'Directory', 'About Us' and a 'Kids' World', the Entertainment selection has a good mix of general viewing movies in various languages and TV show episodes. On this flight, there were seven options available, one of which was 'The Sound of Music' the other a rather more recent movie – The second Best Exotic Marigold Hotel. If you are a fan of British humour, this is a happy little movie starring Dame Judi Dench and Helen Mirren as well as Richard Gere. If you are continuing from Denpasar to Brisbane and haven't finished your movie, you can easily step through to continue, once you take off again.
WiFi is available on-board some of these aircraft, swipe your credit card in the slot below the screen and away you go. Check with cabin crew if it is currently available on your aircraft.
Food
Meals are included in the fare on this flight, with two selections offered on each leg (KL/Bali and Bali/Brisbane). The three rice choices were mildly spicy, with a choice of vegetarian or chicken offered.
Portion sizes for all meals was adequate. They were served with a prepacked cup of water. Water was made freely available during the flight and staff were quite responsive to requests.
The chicken briyani meal was one of two rice dishes offered on the first leg and was quite tasty. The acar (vegetable pickle) was tasty and not too spicy for most palettes. The chicken was well cooked and moist and a bottle of water was provided with each meal. The vegetarian selection was tasty and filling. Breakfast was served between Bali and Brisbane. Water and a choice of juices accompanied the meal. The egg fried rice was a little dry, but both this and the vegetarian spaghetti were tasty.
The food could be rated somewhere between that available on a low cost competitor and other full-fare airlines in terms of choice and presentation. Quality is good and portions are sufficient for an average sized appetite.
Update March 2018: We're pleased to report that at Malindo Air meals have recently been improved, in both taste and presentation.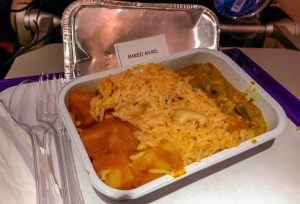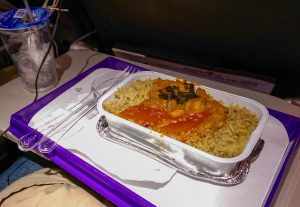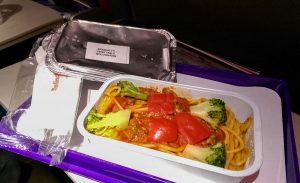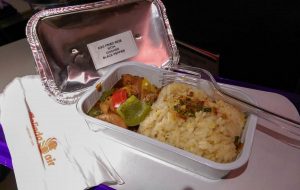 The Best Seat
Most A and F seats are positioned with some window access. If you want an unimpeded view, avoid seats in rows between Row 9 and Row 18 over the wings. There are two Exit Rows – Rows 12 and 15 (no 13 or 14) over the wing. As noted above, these seats must be requested at the check-in counter.The upside to these seats is the extra leg room, but you must be fit and able to assist in any emergency. Baggage must be stowed in the overhead lockers during take-off and landing. Row 12 and 11 in front of them, do not recline. This makes Row 11 somewhat undesirable, with no extra legroom and no recline. Row 15 does recline, making this row a good choice.
The other seat to watch out for is 8A as it has no window. Unless, of course, you don't need a window and value the flat wall to place your pillow as you sleep. The seats in the back row have limited recline and may be desirable if you need easy toilet access.
There is only one pair of toilets available in this type of aircraft for Economy passengers. They're located at the rear of the plane close to the galley. If having people waiting in the aisle for the toilet bothers you, or you don't like noise or smells from the galley, avoid seats in the last few rows. Food is served from the front of the cabin.
Conclusions
Generally the flight was satisfactory, the seat was comfortable and the staff responsive and polite. My seat was a window seats but although the KUL/DPS was full, the DPS/BNE leg was lighter (it was midweek). Therefore we were able to share our three seats between the two of us.
There is no footrest, but with no entertainment unit reducing space under the seat I could stretch my legs out comfortably. Due to the short stopover time in Denpasar, continuing passengers must stay on board.
** Please note, this has changed and passengers are now requited to leave the aircraft during the stopover.
Economy Traveller flew to Brisbane courtesy of Malindo Air. Check out things to do in Brisbane during winter HERE, and  HERE or any time of the year HERE. Check out our review of OD 158 between Brisbane and Kuala Lumpur.
images © LL