The Ramadan Bazaar (Bazar Ramadan) is eagerly anticipated in Malaysia, a foodie's paradise, because among all Malaysia's local food delights you can find special favourites that aren't easily available outside your own kitchen. The bazaar is a street market, held nightly during the holy month of Ramadan, when Muslims fast from dawn to dusk.
Malaysia's local food – finding our favourites
Wherever you live or visit across the country, you can find the neighbourhood night market, the 'Pasar Malam'. These markets are temporary setups, which appear once a week along a designated street, between mid afternoon and evening. The timing usually depends on the main focus of the stalls, which are either fresh or cooked food as well as daily essentials and inexpensive clothing.
During Ramadan local councils identify suitable locations and this gives an opportunity to small traders to set up their business and make extra income from their talent. Even if they are small, with maybe 20 or so stalls, you can be sure that over the years, certain stalls will have built a following.
We visited two Ramadan Bazaars recently, the first, a weekly Pasar Malam, with an additional daily market selling mostly non-food items targeted at those celebrating Eid al-Fitr (Hari Raya Aidilfitri). In 2023, this is expected to fall on Saturday 23rd April. This large Bazar Ramadan is located in Klang town, on the northern side of the Klang River. When the LRT3 line opens in 2024, the nearby station (as yet unnamed) is close to this area. The takeaway food section stretches along the river side of Jln Pasar, with the additional Ramadan stalls located on the cross streets of Jalan Taiping, Nangka and Jln Raja Hassan. The normal food stalls on the corner of Jln Taiping and Jln Melayu, are also open for seated customers, with additional stalls around the perimeter.
We came home with a selection of our favourites, including satay and murtabak with packets of nasi kerabu all round. This blue rice (coloured with the purple pea flower) and herbs, served with beef or chicken, is especially popular during Ramadan. Best eaten directly from the oiled paper in which it's wrapped.

A couple of days later, we headed off down the road to a local Bazar Ramadan which is back with a reduced number of stalls after the Covid-19 pandemic affected them badly. We were glad to see all our favourites back. Their nasi kerabu went into the basket quickly, this is a popular stall and there was a queue. The murtabak stall was also popular, so we quickly got our favourite chicken murtabak, freshly cooked. Another favourite is the green kuih Kemjoja and we managed to get the last pack, which proved to be a good choice as it was creamy and delicious. Our satay was not bad, but the one we bought at the previous outing was a class above.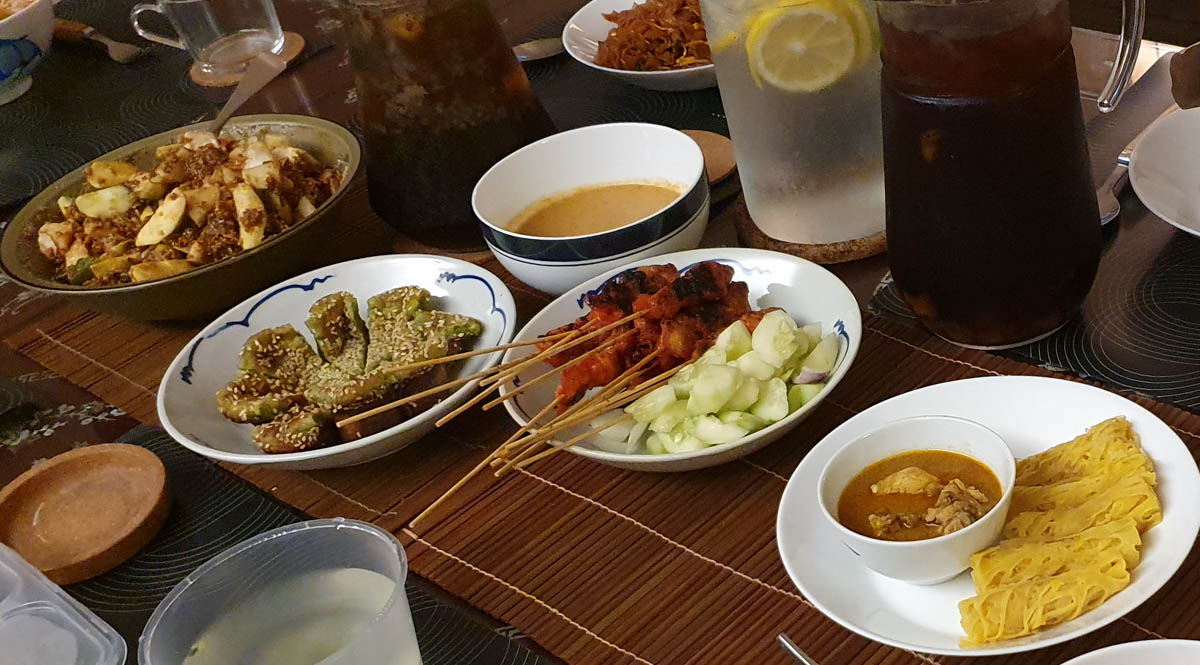 Before the month ends, get out there and try what's on offer. We've filled in the gaps with orders from Santan's Ramadan menu, to make sure we don't miss out on their nasi lemak, always a favourite. Or if you're a visitor to Malaysia, make sure you include a visit to a pasar malam to try out a selection of Malaysia's local food. If you're worried about tummy troubles, choose the freshly prepared foods and drinks.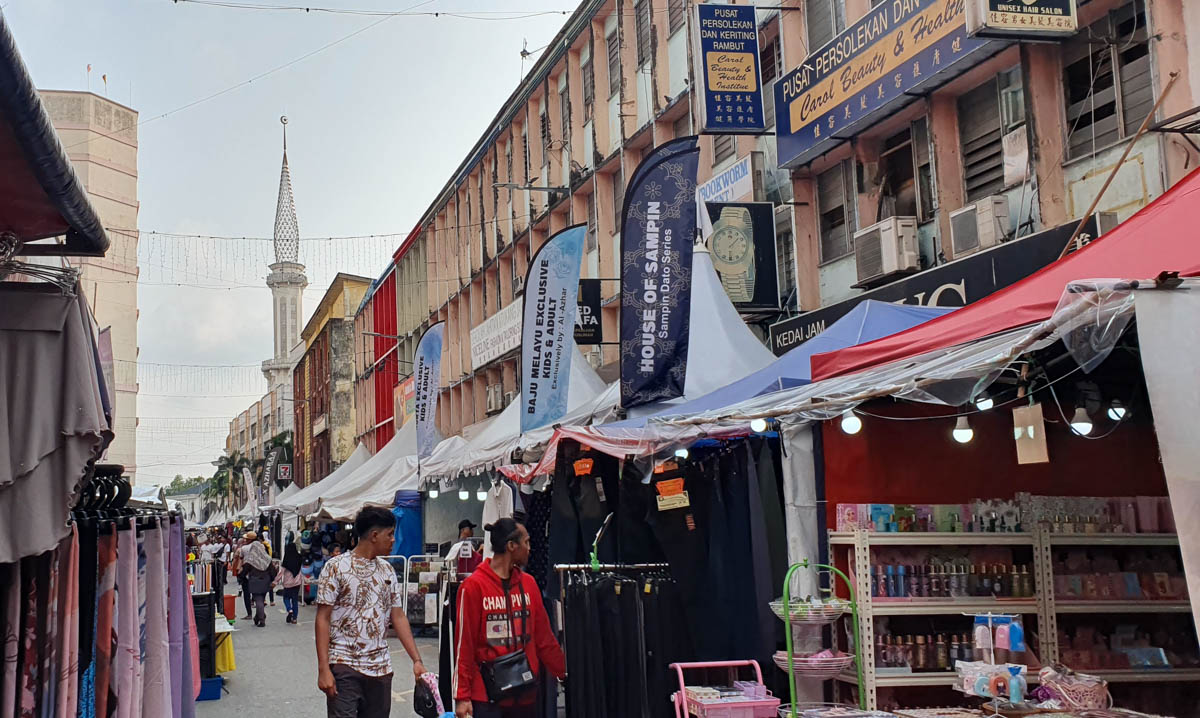 images©ET