A surge in travel demand to China has encouraged AirAsia to increase flights between the two countries as the airline expects forward sales  to continue to accelerate in the coming months. The increase in flights covers both increases in existing services as well as the resumption of Kota Kinabalu-Hangzhou starting 2nd September. This will be operated by AirAsia Malaysia (AK).
With a pleasing load factor ( the average number of guests carried per flight) of around 80 percent in July for flights to/from China for both AirAsia Malaysia (AK) and AirAsia X Malaysia (D7), both airlines is ready to respond. From forward bookings, some of the strongest performing routes are Kuala Lumpur-Shanghai, Kota Kinabalu-Guangzhou, Kuala Lumpur-Nanning and Kota Kinabalu-Wuhan. These routes are showing up to 95 percent load factor in the coming months.
Translating the travel demand to China
Both airlines have sold more than 320,000 seats between China and Malaysia from March to early July this year, about 30 percent compared to the same period in pre-Covid 2019. About 75 percent of the seats sold are from Chinese nationals, a clear signal that Malaysia continues to be one of the preferred destinations for tourists from China.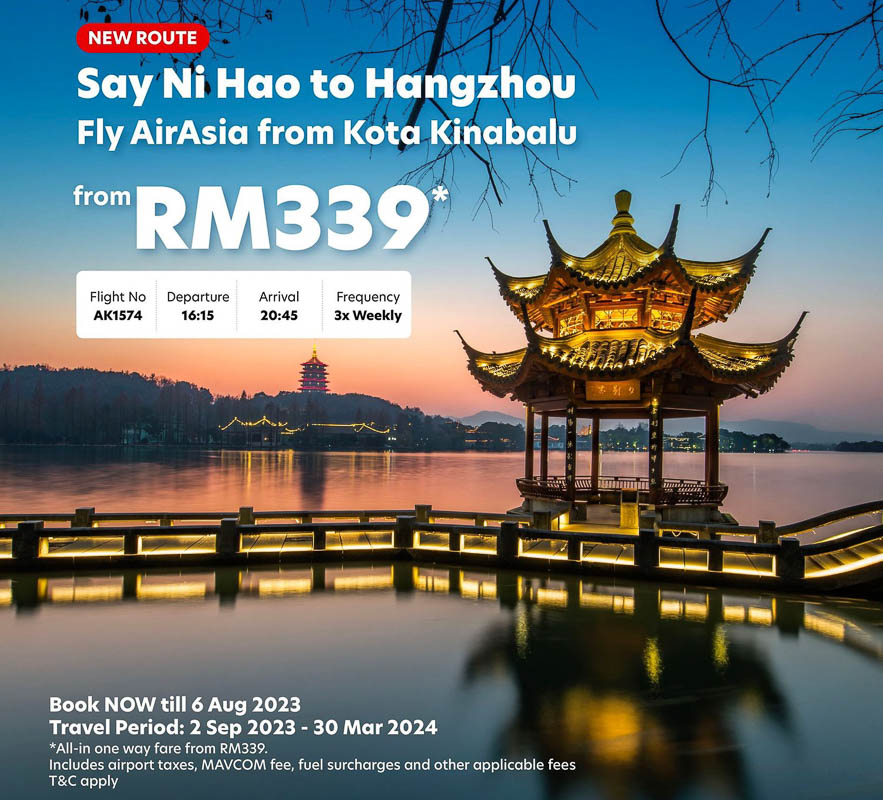 AirAsia Malaysia's  Kota Kinabalu to Hangzhou service starts with three flights weekly from 2nd September 2023, while AirAsia X Malaysia (D7) is increasing services from Kuala Lumpur to Beijing (Daxing) from four to five flights weekly beginning 1st September. Flights from Kuala Lumpur to Shanghai go up from four to seven flights weekly commencing 15th September and from Kuala Lumpur to Hangzhou from three to four flights weekly starting 30th September this year.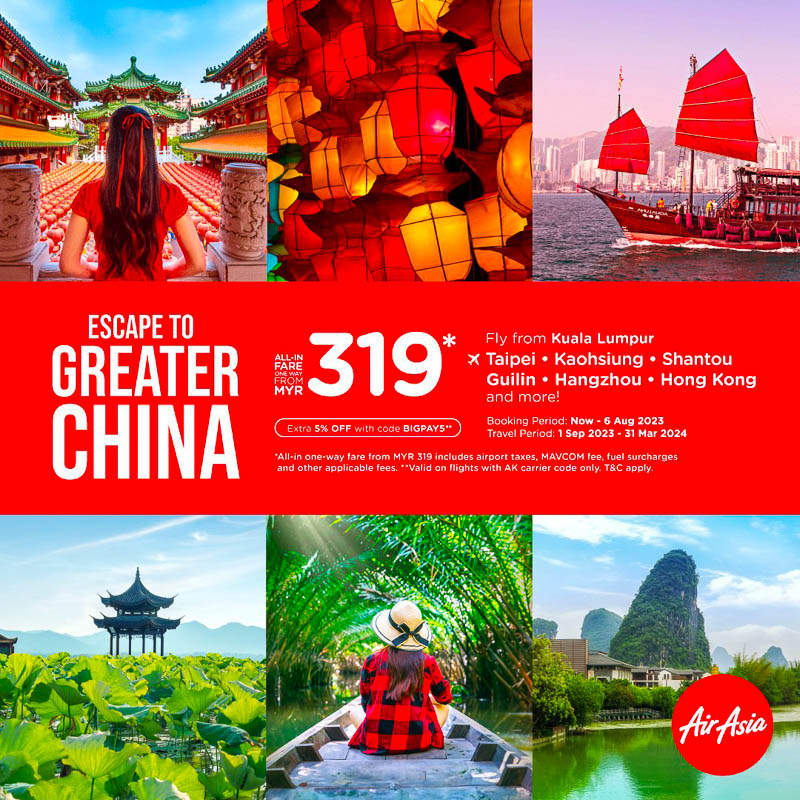 Promo fares available
With AirAsia's continued to route expansion and flight increases between Malaysia and China, the airline is also launching discounted fares to all destinations in North Asia. These include major hubs Guilin, Guangzhou, Nanning, Shantou, Beijing, Shanghai as well as smaller cities.
Pick up all-in one-way tickets from RM319 for these destinations until 6 Aug 2023 for travel between 1st Sep 2023 and 31st Mar 2024.
Also on offer are flights to other North Asian countries including Hong Kong, Macao, Taipei, Busan, Sapporo from RM339, all-in one-way. These fares are now available for booking on the airasia Superapp and the AirAsia website.
…. We are an airline that optimises our operations based on consumer demand. Therefore, we are thrilled to witness this upsurge in travel interest between Malaysia and China. The resumption of flights from Kota Kinabalu to Hangzhou aligns perfectly with our commitment to connecting second-tier cities to the world as part of our commitment to serve the underserved. AirAsia Malaysia CEO, Riad Asmat
AirAsia X Malaysia CEO, Benyamin Ismail concurred, adding that
…. In addition to fostering additional links, further enhancing trade, tourism, and investments between the two countries, the increased frequencies of our flights on the most popular routes will also optimise our efficiencies, which results in increased fleet utilisation for AAX.
AirAsia Malaysia (AK) currently flies 14 routes to/from China with over 104 flights weekly from Kuala Lumpur to Guilin, Quanzhou, Guangzhou, Kunming, Shenzhen, Nanning, Shantou and Macao; Kota Kinabalu to Guangzhou, Shenzhen, Wuhan, Beijing and Macao; and Johor Bahru to Guangzhou.
AirAsia X Malaysia (D7) currently flies four routes to/from China with over 22 flights weekly from Kuala Lumpur to Chengdu (Tianfu), Beijing (Daxing), Shanghai, and Hangzhou.