With the festival of Hari Raya (Eid al-Fitr) coming up in just over two weeks, Malaysians are looking forward to enjoying their favourite Hari Raya goodies. This Hari Raya will be especially sweet as families have not been able to share the festival for two years now, because of Covid-19 border closures and travel bans.
Hari Raya goodies: make and learn
You can get an early start this weekend, 23rd and 24th April in Kuala Lumpur between 4pm and 12am. The RIUH Raya Souk event is organised by MyCreative Ventures Sdn. Bhd. (MyCV), in conjunction with the Ministry of Communication and Multimedia Malaysia (K-KOMM). The venue for RIUH Raya Souk is Sentul Depot, Sentul West, 51100 Kuala Lumpur. RIUH curate a variety of pop-up stores & food, creative workshops, showcases and live performances, one weekend every two months. They're mostly held in the old railway depot in Sentul, a wonderful venue.
The RIUH Raya Souk features 109 homegrown retail brands offering everything from apparel, accessories, Raya cakes and cookies, kids care, home decor and beauty offerings. Join in the hands-on sessions on Saturday 23rd April 2022, from 4pm.
Saturday's Workshops
A special collaboration with the AirAsia Foundation this RIUH Raya Souk, brings you three hands-on workshops by where you can learn the art of real ketupat weaving, how to grow ulam plants and enjoy the fascinating 'Taste of Kerabu'. The Foundation's retail arm, Destination Good will also be available at the retail area. There is a small fee for each activity. They'll be popular, so sign up as early as you can.
Weaving Ketupat with Dr Jarina Mohd Jani
Get to know how the ketupat came to symbolise Raya festivities in this special workshop to revive the tradition of ketupat weaving. 4:00PM-6:00PM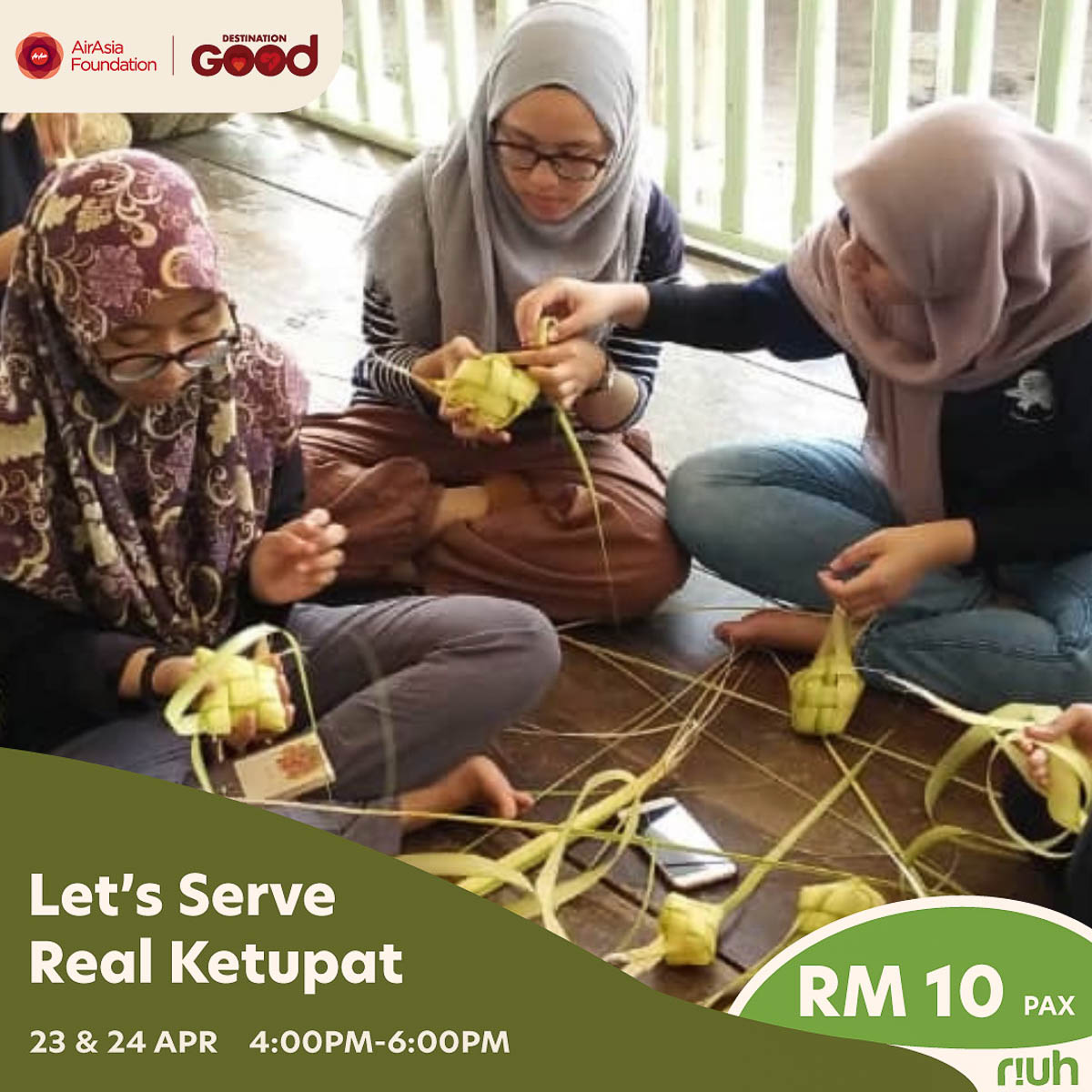 REWILD Malaysia with AirAsia Foundation
The Ulam edition, from 6:00PM-7:00PM, helps you understand how to
Add biodiversity to your garden with an ulam plant that is good for health and good for nature. Even if you only have a small balcony, you can grow your own ulam herbs.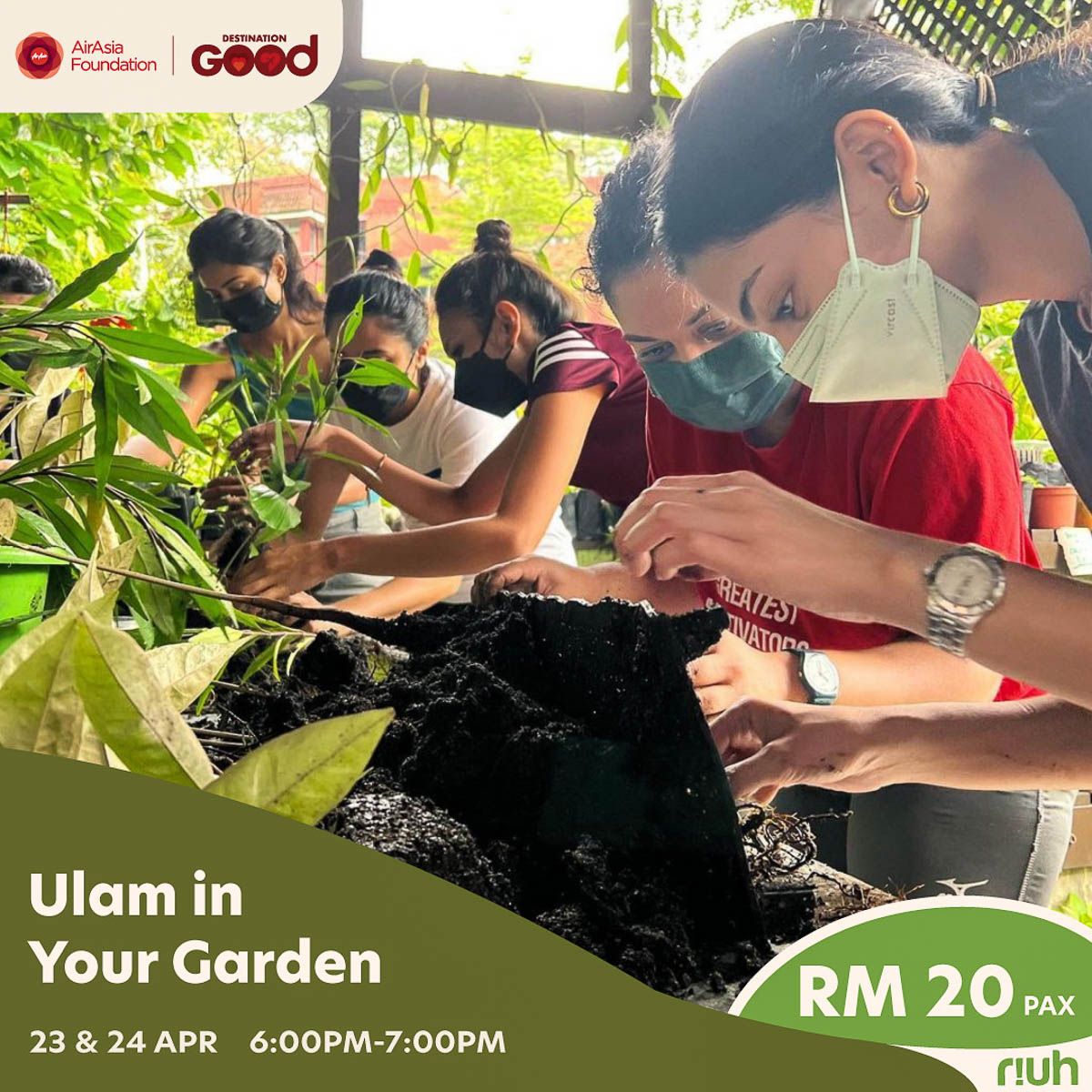 with Dr David Neo between 8:00PM and 9:00PM
Step into the fascinating world of Malay ulam and learn how to make a kerabu dish. It's got a special kick that will get you coming back for more.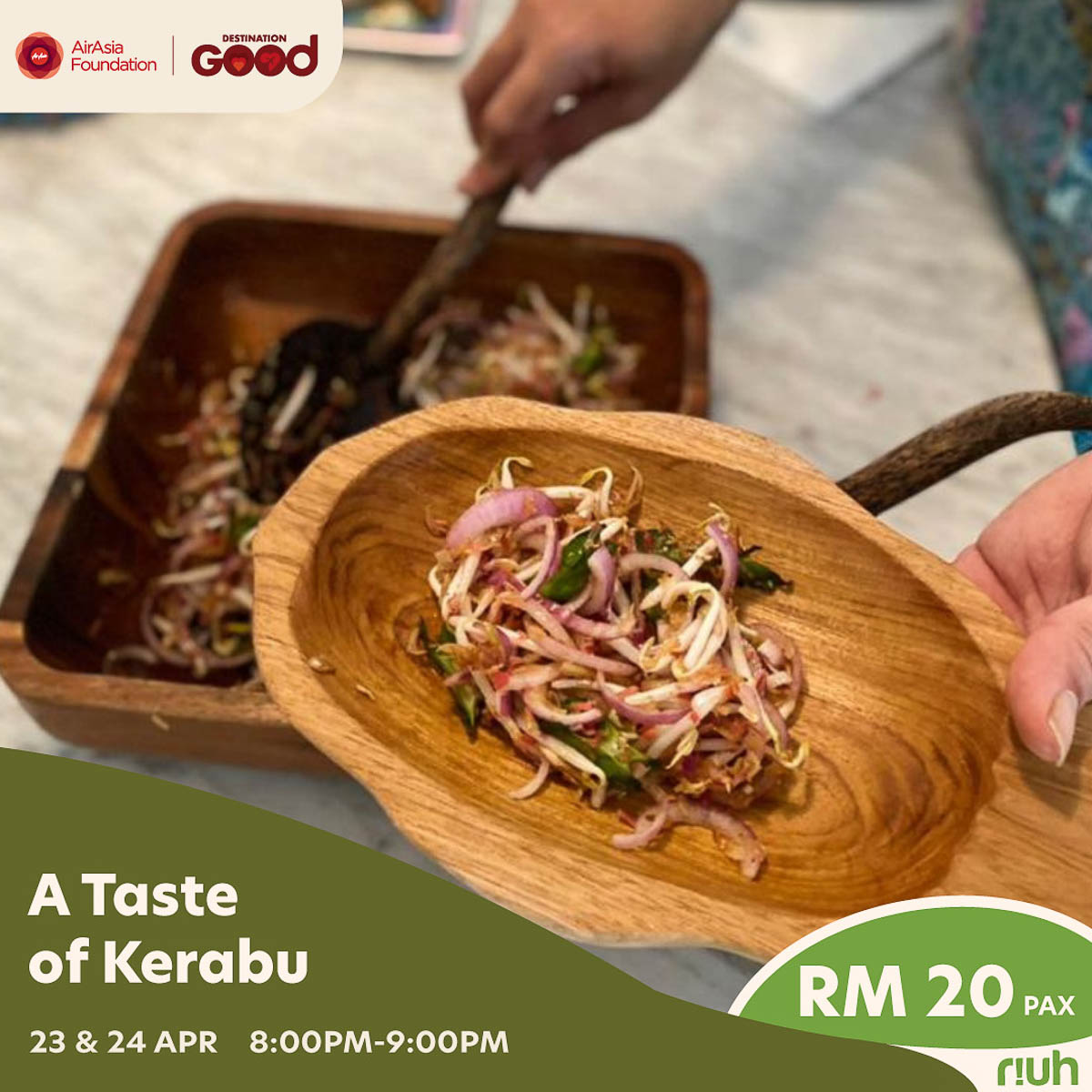 For further details about RIUH Raya Souk, you can visit RIUH team's page on the RIUH website or head to their Instagram & Facebook pages.
You want shopping with that?
If you don't have your raya baju or home decor all done, here's your big chance.
There are plenty of fashion favourites to choose from including
Whimsigirl
Velvet Vanity
Machino and
Nazifi Nasri
and newcomers,
Lathalia Jewellery
Harirose
Inisaya
Samora
Spruce up your home with
plants from Kayan Tropika
bedsheets from Urban Edit. Co
homeware by Naren Home
Food ala Bazaar Ramadan Istemewa
Enjoy the best of buka puasa food including
classic Kelantanese fare by Gamelan,
Johorean dishes by Kecur,
Sataysfaction satay,
Phil's Pizza,
MyBurgerLab,
Sausage Sizzle
beverages including
Bo The Avocado
Brotani
TFKL
Yummy Raya treats from
SheBakes
Poppy Cherry Pop
That Last Bite
desserts by F.R. Copper
gelato by The Unusual Greens
It's Autism Awareness Month, so We & I Art x Anak Seni Exhibition are featuring works by autistic artists and there'll be Community Art Jamming sessions and merchandise for sale to support the artists.
NYAWA Organisation will also bring pieces from their Mahakarya exhibition and activities in support of their cause in conjunction with the upcoming Mental Health month.
Get crafty
Create at the Mini Tiled Table Workshop by Self Supply and learn a little known craft at the Recycled Paper Quilling Workshop run by Steampunk Arts x Minimolly. This is in line with being eco-friendly through building awareness in creating recycled art using sustainable materials.
Plenty of fun activities for all the family will be taking place with Raya themed Arts & Crafts at the Kids Area. And for the grown-ups, give 'Plant Mixology' a try with Eat, Shoot & Roots' drinks edition. Sample the flavours and tastes of different locally grown herbs to round up your day.
About the organisers
RIUH is a curated creative platform connecting homegrown brands, creative entrepreneurs, creators and artists to the community, thus enhancing the creative ecosystem.