You'll be met at by a group of young and enthusiastic GOs (Gracious Organisers) when you first arrive at Club Med Cherating. At this point, you become the GMs (Genteel Members) who will be organised by the GOs during your stay. That said, you get to decide just how much or how little organisation you prefer. We spent three very relaxing days as GMs in this beautiful location recently and found it very useful to speak the lingo.
UPDATE: With the opening of Malaysia's international borders in April, and the relaxation of Covid-19 protocols, there will likely be a rotation of the staff in mid-2022.

At the moment, most of the GOs are Malaysians, many of whom have returned home from other Club Med locations during the Covid-19 border closures. But there's a smattering of foreigners, including the current Chef de Village, Houcem Mannai. You'll see him around and participating in performances and he is great with remembering names. Watch out, he might call you up to join in during crazy dance sessions.
Club Med Cherating
There are lots of things to do, but it's the people who make Club Med work. You also need to watch out for the local wildlife. One of our small companions just placed his plate of carefully selected breakfast on the table, and was stunned when a very fast macaque grabbed a sausage and some scrambled egg and took off to eat it on a nearby roof. Very quickly, the security guards were on the scene with slingshots and the monkeys made themselves scarce. From then on, no more problems. The monkeys see them coming and run so they don't have to use the 'weapons'. Even if they did, they won't really hurt them, they use seeds.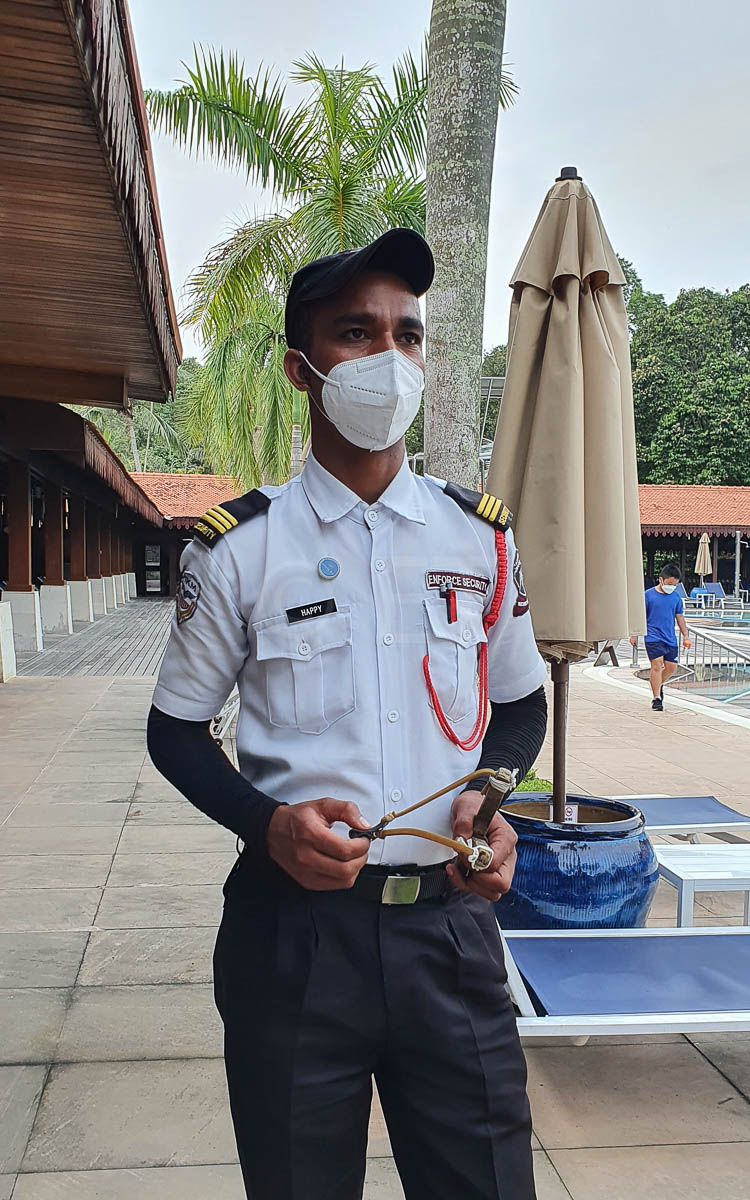 Getting there
Check-in and check-out times are well defined, to ensure the there can be plenty of social distancing between departing and arriving guests. Check-in time is after 3p.m. and you'll get a welcome drink while they get your keys and give you all the info you need. Check-out time is 11a.m. but you can pay for a later checkout and lunch if you want to fill up before you leave.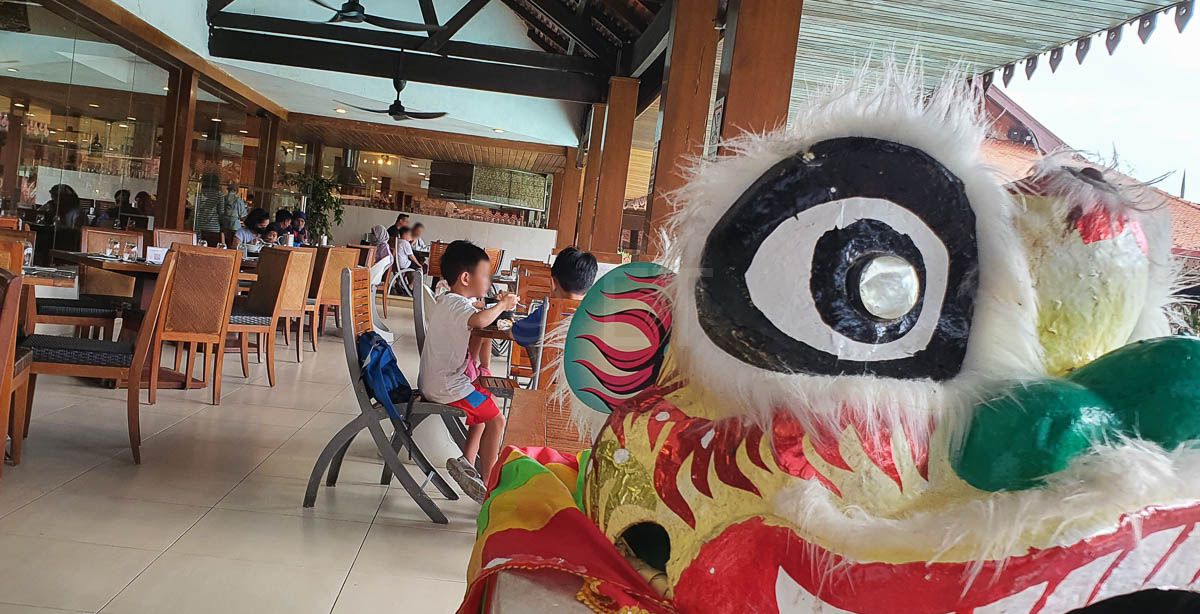 Contact details
Address/location:

Hvom 29th mile Jalan Kuantan -Kemaman, Pahang Darul Makmur,
Jalan Kuantan Sungai Lembing,
26080 Kuantan, Pahang

Opening hours:  24 hours, every day
website: ClubMed.com.my
Facebook: ClubMedMalaysia
Instagram: clubmed
Phone: 09-581 9133
other contacts
Travelling by air
If you arrive by air Club Med can arrange transfers to/from Kuantan airport, or you can purchase a package that includes the transfers.
Arriving by car
There's currently no train service to Kuantan, the nearest city, although a line is currently under construction. By car, head East from Kuala Lumpur along the Karak Highway and East Coast Highway. The journey takes a little over three hours, depending on traffic conditions and the number of stops you make along the way. We found the Rest stop at Maran had clean toilets but not a lot of food choices, so if you've got kids in the car, make sure you have 'supplies'.
---
Covid-19 SOPs
You are asked to self-test for infection before you arrive at the resort and you will have to check-in with your MySejahtera app when you arrive. Masks need to be worn whenever you are in a public setting, except when actually eating or swimming. These are requirements of the Malaysian government. Please note that most of these requirements have been removed as at 1st May 2022 (See update above).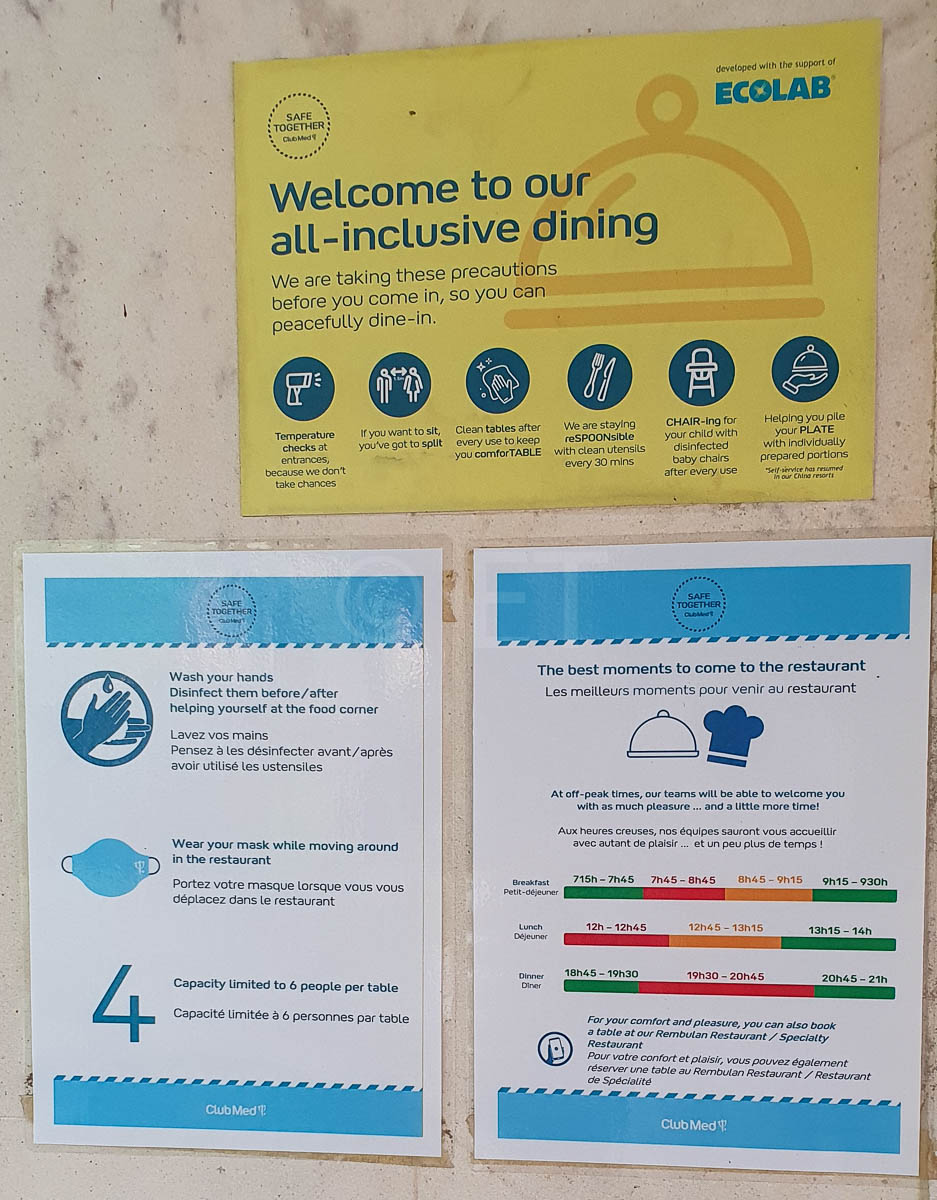 Latex gloves are provided at the entrance of all the restaurants so you can use them when taking your food from the buffet and there are temperature sensors which you may use.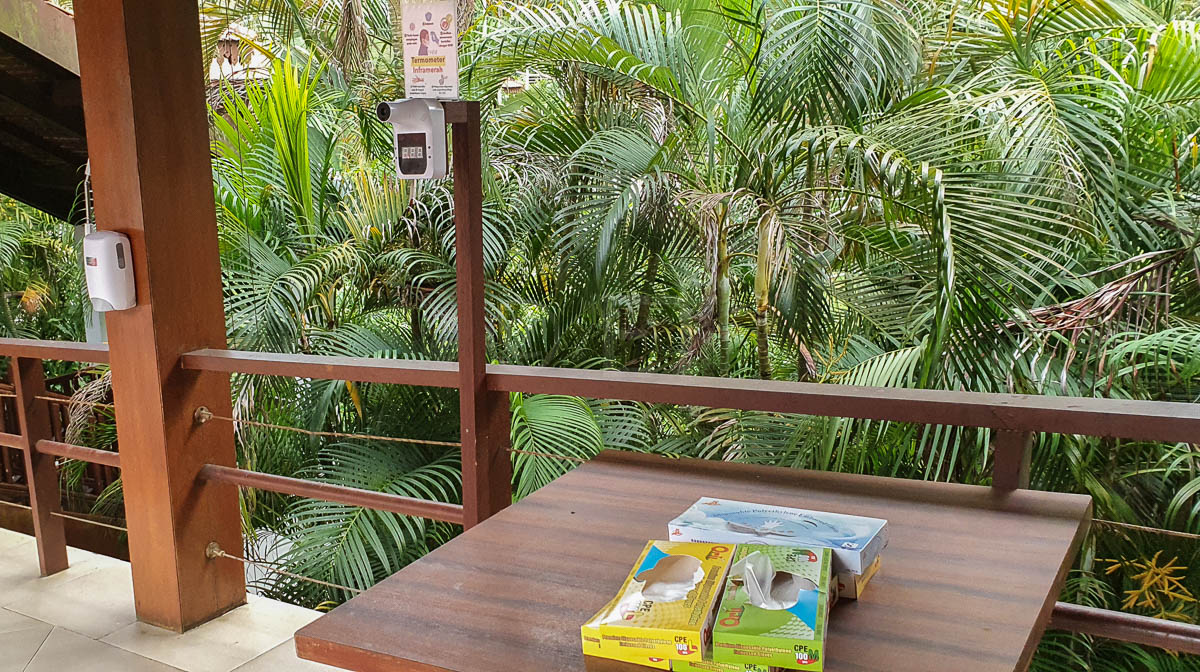 ---
What to do
Whether your holiday preference is for relaxing, eating, or trying out new activities, both formal & informal, Club Med have you covered. They've also developed an app which you can use to plan your holiday activities and make requests to housekeeping and reservations.
Activities
Whether you want to join in an existing game or activity, or do something quiet on your own, there's plenty of choice.
Sports – There's a decent range of physical activities available to choose from, well spread out around the grounds. For all activities there are experienced organisers who teach you how and explain the safety rules, especially important if you've never tried it before.
Sports Centre

Make sure you bring sports shoes so you can play tennis, basketball, badminton and kick a soccer ball around the futsal pitch. They have all the equipment, though you may bring your own if you prefer.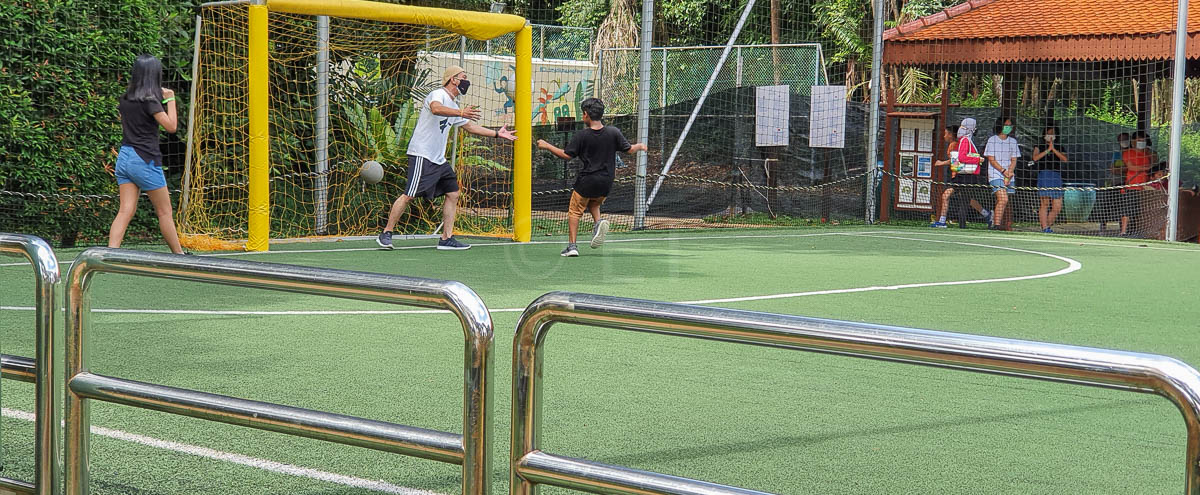 If you've always wanted to fly high, learn how to swing on the trapeze – you may find you have an undiscovered talent!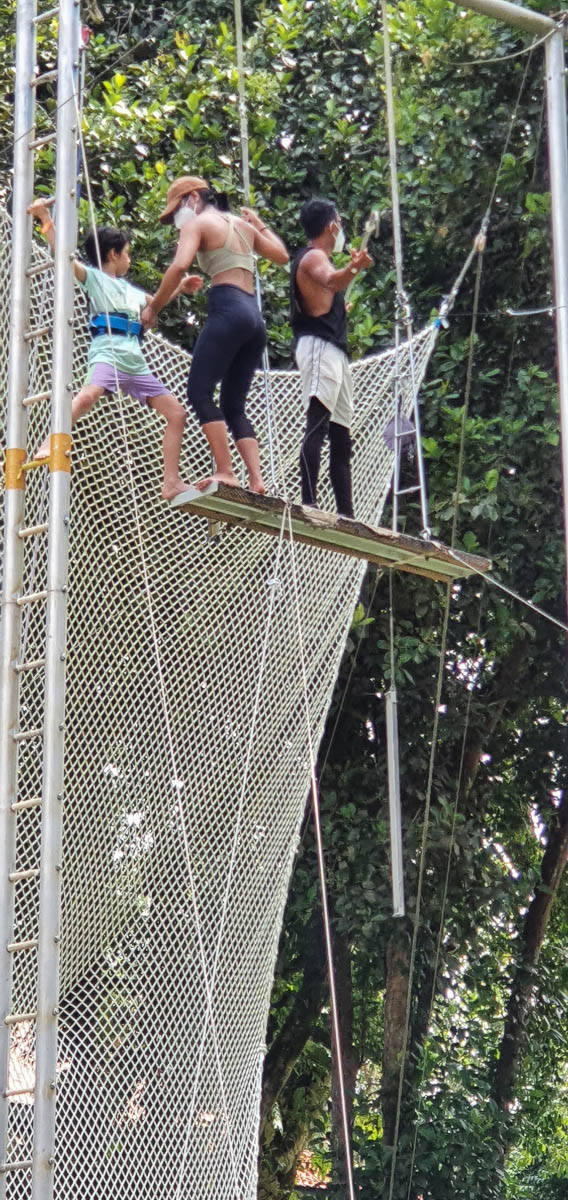 Various locations

Bocce Ball is in played in a small group. The object of the game is to get your heavy ball (about the size of a cricket ball) close to the small 'jack'. The sand court is located just below the entrance welcome area.
The Archery area at the opposite end from the Sports Centre, close to the Squash Centre.
The Fitness Centre below the main theatre area is where you'll find the gym, table tennis and a billiards table.
Water exercises are carried out in the main swimming pool.
The Art and craft centre is beside the gym, close to the Kid's Club.
Beach activities (sailing, kayaking and paddle boarding) are available at the Private beach and being able to swim is necessary to join these activities.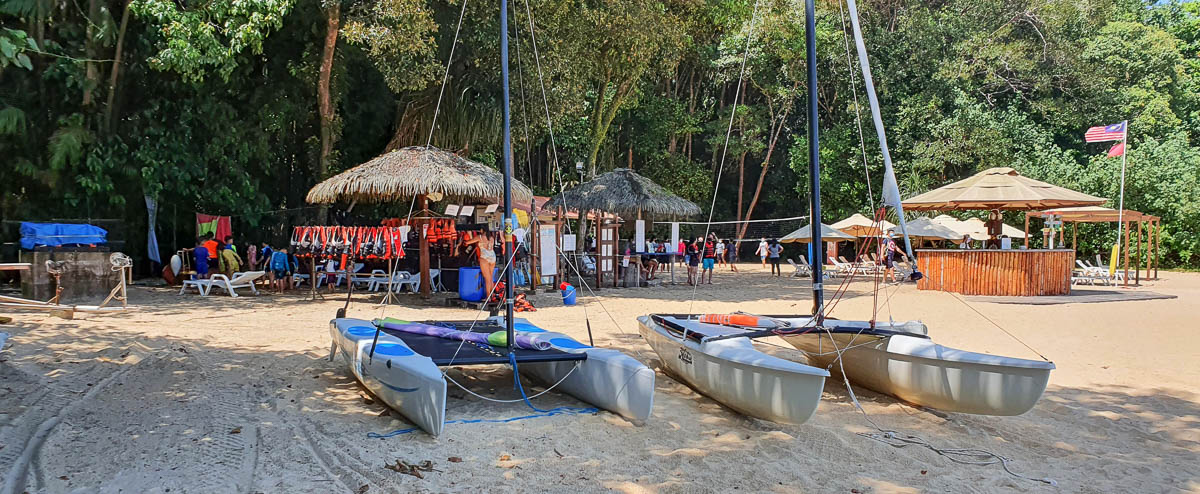 You can play volleyball on the sand, or, if you're 11+ learn rock climbing just off the beach.
The nature walk is open daily, until 6pm and you'll also need your sports shoes to join in this activity. You can join a guided walk every afternoon, or a botanical walk in the mornings.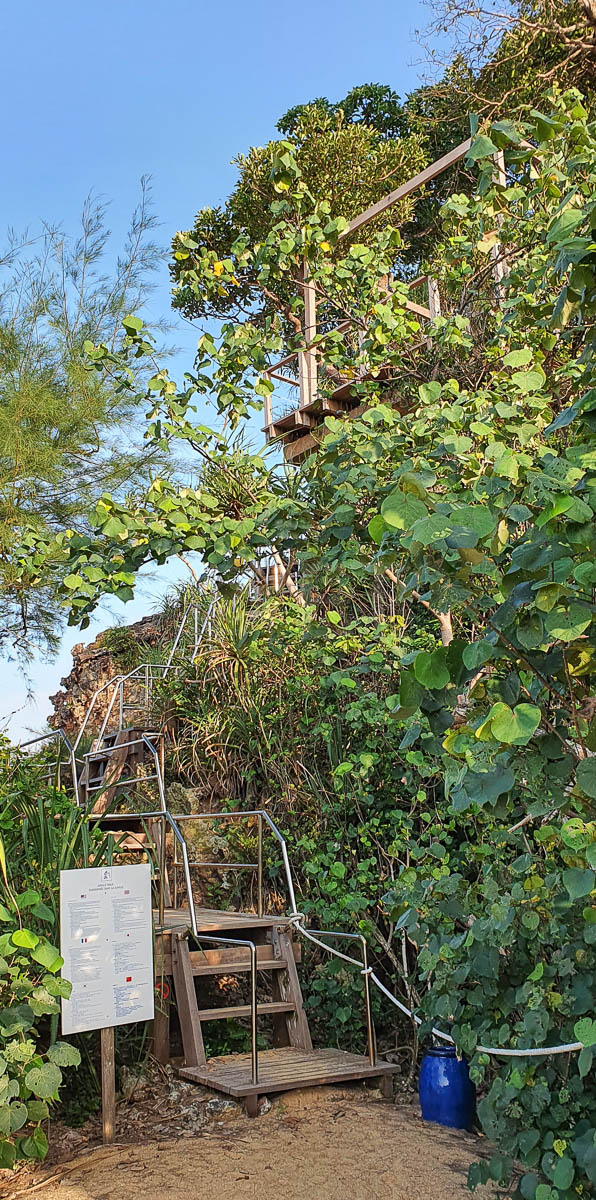 Kids Club
One of the best things for families, is that adults and kids can all have the holiday they want. We saw quite a few multi-generational families, sometimes together, sometimes doing different activities.
There are plenty of options for all, regardless of age or physical ability.
Kids are well taken care of at the kids club.

They have two sessions each day and the kids are free to join either or both.
Kids aged 4 and up are grouped according to age and have a different programme each day, with a variety of sports including trapeze and archery on offer.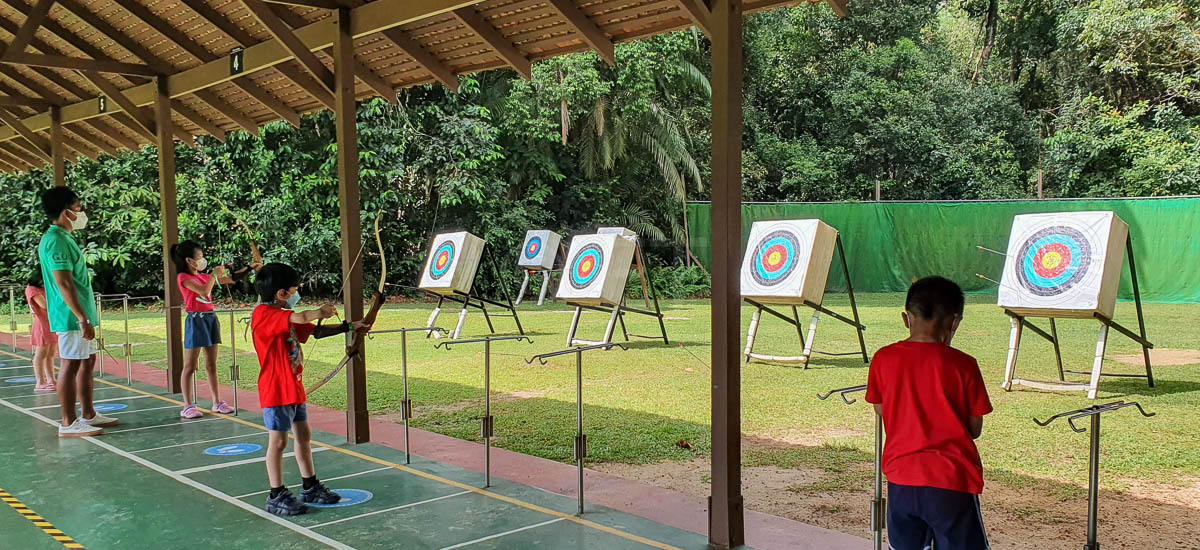 Making new friends at the kids club
Relax
The main beach fronting the length of the resort, is quite rough and swimming is not allowed.

However, all open water swimming and boating activities are carried out at the private beach, in a small bay protected by a rocky headland.
You can pick up your lifejackets near the drinks station and join in a game of volley ball.

If you prefer still water, the large main swimming pool dominates the main building.

There's plenty of space for all and they also run guided pool exercises each day.
The pool is open daily from 10 am to 7pm, when there is a lifeguard on duty. The towel counter opens at 9am.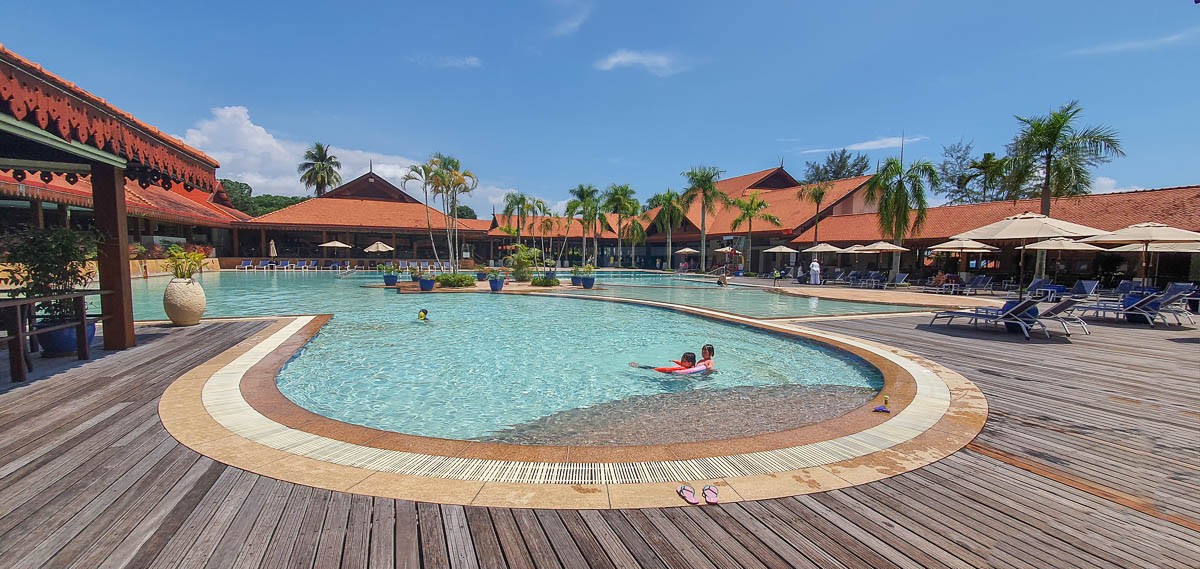 For those over 18, you can relax in the Zen pool, overlooking the private beach.

There's also a small bar serving delicious fruit based drinks and beers for you to enjoy as you relax.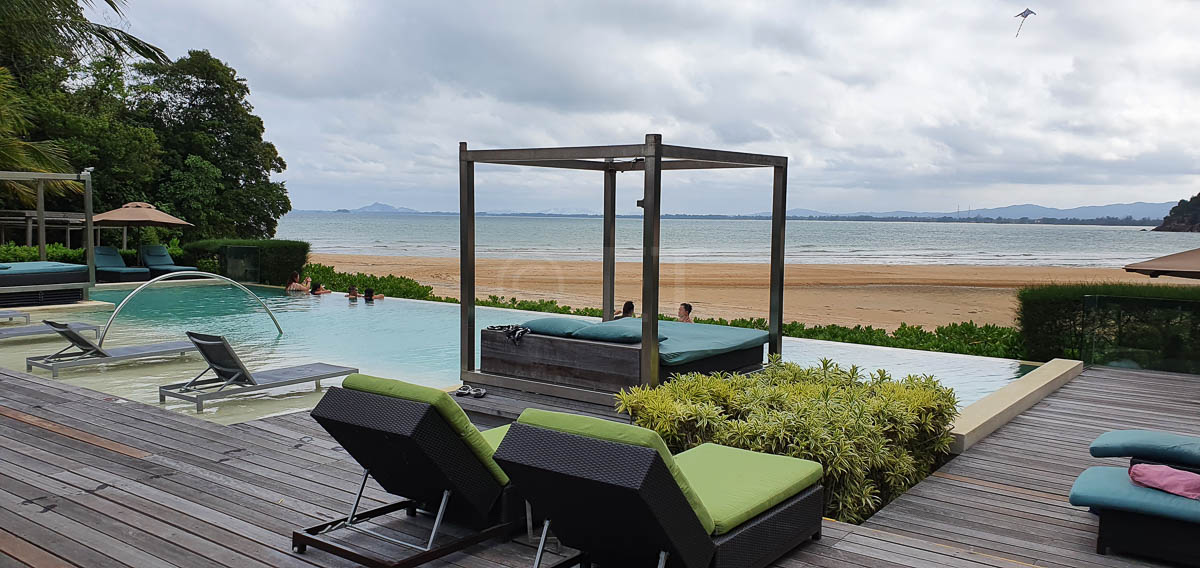 The Rembulan Restaurant also overlooks the private beach.

Eat
There's plenty of food available, in fact, if you're a foodaholic, you can just eat pretty much all day until 11pm and the bar in the entrance is open 24/7.
There are three restaurants. The main restaurant with a wide international buffet selection, is open for breakfast, lunch and dinner. Enak Restaurant, which is smaller, fills in those gaps between, if you prefer brunch or a late lunch.

If you want a bit of fine dining, the à la carte Rembulan Restaurant is open for dinner

in the evening, but you need to

book the day before.
There are also beverage stations at the Zen Pool and the private beach. They do have opening and closing hours.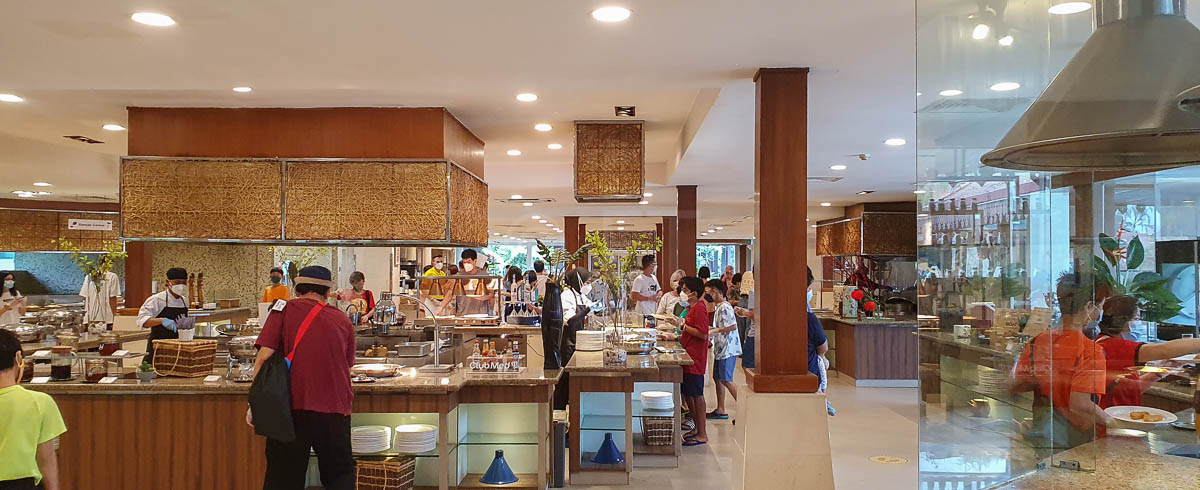 After dark
Every night after dinner a performance takes place in the open theatre. The show starts at 9pm, but the seats start to full up early. On offer is a different show each night, with all acts put together and performed by the GOs. They even make all the props and costumes.
If you want to party, there's an 'after-party' outside that will go until you get tired. They have a different theme every day, which you'll see posted on whiteboards around the resort.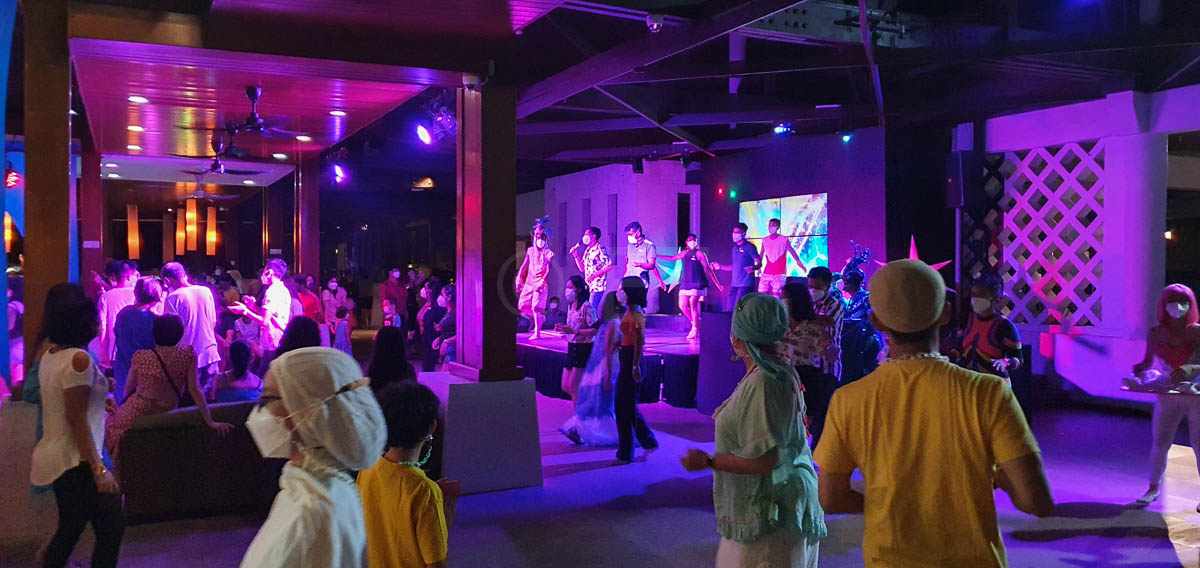 For stargazers, if there are few or no clouds, the sky is very clear and pollution free, so make sure you have a star map or app and find a dark spot, perhaps in front of the fitness centre.
What's not included
Outside tours and alcoholic drinks other than normal wines and beers. This means spirits and the more expensive wines.
There are a number of outside tours available, provided by external operators. These require a minimum number although the groups are quite small. Check out the Firefly and other tours.
Spa treatments at the Spa is located close to the Main pool. They're open between 10am and 8pm and you can make reservations at the Spa, or give them a call.
---
Accommodation
You don't go to Club Med Cherating to stay in your room, so they are fairly basic and not particularly large.
There is a small bar fridge, tea/coffee making facilities and you have a separate toilet and shower.
The toilet is not equipped with a bidet.

There's no long bath.
No toiletries provided except for Conditioning Shampoo and Shower Gel
Bring your own toothbrush, toothpaste, hairbrush & shower cap, etc.
There is a hairdryer.
You can find power sockets (220V) on a small table near the entrance and also by the bed. However, as the resort pre-dates the advent of digital devices, we suggest you bring an extension with extra sockets.
Your room has a balcony where you can hang your wet swimming things, but it's recommended you keep your door firmly shut as the monkeys are clever.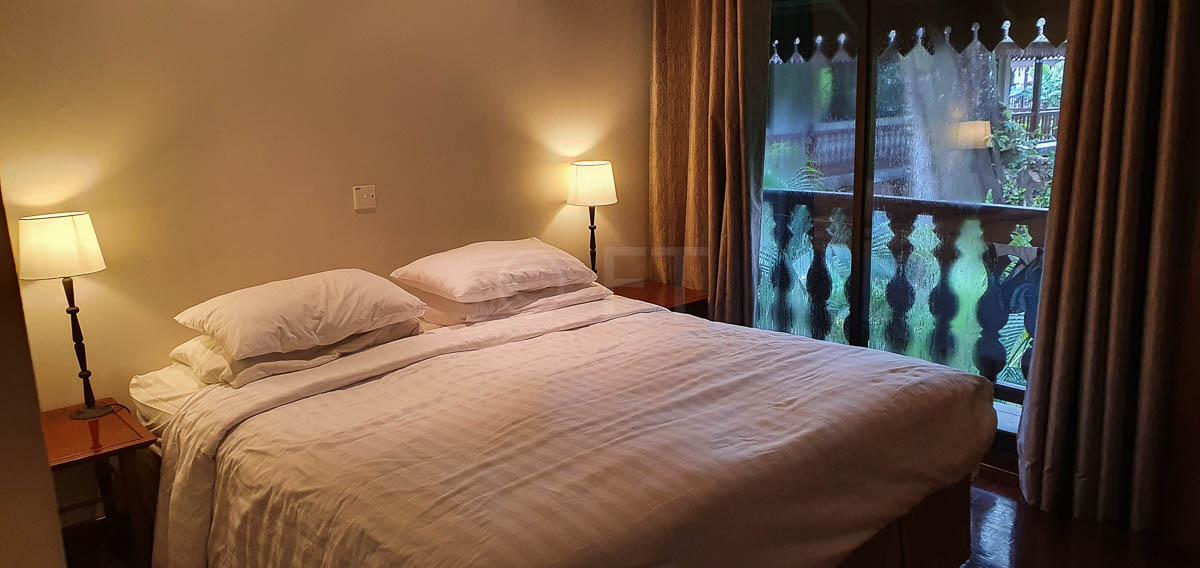 There's a day bed if you need it and a TV, though to be honest, we didn't even turn it on.
The facilities are well-maintained considering the age of the resort, rooms do show signs of age but they are clean and comfortable.

Take note there is no room service.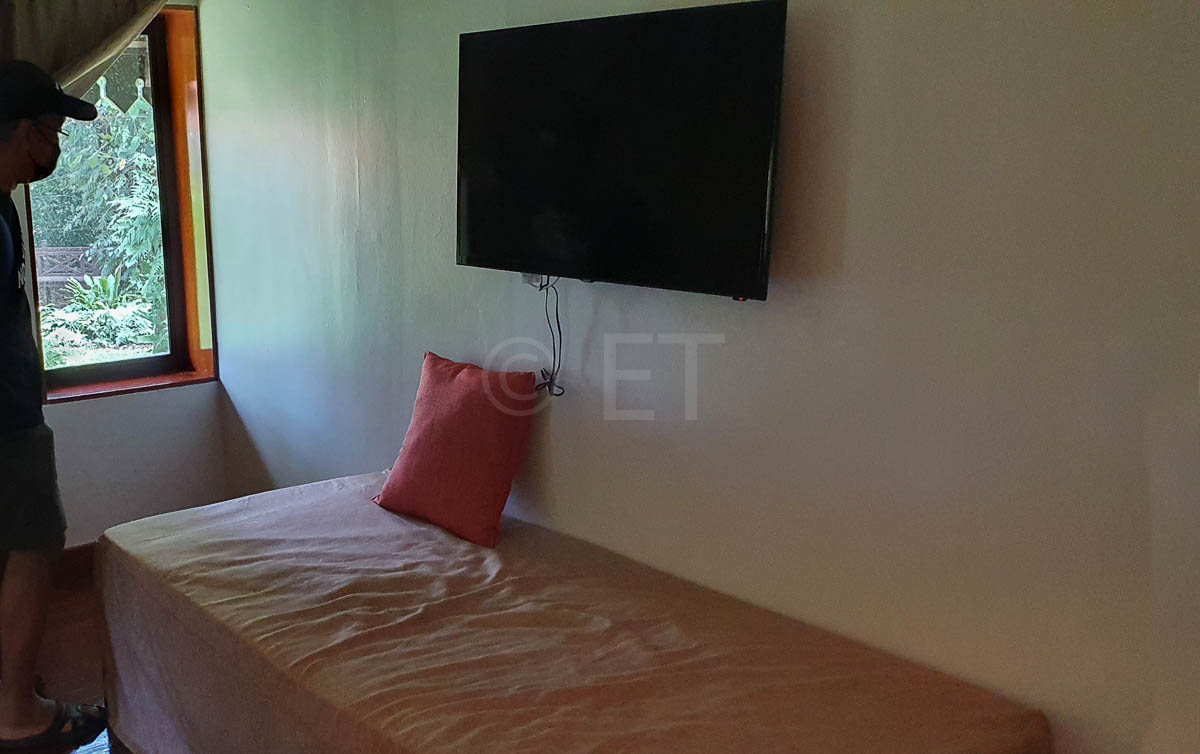 Be prepared for long walks to your rooms if you are not seniors, as no buggy service is provided.
If you have a family member who's using a wheelchair, request a room on the same level as the Reception.
All the walkways between blocks are covered, but there are stairs to upper levels.
There are a few ramps, we noticed them at the main entrance and also at the waiting area for Club Med Cherating's shuttle train.
There are 

connecting 

rooms available

If you want to secure these, make sure you arrange before you arrive.

The Reservations dept was very helpful organising these.
---
Getting about the location
All the accommodation blocks are connected with the 'nerve centre' in the middle, by covered wooden walkways. As the buildings are stretched out either side of the centre along the beach, before curving around at the hill end, this can mean a long hike to and from your room.
There are connecting surfaced pathways providing shortcuts, though these aren't covered. You can also walk on the grass.
The Club Med shuttle train runs between the resort and the private beach. Although the schedule says half hourly, in practice, if the train is full, it will run more often. The trip takes less than 10 minutes and drops you close to the beach where you can also walk through to rock climbing, the Zen pool and the Rembulan Restaurant.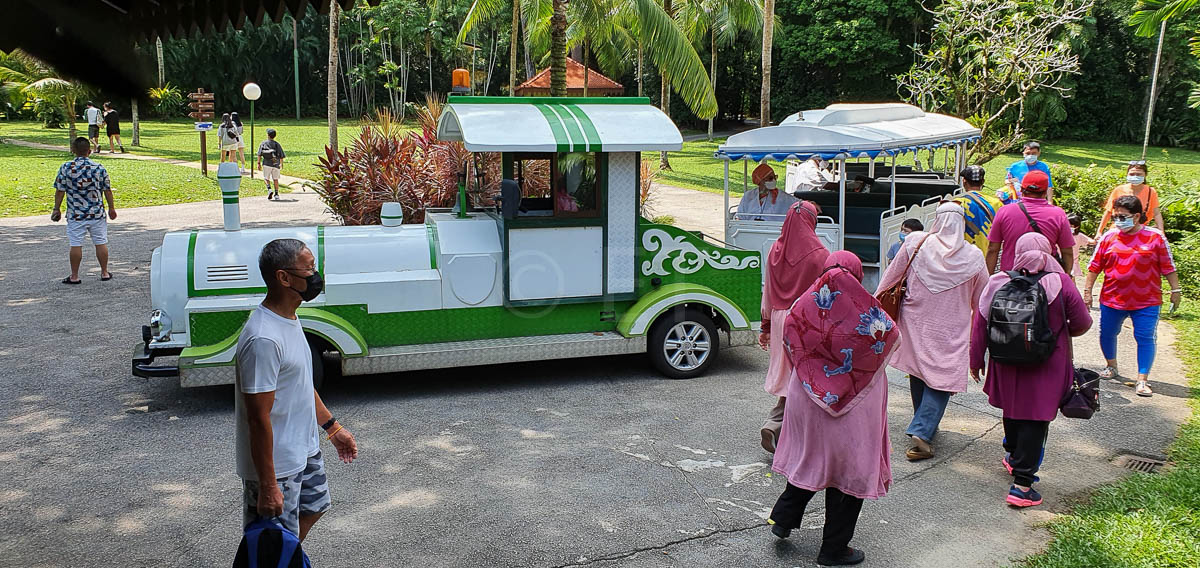 Hardy souls contemplating a morning walk along the separate, (mostly) surfaced path are strongly advised to wear proper footwear. 'Flip flops' will absolutely not do. as the 800m long path is undulating and some sections are quite stony. However, it's a pleasant walk, but beware of monkeys.
You can't walk around the headland to reach the private beach, as the rocks extend into the water, even at low tide.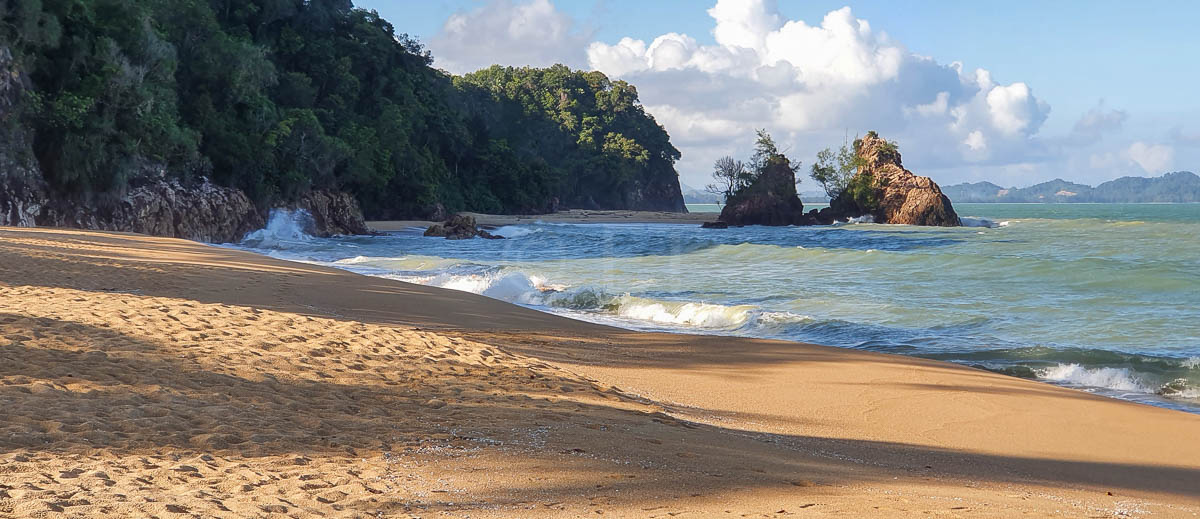 ---
What to bring home?
There is a shop just beside the swimming pool where you can pick up necessities like swimwear sunglasses and sunscreen, plus a few souvenirs and trinkets. They're open between 10am and 7pm. You definitely don't visit Club Med to go shopping!
Beside it, is the 'Green' corner, which is definitely worth a look. This is where you can sign up to join the guided Nature and Botanical walks.
---
What makes Club Med Cherating special?
Festivals are one of the occasions that trigger special events, but  anything that makes this destination special and different you may get a lovely surprise when there's a special concert or event. The evening after our group left, we discovered there was a guest group performing in the area on the 'beach-side' of the main building. The buffet dinner was set up here, so everyone could enjoy their food and entertainment at the same time.
But mostly, it's the people who make Club Med Cherating special. The staff rotate every now and then to gain experience in a different resort and new people will arrive. There are also a lot of local staff in support roles.
We found the Reception, Housekeeping & Restaurant staff very helpful and friendly and ever happy to chat and make friends. Our meals were enhanced by our interaction with people like Mohammad (restaurant & housekeeping).
Anne (Mini Club) and Sunny (Reception) and Shaun (not sure which dept) who helped with one rather grumpy tired youngster were among the many who made our stay enjoyable.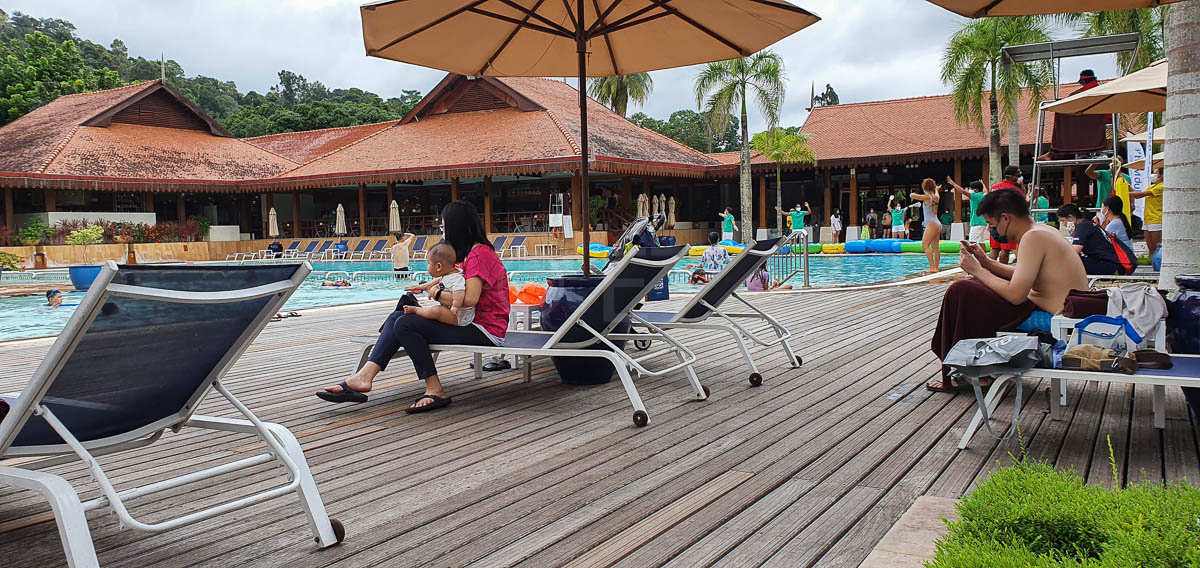 images©ET