We recently visited Langkawi in conjunction with the Langkawi UNESCO Global Geopark revalidation. While we were there we discovered that Langkawi food has its own special flavours and peculiarities. Lunch is a specially good time to discover what Langkawi eats.
Langkawi eats
The first thing we learnt is that sea cucumbers, known locally as 'gamat' are abundant in the waters around the islands and therefore feature in their food. As a long-time fan of the Chinese dish of stewed sea cucumbers I was keen to trying this new dish. Another dish claimed as local is roti jala. Roti jala is a popular Malaysian 'lacy pancake' rolled up and served with curry. They are usually yellow, not pink. So we were surprised when we were served pink roti jala for breakfast at Pantai Chenang Resort. We can assure you, they are just as good as the normal yellow variety, just different to look at.
---
Restoran Kak Yan Nasi Campur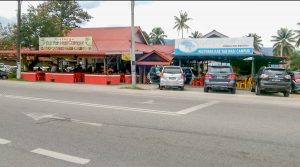 Jalan Ulu Melaka
Kampung Padang Gaong
Langkawi
Phone: 017 408 4371
Open: Daily 8am – 4pm
Facebook: Restoran-Kak-Yan-Ulu-Melaka/
---
We stopped by for lunch at Kak Yan's Nasi Campur the day we arrived in Langkawi. Nasi Campur is a popular way of eating around Malaysia, because you take your rice and add your choice from the dishes available. It's a very economical meal as you are charged based on what you've selected. So basically you campur (mix) your dishes with your rice. In English, it's also known as 'Economy Rice'.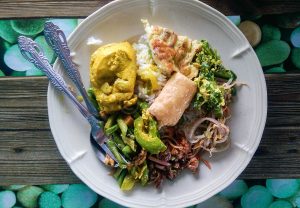 Restoran Kak Yan specialises in seafood dishes and they have a wide range of different fish on offer, from curried to Ikan Bakar (Grilled fish). We had ilan bakar to share and added our own choice of dishes to our rice. Take your own rice from the container, good for people with different appetites.
Exclusive to Langkawi and a specialty here, is kerabu beronok (sea cucumber salad). It's not much to look at, the sea cucumber are very small and brown, in a finely cut salad. Assessment? Do try it, because the salad and sauce is very tasty and goes well with rice and other dishes. However, the beronok themselves, were like small, tasteless round stones.
The restaurant is a popular lunch venue, with seats at a premium if you don't arrive early. However, most people eat and leave, so you shouldn't have to wait long. There are sinks available, with soap, for those who prefer to eat with their hands.
---
Restoran Kasih Anak Mama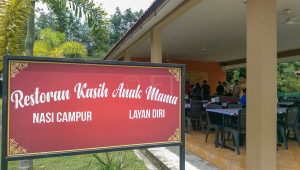 Jalan Ayer Hangat
Kampung Kilim
Langkawi
Phone: 012-475 1790
Opens: daily at 10:00 am
---
Another Nasi Campur lunch worth trying is this one, along the main road not far from the Mangrove parks is Restoran Kasih Anak Mama. We dropped by after visiting the Kilim Geoforest Park and Discovery Centre, part of the UNESCO Network Of Global Geoparks.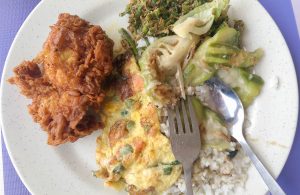 Use the plus code CR6P+X6 Langkawi, Kedah  in Google Maps to help you find the location.
The restaurant is open and airy, with the food laid out on long tables in the middle of the space. Hand washing facilities are arranged around the perimeter. Collect your rice and cutlery near the payment counter and add your preferred 'dishes' to your plate. Payment is based on what you have selected and varies depending on quantity and type of food. There's a good range of dishes to choose from, including vegetables, fish, curries and ever-present ulam (local herb salad).
The verdict? Easy to eat, 'choose your own' makes it easy to select your preferences. The place was clean and the family run business is also popular for take-aways. You can select your own bags of different dishes and even rice, to take away and eat later.
---
The Kari House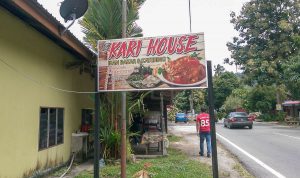 Jalan Kuala Teriang
Kampung Ranggot Kecil
Langkawi
Phone: 011-1856 4651
Open:
Sunday – Friday 6pm–12am
Saturday – Closed
---
Before leaving the island we stopped for lunch at The Kari House, not far from the airport.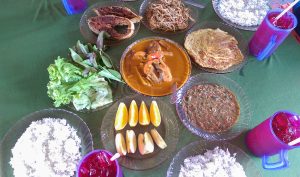 The dishes were laid out on the table for us as a shared meal. This meal is known as Nasi Gulai, where the main dish 'gulai' is not really a curry, in the sense that it isn't made with curry spices.
Therefore, it's not spicy, though it may be hot, thanks to the addition of chili padi (fire pepper). The other main spices used are turmeric and lemongrass softened with coconut milk. The gravy is not thick.
This is also a family restaurant, serving local Malay food. While the gulai itself want too hot, the side dishes more than made up for it. The fish was not hot, but well fried to be crispy outside, soft inside.
We washed everything down with rosewater drink. It's quite sweet, so ask for plain iced tea if you prefer.
---
Laksa Ikan Sekoq Langkawi
Jalan Kuala Muda
Kampung Kuala Muda
Open: daytime
Stop for a snack at Laksa Ikan Sekoq. It's near the Langkawi airport along the road between the runway and the beach. There's a wide area to park and the tables are under the casuarina trees beside the beach.
You can go for a paddle or build sandcastles while you work up an appetite, or even eat on the sand. 
The food? The stall is not a permanent structure, rather a truck that sets up with benches and shades that can easily be set up. They're best known for their fish laksa (pronounced excellent by my companions) and they also offer other cooked on the spot Malay dishes. Cool down with a fresh coconut or their huge ice kacang (shaved ice with coloured syrup, red beans and jellies). For me, this would be more than enough for lunch, but in the middle of the afternoon, it's popular as a 'snack'. Malaysians love to 'eat for fun'.
Do some plane spotting as you enjoy your laksa. You won't get a good view if you sit at the tables, but serious watchers can leave their food briefly get a spot with a view of take-offs and landings, closer to the road. Don't hope to use any of your flight apps though for timings, we couldn't get any to show us local traffic. Overflights work fine, so it's just close by traffic that's not visible. 
---
What else is good to eat in Langkawi?
Apart from all the duty-free chocolate (less expensive in Kuah town shops, but check the expiry dates) there's lots on offer.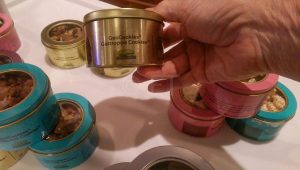 A trip to the Mardi Agro-Technology park includes a tasting of the locally grown fruits on offer and there's always a Pasar Malam in Langkawi (night market) to visit in the evening.
Look for freshly cooked food at the pasar malam and make sure you include a coconut shake. Bad for the waistline, perhaps, but so good for the soul, especially on a hot afternoon.
There's seafood aplenty in Langkawi. Look for a dinner cruise where they'll cook you a seafood dinner, or an island adventure with the same. Find out more in our story on things to do in Langkawi.
Want something really different to take home? How about some trilobite or gastropod cookies? You can pick up these cookies, along with others named for various fossils found in the Langkawi Geoparks.
Happy eating!
#gayatravel #naturallylangkawi #langkawiunescoglobalgeopark #langkawigeopark #unescoglobalgeopark #TourismLangkawi
images©ET