Kuala Lumpur Light Rail forms part of the Klang Valley Integrated Transport system, which currently offers twelve rail transport options and one Bus Rapid Transit (BRT) service. One of these light rail transit (LRT) lines is currently under construction, due to be opened in 2024 and one more mass rapid transit (MRT) line is planned.
You can download the Klang Valley Integrated Transport Map , which opens as a .pdf. The map shows all the stations which are Interchange stations and those which connect, sometimes in the same building, sometimes via a walkway.  The  LRT, MRT, Monorail Lines and BRT Sunway Line​ are operated by myrapid KL. This link has information about integrated fares while other general fare information is available here.
Kuala Lumpur Light Rail – LRT & MRT
There are a few things you need to know before you use the services in the network. We've identified a few of these and also take you on a ride in our video at the bottom of the page.
Interchange stations means a direct connection, where the same ticket can be used on both services.
At a Connecting station, you will need to get a new ticket for the second service.
This is usually the case between the KTM service and a Light Rail service.
If you have a stored value card (e.g. TouchNGo) make sure you have sufficient balance and use your card to tap on and off.

A single journey using a token purchased at the ticket machine is a little more expensive.

 LRT Ampang Line and the LRT Sri Petaling Line are elevated light rapid rail and are manned by a driver.
The other LRT services and the MRT have both elevated and underground sections.

Both services are driverless, so the front and rear windows are popular spots to enjoy your journey.

Underground stations usually have multiple entrances.

Bukit Bintang MRT station has 5 entrances around the crossroads of Jalan Bukit Bintang and Jalan Sultan Ismail.
One of these entrances (on Jln Sultan Ismail) will give you access to the KL Monorail.

The Bukit Bintang Station is also special because the platforms to Kwasa Damansara and Kajang are on different levels, so make sure you check that you are on the correct platform before you board.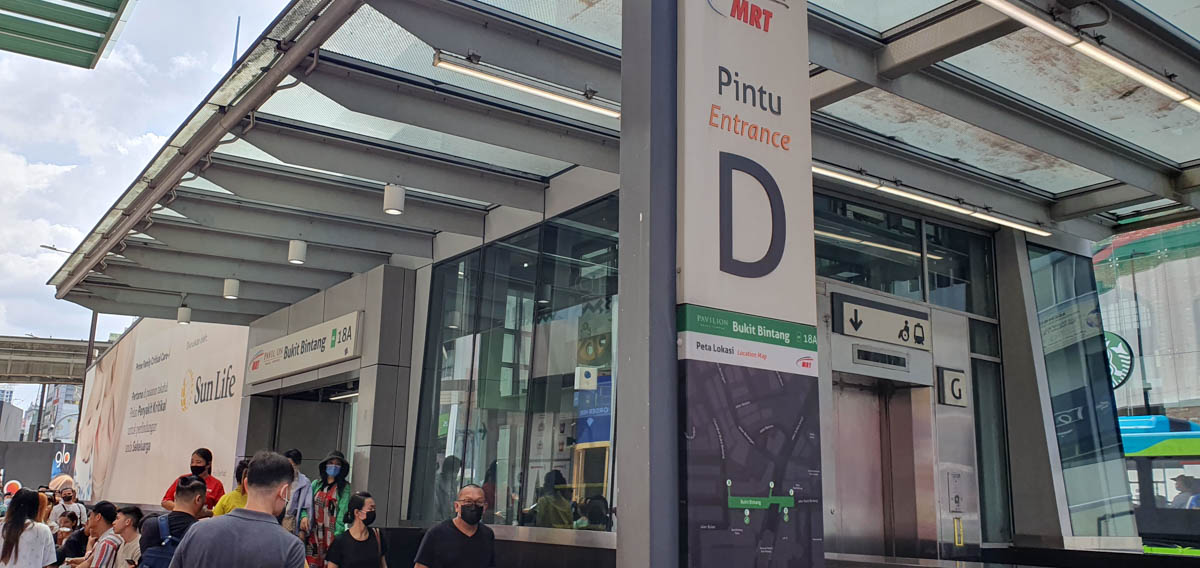 Some useful information about the various services and how they connect.
KTM Batu Caves – Pulau Sebang Line
KTM Tanjung Malim – Pelabuhan Klang Line (Port Klang)

Both KTM services are currently being upgraded although completion is not expected until some time in 2026.
Both KTM services are currently degraded by reduction in schedules
Most southbound services in these lines terminate at KL Sentral
Schedules are regularly updated and trains do generally keep to time.
Fares are less expensive than the light rail fares
All services have designated Women's carriages.

LRT Ampang Line (Sentul Timur-Ampang)
LRT Sri Petaling Line  (Sentul Timur – Putra Heights)

These two LRT services share common tracks and stations between Sentul Timur and Chan Sow Lin and many stations interchange with an MRT line and/or the second LRT.

LRT Kelana Jaya Line (Putra Heights – Gombak)

This service shares interchange stations to a number of the MRT lines and the upcoming Shah Alam LRT line.
Putra Heights is an Interchange station between this line and the Sentul /Ampang LRT line

ERL KLIA Ekspres Line (KL Sentral – KLIA T2)
ERL KLIA Transit Line  (KL Sentral – KLIA T2)

While the Ekspres line runs direct to KLIA T1, this is its only stop before it proceeds to T2.
The Transit service stops at three stations between KL Sentral and KLIA T1.
Two of these stations offer connections to other services, which may help reduce the travel cost.

KL Monorail Line (KL Sentral – Titiwangsa)

The best views of the city are from this line.
The coaches are quite narrow and mostly standing room.

MRT Kajang Line (Kwasa Damansara – Kajang)

The original MRT line.
Used to run from Sungai Buloh, which is now part of the new Putrajaya line.
You can transfer between the two lines at this point, if you need to go to Sungai Buloh or onward.

KTM KL Sentral – Skypark Terminal Line (KL Sentral – Subang Skypark)

(currently suspended)
This line was under-utilised and is expected to reopen when planned upgrades are completed at Subang Skypark.

LRT Shah Alam Line (Johan Setia – Bandar Utama)

Under construction due to open in early 2024
Interchange with LRT Kelana Jaya Line at Glenmarie Station
Connection to Klang KTM

MRT Putrajaya Line (Kwasa Damansara – Putrajaya)

This service has recently opened and completes a circle when linked with the Kajang Line at TRX Interchange station.
You can also interchange with the Sentul Timur LRT at Sungei Besi and connect with the Airport ERL (KLIA Transit) at Putrajaya Sentral.
This link from MRT Corp shows how the planned MRT3 Circle line will connect existing lines.
This is just a quick summary of these different services, full details with schedules and fare tables are available at their respective websites.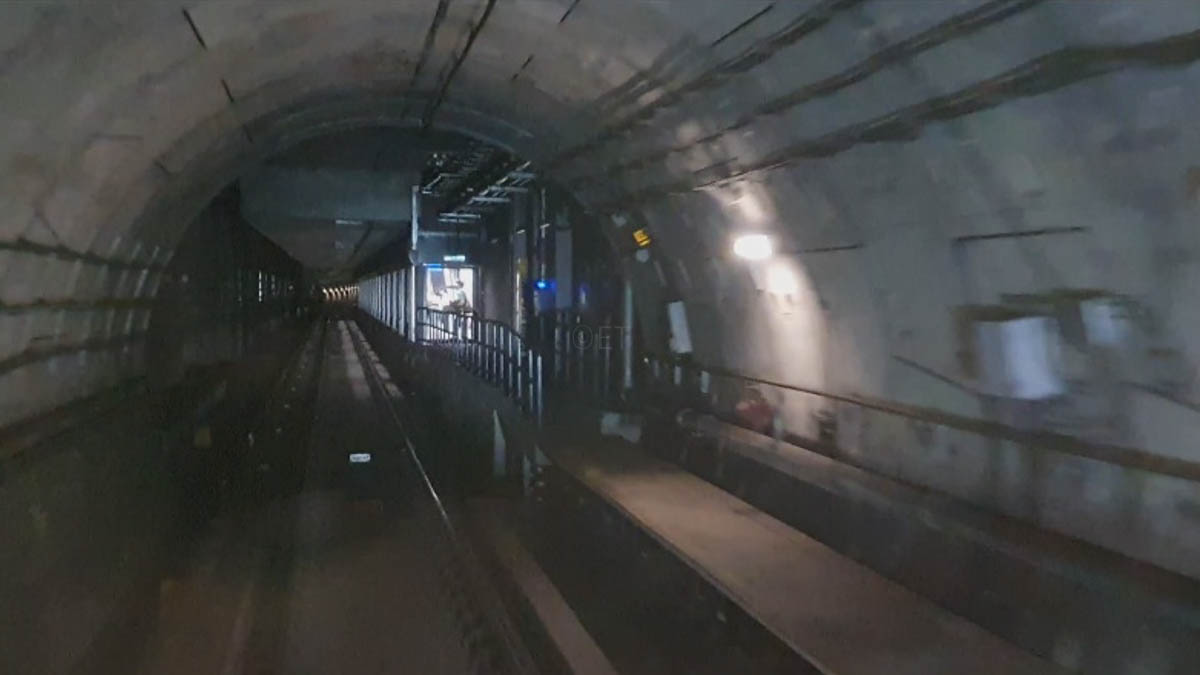 Supporting services
B1 BRT Sunway Line (USJ7 LRT – Setia Jaya KTM)

This is an elevated dedicated busway using electric buses.
It services a limited area from the Interchange station at USJ7.
You can connect via a walkway with the KTM train service at Setia Jaya, although this is not suitable for those in wheelchairs.

P Park and Ride

Most stations outside the city area have Park and ride facilities which offer a fixed daily rate.

Airports (KLIA T1 & 2, Subang Skypark)

Both Kuala Lumpur International Airport and Subang Skypark are serviced by train services, although the KTM service to Subang Skypark is currently suspended as the Skypark is due to be upgraded.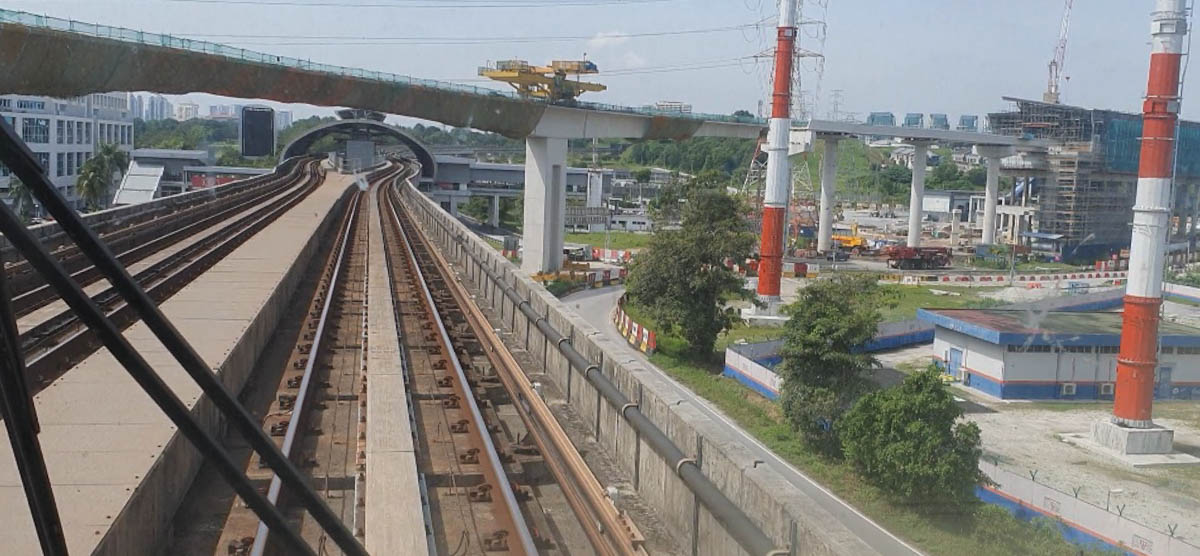 There are a number of covered walkways in and around Kuala Lumpur which you can use to reach either another rail service, or an entertainment / shopping area. We recently checked out the Elevated walkway between KLCC and Pavilion Mall in Bukit Bintang. It's safe, clean and easy to access. It's also free to use and is airconditioned. There are a number of entry/exit points along the walk.
Let's go for a ride!
Although we use most of these systems fairly regularly, we recently went for a day out and recorded our trip on the LRT and MRT trains. The routes we used were portions of the Kelana Jaya LRT line and the Kajang MRT line, with a change at Pasar Seni, an interchange station.
On the inward trip on the LRT line, we travelled from Subang Jaya to KLCC, returning on the Kajang MRT line to change to the LRT at Pasar Seni Station. The video shows the elevated and underground sections of the lines and how to change at Pasar Seni. We also show you the connecting link over the Klang River to the old KL Railway Station.
images ©ET