All trains to the northern border used to go in to Butterworth on a spur line in from Bukit Mertajam, before returning to BM and proceeding. Recent changes to the timetable means that the ETS train service to Butterworth from KL Sentral is now a separate trip, point to point.
ETS train service to Butterworth, Penang
Butterworth, on the mainland side of the Malay Peninsula, is the end of the train line if you're going to Penang island. To reach the island, it's necessary to cross the strait by ferry. This is the subject of another article which will be updated when we've tried out the new ferries.
Train upgrades and new train sets facilitate six dedicated services daily, in each direction. These currently (August 2023) follow this timetable:
| | | | |
| --- | --- | --- | --- |
| Depart KL Sentral | Arrive Butterworth | Depart Butterworth | Arrive KL Sentral |
| 8:03    (EP9172) | 12:15 | 5:15   (EP9171) | 9:29 |
| 11:08   (EP9174) | 15.23 | 6:20   (EP9173) | 10.34 |
| 13:37   (EP9176) | 17:49 | 7:50   (EG9321) | 12:19 (continues to Gemas) |
| 15:55   (EP9178) | 20:07 | 12:45   (EP9175) | 17:00 |
| 18:00 (from Gemas)   (EG9322) | 22:22 | 16:05   (EP9177) | 20:20 |
| 21:10   (EP9810) | 00.22 | 18:45   (EP9179) | 23.00 |
The journey takes a little over 4 hours and in our experience keeps to the time as per the schedule. This is the full ETS Schedule as at August 2023. However, this is subject to updating from time to time and you can confirm the current time table on this page (go down to the Second Heading: ETS Electric Train Service).  The arriving train will return to Kuala Lumpur as the Butterworth-Kuala Lumpur Service. So (e.g.) EP9174, which arrives in Butterworth at 3.23pm, returns to KL Sentral as EP9177 at 4.05pm, arriving at 6.08pm.
Buying tickets
You need to have an allocated seat, so buy your tickets as early as you can, because the later you purchase tickets, if you're travelling in a group you'll just have to take what's left. They'll also cost you more. The most expensive tickets are those you buy less than a week out from the date of travel.
There are two ways to purchase tickets:
Go to any station.

All

 

the stations

 

(go to the bottom of the page and click on the buttons for info about each)

You may have to use cash at smaller stations, although the larger stations like KL Sentral will take cards.  

Concession tickets (Senior Citizens, OKU) can only be purchased at a station.

You must show proof of eligibility.

Online

You must set up an account to purchase online.
Get tickets here.
The first thing to come up on the page is upcoming school and public holidays.

There is more demand during these periods.

You can also select you seats when you book online.

You must set up/log in to your account
It helps to pull up a train map so you can see the location of toilets, surau and buffet car.

This is possible when you have made the selection of service as trains may be different.

The map also shows the direction of travel and the location of table seats in each carriage.

Print out or send the code to your phone for scanning when you enter and leave the train platform.
Selecting your seat
The trains have 6 coaches with a drivers cab at either end. Coach A generally leads when travelling South, Coach F has the driver when heading north. Confirm this as you approach the train, there will be a sign pointing to the direction of the carriages.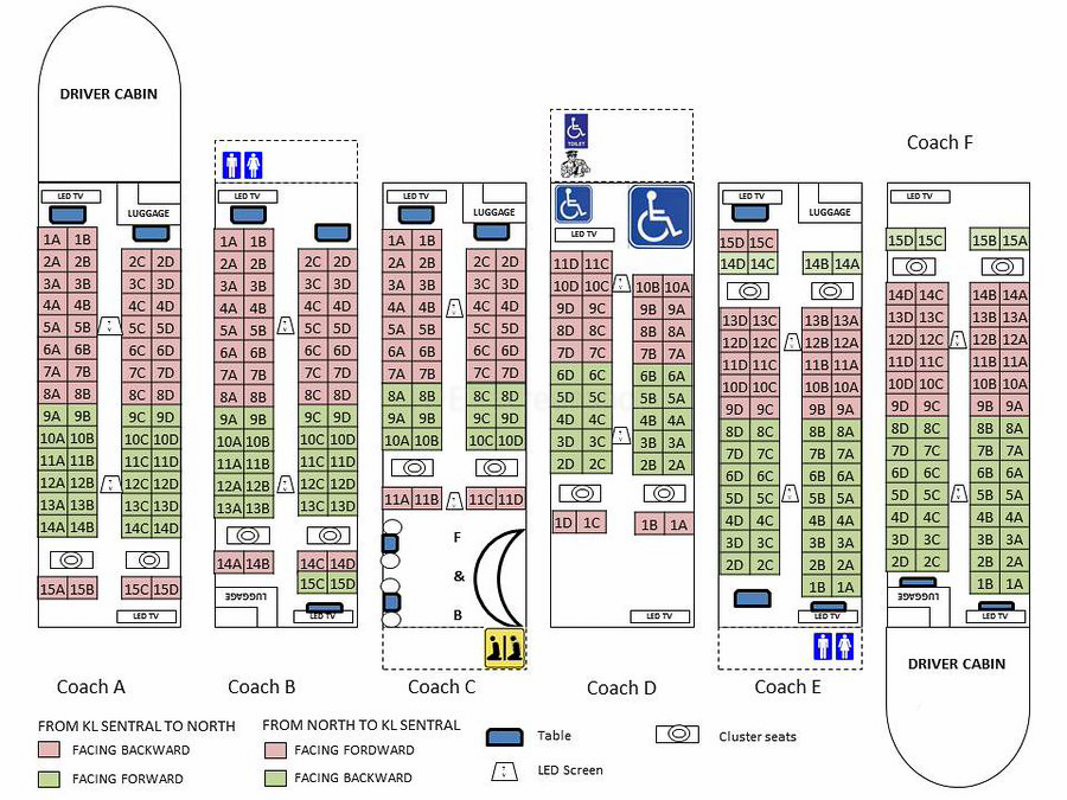 The image shown (image from @ktm) is similar to the Platinum service in general. However there are some differences in the placement of the tables, which are in the centre of the Platinum carriage. This service also has a Business Class carriage (Coach A), with larger seats. They are also more expensive.
A 36 Business seats in 12 rows
B 60 seats 

table between 

9&10 (toilet)

C 52 seats table between 7&8 buffet car,
D 52 seats table between &8 (OKU [disabled] seats in row 12, OKU toilet, surau
E 60 seats table between 9&10 (toilet)
F 60 seats table between  8&9
On the train
We chose to make the booking online and selected seats either side of a table each way, which was good for our three travellers to eat and do a little work on the way. Our carriage on the way up was E and on the way back to KL Sentral, we selected our seats in Car C, the buffet car. This coach is also equipped with a surau and a spacious disabled toilet is in the D carriage.
Seats
When you select your seats, you can see whether already reserved seats have ben booked by a male of female passenger. This is a thoughtful touch. The cloth covered seats in all but the Business carriage, are arranged in twos, either side of a single aisle. Business class seats are arranged in a 2+1 arrangement across a single aisle.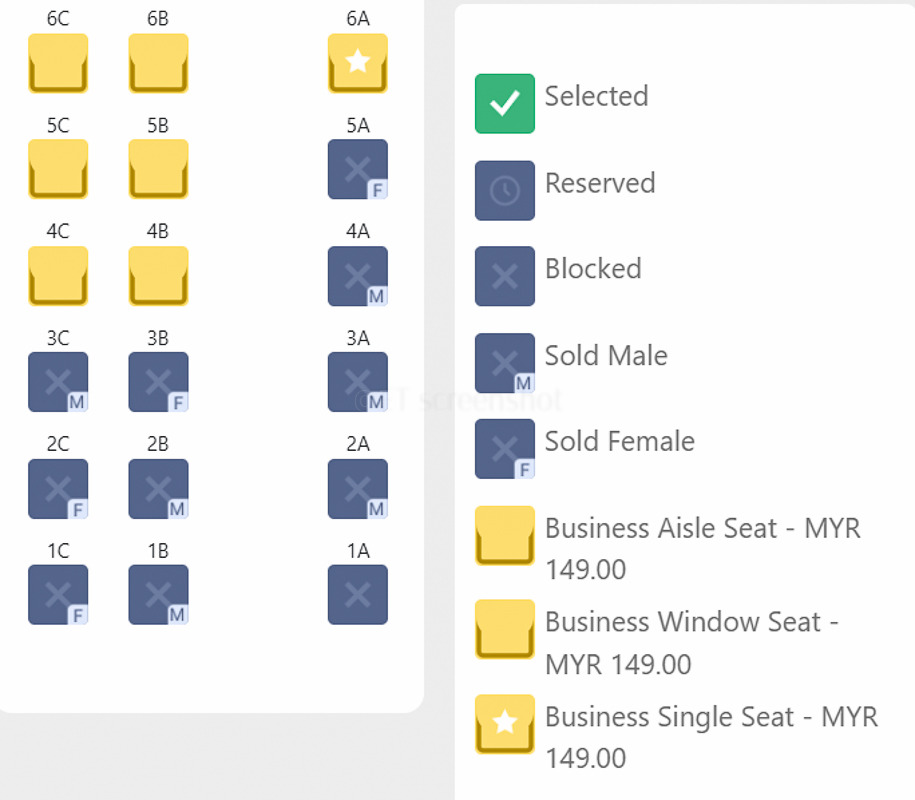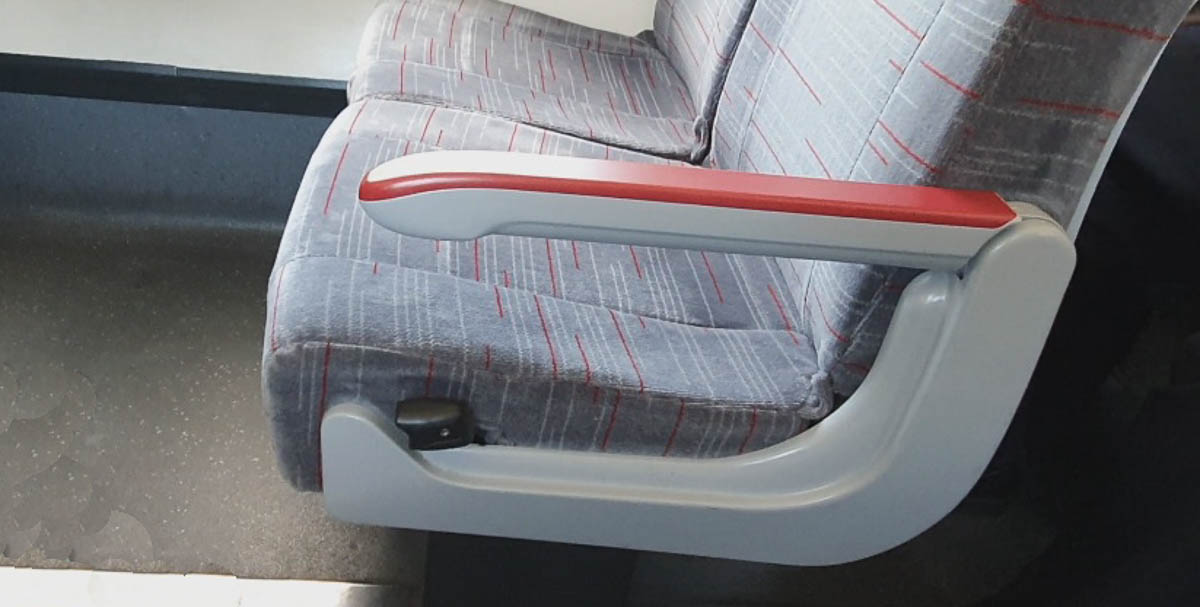 The back of each economy seat has a tray table and a coat hook. Seats face forward or backward in relation to the table in the middle of the rows.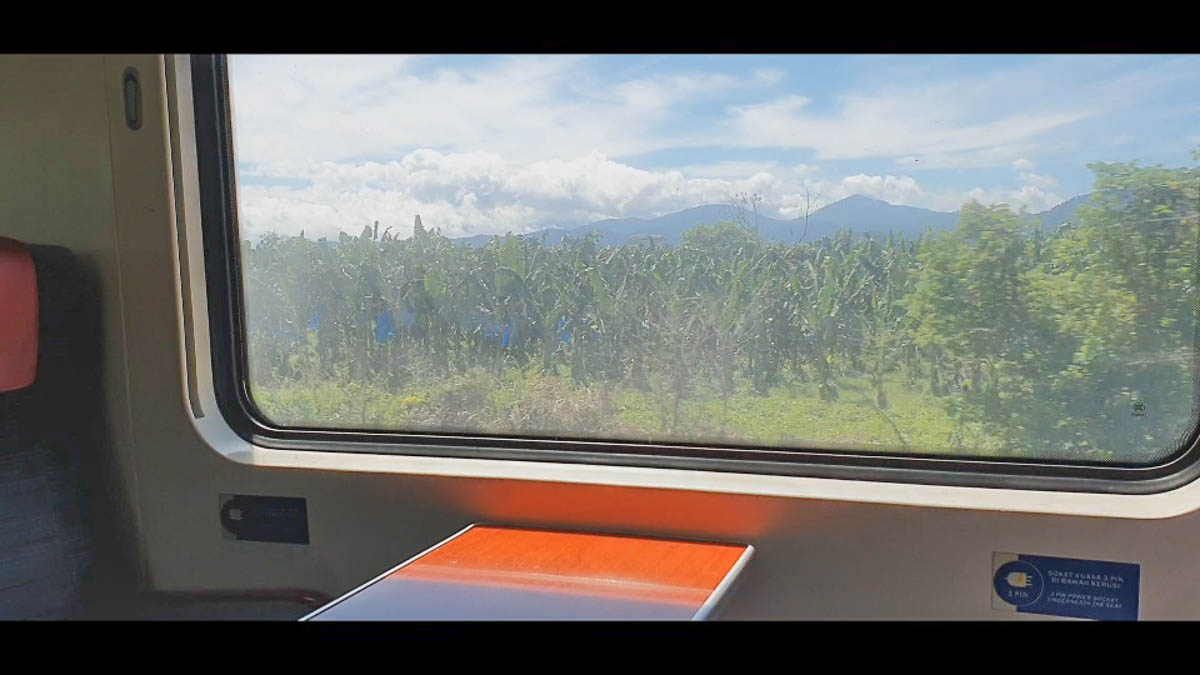 The windows are large and were clean, so you can enjoy the view. You may appreciate the screen that can be pulled down to give shade if the sun is on your side. Between each pair of seats is a Malaysian 3pin socket and two USB ports.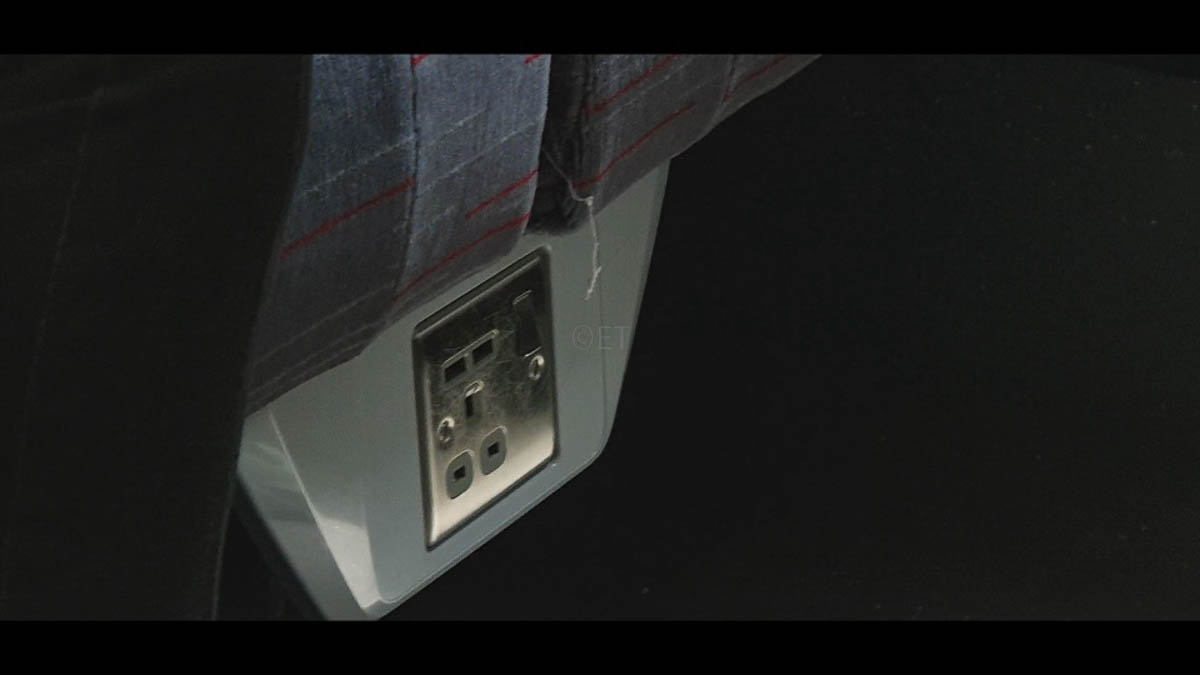 Facilities
Toilets are cleaned regularly and you can call one of the service crew to assist if there are any issues – wet/no paper/blocked etc. The crew wear distinctive yellow shirts and are responsive to requests for assistance. They also collect rubbish, so have it handy when the man comes by with a big black plastic bag.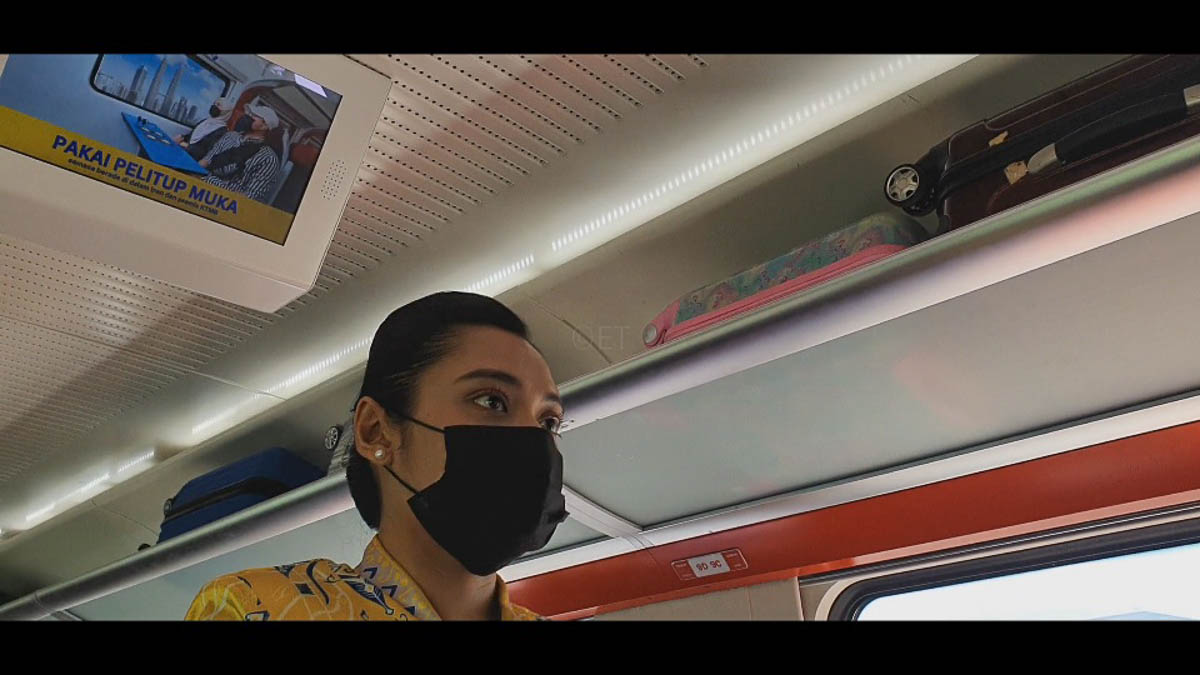 Each carriage is equipped with a fire extinguisher and something to break the glass in an emergency. The seating cabin is isolated from the entrance/connecting areas where toilets are located, by easy-open sliding doors and there is a running display above the doors showing the train's current speed, next stop and destination.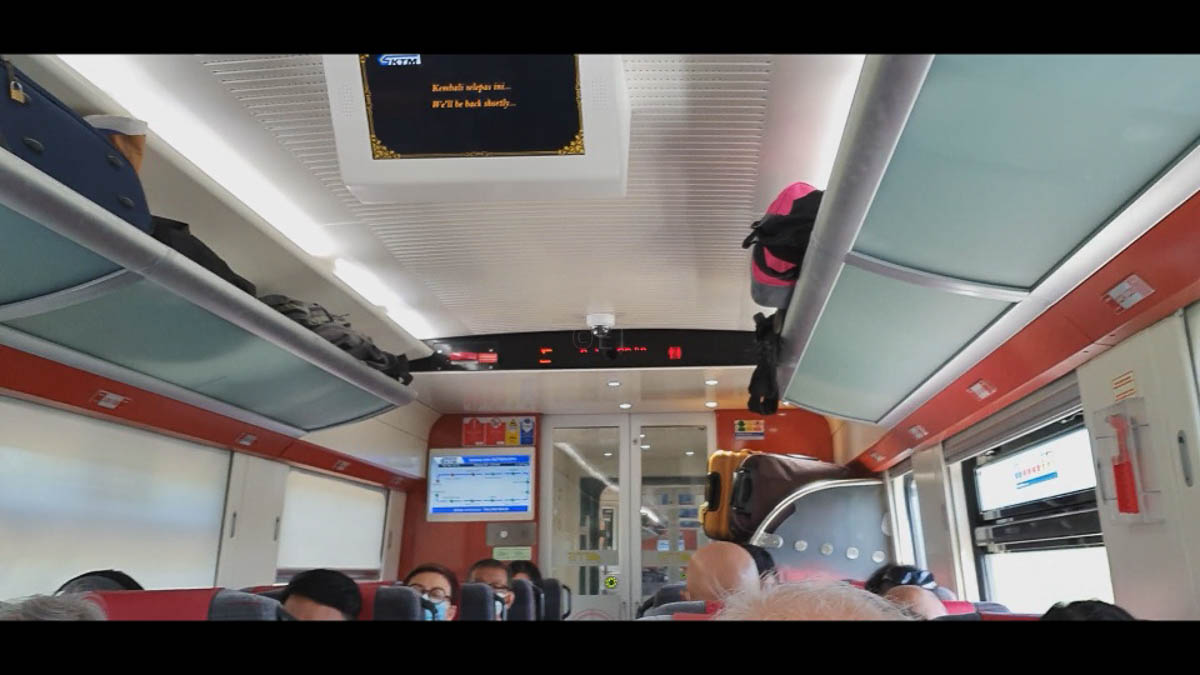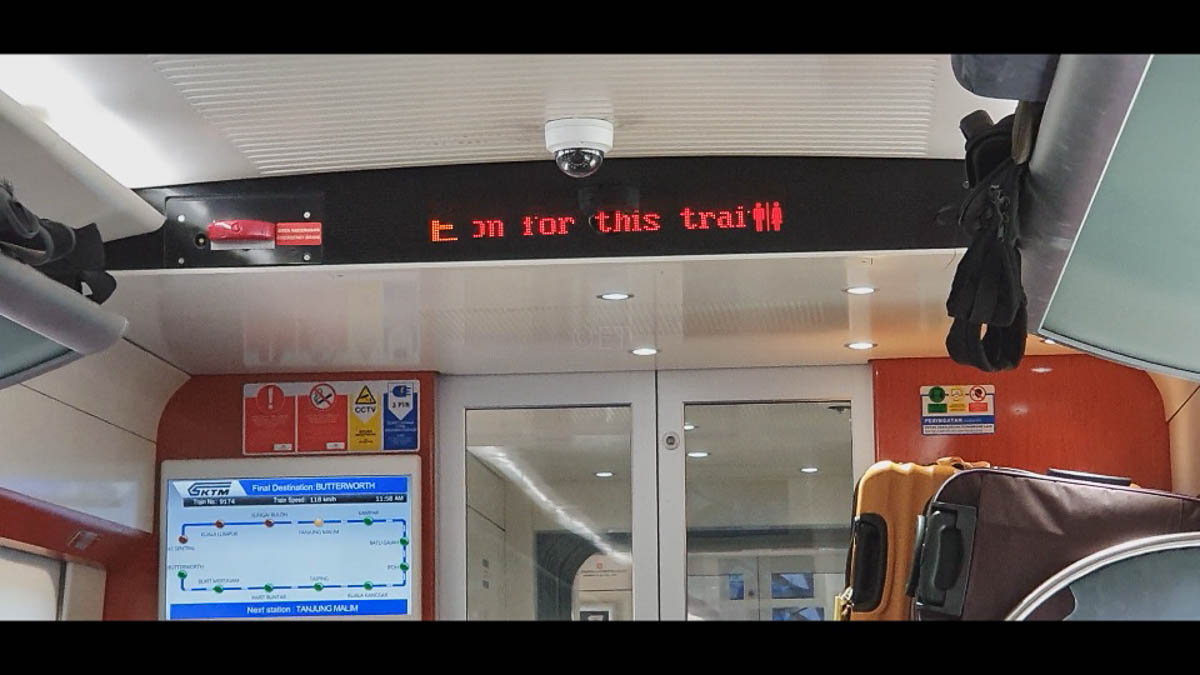 Screens at the end of carriage show all the stops and current location and the LED screens in the middle of the carriage show announcements as well as information about the trains and stations.  Large baggage should be stowed in the racks at the end of the carriage, while smaller bags should go in the shelves overhead.
Food
Although there is a sign saying that outside food is not allowed, the staff on board did not make any objection when checking our tickets and a service staff member did a couple of runs with a large rubbish bag. We brought coffee and food on board in KL Sentral, but purchased food at the buffet counter during our return journey as there was nowhere at or near the Bukit Mertajam station to buy anything. If you are leaving from Butterworth, the station is beside the Penang Sentral Mall, which has plenty of food outlets.
The buffet bar is located in Coach C and also has two small tables with fixed stools so you can eat before returning to your seat. They have a range of food items, snacks and premixed drinks which are mixed for you. We tried the prepacked nasi lemak – heated in the on-board oven. We found the taste to our liking and the portion, which was packed similar to that on local low-cost airlines, to be quite adequate. The price was RM13.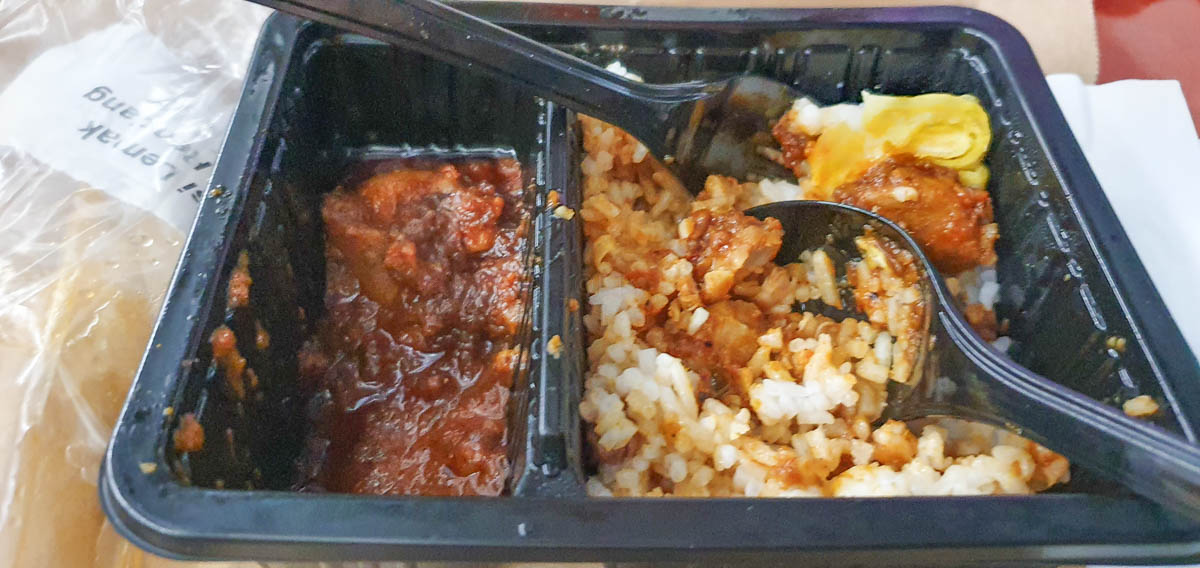 Watch out for our video, coming soon. This shows a recent journey we made from KL Sentral to Bukit Mertajam, the last stop before Butterworth. This station is very similar in design and services to the Butterworth Station. However, it is some distance from the town and you will need to arrange for a Grab or similar service to get into town.
If you are travelling to a nearby town which is serviced by the KTM Komuter Utara, the timetable is the third entry down from the top on this page.

sunset from the trainimages©ET or as otherwise noted