Flying into or out of JFK airport and planning to get around using public transport? Chances are your trip will involve a ride on the JFK AirTrain, which connects all terminals to Jamaica and Howard Beach Stations. From either of those stations, you can then get on a subway to wherever you're going. However, when using either Jamaica or Howard Beach stations, you'll be charged an $8.25 fare, which can only be paid for using a MetroCard. If you don't already have one, you'll need to purchase a MetroCard for $1, making your total trip $9.25 as of September 2023 (approximately AUD 14.40, SGD 12.65 or MYD 44). And that's before you've even used the subway, which will attract an additional $2.90.
We decided to see if there was a more economical way to get to and from JFK using public transport. Here's what we found out.
NYC fares – OMNY and MetroCard in 2023
Fare payment methods can be a little confusing for visitors in 2023 as the ubiquitous MetroCard system is being phased out in favour of the more flexible OMNY system. MetroCard has been around for a long time, but is a standard transit card that needs to be purchased from a vendor at a cost of $1 prior to travel. OMNY is the system progressively replacing MetroCard, and is simply uses a credit card or card-linked device to pay your fare with no prior setup required. At the time of writing both systems can be used to pay for MTA subway and bus trips, but only MetroCard can be used to pay for AirTrain trips. We understand that AirTrain is working on introducing OMNY payments later in 2023/2024. We also understand that MetroCard will eventually be phased out, once the transition to OMNY is complete.
Note that as of September 2023, unlimited 7- and 30-day MetroCard trips are no longer available for purchase, having being replaced by OMNY capped rides. Simply put, the most you will pay in any 7-day period is $34 (about 12 journeys). However you must use the same card or device towards that 12-journey count. Using an Apple Watch and switching to a plastic credit card, even if it is linked to the same credit card account, will not qualify.
JFK AirTrain Route
The JFK AirTrain runs in a linear route originating at either Howard Beach or Jamaica stations, and ending at Terminal 4. Stops in between will get you to nearly anywhere you might need to go at JFK Airport.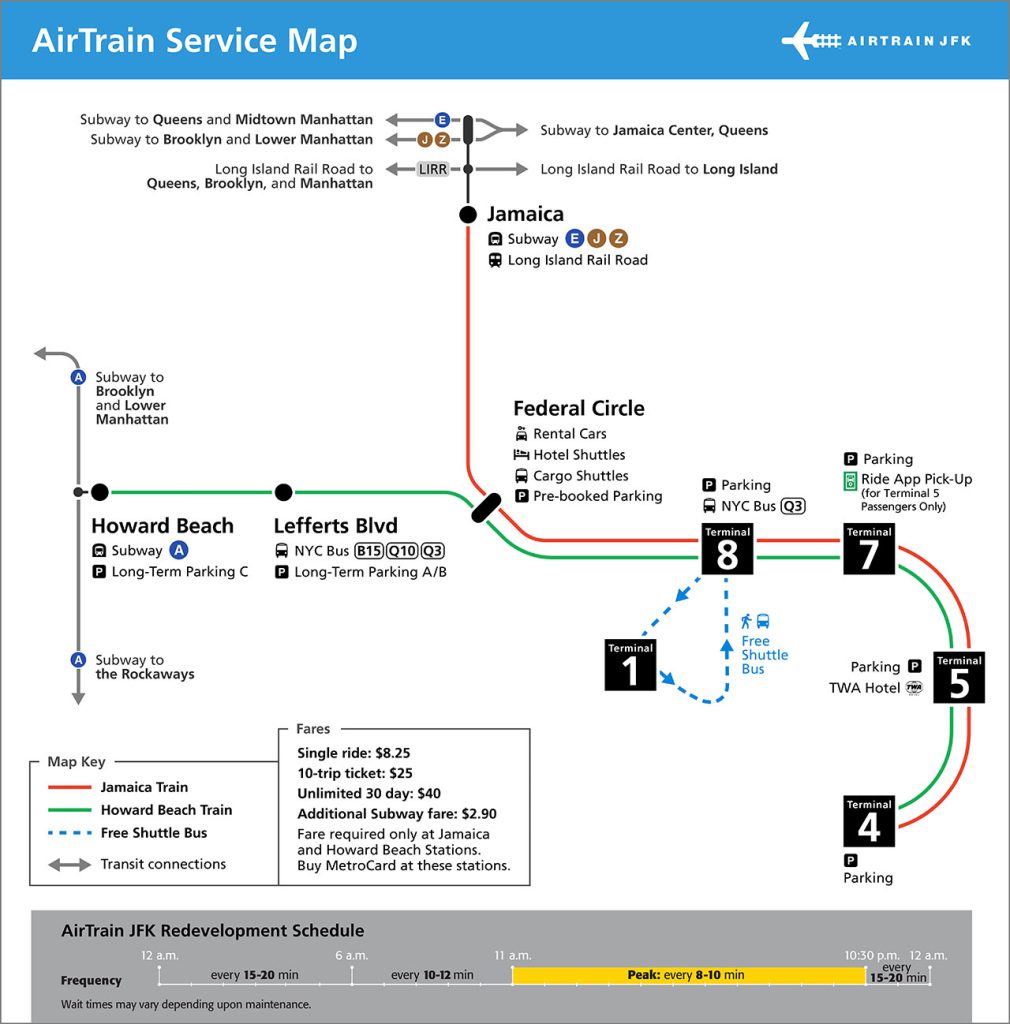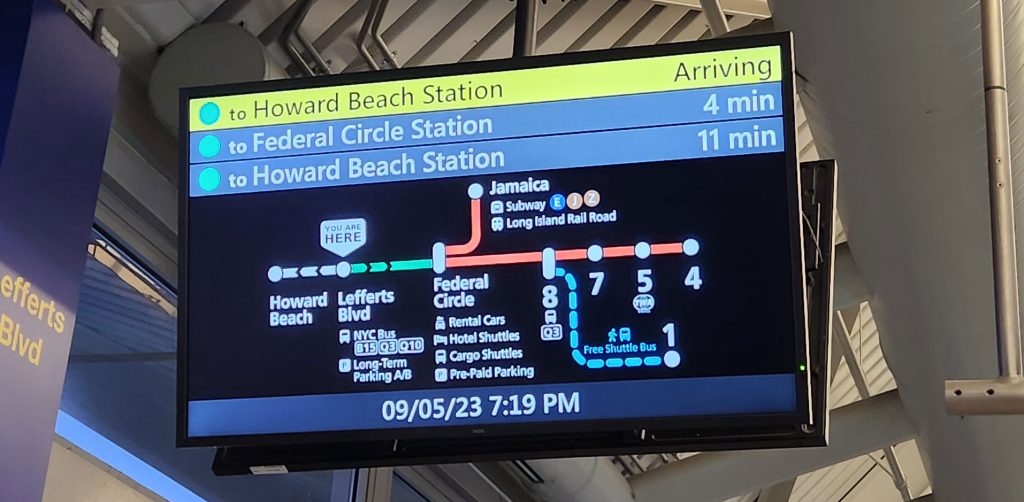 Howard Beach and Jamaica stations are the only stations where you will be charged a fee for using the AirTrain service, when either entering or leaving the AirTrain system. Eagle-eyed observers would also see that the Lefferts Boulevard station also has connections to NYC busses, including the B15, Q10 and Q3 buses. While Q3 also continues to Terminal 8, our focus today is on the Q10 bus, as this was the quickest on the day we needed to get to the airport. Your situation may merit consideration of the other buses, so be sure to research these too.
To JFK from Mid-town Manhattan
We used Google Maps to construct our route, starting at the Rockefeller Center station at 50th Street in Manhattan, and ending at Lefferts Boulevard AirTrain station.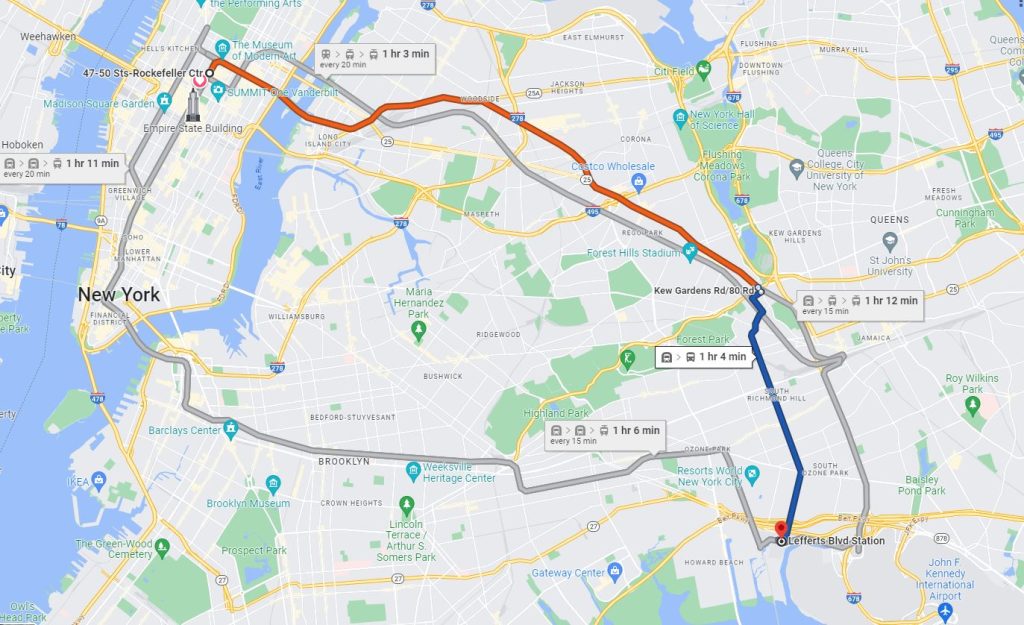 The route we selected took us on the F train towards Jamaica-179 St, but transferring to the Q10 bus at Kew Gardens/Union Turnpike in Queens. We paid the standard $2.95 MTA fare using OMNY at 47-50 Streets-Rockefeller Center Station upon entering the subway. This is the only time we would need to pay a fare as the second part of this journey is included as a transfer.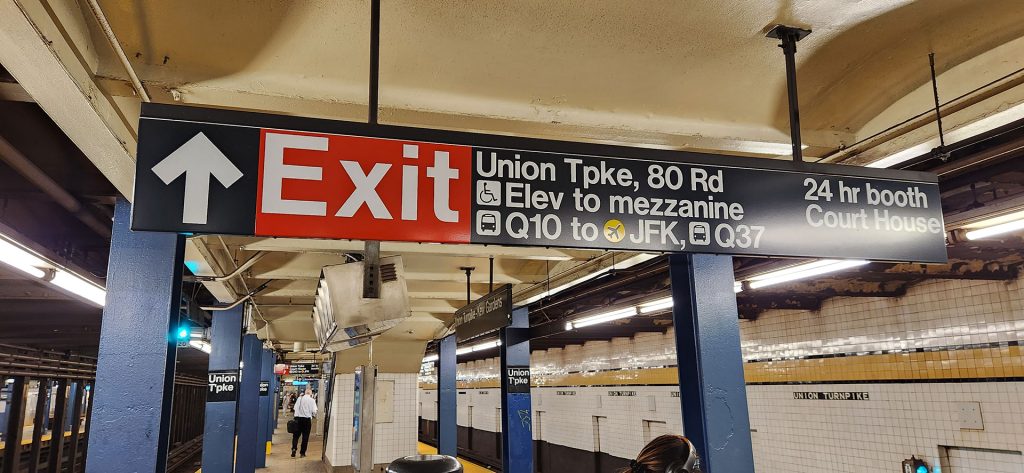 At Kew Gardens, we waited for the Q10 Limited JFK Airport service (as opposed to the Local JFK Airport service) at the corner of Kew Gardens Rd and 80 Rd, in front of Kew Gardens Chicken. The Limited service has fewer stops and will get you to the AirTrain station quicker, but both will get you there. We joined an orderly queue of about 20 people waiting for the bus. Note that there is a nearby Q10 stop on Queens Boulevard in front of Tex's Chicken & Burgers – this is the inbound bus and not the one you want.
The bus arrived after a wait of no more than 10 minutes, and we tapped on again using OMNY – no fare was deducted and a green tick confirmed that our journey was a transfer. So far so good!
After 8 stops, the pretty houses of Lefferts Boulevard gave way to views of the JFK Airport long term car park, and we pulled up at the Lefferts Boulevard AirTrain station. It's the end of the line for the Limited Service, so you don't need to pull the stop line to alight here. You also don't need  to tap off when getting off MTA buses. From there, we walked about 20 meters to the entrance of the AirTrain station and went up the escalator to the platform and onward to our departure terminal. Total charge $2.90 and travel time about 1 hour and 10 minutes. Had we taken the Subway and AirTrain via Howard Beach/Jamaica, we would have saved about 10 minutes, but paid $12.15.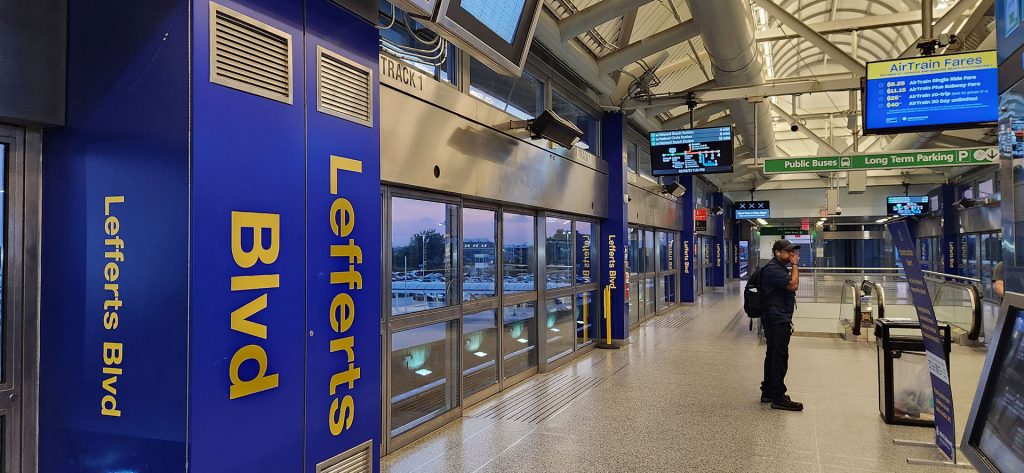 Some caveats
NYC buses used on this route are designed for commuters rather than travellers, so will not have luggage racks. If you are travelling with a lot of luggage, an alternative means may be more comfortable for both you and other commuters.
At peak hour, the Q10 service can get very crowded, so you may struggle to catch the first service that arrives. They are however quite frequent, so you shouldn't need to wait long for the next service. Also take note about the previous point, which is especially relevant at busy times.
Further Information about MTA and JFK AirTrain
If you're worried about crowds, the MTA publishes live tracking of their buses, which handily shows you how many people are on board at any given time. You'll find this information here.
You'll also find more information about the JFK AirTrain and any ongoing disruptions on the official website. When we travelled in September 2023, Terminal 1 was accessible via a free shuttle bus, and a train change was required at Federal Circle due to ongoing construction.