Kota Kinabalu has a good range of accommodation options, catering for travellers with different budgets. You can choose from a whole home/condo, to a b&b room, or hotels ranging from budget to luxury accommodation.
You can pick up a good deal on accommodation at the moment, as there are no international visitors due to Covid-19 related border closures. So when we found a great offer for the Kota Kinabalu Hyatt Regency, with breakfast included, we grabbed it.
Kota 
Kinabalu

 Hyatt Regency
Location
Jalan Datuk Salleh Sulong,
88991 Kota Kinabalu,
Sabah, Malaysia
Phone: +6088 22 1 234
Website: hyatt-regency-kinabalu/bkiki
Email: [email protected]
Facebook: @HyattRegencyKinabalu/
Twitter: @hyatt
Instagram: #hyatt/
---
Overview
The Hyatt Regency Kinabalu, is located on the waterfront, close to the Todak Waterfront Seafood market. Even if you don't have a sea view from your room, the staircase glass windows that look over the fishing boat moorings, a great place to watch the early morning departures. This is also a great spot to catch the spectacular sunsets over the South China Sea. The sunrises on the city side of the hotel are also worth catching from about 6am.
The Room
Entry has a wooden floor, main room is carpeted. The room is well maintained and clean.
The wardrobe is spacious with sufficient hangers

Bathrobes and room slippers
Ironing board, iron & torch

Socket is in the wardrobe

Laundry basket and laundry bag

Coffee/tea making

Disposable paper cups
Bottled water

Power Supply, well positioned and sufficient points

sockets and USB connections

, both sides of the king sized bed.

multi-way sockets and LAN connection beside desk

Free Wifi for multiple devices
We liked the provision of night lights under the bedside tables.
Bathroom
The bathroom was very clean. The big positives were a well positioned makeup mirror and a separate toilet. The only minus point was that the showers (rain and wall shower units) were in the bath. The provision of a non-slip mat was good, but a personal preference for a walk-in shower made this a minus.
Sanitising alcohol wipes
Bath, no separate shower unit
In bath rain shower and wall shower unit
Toiletries soap shampoo etc
Separate toilet with door
Makeup mirror
Hairdryer

in basin drawer, plug socket is in the drawer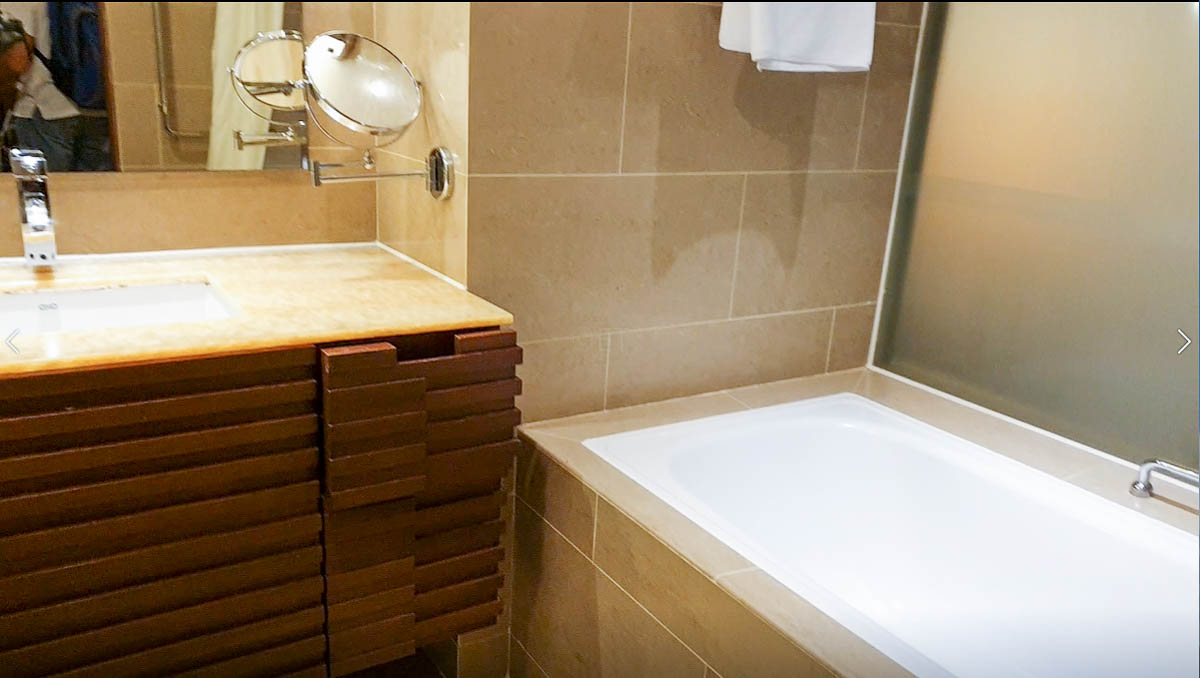 Hotel Facilities
We didn't use any of these facilities, but they are available. Concierge service is available at the Front Desk. They were very helpful in directing us to a travel & tour provider for our day trip to the highlands.
Outdoor Swimming pool
Fitness centre
Spa
Laundry
Business Centre & Meeting facilities
Free Parking
Wheelchair accessible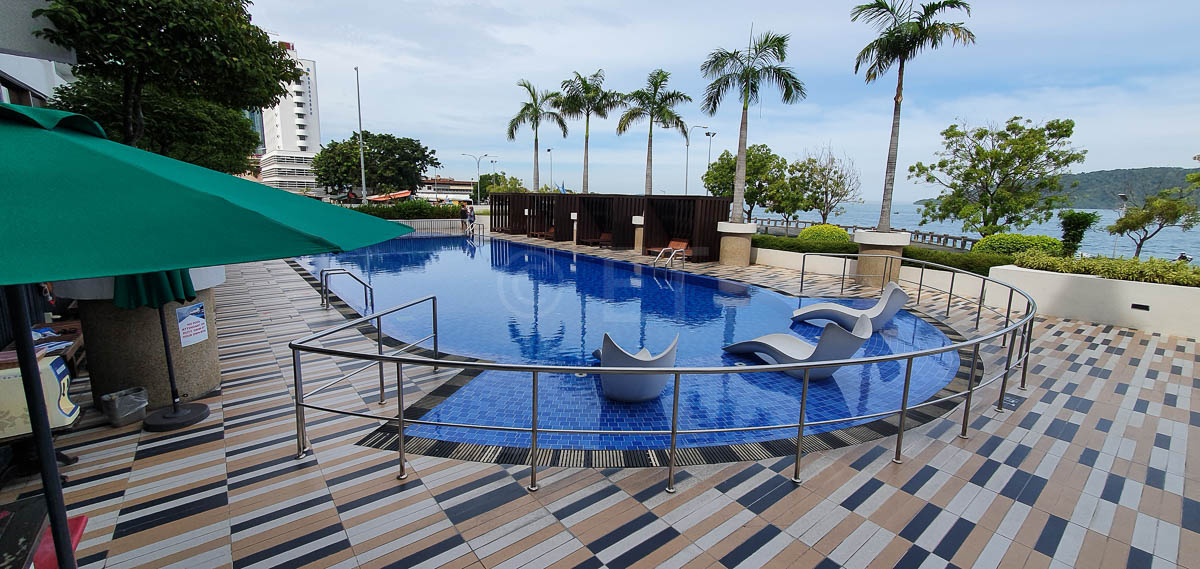 Security and Check-in
Digital check-in by App is available

download for Android & iPhone
most useful if you are a member and stay regularly in Hyatt Group hotels

Unmarked digital Keys

In-room safe
Covid-19  Precautions
Social Distancing is practiced throughout the public areas of the hotel, with lines and crosses to show distances and seating availability. On arrival you must use the App to scan the MySejahtera QR code, but this is not required on subsequent entry. Temperature checks are required for every entry.
All hotel information normally found in the drawers, has been removed. In their place, when you log in as a guest, you can download all the necessary information, including Room service menu etc as .pdf copies.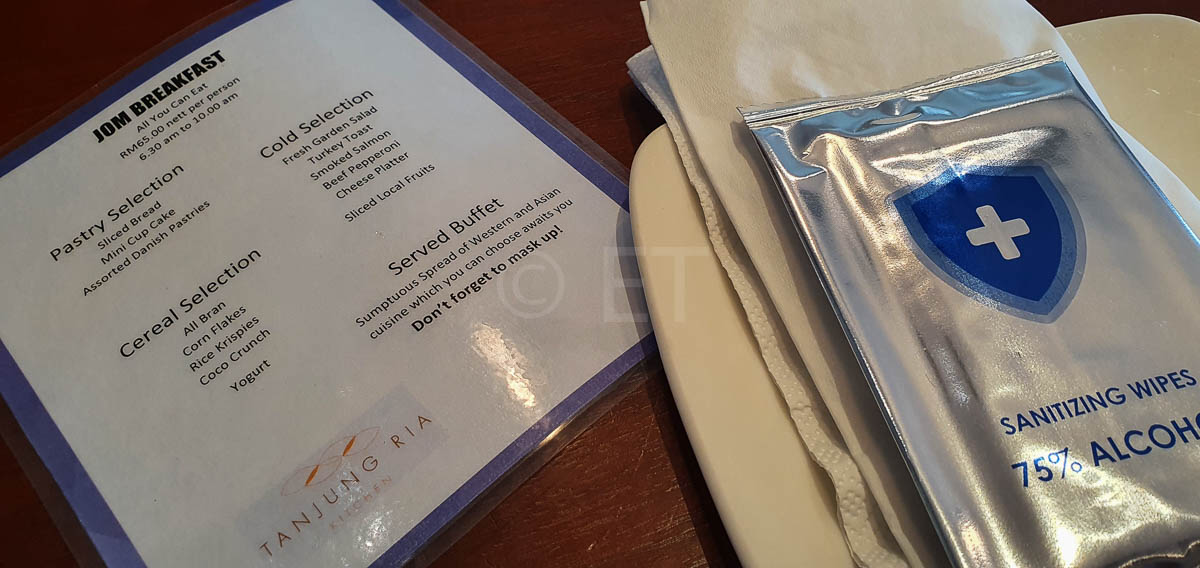 Food
The on-going pandemic situation has necessitated changes in the food offerings in Hyatt Regency Kinabalu.
The hotel has six food outlets, although operations have been temporarily suspended at three of these. Therefore Tanjung Ria Kitchen is your main option, open for Breakfast, Lunch and Dinner.
In line with with the national Covid-19 SOP, full buffet service is not available.
Beverages, bakery items and entrees etc can be selected from the menu, but for your main meal, you need to go to the buffet area and your selection will be served for you. Some compromises have been necessary, eg yoghurt is offered in pre-packed tubs, rather than, we were told, the usual home-made offering. However, the coffee is excellent and you may have as many refills as you like.
Sanitising alcohol wipes are provided with your napkin and cutlery.
Breakfast was included in our room rate, but it can be purchased separately.
Jom Lunch MYR70
Jom Dinner MYR90
Room Service is available. (menu is available for download)
Things to do nearby
The hotel overlooks the waterfront walk and is a great place to watch the fishing boats leave and return. The waterfront walk is the entry to the Todak Waterfront seafood market, open in the evening from 4pm.
Other places within a short walk from the hotel are:
The Central market district with the Filipino Market,

pick up Handicrafts and souvenirs

The main central market

 

(Pasar Besar)

 with a wide range of food and groceries

Open from early morning, closes 6pm

The night market (pasar malam),

fresh fish, chicken and various other foodstuff.
You can also have your purchases cooked at the hawker food section

Jesselton Point is about 10 minutes walk to the north,

the pier is where you can catch ferries to various locations.

Signal Hill, visible from the City view rooms, is a great lookout spot over the city and waterfront.

Four streets east of the hotel to the base of the hill, then a wooden walkway up the hill.
A good place to enjoy sunset

Gaya Street Sunday Market

a 5-10 minute walk from the Kota Kinabalu Hyatt Regency
Only on Sunday morning until 11am.
Fresh produce from the producers
Mixed stalls along the closed off main road.
For more information on these things to do, our story is coming soon.