Airport Security checks have always been something we've had to deal with when we travel. There may be checks to get into the airport itself. Following very lengthy queues at Sydney Airport this past weekend caused by a combination of pre-Easter travel and high staff absenteeism due to Covid-19, Qantas boss Alan Joyce weighed in to apologise. Basically, what he suggested was to arrive early and have everything you need handy.
Airport Security checks: what's new?
What we're already used to, but may have forgotten, will still be there but with COVID-related additions. We've always found Brisbane International Airport Departure checks the least complicated. After you've completed your check-in, you can go straight down to Immigration and then on to the bag security checks and you're in the departure lounge ready to board. But the queues can be lengthy at each, so allowing plenty of time is important, especially if you have a GST claim to submit.
Getting into the airport departure hall
Many airports perform security checks before you may enter the departure hall to check in. This is common in Indonesia. During  the period when many borders were closed, only travellers with confirmed tickets were allowed in. Melbourne was one such airport in Australia. Most airports in Malaysia are still performing temperature screening and require check-in with the country's MySejahtera App before entry.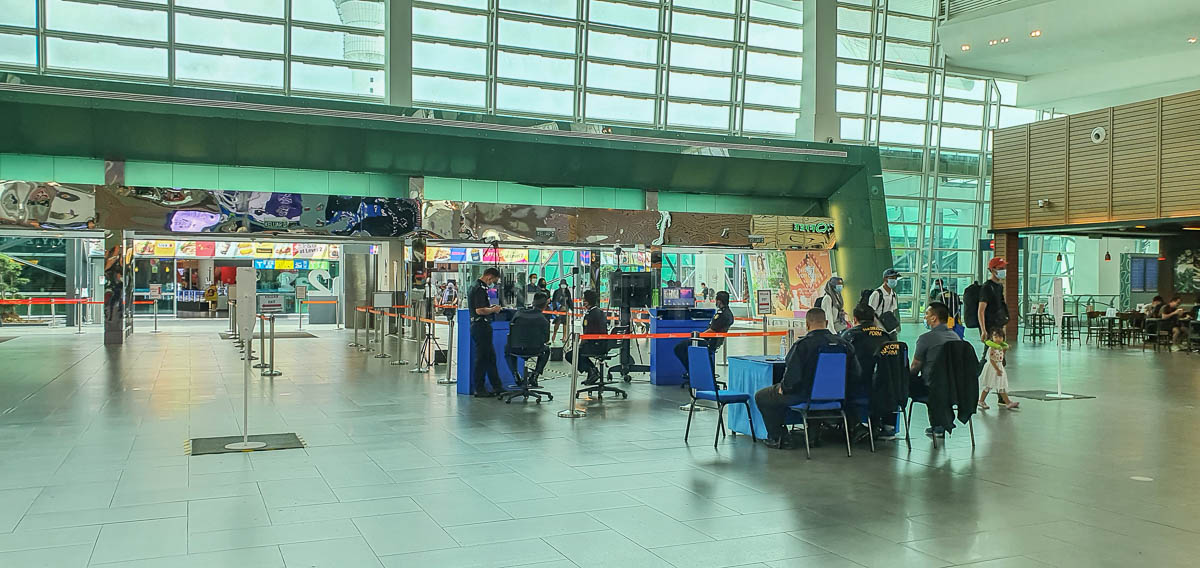 Some airports also require checked baggage to be scanned before you may proceed to check-in. This is usually to check for any items you should not be carrying like power banks and other items that must be hand carried. Phuket Airport (Thailand) carries out such checks. At Langkawi Airport (Malaysia) this is also a customs check as the island sells many popular duty free items.
Check-in
When you reach the check-in counter, you will need to have all your documents handy. Don't start checking at this point and discover you've left your passport at home, or in your hotel.
You will need to have copies (soft and hard) of vaccination certificates, if these are required and results of any COVID testing that is required at your destination, or you will not be allowed to check-in.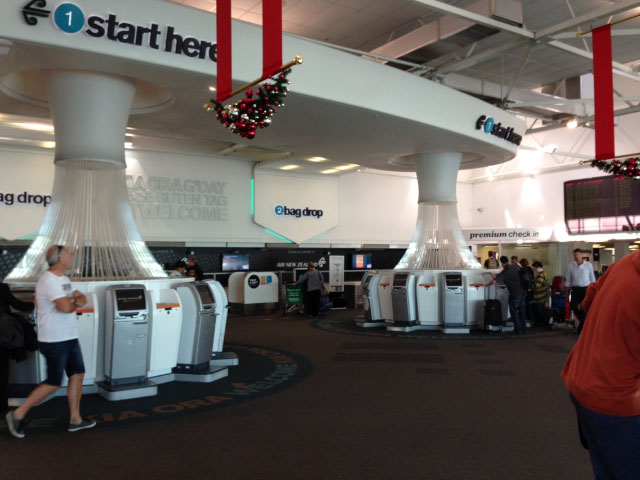 Many airlines are moving towards contactless check-in, with counter service only available for unaccompanied minors, the elderly, disabled travellers and groups. AirAsia has implemented this at airports across Malaysia and having used this facility, it makes the process much quicker and smoother. You will need to be able to scan in health documents and covid test results.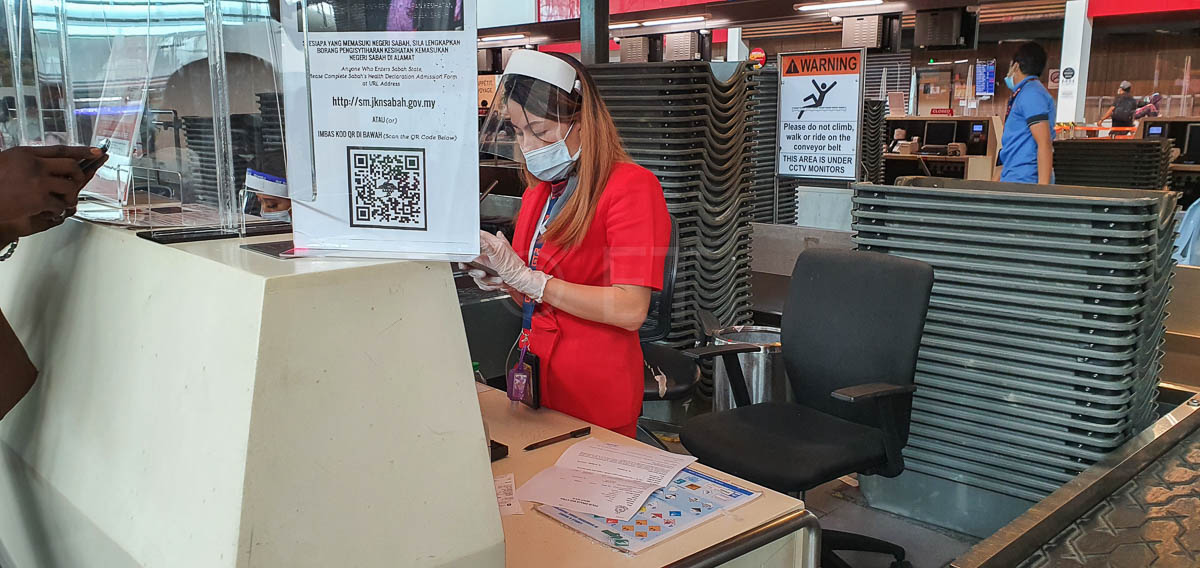 Domestic and International
While the security checks are similar for both, with the addition of passport /border clearance for international travel, those airports which have combined Domestic and International departure entry require you to be well organised and allow plenty of time, especially during busy times. The Gold Coast and Adelaide airports are two examples, where both types of travellers are allowed into the Departure Lounge. Non-ticketed people accompanying travellers are also allowed in the Gold Coast. Queues are often very long at this point and if you are catching an international flight you will then have to go through a second layer of security after this, plus Immigration clearance.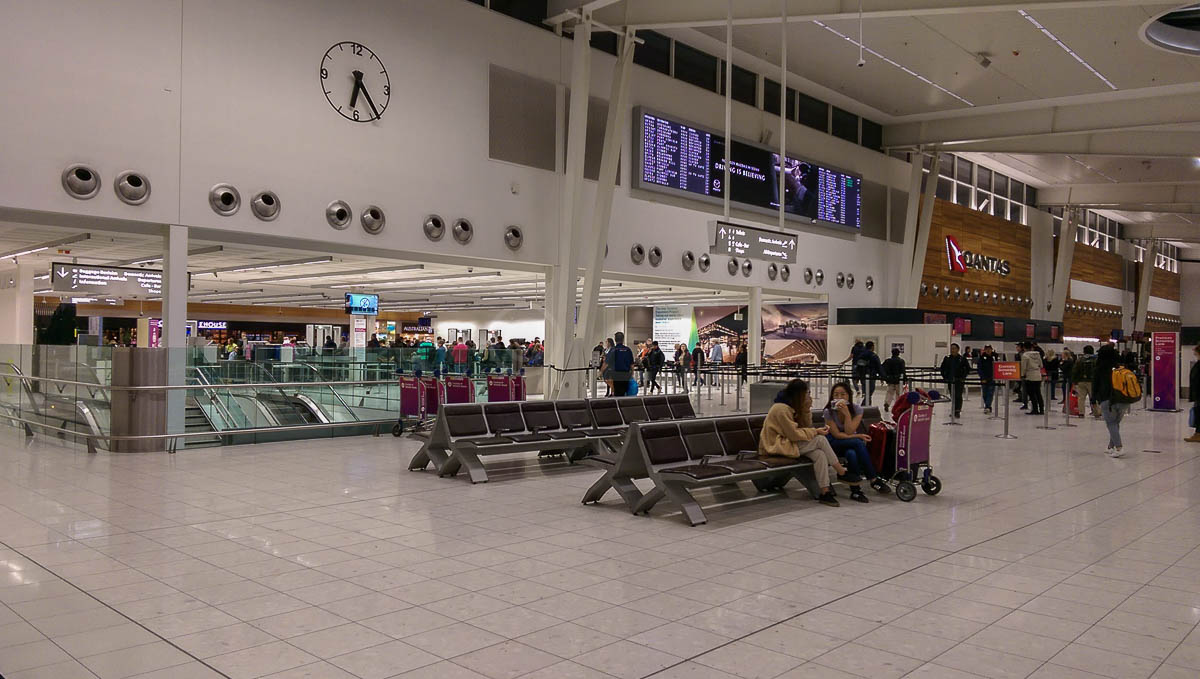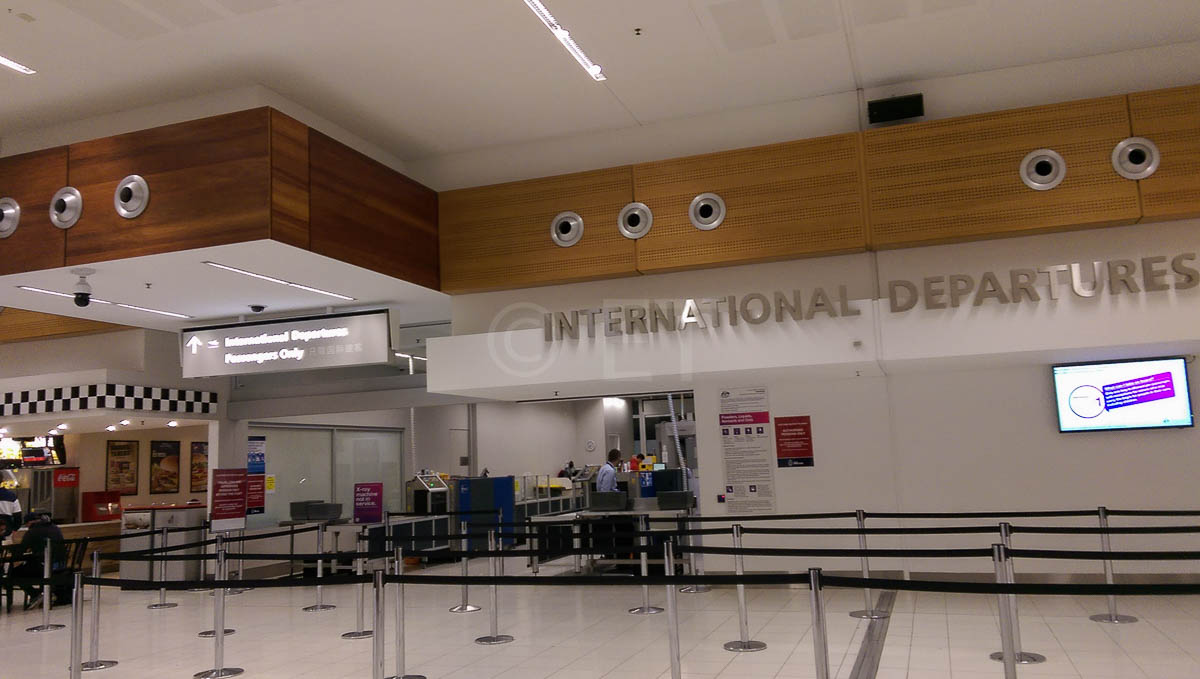 Airside Checks
Generally you will have two rounds of checking to get from 'Landside' through 'Airside' to board your aircraft. As noted above, some airports only require the second round of checking for international flights and once you've passed through this you'll pass through Immigration.
At many airports which have separate entry for domestic and international flights, you'll have another hand luggage/body check at either a single point, or at the departure gate Kuala Lumpur International Airport (KLIA) has this format. Their klia2 terminal has a second centralised check at their satellite terminal.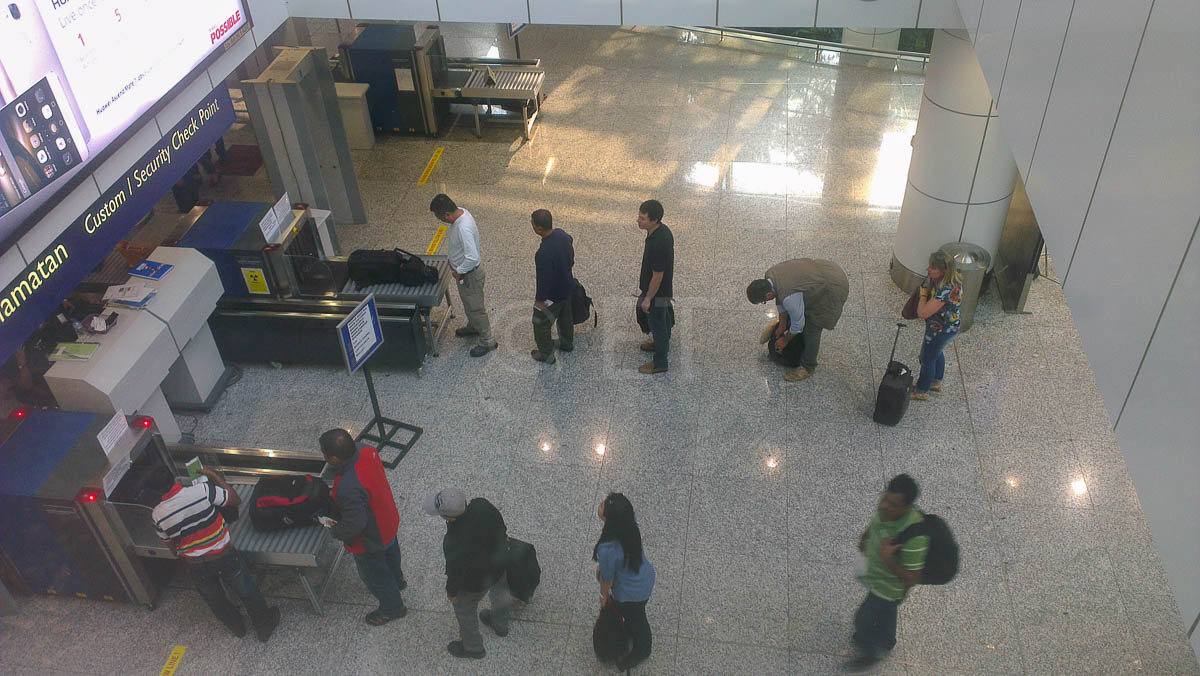 Transit passengers on International flights may face airport security checks to enter the transit area so be prepared for this with your onward ticket, passport and other documents handy. Singapore's Changi Airport does not require this and you are free to move between terminals either on foot or by using their airside Skytrain.  At Doha's Hamad International Airport, there may be long queues, but there are plenty of toilets and washroom facilities. They check both your documents and your hand carry bags.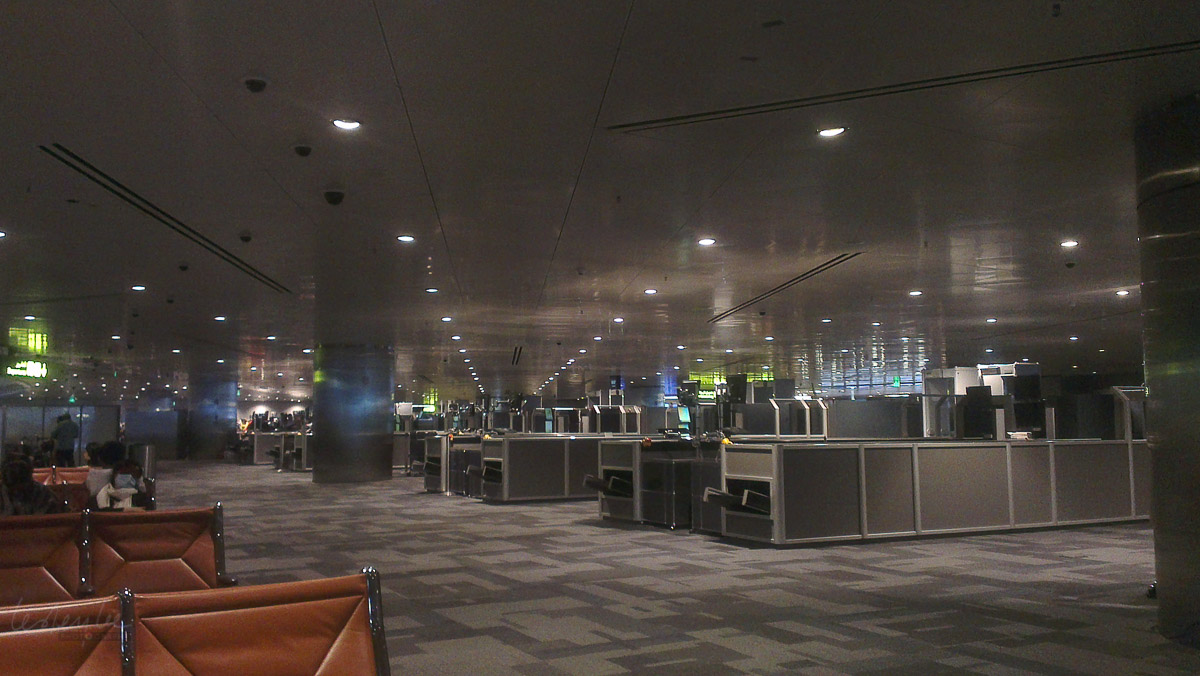 Transit passengers at Denpasar International Airport Bali do not have checks on arrival, but if you are travelling on to Australia on the same itinerary, there is a strict baggage check before you board. Transfer passengers in Bali (i.e. changing airlines) will need to collect their bags and check in again for the second leg of the trip. This can be a very lengthy process, so allow plenty of time between flights. *The picture at the top shows the queue to get into the security area in Denpasar Airport.
From the Departure Lounge into the Boarding lounge you'll need another check, even if it's just to check your passport and boarding pass.
Can I carry bottled water?
Most airlines don't allow you to carry a drink, only an empty container. You can fill this bottle before boarding in some airports, like Gold Coast, but at many airports you will have to empty it or throw it away. We were allowed to take our coffee with us as we re-boarded after transit in Doha. That was very welcome!
Be ready for your Airport Security checks
Before you leave home, ensure you have:
Allowed plenty of time

Especially important at peak holiday periods and peak hours
Allow extra time to reach the departure gate if you're not familiar with the airport.
Time to check items like batteries that must be hand carried
Time to check GST Claim items that are packed in checked luggage

Allow extra time to submit the claim forms

Your ticket/boarding pass
Passport

check that it has not expired and has more than six months left before expiry

Any COVID related documents required by departure airport or destination

Including hard/soft copy of any test results

Sufficient funds, or evidence
Travel insurance

For peace of mind and because it may be required at your destination

If you're travelling with children, pack a snack or a toy for the queue.
Make sure you have everything ready for checking:
Electronics (laptops, phones, watches, power banks etc) must be removed and placed in the plastic containers provided for scanning.
You may also be asked to remove belts and shoes.
Some airports (e.g. Melbourne, have a separate counter where random passengers may be subjected to more checks on asked to remove items of clothing, as well as have electronic items checked.
Pack your small quantities of liquids, aerosols & gels (LAGs) in a clear plastic bag which is easily accessible for checking.
If any readers have more to add, please add them in the comments as there are so many variables.
Happy travelling everyone!