The Events calendar is filling up for the GeorgeTown Festival and if you're planning to be in George Town or Butterworth between 29th July 2016 and the 28th August 2016 there is a wide choice of different events available. Most ticketed events are on weekends and often only for that particular weekend. Having enjoyed the limited George Town Festival events events we caught in 2015, we are looking forward to more this year.
What's On?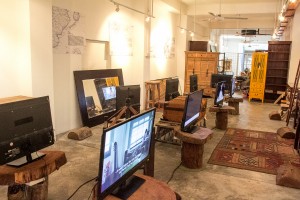 There's a great mix of all things musical, dramatic arty and just plain fun. The first event on the programme, Pearl of the Eastern & Oriental  has already sold out weeks ahead but you can still pick up tickets for other events the first weekend.
We missed out on these tickets, but the plan is to book now for the official opening show Svara Bhumi, which promises to be a treat for lovers of indigenous music. We'd love to catch the Melbourne International Comedy Festival Roadshow! but we also want to enjoy at least one night of the The A+SEAN Showcase.
This event, apart from the great line-up of Malaysian and ASEAN artistes, also has food available and you can see Theo Jansen's Strandbeests strolling about on the sand. Theo will be demonstrating his beests on 30th and 31st at the Esplanade Padang, to be followed up by a month-long exhibition at both the Penang Science Cluster  in Wisma Yeap Chor Ee, in Gat Lebuh Cina and Penang Tech Centre (Level 47 Komtar, Jalan Penang, George Town, Penang)
You might also like to check out the George Town Liar's Walk on 15th July, or other events organised by We-Are-Artists. They're fun things to go, and you have the chance to participate.
Buying tickets
Once you've identified the shows you want to attend, click on the "Buy Tickets" button to see the prices and other information about accessibility and a reminder to be on time!
There are a number of purchase options – you can purchase online  (there is an additional booking fee for this) as well as at a number of locations in both Penang and Klang Valley.
If you're planning to go to the A+SEAN Showcase, you can even get a free one or two day ticket with the purchase of a GO Card, which comes with a range of discounts at participating venues and events. The card is available from the George Town Festival Office in Lebuh Armenian, George Town. However, if you're not already in Penang, go and see them with your ticket for the event and they'll give you the card.
A number of events have discounts for early purchase and others also include discounts for various groups, but you do have to show you're eligible, so make sure you have your proof with you.
Don't forget, there are also lots of free events – mostly exhibitions of art and photography.
Getting to Penang and finding Accommodation
We've written a number of stories on getting to Penang and staying there. You can find a wide range of decent accommodation within the city centre and outskirts ranging from backpacker style accommodation, homestays, serviced apartments and multi starred hotels. There's no shortage of food available, so if your preferred stay option doesn't come with breakfast, just step outside and there's plenty of food to be found.