Sometimes you need more than an ice-cream when you're out and about. You also need a place to sit down and some carbohydrate. Yes! We've found a few delicious ways to stave off those awful hunger pains that tend to afflict you frequently during the day when you go to a foodie heaven like George Town.
1. Ming Xiang Tai Pastry Shop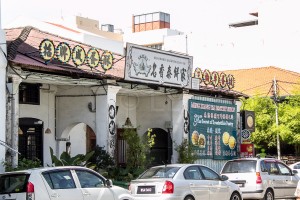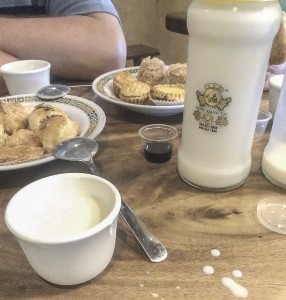 The first time we discovered this treat was when we were walking along Armenian Street towards Pengkalan Weld. How could anyone resist a sign that claimed to have the secret of irresistible pastry. We certainly couldn't and didn't. Since then, we've been back many times to enjoy the pastries – try the coconut pastries with mango cubes, the yam pastries or the egg tarts. It seems that the urge to step in and relieve the sudden thirst with a bottle of freshly made chilled soyabean really is irresistible. You can take the glass bottle away with you – they make great storage containers.
The pastry chefs are busy behind a glass partition at the side of the shop and you can watch them making the pastries. Buy a box to take home, of the same type or mixed pastries. They are not cheap, around RM2 per piece, but they are good. They have another shop not far along Burma Road leading away from the city, if you happen to be peckish in that part of town.
2. Bun Chen Koay (Peanut pancakes)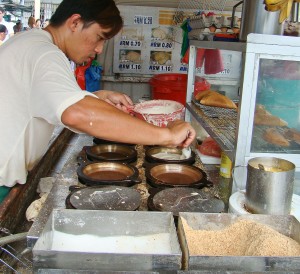 Peanut pancakes (Bun Chen Koay in Hokkien) are a thin crispy pancake made fresh and eaten straight away. They are not flipped, but when cooked through are spread with your choice of filling – the default filling is crushed peanuts mixed with a little sugar. You may prefer Nutella, or banana or sweet corn. Then they are folded and cut into wedges.
Best eaten hot with a cup of local coffee or teh tarik (pulled tea). You can usually find these stalls either in a kopitiam (local coffee shop) or on a mobile cart outside. The Chinese version is about 8″ in diameter and is thin and crispy. The Malay version is similar and just as tasty, but it is generally made in a larger pan and tends to be softer and thicker. They're also ideal to munch as you walk.
3. Devonshire Tea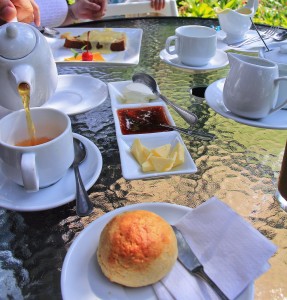 If you're up Penang Hill in the afternoon, climb the steps on the left of the path about a hundred metres from the station.
Pass through the open air bar and continue up the steps, from the top of which you'll be rewarded with one of the best views across the city to the mainland. This is David Brown's Teahouse, and if you can find a comfy spot at one of the tables in the in the garden to enjoy afternoon tea, that's the place to settle.
Enjoy a slice of cake, some noodles or a Devonshire Tea treat with jam, butter and cream and relax for a while before exploring the rest of the hilltop. The restaurant also does lunch and dinner and we've eaten dinner there as well, though our considered opinion is that the afternoon tea is the way to go, especially as it is so pleasant to just sit in the garden as you enjoy your treat.
4. Eah Pau (coconut buns)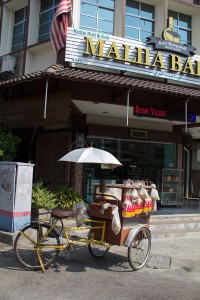 The best coconut buns are about the size of a small dinner roll, coconut filled bread buns. The bread should be fine, fresh and not dry, and the filling of dry fresh scraped coconut with a little sugar, generous and not overly sweet. The commercially prepared buns tend to be, well, commercial and the taste average at best and are a pale shadow of the delicious 'eah pau' we've eaten in days gone by. Sadly, the really good eah pau are now difficult to find as the small family bakeries close when the owner has no-one in the family to continue the business when he retires and they are dying out all over Malaysia.
However, we've had it reliably reported that the Malila Bakery in Jln Transfer (parallel to Penang Rd on the western side) sells some pretty creditable ones.  Now, try as we might, we've never actually been able to  give these the personal taste test when we've been in the city as they've been sold out by the time we get there. If any of our readers would like to give feedback, it would be gratefully shared here. UPDATE!  We tried them recently and they was, sadly dry and had very little filling. A nearby coffee shop suggested we try Home Bake in Dickens St, between Penang Rd and Transfer Rd. Those are the REAL thing. Closed on Saturdays though, when we went to get more to take home.
5. Tambun Biscuits (tau sa piah)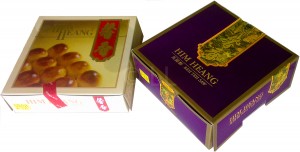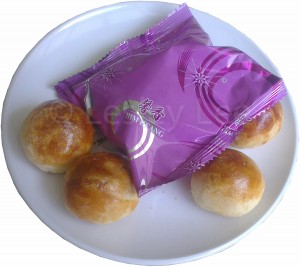 These delightful little pastries filled with a dryish mixture of blended green beans and fried onion are actually slightly sweet and taste much better than the description sounds. Horse shoe biscuits (beh teh saw) have a light flaky pastry wrapped around a filling made from maltose and sesame. Not too sweet, but very satisfying. There are a number of bakeries producing these treats, generally family run and very protective of their own particular twist to the recipe. The oldest and most well known bakeries are Ghee Hiang biscuits on the corner of Macalister Rd and Anson Rd and Him Heang along Jln Burma. The Ghee Hiang tau sar piah is a little stickier than the Him Heang variety, which is the one we prefer. They also make the best beh teh saw. There are a number of other brands available worth a try, but if you can, do try the originals, preferably from their own outlets as they are usually fresh from the oven. Buy some to take home with you and take along some sesame oil and nutmeg juice concentrate to complete the shopping.
6. Various fried treats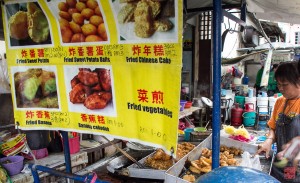 The perennial favourite but probably horribly unhealthy fried snacks Malaysians love to buy at all hours of the day to fill the cracks in their stomachs, can be found at roadside stalls all over the country. Some stalls specialise in just banana fritters – though you may find a variety of banana types available. Pisang tanduk (a large not very sweet type of banana) is sometimes used, and you will often see the small very sweet Pisang Mas featuring. The most common type of fritters – Pisang goreng are made by dipping the halved (or sliced) banana into batter and deep frying in hot oil. As for all the treats mentioned here, they should be eaten hot while they are still crisp. Some stalls, like the one pictured, found in Jln Keng Kwee, George Town, also sell cekodok (chek-oh-dok) a round ball fritter made with mashed banana and mixed into the batter. Then … deep fried! The name apparently comes from its appearance which is said to resemble a toad.
You can also look for fried battered yam or potato and this writer's favourite, cempedak – the flesh of the cempedak, a large bumpy fruit resembling a jackfruit, but which has a stronger flavour. You can eat the seeds as well, which will still be inside.
7. Toast and coffee (roti bakar & kopi)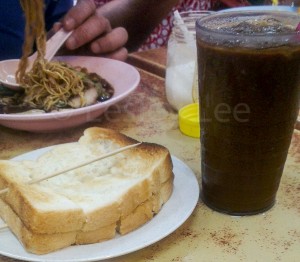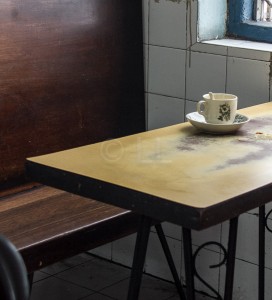 Normally a breakfast favourite, toasted Hainanese bread spread with butter and kaya (egg & coconut jam) goes best with a cup of local tea or coffee. Ask for roti bakar kaya or kaya toast. The drinks are usually well sweetened, but if you want less sugar, you need to tell them you want it 'kurang manis'. Some kopitiam (local coffeeshops) give you the sugar in a jar as in the picture, so you can add to your taste. Local coffee is quite strong and the traditional method of roasting is to stir with sugar and butter or margarine in a big wok. Black coffee is kopi 'o', white (with condensed milk) is just 'kopi'. If you want it with ice, add the word 'ice' after the type you want – 'kopi 'o' ais'.
If you want something extra, you can usually ask if they sell half boiled eggs, also common as a breakfast dish. If you want a 'cultural experience as you sit, look out for an 'old timer' enjoying his cup of hot coffee. It's served in a china cup with a deep saucer , often with a ceramic spoon as well. It used to be very common to see the 'old timers' pour the coffee into the saucer to cool it off and sip it up from there as they sit with legs up on the chair.
Bonus: As you walk along the street, you may pass one of the few remaining family run bakeries where they produce their own cakes and biscuits. These are usually inexpensive and you can buy just one or two if that's all you need.