With the start of the holy month of Ramadan, many Muslims will be travelling by air. Many non-Muslims will also be flying during Ramadan to Muslim countries or on airlines from countries with a largely Muslim population.
Muslims will generally know the rules regarding fasting when travelling – it is considered permissible to break the fast if the journey is over a certain distance. However, customs vary in the different Muslim cultures so we've checked with a number of Middle Eastern and Asian airlines regarding their policy regarding the serving of food and drinks during Ramadan.
Most airlines mentioned here as well as other middle eastern airlines, will announce the times for those who are fasting.
Emirates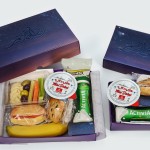 Emirates will be offering a special Iftar meal service. For flights departing close to Iftar, Emirates will provide small snack boxes at the boarding gates of Emirates Terminal 3, while large Iftar meal boxes will be served to passengers in-flight. The large Iftar meal box, designed by Emirates' chefs, will be served in Economy class, with a similar selection served to fasting Business Class and First Class passengers.
Non-fasting passengers travelling on Jeddah, Medina and Umrah flights will receive a cold meal instead of the regular hot meal for all flights taking off after sunrise and before sunset, to respect the many Muslim passengers completing Umrah on these flights.
We understand that all other Emirates flights will serve food and alcohol as normal.
Qatar Airways
Food and alcohol will be served on board Qatar airways flights apart from those between Doha and Middle East destinations. Food will also be available in the Hamad International Terminal in Doha, but there will be no alcohol on sale.
Etihad
Food and Alcohol will continue to be available as usual on all Etihad flights, including those departing from or arriving at Abu Dhabi Airport. Etihad do offer special iftar meals and they have a number of additional special arrangements for those observing the fast, including a dedicated prayer area. In addition you can make a donation of the cost of your meal if you wish, to provide a meal for someone in need in Somalia.
Malaysia Airlines
Malaysia Airlines have advised us that they will be serving meals and beverages (including alcohol) during the fasting month. Therefore so it will be up to the passenger to decide if they wish to eat or drink.
In 2017, Malaysia Airlines have given fasting passengers the option of donating the cost of their meal to the underprivileged kids in orphanages across Malaysia. If you're travelling between 27th May and 19th June 2017, a simple click will allow you to do this. Enter the details of your flight, at least four days in advance, using the link above.
AirAsia
As AirAsia is a 'purchase your own food' airline, it will be up to the passenger to make their choice.
Royal Brunei
We understand that food will be served but are waiting confirmation from the airline on this. However, It is noteworthy to remember that alcohol is never served on Royal Brunei, Ramadan or not.
Firefly
Firefly will be serving snacks as usual on their flights during the fasting month. It will be up to passengers to decide if they wish to eat or drink.