On a recent trip to Europe, we decided to travel by train and decided to purchase a Eurail Pass to make things easier. We were happy with the outcome, although there were many ways we could have had more 'value' out of the Pass.
Before you leave, it might be a useful exercise to do a comparison of RailPass vs Single tickets to help you decide if this is the way to go. We found a couple of handy websites, Railcc and  RailEurope which will help you decide which is best for you, and also point you in the right direction to make your purchases as well. ** Choose your country from the list at the bottom to get rid of the annoying ' 404 bug'.
There are some commonalities we found across the parts of the network we travelled, even though the actual train services were run by the respective countries we passed through.
Things we liked:
Punctuality! Most were very much on time. The only one with any delays was the ÖBB/Railjet service we caught from Zürich to Vienna. The displays within the carriage as well as announcements apologised for the delays and explained the reason. We managed to make up most of the time before we pulled into Vienna in the evening about 15 minutes late.
Cleanliness. All the trains were very clean, with toilets in each carriage.
Food. You may bring your own food on board with you, there are either centre tables or drop-down tables. First Class carriages generally have 'table service' with staff taking your orders and bringing the food in your seat. Second Class carriages generally have mobile trolleys, with snacks. We found the services run by ÖBB offered the most efficient options. Catering on these trains is provided by Henri Am Zug and you may download their menus (meals and snacks), which seems to change with the seasons. You may pay in either Euro or the local currency depending on the sector.
Many trains come with on-board wifi and electrical plugs for you to charge your devices.
There's no complex check-in procedure. Just make sure you're there before the train leaves and on board. They leave on time. It is a good idea to be a bit early for busy trains though as you may miss out on luggage space if you are a bit late. You may have to tap your ticket before you board if you've bought a single ticket.
Travelling with a Eurail Pass was easy as we had it validated on the train each time. If you have a single ticket you may have to tap it at the station before you leave.
A quick look at the individual services we experienced:
SNCF/TGV Lyria (France)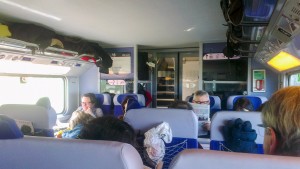 We travelled on this service 2nd Class, Paris / Zürich. Reservations are necessary and you need to pay a sizeable surcharge on your Pass. Although we had a first class pass, we opted to pay the less expensive second class surcharge.
The service is convenient and quick, our trip took just over 6 hours, reaching speeds a little below 300kph Paris/Dijon and from Dijon/Mulhouse, close to 350kph. After we crossed into Switzerland, the speed dropped to more 'normal' times.
Seat Space
Seating was quite cramped and as it was a Sunday the carriage was quite full and most people had plenty of luggage. The footrest is welcome, though it does make it difficult to put anything under the seat in front of you. Seating is arranged 2 side by side or 4 face-to-face seats, either side of a single aisle and your carriage and seat number are allocated. Look for the carriage number beside the door on the outside.
Luggage space
The overhead storage was almost full when we boarded, mostly with warm jackets as the train was warm enough to take them off. There isn't a lot of space around your feet to put anything much more than a small bag, so it was a bit cramped. There is a rack at the end of the carriage for larger bags, but this space was also insufficient for a full passenger load. Some trains have a central luggage storage area. If you travel with a bicycle, it may be carried free, but you need to remove the wheels and carry everything in a bike bag, stored on the luggage racks.
Facilities in-seat
A drop down tray table and a string pocket were provided and were sufficient for our needs. There wasn't much space between seats for reclining, so we didn't bother.
Facilities in-carriage
Speed and location indication were located at the end of the carriage. The carriage was well lit, but there appeared to be no charging facility for electrical devices and no wifi. The large windows were not the best for taking photos though, they were not clear, but I was able to take photos from the area between cabins in the same carriage, from the staircase. Those windows were much cleaner.
Toilets
The toilets were located in the carriage, outside the glass door. They are clean and in good condition, but check that the tap on the basin is working before you take that squeeze of soap!
Restaurant facilities
Our carriage was the last in the train and the restaurant car was located in the middle and we weren't hungry enough to leave our seats and traverse the narrow aisles all the way to the restaurant car.
Booking
If you're not already using a Rail Pass, book individual tickets online SNCF / TGV  If you know the date and time you want, you can book a ticket online.  If you just want the best pricing, you can check the price calendar.
ÖBB/Railjet (Austria)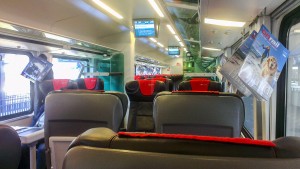 We travelled on this service 1st Class, Zürich / Vienna and Vienna to Prague.
It's quite a long journey from Zürich to Vienna (around 8 hours) and it was very pleasant to be greeted with a charming smile and some chocolate. The air-conditioning was set to a very comfortable level, enabling us to move comfortably around in T-shirts while admiring the snowy landscape out the windows once we reached the mountains. When you arrive in Vienna, you might like to purchase a 48 hour public transport ticket good for trams, the Underground and buses – buy them at a tobacconist in the station.
The train from Vienna to Prague leaves from the Vienna Main Station Wein Hbf. Make sure you are there on time, because if (as ours did) it has come from Bratislava, it only stops for a minute at most, so you need to be ready to jump on.
Seat Space
The generously sized seats are arranged 2 and 1 across a single aisle in a less formal sort of arrangement, where some have a table between them. There were very few other passengers and we were able to move around freely, enjoying the views on either side of the train.
Luggage space
Luggage racks located the end of the carriage, were convenient though if the carriage had been full with people carrying a lot of luggage, it may have been a squeeze. The coat hooks beside our seats made it unnecessary to put jackets on the overhead racks, which were roomy and comfortably took smaller hand carry items.
Facilities in-seat
Both first and second class seats are equipped with wi-fi and one electric outlet per double seat. For the full description of services, the ÖBB website is quite comprehensive.
Facilities in-carriage
The ceiling mounted displays were very helpful in identifying where we were, both on a map and a list. The next station was shown and the train speed. Information regarding delays was also updated here. The windows were large and clear and were perfect for taking photos.
Toilets
The toilets were very clean and were located at the end of each carriage.
Restaurant facilities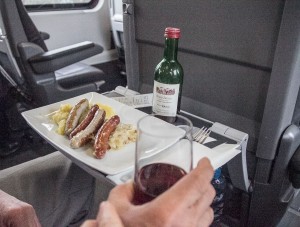 On both these ÖBB legs we ordered drinks from the menu at our seats and a meal between Vienna and Prague which was quite reasonably priced. Catering on these trains is provided by Henri Am Zug and you may download their menu, (Meal and Snack menus) which change with the seasons.
You may pay in either Euro or the local currency depending on the sector. If you are travelling in the first class carriages, you may order from the menu in your seat and your food will come to you. For beer we paid €3.30, wine was same price for a 2 glass bottle, cappuccino €2.80 and a peppermint tea, €2.60. For the sausages and cabbage we paid €8.90)
Booking
Make sure when you reserve your seat or book your tickets on the ÖBB website that you finish your journey at Wien Westbahnhof as it is a larger station with excellent connections into the local public transport system. This will also get you to the main station Wein Hbf much faster than staying on board because the train takes a long slow loop to get there. If you book your tickets directly, you can book and print your ticket online. There appear to be discounts with a recognised card (e.g Senior Card). Journeys to Prague leave from Vienna Hbf (Wien Hauptbahnhof).
Czech Eurocity (Czech Republic)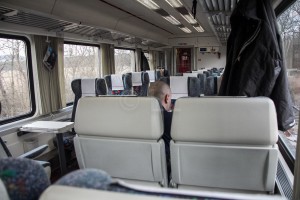 We travelled on this service 1st Class, Prague / Berlin. The train was similar to the Railjets, but somewhat less 'fancy' and perhaps narrower. It was, however, just as comfortable. The trip takes just under 5 hours. there is a night service on this route, which you can catch from Vienna to Berlin, but it arrives and leaves Prague in the middle of the night, which didn't suit our planning.
Seat Space
The seats were closer together than those in the Railjet trains, arranged in a similar way, 2 side by side and a single with a central aisle. They had good headrests and legroom and were comfortable for a long journey.
Luggage space
As expected, there was luggage space at the end of the carriage and quite a narrow overhead storage shelf.
Facilities in-seat / in-carriage
Coat hooks along the windows were useful and the seats were equipped with good sized drop down tray tables. However, there was no wi-fi and we weren't able to find any in-seat power supply.
Toilets
The toilets were located in the compartment at the end of the carriage and were clean.
Restaurant facilities
As we'd enjoyed a HUGE Czech lunch just before leaving Prague, we weren't up for a look at the restaurant car, so we were quite happy with the bottle of water the steward offered us after we'd boarded. However, we welcomed him when he came back with a  trolley selling a selection of premix cappuccino, different types of beer and various snacks. We tried a small bottle of Budweiser beer (the real Czech variety) and a cup of the premix cappuccino which came to €7.60. When he came by later, we decided to try a bottle of Kozel, a dark Czech beer, €4 for a 500ml bottle. There appeared to be no menus or prices given and no receipt was issued.
Booking
This particular service is operated by Czech Railways but if you are booking single journeys, tickets can also be booked  from German Railways – you may be able to find better pricing if you compare both websites.
Deutsche Bahn /ICE (Germany)
We travelled on this service 1st Class, Berlin / Karlsruhe before connecting to Amsterdam as a direct Night City Line train now bypasses Berlin. This meant a trip half way down Germany to Karlsruhe to connect with the night train fromZ ürich. This leg used the Intercity Express (ICE) train, the German fast train which runs at speeds up to 320kph.
Seat Space
The reclining seats are generously proportioned with adjustable curved head rests and arm rests that can be raised.
Facilities in-seat / in-carriage
There were a number of businessmen in our carriage, a couple of whom pulled out and plugged in their laptops and kept on working throughout their journey. The carriages are equipped with electric points and many of the ICE trains are now wi-fi enabled. As you can see from the photo, the seats are well spaced in a two side by side and one configuration across the aisle, with curved headrests. There is plenty of legroom and the seats with tables can be used either for a meal, (or perhaps a business meeting?) or folded for easier access and perhaps a cup of coffee or a glass of wine. Work is on-going to improve mobile phone connectivity for users of four mobile phone networks -T-Mobile, Vodafone, E-Plus and O2. This part of the carriage is identified using signage, as is the quiet area.
Toilets
As with all the previous trains, these were in the end of each carriage, clean and well maintained.
Restaurant facilities
We had a meal before leaving Berlin – if you have a Eurail Pass/First Class ticket, you have access to the DB Lounges available in most German cities, with free wifi and snacks available. As a result we didn't look for the restaurant /Bistro car and just said thanks for the packets of gummy bears we were given by the steward as a 'welcome gift'.
Booking
If you have a Eurail Pass, you can reserve your seat/couchette all the way to Amsterdam using their service, they do make the separate booking for you. If you are purchasing just this journey as a single, you will need to visit both websites to complete the booking – although the routing can be selected on the DB Bahn site it is not possible to get pricing or actually purchase as one through ticket.
Deutsche Bahn /City Night Line (Germany)
We weren't able to reserve a first class sleeping berth on this train as none were available, Karlsruhe connecting to Amsterdam from Berlin and had to settle for two tickets in a 4 berth couchette. There was nobody else in the cabin, but this would probably not be the case in peak season. This seems to be the most difficult leg to book directly.
Transfer/connectivity
We arrived in Karlsruhe on time at just after midnight, with about 15 minutes until our connecting train arrived. Fortunately it wasn't difficult to find the platform and the signs are very clear, but we had to lug a fairly heavy bag down and up the stairs again so we were happy it was just the next platform. The train is coming in from elsewhere and makes only a short stop, so you need to get on as close as possible to your carriage and then make your way through if you got it wrong.
Luggage space
Our bags fitted comfortably under the bottom bunk, but if the carriage had been fully occupied, it would be a squeeze.
Facilities in-seat / in-carriage
By the time we found our carriage, thanks in part to a very cheerful attendant, we were ready to sleep. The toilet/washroom facilities were at the end of the carriage so it was a quick wash up and then to bed. The cabin and bench beds (couchette) were very clean and we appreciated that the sheet is stitched like an envelope and there was a warm blanket. The mattress was reasonably comfortable and we were able to sleep quite well, although the station stops were distracting. The door didn't seem very secure and although it had a chain, it kept opening slightly to the length of the chain.
Toilets
The toilet facilities were at the end of the train and although there were two available, they were quite cramped, no room for anything more that face washing and teeth cleaning. They were clean.
Restaurant facilities
By the time we woke up, we didn't really have time to go and look for the restaurant car. If you have selected the Deluxe sleepers, you will have breakfast included in your reservation, brought to your cabin. We had brought food with us, there is quite a good supermarket and bistro near the platform in Berlin where we found everything we needed. If you are really hanging out for a cup of coffee, turn left when you exit the platforms in Amsterdam, there is a small supermarket with self service coffee for €1.50 for a latte which wasn't too bad. The luggage storage is also in this area as well, in case you need to leave bags there.
Booking
The service is provided by Deutsche Bahn, and you can book the sector online, after it checks the availability. If you are travelling on a Eurail Pass, it is worth it to reserve this leg of your journey through their service, if no other!