Why catch the train?
Having caught the train in varying countries, with varying quality of service, the decision to travel Europe/UK for three weeks by train was a no-brainer, for these reasons:
You don't have to worry about 'crazy drivers' on the road
They drive on the opposite side of the road from what we're used to
You can move around reasonably freely in a train
You won't get lost or stuck in a traffic jam
Your journey will most likely start and finish at a station in or close to the city centre
Public Transport connections are often more easily available
There's probably a snack bar or restaurant car (some are pretty good) or food available at the station before you leave
They have toilets on board
Why use Eurail?
While Eurail don't have services in UK you can connect to the UK train networks from Holland on a Stena Line Ferry as well as further afield, and we also managed to get a discount on our ferry tickets by entering our Eurail Pass number. After having a look at all the different types of passes, we decided to take a plunge and get a 14 day pass because:
This was a convenient way of catching trains run by different countries and companies without having to deal with many separate agencies.
We were able to check all the timetables and plan our trip properly beforehand making booking of accommodation easier
It was possible to make reservations. This is necessary for some services, including the TGV and sleeper trains.
The variety of intercity trains was comprehensive from high speed to overnight trains with sleeper facilities.
Many countries / cities offered discounts on local public transport as well
There's a range of discounts available based on number travelling, when you travel and so on.
They will send you your pass before you leave for Europe (Free to US, Canada and Australia, Brazil, Mexico, New Zealand, Japan, Singapore, Hong Kong, South Korea, China and Taiwan. )
We travelled as a couple, and that got us a group discount. Because we purchased our tickets early, and would complete our trip before the high season kicked in, that saved us a bit more. We opted for first class tickets, but elected to travel 2nd class on the TGV service Paris/Zurich as there is a surcharge for this service.
** IMPORTANT! – before you make your first trip, you must activate your ticket at the first station. At Gare de Lyon in Paris, the office is tucked round the back of the platforms. Facing the end of trains, go left and through the corridor, it's just round the corner on your right.
Did we actually save by purchasing the pass, or could we have done better by just buying the tickets as we went along?
To purchase the tickets online, well in advance or last minute, discounts are available directly from each rail company's website. The main problem was that each ticket needed to be booked as a stand alone and in at least one case which required a change of service in the middle of the night (Berlin/Amsterdam) it was only possible to book this as a package with our Eurail Pass, as the two services are different. So for Convenience, a definite YES.
Cost wise:
A comparison of the ticket prices if booked directly without the convenience of having a pass, would have cost us approximately 

€

460 per person for the same sectors, classes and times.

The Eurail pass cost 

€410 per person. However, the reservations added to this total, costing us

 

€110

 each for the six sectors.
Breakdown: €34 TGV surcharge, €39 sleeper surcharge, €3.60 each for 4 sectors and a €24 booking fee each which we could have saved. 

We did save not having to pay for our tickets from Amsterdam to the Hook of Holland to catch the Ferry and we didn't really have the time to make good use of the free city transport in any of the cities we visited. That would have been useful had we used them, but we mostly walked or caught trams which were more accessible and went where we wanted to go.
Final Judgment: 
If you can get a good deal on your Eurail Pass, it does make your life easier as you can just catch the next train if there are seats available, for most services.

Obviously the more trips you make during the number of days you have selected, the more the difference makes it worth having the Pass. Had we stayed a shorter time in each city, taken more overnight trains or made more side trips out from the cities we visited, we would have 'saved' more.

There are no lengthy check-in procedures either, so just turn up and go.

If you want to make sure of your seat you will have to pay for the reservation, which seems to be a standard €3.60 per sector but you will need to pay more for the TGV and a sleeping berth on all overnight trains. 
Would we do it all again? Definitely!
Making a Reservation – Do I need to?
Its necessary for some trains – night trains where you need to book either a seat or a sleeping berth and high speed trains like the TGV in France. We also needed to make a reservation for our seats on our journey from Zurich to Vienna as it was deemed a scenic journey.
You are assured of your seat for the whole journey with a reservation. Otherwise, if someone turns up with a reservation for the seat you are occupying, you will need to move.
Eurail has a series of helpful little videos that answer a few more questions you may have:
Our reservation experience
Making the reservations was time consuming at the planning stage. It was necessary to check the timetables and identify the stations (not always easy) and the date time of each trip, in the correct order
On the reservation form, you need to complete all these details (take your time because they fortunately don't have a time-out)
Submit the form
The reservations people will get back to you within a day or so to confirm that your seats are available.
If you are happy with the confirmation and/or any changes, then you make your payment.
We had to take the 2nd class sleeper option Berlin/Amsterdam as the 1st class wasn't available.
The tickets arrived within the next couple of weeks.
Making reservations for all our trips was quite expensive. On top of any surcharge (High speed or sleeper), there is a reservation fee and sector booking fee for each passenger which really adds up.
Given that we were travelling in March, we could have saved a lot by making our reservations for the next leg when we arrived in each city because none were actually full, except perhaps the TGV. However, being first-timers in Europe and to Eurail, we didn't want to take any chances as we also wanted to sort out our accommodation in advance as well. If you have flexibility with your dates and direction, I would suggest saving the money. If you book at the station when you arrive in each city, you need to pay the reservation charge which varies depending on the service, but you do save the €4 per sector per passenger surcharge for doing it online.
The Trains
In all, we took trains over 6 sectors with reservations made for all sectors except the last leg from Amsterdam to Hook of Holland to catch the ferry. We're working on a more detailed review of the individual sectors which will be linked when it's ready!
Summary – The Services used and a brief overview
Paris – Zürich – We travelled by the High Speed Train TGV (Train à Grande Vitesse). The train itself was quite cramped, possibly because it was full and most passengers seemed to have plenty of luggage. The seating was comfortable although not particularly roomy with a drop down tray table.
Zürich – Vienna – ÖBB Railjet – This is the Austrian fast train and while not as fast as the TGV, it moves along pretty quickly on the straight stretches. A very comfortable train, we were making use of our first class pass as enjoyed having our restaurant orders brought to our seats. Try the Austrian beer, or a decent cup of coffee. Prices are comparable with 'outside' prices. This was probably the most comfortable train. A lot of space between the seats, power supply in-seat and plenty of luggage storage.
Vienna – Prague – ÖBB Eurocity train – Very similar to the Railjet, with similar catering arrangements but as it was the normal speed train, there wasn't a time/location display in the carriage.
Prague – Berlin – Eurocity train operated by Ceské dráhy (Czech Railways CD) This train was similar to the ÖBB Intercity trains and interestingly, it's also a 'named' service, which is a hang over from the 'old days and is slowly being phased out. Our service, which actually runs between Budapest and Hamburg, is known as EC 172 Porta Bohemica.
Berlin – Amsterdam – We particularly wanted to catch a night train on this leg, but the Night City Line train no longer does this route so we had to take the DB Bahn ICE train from Berlin to Karlsruhe (First Class, very comfortable) and connect to the Night City Line train on to Amsterdam (We were only able to get 2nd class sleepers, but they were clean and comfortable). You can't book this routing directly from DB Bahn, but fortunately, this is where our Eurail Pass proved its usefulness and we were able to make the connection. It is possible to book through the City Night Line service though, which will connect you to a joint booking service with DB Bahn. This was the most confusing part of the booking experience.
The Food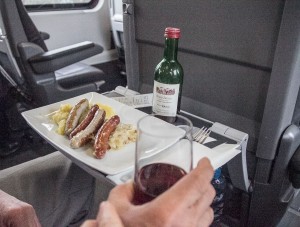 It's OK to take your own food on board all the trains and they have drop down tables or for some seats, a table in between facing seats. Most of the stations had good supermarkets and snack bars where it is easy to buy what you want.
On the ÖBB Railjet and Eurocity trains we ordered drinks from the and a meal between Vienna and Prague which was quite reasonably priced. Catering on these trains is provided by Henri Am Zug and you may download their menu, which seems to change with the seasons. You may pay in either Euro, or the local currency depending on the sector. If you are travelling in the first class carriages, you may order from the menu in your seat and your food will come to you.
The Ferry
If you travel on a Eurail Pass, you are eligible for a discount on your Ferry ticket with Stena Line. Watch for our upcoming review of our Ferry trip.