Durian is known in much of Asia as the King of Fruit. Both the durian and the Queen of Fruit, the mangosteen, are banned from public transport and hotels almost everywhere.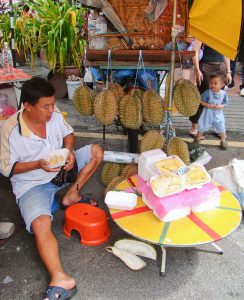 Why? The King has a very strong smell and the Queen has a sap that leaves a permanent yellow stain. So why are they so popular?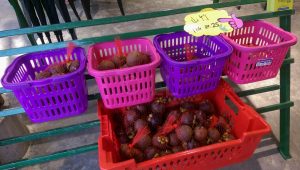 The mangosteen has a mild flavour, very easy to eat, but increasingly difficult to find in markets as it spoils quite quickly. It's also becoming more expensive.
The durian because, well…. where to start? Its strong smell attracts as many or more, than it repels. The taste has been described a being anywhere between eating condensed milk in heaven, or in the toilet. Be aware – the smell does grow on you, trust us on that.
Durian is one of about 30 recognised species of tree belonging to the Durio genus. Fewer than ten of these actually bear edible fruit, but there are claimed to be over 300 named varieties in Thailand, 102 in Indonesia, and 100 in Malaysia. Apart from names that simply use a number – D24 is a popular type, there are fanciful names such as 'Musang King' or even just the humble 'kampung durian'.  ** The musang (civet cat) is just one of the animals and birds that love durian. 
How to eat durian?
The original and best way is to go to the tree. Not under it, of course. Durians aren't plucked, they drop when they're ripe. Since they're spiky and can be heavy (perhaps 2kg) you have to be careful. The owner of the tree will be able to tell you the characteristics of the fruit of each tree – fleshy or firm?  Big or small seeds, sweet, creamy or slightly bitter.
Most people these days don't have access to an orchard, though you can ask around if you know any locals.
Choosing, tasting and enjoying durian
Choosing your durian if you've never eaten it before
1. Go with a friend, to a plantation if possible

Be open minded, different types taste quite different.

Not all durians smell the same, an appreciation of the smell is easy to develop once you get over the first shock. 

The traditional way is to t

alk to the seller.

Discuss your preference regarding taste and texture.
The seller should open the durian in front of you and you can eat it there and then.
Make sure they weigh the fruit before opening it and you discuss the price.
2. Visit a market stall

Preferably one with a variety of different types and sizes.
Look for the price displayed clearly, per kilo.
Check that the seller has proper scales.
Proceed as above once you've struck the bargain.
Most transactions are made on a cash basis, but many sellers now accept AliPay.
3. Visit a Durian tasting centre.

A friend found one not far from the Petronas Towers in Kuala Lumpur.
We 

decided to check it out recently –

 DurianBB Park.
You can book ahead if you have a group up to around 20 people.
Otherwise, turn up and grab a table in the open dining area.
Order a tasting plate per person.
The seeds are identified and arranged from mild to strong, starting from the left.
Once you've tasted all, you can order more of your preferred type, charged per kilo.
The ones to the right are the more expensive ones.
Cool down with bottled water, or order fresh coconut to freshen your palate.
A word of warning. The durian taste will stay with you, for perhaps a day or two.
Durian foods
Don't fancy the fruit straight up? Entrepreneurs have come up with lots of ways to use the fruit in many different ways. 
We've tried it in
Ice creams – we've tried both home made and packaged bars. Both get the thumbs up.

Puffs – Melaka has some really good ones along Jonker Street. Chew Jetty in Penang is another place to find them.

Dodol, the sticky sweets wrapped into little pyramids. Plain, or durian, take your pick. We've had some good ones.

Mixed with rice or pulut (sticky rice). This is popular in villages.

Popcorn (or other sweets) We haven't found any we like, apart from dodol which uses real fruit. 
Durian No-nos
If you stop after one durian (or equivalent) you've already done well. This fruit is known around Asia as being 'heaty', in other words, it warms you inside. It's certainly very rich and high in calories. Susceptible people may find they have a headache if they eat too much, and it's pretty 'gassy'. So you will share the reminder of your meal with others afterwards. Drink cool water or coconut water to balance the warmth.
It's better not to:

take durian with alcohol
eat other rich food at the same time

You are not allowed to take it

on public transport
into an aircraft (if you are allowed to take it where you're going, pack the contents into an airtight container and seal it well.)
hotels, hospitals and other public places
Now you know how, go out there and conquer the durian! Enjoy.