Are you a traveller or a tourist? Prefer to do everything yourself and NEVER plan on taking group tours? Over the years we've tried many different ways of travelling and found there are exceptions to every rule. We've all heard reports of travel horror stories and maybe experienced them ourselves. Some of the good or bad experiences will happen, independent of your travelling method.
An anecdote: Two different people known to this writer visited Morocco in the past month. They don't know each other.  One party had a wonderful time, raving about the people, buildings, food and the general experience. The other found it too hot and said the food was not to their taste. Both are reasonably experienced travellers. You will have hits and misses, whether taking a tour or going it alone.
Group Tours: Many different types
Despite an early resolve to never take a tour, this writer sat down and realised we've actually taken quite a few, including a real guided tour or two. Here's a selection of what's on offer, whether you want help for your whole holiday, or just a few hours.
1. Full guided tour
This is the type of tour which includes your fares, accommodation, meals, entrance fees, local guide, transport and some entertainment.The two main types usually include the elements describes above, but differ in x main ways:
Group tour organised by travel agency 'off the plan'

Select from a list of tour options offered on the agent's website or guide book in their office.
It's very important to confirm what is and is not included.

Good if you are not a confident traveller.

Also a good option if you don't have time to plan your own itinerary.

Single travellers pay a premium unless they're willing to share accommodation

These tours may include two guides

one from the start location who can handle logistics (passports/luggage/daily 'housekeeping', language issues etc.
a local guide. This person may change subject to location (country or district) depending on local regulations.

Tailored group tour

If you have your own group, some companies will tailor the trip to your specific requirements.
You should identify clearly what you want included and specify what you do not want.
These trips will generally include only the services of a local guide and driver.
You can specify inclusions/exclusions such as
Land travel only

Tours that are guided on ground only,

including river / sea cruises
Good if you want to extend the travel on your own, or move to a new location

Many overseas Chinese and their families look for specially organised quick tours around particular provinces in China.

These ground travel guided tours are extremely and are available from approximately US$99, in certain countries.
These are 'whistle-stop' tours, each day a new city.
The hotel accommodation is at least 4-5 star and all meals are included.
Costs are subsidised by the shopping stops.
Shopping is encouraged, but you do not have to buy.

Language may be issue, as all local guides use Mandarin.

Many European tours are similar, though without sponsorship, they are not as cheap.
Is it right for me?
Vienna, Schönbrunn Palace (not from the front gate)

Stops at attractions may be very short.

The 'stops' may be just a 'drive by'.
We saw one group get off their bus at the Schönbrunn Palace in Vienna for long enough to take a couple of photos through the gate.
Our whistle-stop visit to Shanghai's Bund included only a drive along the road.

Fortunately we stayed on after the tour finished.
The Bund is a good place to start exploring Shanghai.

Tipping is generally expected so put cash aside for this.

Ask the travel agent for a guide on how much. before booking, certainly before you leave home.
All guides and drivers should be included.
Tipping rates are calculated by the day.

Positives for a fully guided tour

No planning required re itinerary and timing.
Transport, meals and accommodation are arranged.
Assistance getting visas/travel insurance is available.

The agent may charge a commission for these services.
We've tried all three types and were lucky each time. Not everyone is. If you're lucky, you'll have good company and good, knowledgable guides.
2. Guided with exclusions
Similar to number 1, but excluding various offerings. These may include some meals and entertainment. Some exclusions may be listed in the itinerary as 'optional'. Some tours offer 'free & easy' times where you can plan your own activities.
Meals/

entrance fees/

and entertainment can

be expensive.

For optional activities, ask the price and dress code etc.
Ask about the alternatives if you prefer not to join the group for an optional activity.

Day or half trips are an option for

'free & easy' times.

Terracotta warriors/organised food or shopping tours are examples of guided tours that may be easier to buy 'off the shelf'.
Shopping is a very popular part of taking a tour for many tourists, especially if they love to collect souvenirs. Some travellers part-finance their trip by purchasing goods to take home for resale. If this is not you, then make sure shopping is not included. Be warned though, you will pay a premium if you opt for a tour with no shopping stops. This is because the stores are often attached to restaurants where you stop for lunch. They also pay commission to guides.
3. Full or half day trips
We've had many successful full and half-day tours in a variety of countries. While we like to self-organise most of the places we visit, there are some good reasons to look at what's already available.
Why take a day trip?
Ho Chi Minh's residence

You can quickly get an idea of the 'lie of the land'.

You can quickly establish where 'everything' is.

Planning for transport and food is done by others.

Time saved in planning

Check out the tours on offer at your hotel, or ask for recommendations.
Most hotels/hostels either offer tours or have connections with a provider
If there's one that suits both your needs and budget, sign up.
There may be an attraction on offer that you weren't aware existed.

You won't get lost or take the wrong bus

Many day tours use a small van that will collect you at your hotel.
This saves time finding a meeting point.
You'll be dropped back at your hotel afterwards.

Meals can/may be included

If lunch is included this can be a good way to sample local food
If lunch is not included, your guide will likely recommend (or direct you) to a local restaurant.
You do not have to accept the recommendation.

May be cost effective

Depending on the level of luxury you expect.

If you're staying in  5 star accommodation, expect the price to be higher than those on offer at a hostel.

Cheap is not necessarily poor quality and may be better, we've booked excellent short tours in hostels.

Informal providers

These include local taxi drivers and individual operators
e.g. tuk tuks in various Asian countries, horse drawn carts in Bagan etc.

Check the price before you commit.
Some may expect you to pay for their lunch.
Your lunch may prove to be expensive.

Unsolicited guides

Students and others who join you as you wander around an attraction.
They will strike up a conversation and not leave, offering information about the attraction.
This can prove embarrassing if you don't really want a guide and take a while to realise the situation.
It can also be a positive experience

Students are generally trying to earn a little and meet new people as they go.
You get to meet and interact with local people.

Shwedagon Pagoda in Yangon is one such location. Ask your hotel desk staff to recommend an appropriate amount to offer as a tip before you visit temples in Myanmar and similar countries.
Hanoi is a good place to try a half-day tour – Take a half day bus tour which includes a mix of temples & pagodas and 'Uncle Ho's' Mausoleum, ending with lunch.
Variations and detours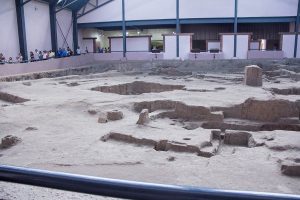 A good tour guide is usually happy to share extra information with you, so be friendly and polite.
If there are things you want to see that aren't included in the itinerary, it may be possible to include them.

Make sure it's OK with others in the group first.

Be prepared to pay entry fees etc yourself for the extra stop.
This will probably reduce the time you have at other stops.

Tipping – most guides expect a tip at the end of the tour.

Be prepared for this and check with the booking agent for the appropriate amount.
We were able to happily negotiate with a driver and guide and the other couple with us, to include a visit to the Neolithic settlements of Banpo near Xi'an, China. We paid our own entry fees and adjusted the timing of our visit to the Terracotta Warriors.
Melbourne, Australia – Hidden Secrets offers guided walks around the Melbourne CBD area. They have a variety of walking tours on offer, some including food, or a cup of coffee. (You get to keep the cup)
Free walking tours
Join a free walking tour. These are common in Europe and are often loosely organised by tour companies. The guides are usually students or off-duty guides and 'know their stuff'. You don't have to sign up earlier, just be at the meeting place at the appointed time and add your name to the list. Being there is no guarantee of a place though. If there aren't enough guides that day, or there are too many people, they'll ask you to come for the next walk. You'll likely be offered 'special rates' for longer organised tours by the guide's company during the walk and tipping is strongly hinted at, sometimes with a suggested amount.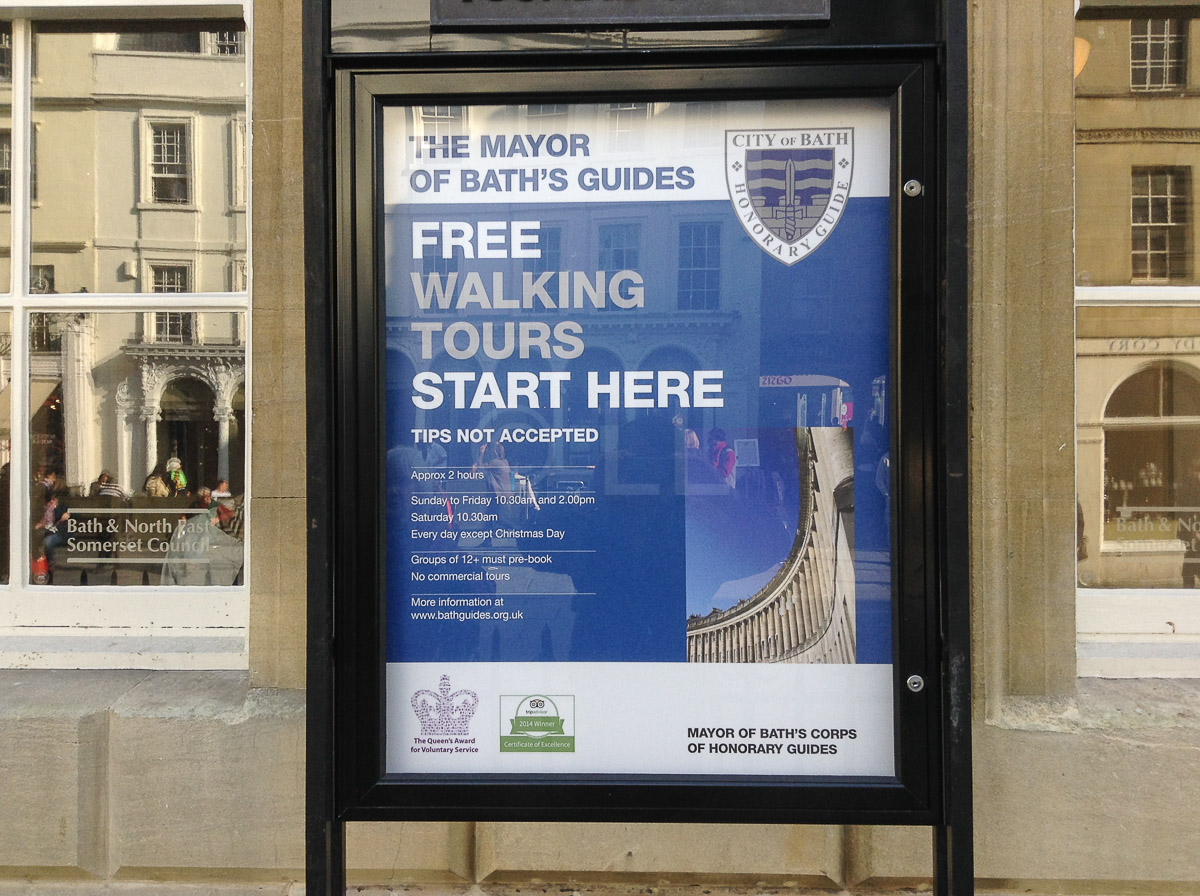 Local knowledge
Some free walking trips really are free.
The

free walking tour

 

sign at the meeting place 

outside the Roman Baths

in Bath, England makes this very clear.

The guides are all locals who volunteer their time and local knowledge because they enjoy meeting visitors.
They will also stress that they don't take any form of payment.

Other volunteer led tours

Many museums, galleries, stately homes (National trust buildings etc) have teams of local volunteers, often retirees, who can give you inside information as you go around the attraction.
They don't accept tips.
Melbourne, Australia has 'City of Melbourne's City Ambassadors', volunteers who to offer helpful advice on directions, things to do, places to go.

You can find them in various locations including their Information booth in Bourke St Mall.
4. Things to think about
Travelling alone?
Before you visit the travel agent, or check out the online offerings, ask yourself
Are you prepared to pay a single surcharge to have a single room?

This charge should only be for the accommodation component and worth the extra cost
If you are not prepared to pay extra, are you happy to share with another, unknown person?
Some people will take this option if they are travelling with a like-minded group (e.g.on a religious pilgrimage)
You may have concerns about an unknown roommate, including

bathroom habits
sleeping times
safety of belongings
Keeping to time
Nobody wants to wait for somebody who's always late. Some group tours keep to a very tight schedule, often with very early starts to the day. You may be able to get away with it once, but don't push your luck.
Are you the late one?

Set your alarm or ask the hotel to make a wake up call.
Make friends with someone who can give you a call if you don't appear for breakfast.
Check your watch – is it set to the correct time zone?
Listen to the daily 'housekeeping' announcement to know the timings.
Keep to the times as closely as possible and don't get carried away with shopping or taking photos while everyone waits.

Can't stand others being late?

Be the friend who helps keep them to time,
Don't complain loudly.

It doesn't help and makes you no friends.

Remember you might have an unexpected issue that makes you late.

Make sure you have some reserve funds

Emergencies can happen that need quick access to funds.
Make sure you have travel insurance.

Read the conditions carefully to make sure you are covered if your trip is cancelled.

Not all insurance companies will honour a policy affected by civil unrest, natural disasters or pandemics.
Some policies have ambiguous wording that they use to refuse a claim. (e.g. government regulations)

Check the differences between what's offered by the agent and an insurer of your own choice.

Meals with options

Some meals may include optional local specialties
These can be expensive.
You don't have to join in.

Other things to consider:

Guides and languages

Make sure you have a guide who speaks your language

(or a companion who's happy to translate)

Lack of flexibility in timing/programmes

Most fully guided tours offer little or no opportunities for changes mid-way.
Happy holidays!