Durian Tourism is becoming a bit of a 'thing' with lovers of the thorny fruit willing to travel far for the best. Many people consider those grown around the town of Balik Pulau in Penang to be the best of the crop. Balik Pulau is a small town in the south west of Penang Island. It's a quiet rural area famous for its durians and other tropical fruits.
Durian Tourism: Take a package
With the season now in full swing, Tourism Malaysia is working with Asia Gateaway Tours, to offer visitors the opportunity to stay near a plantation and 'eat all you can'! The programme is supported by Air Asia Berhad and selected hotels.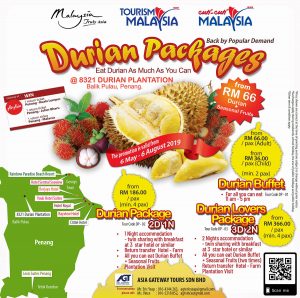 The campaign, Durian Packages "Back by Popular Demand" – Eat As Much Durian As You Can @ 8321 Plantation, Balik Pulau, will run from 6th May to 6th August 2019.
These include:
2D/1N Durian Package from RM186/pax;

a 3D/2N Durian Package from RM366/pax 

Each package requires a minimum 4 persons.
If you prefer, there are also packages available just for eating, without a hotel stay, including their Durian Buffet from RM66 for Adults and RM36 for Children.
In addition, package buyers can win return AirAsia flight tickets for the following routes:
Penang-Kota Kinabalu
Penang-Johor Bahru
Penang-Melaka
Present your Air Asia boarding pass during the promotion dates to get a further 10% discount on any Durian Package 
To Make a booking:
Contact Asia Gateway Tours Sdn. Bhd. at the plantation – 8321 Plantation Balik Pulau or via their Facebook page,
You can also contact their representatives by phone or email:
Mr. Eric Yeap
Ms. Vince