The state of Negeri Sembilan in Malaysia may be very close to Kuala Lumpur in the middle of the peninsular, but visitors will discover that it has a different flavour. The state is believed to take its name from the nine original villages when settlers arrived from Minangkabau in nearby Sumatra. Many Minangkabau features are still evident today. The most obvious are the roof designs in traditional architecture and the dialect of Malay spoken.
We recently spent four days checking out the diverse activities on offer, even then barely scratching the surface. There is really something for everyone, whether you are looking for adventure, relaxation or just the great food.
History and culture buffs
Royal Gallery Tuanku Ja'afar, Seremban
Tuanku Ja'afar was the ruler of Negeri Sembilan for 41 years and also served as the 10th Malaysian Agong. His accumulated sporting memorabilia and other collections are on display in the Galeri Diraja Tuanku Ja'afar. He was well known for his love of various sports, especially golf and cricket and his golf hats were easily recognised. The Gallery is walking distance uphill from the town, but if it's a hot day, call a ride share car.
Seri Menanti, the royal town
Seri Menanti is located in Kuala Pilah district and is worth an afternoon to visit.  The Seri Menanti Palace Museum was built in 1908, entirely from wood, using no metal nails. The old palace has been undergoing extensive restoration for the past five years and will reopen in September 2019. We had a sneak peek inside and though we're not allowed to share pictures until September, we recommend a visit when it reopens. Admire the beautiful woodcarvings and joinery and the solid cengal columns as you climb the narrow stairs.
State Museum
The museum is not within walking distance, but it's certainly worth a visit. Even if you just want to check out the two beautiful examples of Minangkabau style buildings in the compound. The old palace of Istana Ampang Tinggi is a great place for lunch if you have a group of about 20 friends. You'll experience the traditional way of eating simple but very tasty food. You can try eating the traditional way, using your right hand. Booking is necessary, at least three days ahead. 
Check out the neighbouring Negeri Sembilan House and visit the main museum (Teratak perpatih) for their displays of royal silver and brass-ware, old weapons, handicrafts, artefacts, traditional costumes and photographs.
The museum is open daily, 10.00am – 6.00pm and admission is free.
Adventure seekers
We visited two local adventure parks, each with a very different feel and approach to the activities on offer. Kg JKIN is very 'kampung style', whereas the Sendayan X Park is 'state of the art'.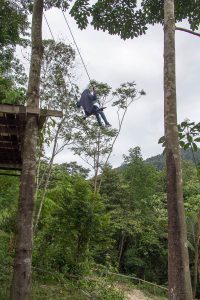 Kg JKIN Resort
The owner grew up in a small kampung and wants to offer the experience to those who no longer have daily access to such a life. If you are happy to sleep a bit rough, you can rent an open shelter overlooking a small lake, or choose one of the kampung style houses on offer. The activities are fun but you need to be aware that, while safety precautions are taken, you may get muddy and wet if you release your inner child. This writer can finally tick off the flying fox on the 'to do' list. Contact the Kg JKIN Resort on their Facebook page. 
X Park, Sendayan
The modern style X Park Sendayan is one of a group of six parks in different locations in Peninsula Malaysia. We tried out the ATV and go-karts – make sure you don't have loose clothing or scarves that aren't tucked in. This writer discovered she's hopeless at both archery and hitting a target with an air gun. But they have a great flying fox that's designed to let you go both ways. So you don't have to walk back. After all that exercise, have a break in their cafe. Their toast or steamed bread with kaya is worth a try.
Something different
Why not try something a bit different from the usual relaxing on the beach or by the pool. We visited six very different 'things to do'. We had lots of fun at each and there was enough variety to keep everyone happy. This means that the whole family can enjoy these activities at their own pace, finding something that will be of interest.
Releasing turtles
If you're interested in ornamental fish and other beautiful sea creatures, it's worthwhile to drop by the Ornamental Fish Center run by the Fisheries Department in Teluk Kemang, Port Dickson. Not only will you see beautiful fish, corals and other sea creatures, but the work they're doing to save and regenerate coral. They also collect eggs of the Hawksbill and sea Green turtles and rear the hatchlings. They release the young on a fairly regular basis and if you call to check when it's happening, you can join in.
Astronomy – Baitul Hilal Astronomical Telescope
The telescope, part of the Kompleks Baitulhilal which includes the Klana Beach Resort, is located along Teluk Kemang, Port Dickson. Long considered one of the best places to sight the new moon to calculate important dates in the Islamic calendar, the Observatory has the largest optical telescope in South East Asia. The complex is manned 24/7 and visitors are welcome during public hours in the afternoon and evening. For more information on ticket pricing, concessions and programmes you can also contact the Klana Beach Resort.
Visit a Dairy Farm
The Juasseh Agro Park, NS Dairy Farm was set up about 10 years ago by ex-banker Dato' Mohd Nor Abdul Wahid and his family. With dairy cattle sourced from overseas and plenty of research and hard work, this is a great place for a team building trip, an overnight stay, or just a day trip. They'll collect you in tractor pulled trailers and show you round the farm. They're open every day 9am – 1pm, 2pm – 6pm and you can purchase their bottled milk at the small cafe. Milk production is still insufficient to distribute to large supermarkets, and it's only available at the farm and a few selected nearby markets. Our tip – try the kurma (date) flavour. That will have you going back for more, or to try the others. They currently offer plain, chocolate, sweet corn, date, yam and strawberry flavours.
Can you beat an ostrich in a race?
We stopped by the Ostrich Show Farm in Port Dickson which has a number of different animals on show. They're not farmed for eating here, you can even cuddle one friendly ostrich, but be careful, she steals caps and glasses. The farm also has a resident camel who will happily accept your offer of a hose to fill up on a dry day. We also enjoyed the edible garden and wild cherries, followed by the chance to make a delicious salad with hibiscus, pineapple, mint and blue pea flowers. Colourful as well as tasty. If you fancy yourself as a runner, try your speed against their champ. Did our representatives win? You can guess, or try for yourself.
Have fun with 3D
We were pretty tired and hungry by the time we reached the Alive 3D Gallery, until we discovered the walls inside. Lots of photos were taken of extreme bravery (fighting off a hungry lion), bravado (crossing a deep chasm on a rickety bridge) or playing with perspective. Everyone had a most enjoyable time at the Gallery in Lukut, Port Dickson, whether they were three, twenty three or much, much older.
Get cultured
You can get a taste of the 'Colours of Malaysia' through music and dance at the Auditorium of the State Cultural Department every Thursday and Saturday between 11am and noon. Enjoy a spirited performance of dances representing the various states and communities of Malaysia.  The performance includes a graceful candle dance, a fan dance and a spirited Indian dance, rounding off with a dance combining the various groups in East Malaysia. Look out for the blowpipe expert and the energetic gamelan player, who is obviously enjoying himself throughout the performance.
One highlight of the session was when the dancers invited the audience to join them to 'joget'. This may be a simple dance, but it requires you to watch the way others are moving and it's easy to get it wrong. There was much laughter at some of the innovative moves on display and the desperate attempts of others to catch up.
Foodies
The food of Negeri Sembilan is quite distinctive and once tasted, you'll be planning your next trip for a top-up. Even some of the familiar dishes like nasi lemak and kueh kochi had a slight twist that added something extra to the taste.
Highlights included a delicious wet char koay teow dish at Adwa Char Kuew Tiaw Sotong, a roadside stall on the way back from Seri Menanti. As we waited for our food, we wandered about the nearby padi field which had both cut stalks and new shoots. Our koay teow was certainly different. The main focus being the huge sotong and three equally fresh and tasty prawns, all came served with an egg on the side. Nobody went home hungry after that meal!
Sweet stuff!
Bubur sum sum is not really a porridge, as the name suggests, but more like a very thick plain custard. What raises it to the level of delicious, is the addition of thick, sweet gula melaka, made by reducing palm sugar over heat. Although it's commonly cooked at home during the fasting month, the chef at Tasik Villa prepared some for us. Great self control was needed to stop me going back for seconds. 
Air Jando Pulang (widow returned) is very refreshing and is popular in Kuala Pilah district. We had the version with the coconut water  with a little gula melaka (palm sugar) added with coconut flesh, with a twist of pandan leaf added. Another version uses the addition of halwa instead of gula melaka.
There's always seafood
We dropped by the Homestay D'Pelandok Best in Jln Pantai and after checking out the activities and accommodation were ready to enjoy a delicious traditional lunch. Each shared plate has sufficient food for at least four hungry adults and it is suitable for eating with your hands. If you choose to do so, serve with the spoon but only use your right hand to eat, by mixing the food into a mouthful sized ball with your fingers and popping into your mouth. Easy, right?
The seafood spread we enjoyed at the Street Food Crab and Lala Restaurant in Seremban was challenging. There was so much delicious food to enjoy, it was necessary to loosen the belt to fit it all in. We tried two different clear soups, likewise with crabs and Lala, and chicken. But the dish that this writer enjoyed most was a simple crispy tauhu dish, with Thai chili sauce.
In Kuala Pilah, we stopped by the Food Trail for lunch and again enjoyed traditional dishes, the one that disappeared first was the yellow sauced petai, cooked in its skin. In Seremban, visit the Benteng Walk, currently in development as an evening street food experience. The hawkers have been in business at this location for many years and their food is tried and tested, but the planned better lighting an a high cover will improve conditions for all-weather dining.
Stay a while
Klana Resort Seremban
If you'd like to stay a little longer in Seremban, the Klana Resort Seremban is easy walking distance from town, yet secluded enough to be quiet and relaxing. The restaurants serve a wide range of local specialties and they even have their own herb garden. The resort caters as well for large groups, offering team building activities and facilities for accompanying families to spend their days. The swimming pool is suitable for families of various ages and there's a children's playground and big board games on offer. Relax in the spa and at the end of the day retire to the comfortable rooms. If you have a family, their family room is perfect, with two large bedrooms either side of a central lounge/kitchenette, which opens on to the poolside. For a rainy day, spend some time playing congkak in the lobby area.
Tasik Villa International Resort, Port Dickson
We stayed one night at the Tasik Villa in one of their water chalets, which are apparently their most popular offerings. These over-water villas are across the water from the main hotel and you can enjoy the twice daily musical fountain shows from your balcony. After a good night's sleep we had the chance to check out the other room options. The hotel has apartment suites on the top floor, which offer two bedrooms and living rooms with a small kitchenette. They also offer deluxe rooms with their own jacuzzi, overlooking the pool and water fountain. Families may like to opt for the family villas all round the perimeter of the property, each with their own parking lot. They offer a kitchenette and lounge with two bedrooms upstairs. There's a dipping pool at the rear of the ground floor.
Lexis Hibiscus Hotel, Port Dickson
We stopped by the Lexis Hibiscus hotel to see what else was available near the beach and were impressed to see that they's actually made an extra beach. On top of that, most rooms and the over-water chalets come with their own pool. They also offer rooms with their own sauna as well, overlooking the floating chalets, arranged in the shape of a hibiscus, Malaysia's national flower. The hotel is popular for conferences and large banquets, with two large column-free spaces. There are indoor and outdoor activities on offer and a range of water sports as well as open-air movie nights.
Homestay D'Pelandok Best
If you'd like a real kampung experience, you need look no further than D'Pelandok Best. Located at Teluk Pelandok (Pelandok Beach) along Jln Pantai, it's a short walk to the beach. But the main reason for staying here is the feeling of enjoying life in a small village. We enjoyed a traditional welcome with ladies throwing rice and musicians playing some not so common instruments. This was followed by the opportunity to try our hand at making batik and basket weaving. We enjoyed our own experiments making deep fried peanut cookies and discovered the well used as a supplementary water supply. We even found various types of grinding stones under the house. The layout of the kampung house is traditional – kitchen downstairs, living areas upstairs.
images©LL