Along with a dozen or so other enthusiastic writers, videographers and instagrammers, this writer set out recently to learn more about Selangor's Indie Arts & Crafts. Selangor, most populous of Malaysia's states. is located in the central west of the Malay Peninsular and surrounds the capital Kuala Lumpur.
Indie Arts & Crafts
Indi Arts and Crafts are those produced by small, independent artists and entrepreneurs. These artists are building their small businesses with innovative and traditional techniques and lots of passion and pride. Our two and a half day trip was organised by Gaya Travel Magazine and supported by UPEN Selangor (Selangor State Economic Planning Unit).
We visited five artisans who are making a name for themselves and are at various stages of their product development. All are using social media to help build their brand and even gain some international following. All are showcased in our video at the bottom of this piece.
Cherry Art Design
Hafiz Hassan (Nik) is the owner, designer, artist and tailor at Cherry Art Design in Rawang, Selangor. This multi-talented artist produces high quality products and even does classes in traditional batik making techniques. He uses both block printing and hand drawn methods to apply the wax and is experimenting with a combination of both, with splashed colours. We were in awe of his skills with the tjanting, the  shoe shaped tool used to draw with wax. He transfers the design straight from concept to cloth without any tracing or other markers. #cherryartdesign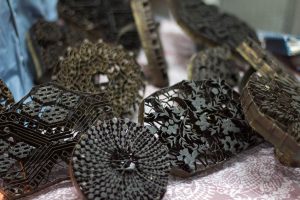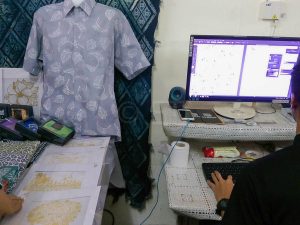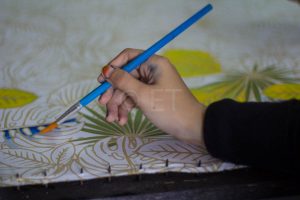 Desa Alam Batik
This family owned and run business is in newly developed Desa Alam in Shah Alam, Selangor, close to Klang town. All the patriarch's children play a role in developing traditional ideas to make production more efficient, while retaining the traditional result. They use computers to develop their own and clients' designs to produce a large printout, the width of the cloth. Using a lightbox, the design is transferred to a silkscreen to print the wax onto the cloth. The wax is the really clever part of a very innovative process. Through experimentation, the family have developed a cool wax which maintains a consistency of caramel, and can be used with the screen without clogging or hardening. After drying overnight the design is completed using traditional hand-painting methods. #desaalambatik
SamuraiDio Hobby Station
Shaiful Sharif is a model maker in Meru, near Klang, Selangor. He makes 1:64 sized architecturally accurate models, mostly on commission and sells worldwide. They fit hot wheels models too. We loved his model of Matsuri's House in Langkawi with the VW Combi Van in front. It was displayed beside a beautiful model of an old Japanese shop, which has since been demolished. This house has a Nissan Skyline driving by. #SamuraiDio
Sewing World Gallery
The Sewing World Gallery occupies a large two story space in One City Mall, Subang Jaya. The Gallery is open every day and entry is free. Apart from a gallery showing off a wide variety of fabric arts, it's also an avenue for those with sewing skills to sell their products. The Gallery offers sewing classes on their mezzanine floor. The Tunku Azizah Handmade Market is held every second and fourth weekend of the month and showcases a wide variety of fabric and related crafts. Apart from beautiful Sabahan beadwork items, you can find bags key and card cases, clothes items and even socks. #sewingworldgallery
Pyrography Wood-burning
Maznan bin Othman is a pyrography artist in Kajang. Working with only a soldering iron, he burns beautifully detailed pictures on to wood. He uses a ruler to help him get the scale correct, but there's no tracing to work on. It's all freehand. En. Maznan has a good selection of his work on display on the wall of his living room, where he does his designs. #pelukissenikayu
images©LL