Recently we posted an article about vaccinations, if you read it, or something similar, you'd probably think you'll never need worry about some exotic sort of disease that you may never have heard of, or get an animal bite in a rabies area.  Well it does happen and recently a friend told me about her daughter who went for a holiday in Bali and it happened to her!
There is a vaccine available for rabies, normally administered after a bite, so you should seek medical attention quickly if you are bitten by a monkey, dog, bat or other animal which can be a rabies carrier. Even if the saliva of an infected animal gets on to your skin where you have any cuts or wounds, however small, there is reason to respond immediately.
Nicole has kindly agreed to do an email interview with us to tell us about her experience and how important it was that she responded immediately. It's also useful to have travel insurance.
How did the encounter happen?
I was visiting a "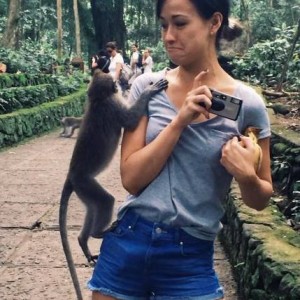 must see" tourist attraction in Ubud. This "must see" attraction turned out to be a monkey temple. Now normally I would steer clear of monkeys having been warned against them feverently when we used to visit Malaysia as a child but I let my tourist curiosity get the better of me. I was sitting down in the Monkey temple, changing my cameras over when a young monkey approached me and decided to sit on my lap, not two minutes later it's mother came along and decided I needed to be taught a lesson for interacting with her offspring!
What was your immediate response re treatment? Did you take it seriously and go straight to the doctor? (Calling mum for advice is always a wise move!)
I didn't take the bite too seriously as there wasn't much of a visible puncture and was too busy laughing at my travelling companion who had also had a run in with a  monkey, but who managed to escape with a spattering of urine instead of a bite.
Did you actually wait until you had any symptoms of any infection?
I didn't wait until I had symptoms as I had already read up on the consequences of ignoring rabies (and spoken to my rather alarmed mother). I left Ubud as soon as possible and sought treatment at BIMC hospital in Kuta.
Were you taken seriously by your companions / medical staff? What did they advise?
My travelling buddy is studying to be a nurse so she was understanding about my urge to get to medical assistance ASAP, fortunately the staff at BIMC were very efficient and understanding about my injury and I was treated quickly.
What was the treatment and how long did it continue?
I had two needles after a vigorous scrubbing of the site, one for tetanus and one for rabies. The rabies treatment meant I needed to get a follow up dose of the rabies immune globulin.
Did you complete the course of treatment?
I did, I had to have another dose of the vaccination the week I returned and then a third dose two weeks after that.
Good news now though – I'm now immune to rabies for life!
Was it covered by insurance?
It was covered by my travel insurance with CoverMore and Medicare covered the remaining courses of my rabies treatment
Anything to add?
DON'T TRUST MONKEYS!
Thank you Nicole!
A little something told to us at the Sepilok Orang Utan Sanctuary in Sandakan, Sabah Malaysia – Macaque monkeys (the type that bit Nicole) are common around South East Asia and can be quite aggressive. We were told never to look them directly in the eye as they will most likely take it as a sign of aggression and attack you. It's a bit hard though if the attack is unprovoked or if you meet them in the kitchen stealing food!