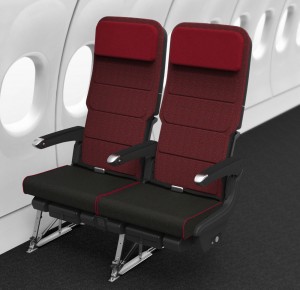 Qantas Airbus A330-300s are not known for having any seats that stand out particularly for comfort, however we thought we'd offer you some tips for selecting a seat that may suit you depending on your circumstances. All Qantas A330s have economy seats configured in a 2-4-2 layout, with window pairs being seats A/B and J/K, and the middle seats being D/E/F/G.
The following guide is specific to the refurbished version of this aircraft, however some aspects apply equally to the original configuration, due to be phased out by the end of 2016. Amenities on all seats are identical, with USB and in-seat power offered in all economy seats of the refurbished aircraft. You can read our full review of this aircraft's amenities here.
Should I select a bulkhead seat?
Where some aircraft in the Qantas fleet offer bulkheads with cut-outs for extra legroom, these aircraft do not, making these bulkhead seats notorious for having less legroom that a standard seat. However if you are more concerned about having someone recline into you (for example, if you were planning on working, reading or watching a movie for the duration of the flight, then this might be ideal. Bulkhead seats also store the entertainment screens in a space between the seats during take-off and landing, meaning that your seat width is somewhat reduced, and you cannot watch anything during this time.
Exit row seats
These seats also store their screens in between the seats, so they do not have the width of a standard seat. However in addition to not having someone recline into you, you also have enviable legroom. The downside? Unless you are a Qantas Platinum One frequent flyer, you will have to fork out $90 per sector to snag one of these seats on most international sectors(or an incredible $180 on Honolulu legs).

If you are tempted to select 45A and 45K thinking that they are these golden exit row seats, don't do it! These seats are very unpopular as the door slides protrude into your leg room, leaving very little room for movement. This might be fine if your seat mate is known to you and is willing to share their own immense legroom, however a stranger might be less appreciative.
Our favourites
We find that 39J/K are good seats to have, as they are immediately in front of the crew rest seats as these allow you to recline more often than not without annoying crew behind you. If you do choose these seats and plan to recline fully, it might be kind to advise crew who may be seated behind you, as they may be mid-meal.
56F is also not bad as it offers a bit of extra shoulder room and single travellers are unlikely to be disturbed by a seatmate attempting to exit.
In spite of advice from sites like Seatguru advising against the last rows in cabins, we find these to be good seats for sleeping, provided you bring earplugs and eyeshades. These seats are near the toilets and galleys and attract a lot of foot traffic and toilet-related bangs and flushes, but being adequately prepared with earplugs and eyeshades minimises the impact of these issues and allows you to recline for the greatest amount of time, even during meals.
Conclusion
As forewarned, choice is a rare commodity on this aircraft, as almost any seat will land you the same deal. However we hope our tips will help you secure the best seat for your circumstances on one of these magnificently appointed aircraft.