Editor's note: This guide applies to the older of Qantas' two seat maps, which is being progressively phased out. The lower deck configuration is the same across the old and new layouts, however the upper deck mini-cabin is not present on the new seat map.
---
The flagship of the Qantas fleet is the Airbus A380. You'll find this jet on routes between Australia and Singapore, London, Dallas, Los Angeles, Hong Kong and Tokyo. With 371 economy seats, this enormous jet has many seats to pick from, so which ones are the best?
The Pick: Upper Deck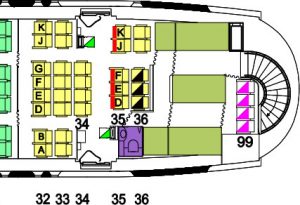 A small economy cabin is carved out of the rear upper deck, creating a quiet and exclusive space. Additionally, seating up here is in a 2-4-2 layout rather than the 3-4-3 layout that you'll find downstairs. Window seats have extra storage in the form of side bins, capable of storing reading material, small bags and unused blankets and pillows. Meal service in this cabin is a little less rushed as there are only 30 economy seats, and you have fewer people clamouring for toilets – there is 1 toilet up here. There are no bassinet mounting points on the upper deck bulkheads, so infants are more likely to be seated on the lower deck.
You could get pretty much any window or aisle seat up here and be better off than anyone else on the plane, but do note that the overhead bins on the window sides are smaller, and limited storage as the overhead cabins are smaller and limited by the structure of the aircraft, particularly in rows 35 and 36.
Notable seats
32ABJK: These seats are at the front of the cabin. With no one to recline into you, you'll have plenty of knee room and personal space. The window seats also have the benefit of the side bins for extra storage. The entertainment screens and tray tables are stored in the armrests, reducing seat width slightly. The armrest in between the two seats does, however, go up.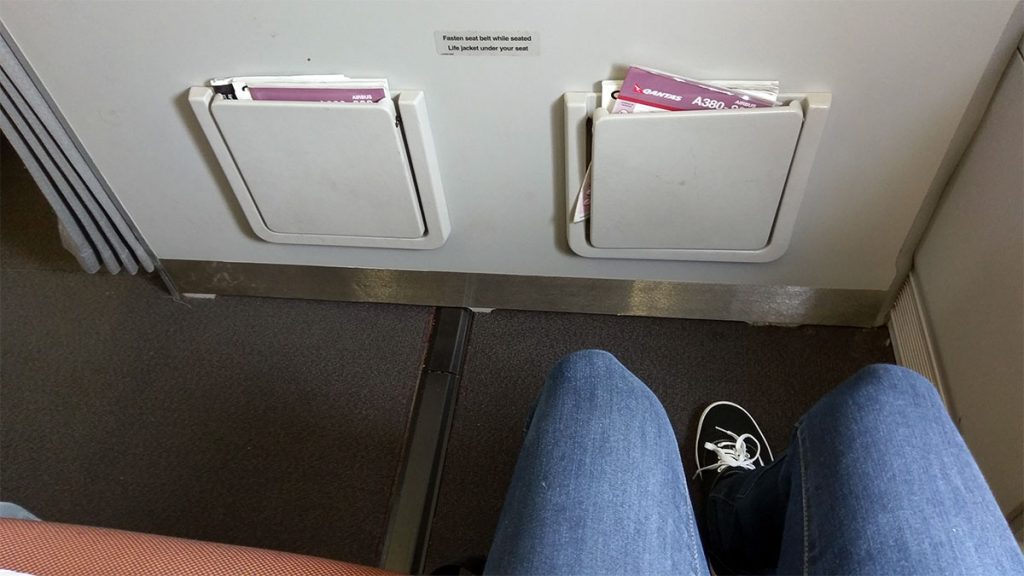 Row 35: If you are tall, seats in row 35 have incredible legroom, with 35JK being emergency exit row seats. Note however that you have no storage for your books and other personal effects as there are no seat pockets in front of you. The window seat (35K) doesn't even have a side bin (or a window, for that matter), only a small magazine pocket on the wall.
33ABJK and 36FJK: These seats fully recline and have no one behind them, so feel free to recline them as soon as the seat belt sign goes off.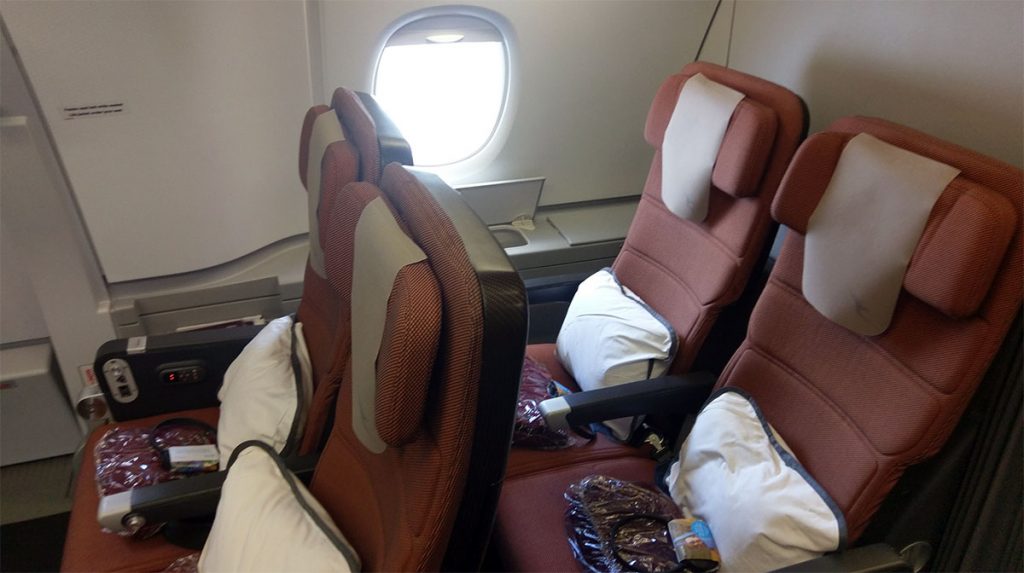 Seats to avoid
36DE: These are the last seats that the automated system will assign on the plane – they're woeful. There is a wall next to 36D, so entry and exit is over the person in 36F. Avoid at all costs!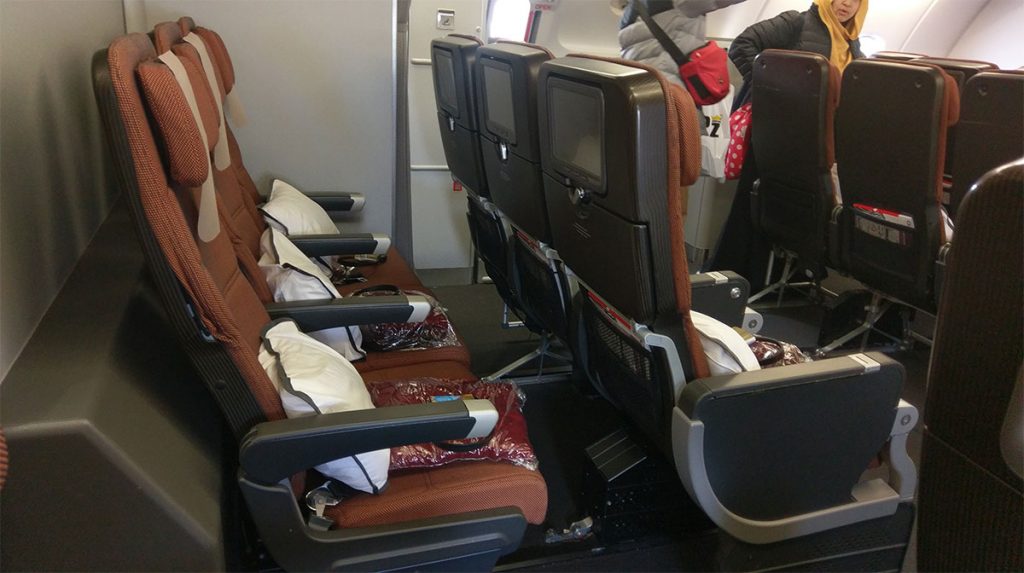 Note: there is a bit of room in front of seats 35DEF – when crossing from one side to the aircraft to the other, avoid using this space as a walkway – you'll almost always end up tripping on someone's legs and hurting yourself, them or both. Go through the curtain at the rear of the cabin and there's an easy and well-lit passageway to use.
Lower Deck Seats

All of the exit rows are comfortable for taller people who need more legroom; however, these do come at a significant cost – exact pricing depends on your route. Unless you're in the window seat, you won't have access to seat pockets for your personal devices/belongings. For that matter, you may be lacking a window altogether. Bring extra warm clothes if you are seated at the exit rows – they can get very cold.
Notable seats
48ABC: These exit row seats are in front of the engines, so are quieter than the rest of the cabin. You may want to board last as these are at the main doors where most main deck passengers will board. These seats are also adjacent to the forward galley, so you may be bothered by noise and lights. The armrests in these seats are immovable as the IFE screens and tray tables are stored in them, so not much good for getting cosy with someone.
Row 66: All of these seats, including the inside bank (66DEFG) are considered exit row seats as they have extra legroom. However, this means that they are available only at a premium.
80A and 80K: These window seats are located behind the exit row seats but are missing a seat in front of them. Aside from having the benefit of a window, you therefore also have plenty of legroom, plus the ability to leave your seat. However this depends on whether you are agile enough to squeeze past the folks in front. The lack of a seat in front also means you won't have anywhere to store your personal belongings. These seats are also expensive, costing the same as exit row seats.
71D: This seat has extra legroom as 70D has been removed to make way for the crew rest emergency trap door. It is charged at the same rate as an exit row seat.
69D: You can reline your seat without bothering anyone, so if you intend to sleep the whole way, this is the one to have. It is otherwise a regular economy aisle seat.
Bulkhead seats
51HJK: These bulkhead seats are also bassinet positions, so may be reserved for those travelling with infants. If you do snag one of these seats, you'll enjoy a bit more personal space, but not as much as an exit row. 51K is a great seat if you like views as it has a full window in front of the wing.
52DEFG and 81DEFG: These are centre bulkhead bassinet seats, so you may not be able to select these seats unless you are travelling with infants. Otherwise, these offer a bit more personal space as no one will be reclining into you.
Seats to avoid
Window seats: The lower deck is arranged in a 3-4-3 layout, so if you're in a window seat, you'll need to climb over 2 people to get out. Therefore, unless you're travelling with 2 or 3 people, an aisle seat might be preferable. Due to the curvature of the cabin wall, leaning against the wall is not feasible on the lower deck. So unless you really want the view, there's no real advantage to having a window seat.
Standard seat dimensions
All standard economy seats are 18 inches wide between the armrests (and 19.5 inches wide at the cushion). Seat pitch measures in at 31.5 to 32 inches.
Refurbished cabins from 2019
From September 2019, you may find that your seat map does not feature an upper deck. If this is the case, you are probably scheduled to fly on a refurbished aircraft. A casualty of the refurbishment is the loss of the upper deck economy cabin. On the upside, you can look forward to a fresher cabin, reupholstered seats and newer in-flight entertainment units.