Qantas operates a fleet of 75 Boeing 737-800 aircraft, which operate mostly around Australia but also to international destinations in New Zealand, the Southwest Pacific and Bali. The 737 is also used between Perth and Singapore. As with all Boeing 737 aircraft, only a limited number of seats can be considered much better than others due to relatively simple configuration. So what's the best economy seat on a Qantas 737? We've identified a few features that we hope may answer that and improve your journey.
Aircraft seating configuration
All Qantas 737 aircraft have the same basic configuration consisting of 12 business class seats and 162 economy class seats. On longer domestic and international flights, seats 30D, 30E and 30F are blocked out as crew rest seats.

The best seats in economy
Row 4 offers extra legroom, being the first row of economy and directly behind business class. Additionally, seats 4A and 4F offer generous room under the seat in front of you to store your cabin bag. If you are in 4B or 4E you still have the benefit of legroom, but be aware that you will need to share a seat pocket with your seatmates.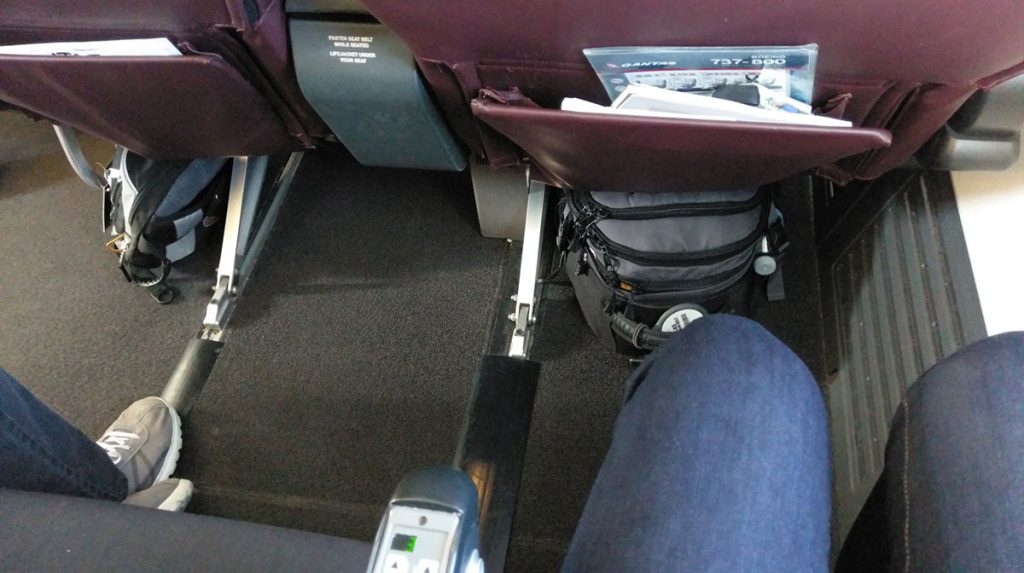 Rows 13 and 14, being emergency exit rows offer significantly more legroom than other rows. If you are seated here, cabin baggage cannot be placed underneath the seat in front of you for safety reasons. On a full flight you may struggle to find space in the overhead lockers for your luggage. So if you're sitting in one of these seats make sure you board as early as possible to avoid missing out on overhead luggage space.
Seats to avoid
Seat 9A and row 10 may have missing windows due to ducting and cabling in the walls of the aircraft. If you are claustrophobic, these seats should be avoided. In row 10, the seats and windows are misaligned, so while you have access to part of a window it's not really enough to call it a window seat.
Row 30 does not offer full recline. However this is less of an issue on day flights, where travellers rarely reclined out of courtesy to the folks seated behind. In row 30, there are no folks behind to bother, so recline away – even if it is limited. On night flights cross-country, this may however be very uncomfortable.
Row 12 is often reported as lacking recline, and that is partly true. Recline is disabled during take-off and landing, however cabin crew usually re-enable this by flicking a switch during cruise.
Selecting your seat
You can select a seat free of charge on domestic services in Australia, however there's a snag. If you do not hold any frequent flyer status with the airline (i.e. being a Silver Qantas Frequent Flyer or above) you can usually only select seats from row 19 onward.
Internationally, if you're travelling on an Economy Saver or Flex fare, seat selection is included free of charge. If you're travelling on any other fare (including a Sale fare) you can select your seat for a AUD 15 fee, or 2,000 points. If you're flying between Perth and Singapore, this is AUD 30 or 4,000 points. Silver, Gold, Platinum and higher level members can select seats at any time for free.
Note that exactly 80 hours before your flight, Qantas releases a broader range of seats for selection by all passengers. Then at 24 hours to take-off, generally all unoccupied seats will become available to all travellers. This also corresponds to the opening time for web check-in.
For more information, refer to the Qantas website.